Insider Best Buys
Vintages January 31st release
Michael Vaughan
Friday, January 30, 2009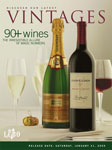 Tomorrow's Vintages January 31st Release features some 120 items in total including 12 In-Store Discoveries, which are all available in Vintages today, Friday, January 30. It has a 90+ Wines thematic featuring 29 selections, most of which in actual fact receive only 90 points. I am not a wine snob, but I must admit, I was truly amazed that some of these wines would score 90 points anywhere, anytime.

In general, I was not moved by the 90+ whites. A couple which were downright disappointing – mature and over-the-hill. As for the reds, I had two recommended best buys. My personal highlight was a truly amazingly delicious Delas Frères 2006 Domaine Des Grands Chemins Crozes-Hermitage (101105) at $28.95. Rating ***/***+ (out of ***+), it certainly is  a contender for the Best Value Red for 2009. This 100% Syrah has a very deep intense purple colour. It has a lovely, complex, vanilla-tinged, black cherry purée nose and dry, well-structured, slightly earthy, plummy, ripe black cherry purée flavours followed up by a lingering, harmonious, vanilla-tinged finish with hints of cedar cigar box. It's showing beautifully and is one of the finest Rhones to cross these lips for less than $40 – never mind for under $30! 

Moving on, back again is one of my favourite bone dry sherries  Tio Pepe Palomino Fino Muy Seco Sherry (242669) at $16.95 scoring **/**+. Very light yellow in colour, the nose is slightly spicy, quite intense and peppery with bright, dried ripe lemon peel notes. That pretty much describes the way it tastes along with its bracingly dry, crisp finish. A bit of an acquired taste, serve chilled by itself or with appetizers and soups. Keep chilled once you open the bottle.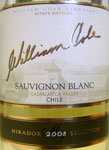 There are a couple of tasty, reasonably priced Sauvignon Blanc. The best value *+ comes from Chile's Casablanca Valley William Cole 2008 Mirador Selection Sauvignon Blanc (93948) at $13.95. It's fairly intense, rather spicy and appealing on the nose with honeyed, ripe apple-melon-peach compote notes with hints of lemon. On the palate it is very dry, medium-light bodied, rather spicy and bright with gently grassy, ripe lemon-melon-rhubarb-peach flavours and a crisp, lingering finish. Ready to drink with fairly wide appeal, it is the type of wine you like to find in restaurants being poured by the glass.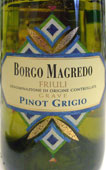 Italian Pinot Grigio is all the rage. I occasionally am hard pressed to comprehend what all the fuss is about. Fortunately, if you taste Borgo Magredo 2007 Pinot Grigio (72389) at $16.95 then you'll understand why people like this grape. This *+/** winner has an attractive, slightly spicy, ripe apple-melon nose. On the palate, it is fairly dry and harmonious with slightly floral, ripe melon flavours and a crisp, lingering finish. Versatile and ready to enjoy, you may want to wait until Monday, February 2 when you will receive 4 bonus AirMiles with the purchase of each bottle.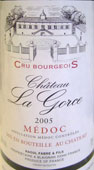 I rarely get excited by Bordeaux, but here is a gem. Château La Gorce 2005 (91397) at $19.95 is a serious, over-achiever scoring a remarkable **+/***. This Médoc has an extremely deep intense purple colour and complex, rather earthy, stewed plum-prune nose. On the palate it is solid, dry and medium-full bodied with baked plum, stewed red and black cherry flavours and a lingering, mocha, licorice-tinged, fairly earthy finish.  The blend of 50% Merlot,  45% Cabernet Sauvignon, 5% Cabernet Franc/Petit Verdot is usually aged 12 months with 50% new oak. I like this style and realize that perhaps it isn't for every palate. So before you buy a case, try it first.

You can get all the ratings TODAY for both the current January 31st and upcoming February 14th Vintages releases by becoming a FBTI Supporter (click here) plus you will save $20.
---
Frisky Whisky
for Robbie Burns Revelers
Welcoming the Year of the Ox
Vintages Final Clearance
Michael Vaughan
Friday, January 23, 2009
So here it is, the 250-birthday celebration of Robbie Burns. There are over 200 skews at the LCBO – more than 150 single malts and 40 blends. Picking the right one is always a matter of personal taste. To make life a bit easier, here is my listing of all 48 Vintages releases that have appeared in 2008/2009 (click here to see).
Those wanting to sample a wee drop of Scotch and a nibble of haggis should drop by the LCBO Summerhill store (off Yonge Street) this Saturday at 11:30 am. Getting something for free is always a thrill. Of course, when one factors in the profits related to LCBO annual sales of $35 million of single malt and $93 million of blended Scotch, these nibbles are merely miniscule crumbs from the table (click here to see).
As for the best, I am sad to report that last year's Robbie Burns Day best buy, the triple distilled Auchentoshan 10 Year Old Lowland Single Malt (#341750) at 46.95 had been discontinued and is no longer with us. It's replacement Auchentoshan 12 Year Old Lowland Single Malt (#107359) at $53.90, much to the chagrin of many shoppers, it isn't available either. What makes this doubly infuriating is that the LCBO is currently offering a widely advertised $5 LTO on this product. A great shame for all those who relish the mild, elegant flavours of a Lowland single malt.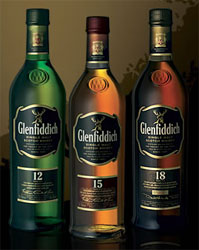 If you enjoy Highland single malt, why not try one The Glenfiddich Tasting Collection (604686) at $72.95 for three 200 ml bottles. Here are the notes/scores of our contributors Patricia Noonan: Glenfiddich 12 Years Highland Old Single Malt - Gold, perfumey, honey, vanilla, smoke, candied peel, candied cherries with a firm mouthfeel finishing with baking spices and a slightly cooling mint finish. PN rated **+ (out of ***). Glenfiddich 15 Years Old Highland Single Malt  - Dark gold with vanilla and cocoa notes, honey and tropical fruit. Spicy sweet upfront with intense clove-cinnamon and tropical fruit replays with a long, satisfying finish. PN rated **. Glenfiddich 18 Years Old Single Highland Malt - Orange gold colour, the 18 sports butterscotch, spice and marmalade. Velvety texture with a baking spice, fruitcake finish. Great length. PN rated **+.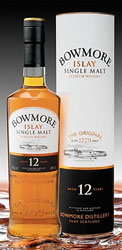 For those who enjoy something more flavourful with some smoky bite, Islay is the place to be. The best buy at the LCBO is Bowmore 12 Years Old Islay Single Malt (330803) at only $43.05 with a current $6 LTO has a slightly smoky, plummy, peat-tinged nose is accompanied by very gently peaty, harmonious, ripe plum and slightly smoky, caramel-tinged flavours. Unfortunately, another one of my favourites from last year – the more flavourful, fuller bodied Bowmore Mariner 15 Years Old Islay Single Malt (#514125) at $60.80 is no longer with us.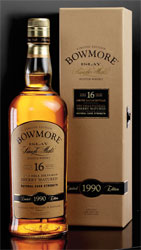 However, the recommended Bowmore 16 Years Old Sherry Matured Islay Single Malt (#11254) originally released in Vintages on June 9, 2007 is now available as a VINTAGES ONLINE EXCLUSIVE at $119.00 (this is 750 ml vs. the 700 ml bottle released at $127.95). Here is my original tasting note: Surprisingly light yellow colour. Slightly smoky, very faintly medicinal and yet elegant, caramel-tinged nose with cedar-sandalwood notes. Very dry, rather smoky, full bodied, flavourful, slightly honeyed, ripe lemon-plum flavours with a long, lingering finish.
Bubblies to Welcome Year of the Ox
The day after Robbie Burns birthday is the Chinese New Year. This is the Year of the Ox – and it happens every 12 years. Happily most Chinese celebrate on Monday, January 26th. Just imagine the chaos for Scottish-born Chinese who have two days of non-stop celebratory malt whisky.

It's always fun to pair Chinese food with wine. Of course, the style of cuisine varies immensely from region to region. While I have often recommended Riesling from Germany, Alsace and Ontario, this year I decided to think outside the box. At a mini Chinese New Year preview I sampled a brand new, reasonably priced, Italian Asti, which really hit the spot. Check out the just-released, super effervescent Araldica Asti (94573) at only $12.95 – it's a sweet, juicy, bubbly that everyone enjoyed.  Better yet, it only has 7% alcohol and is the most reasonably priced example at the LCBO.

If you want to go upscale, then try excellent vintage-dated Patrizi 2007 Moscato d'Asti (101766) at $14.95, which was released in Vintages on January 17, 2009. It has even less alcohol (5.5%) and is sweet but balanced, with delicious, honeyed, ripe, Muscat-melon flavours.
Final Clearance Sale
Here is final Vintages Insider's Direct Final Clearance Sale, which started on January 21st at 9:00 am through v-mail only. (click here to see). For ordering call Vintages Sales Centre at 416-365-5767 or 1-800-266-4764.