Best Valentine Buys
Vintages February 14 release
Michael Vaughan
Friday, February 13, 2009
Tomorrow's Vintages February 14th Release features a whopping 137 releases including 12 In-Store Discoveries. This is the best Vintages South Africa Red thematic to date and it features 18 selections. There is also a Valentine's Day selection featuring 11 items.

Dealing with the South African wines first, don't miss their sole sparkler Graham Beck Brut (593483) a bargain at $18.95. This Méthode Cap Classique received a rating **+ (out of ***+) and is made in the Champagne-style being a blend of 54% Chardonnay and 46% Pinot Noir. Medium light yellow in colour, it has a very pleasant, honeyed, ripe lemon-melon-apricot nose with some toasty notes. On the palate it is dry and well balanced with gently honeyed, ripe lemon, melon and red apple flavours accompanied by very good effervescence and length. Note that 30% of the blend was fermented in 205 litre barrels giving the wine extra structure and complexity. It's the best example they have ever shipped to Canada.

There are only two whites from South Africa. The one to go for is Delheim 2007 Sur Lie Chardonnay (956219) at $17.95. It comes from the WO Simonsberg-Stellenbosch region and, considering the reasonable price, received an extremely high **/**+ rating. It has a light yellow colour and complex, intense, spicy, lemony, toasty, hazelnut nose. On the palate it is dry, bright and medium to medium-full bodied with ripe lemon meringue flavours and a lingering, toasty finish. Much improved over previous shipments.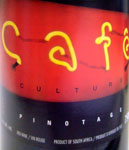 There are a surprising number of fine South African reds worth buying. My top choice is and best buy of the release is 2008 Café Culture Pinotage (72710) at $13.95. This Western Cape *** wonder has 14% alcohol and gobs of smoky black cherry & coffee. It has a very deep intense purple colour and a rich, smoky, complex, black cherry nose with maple syrup, mocha notes. On the palate it is fairly dry and well structured with very juicy, slightly smoky, plummy, black cherry flavours along with a long, slightly sweet, finish. Delicious! The recommended best buy 2007 (***) was released on August 2, 2008 at $13.95 and sold out in just a few days. Sadly this is the last effort of renowned Pinotage winemaker Bertus Fourie who left KWV on May 1, 2008. There are only 350 cases so move quickly – very quickly – today Friday, February 13.

Considering how hard good Pinotage is to find, I was almost in shock to discover that there should be two additional **+ best buy releases to choose from. Also extremely good and well priced is Delheim 2005 Cabernet Sauvignon (981357) at $16.95, which received a **/**+ rating. It has a spicy, slightly smoky, ripe plum nose and is dry, medium bodied and well structured on the palate with ripe plum flavours and a slightly cedary finish. A big improvement - much riper and harmonious - when compared to earlier releases.

If you are looking for a great **+/*** white Burgundy value, don't miss Maison Champy 2006 Pernand-Vergelesses (8151) at $29.95. It has a rather seductive, intense, complex, rather cedary, key-lime pie nose. On the palate, it is dry, well structured and medium to medium-full bodied with fairly toasty, ripe lemon and key lime pie flavours along with a lingering, crisp, mineral-tinged finish. Let it breath for an hour before consuming.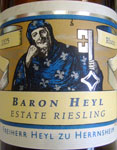 From Germany's Rheinhessen, I loved the organic Baron Heyl Estate 2005 Riesling (89573) at only $17.95. It rated **/**+ and has an intense, spicy, honeyed, mineral-tinged, floral, lemon meringue nose. On the palate, it's just off dry and quite well structured, with honeyed, lemon meringue flavours and a lingering, caramel-tinged finish. With 21 mg/L of free sulphur, it shows good versatility and is ready to enjoy.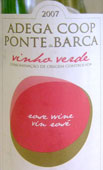 Last but not least, is a very tasty blush surprise from Portugal. With only 9.5% alcohol, Adega Coop Ponte da Barca's 2007 Vinho Verde Rosé (94995) at $14.95 rates a very decent *+/**. Light reddish pink in colour, the nose is very juicy, spicy and honeyed with loads of ripe strawberry purée. Just off dry, it is light to medium-light bodied with spicy, dried ripe strawberry flavours and lingering finish. Drink up and enjoy. 
Portuguese wine fans should plan the upcoming ViniPortugal Annual Trade Tasting, which will be open to all interested restaurant and wine trade, wine education students, journalists etc. Held at Art Gallery of Ontario, Baillie Court, from 2:30 to 6:00 pm on Thursday, February 26th. For details call William Delgado at 416-921-0259 or click here to see the invitation.
---
Insider Best Buys
Vintages January 31st release
Michael Vaughan
Friday, January 30, 2009
Tomorrow's Vintages January 31st Release features some 120 items in total including 12 In-Store Discoveries, which are all available in Vintages today, Friday, January 30. It has a 90+ Wines thematic featuring 29 selections, most of which in actual fact receive only 90 points. I am not a wine snob, but I must admit, I was truly amazed that some of these wines would score 90 points anywhere, anytime.

In general, I was not moved by the 90+ whites. A couple which were downright disappointing – mature and over-the-hill. As for the reds, I had two recommended best buys. My personal highlight was a truly amazingly delicious Delas Frères 2006 Domaine Des Grands Chemins Crozes-Hermitage (101105) at $28.95. Rating ***/***+ (out of ***+), it certainly is  a contender for the Best Value Red for 2009. This 100% Syrah has a very deep intense purple colour. It has a lovely, complex, vanilla-tinged, black cherry purée nose and dry, well-structured, slightly earthy, plummy, ripe black cherry purée flavours followed up by a lingering, harmonious, vanilla-tinged finish with hints of cedar cigar box. It's showing beautifully and is one of the finest Rhones to cross these lips for less than $40 – never mind for under $30! 

Moving on, back again is one of my favourite bone dry sherries  Tio Pepe Palomino Fino Muy Seco Sherry (242669) at $16.95 scoring **/**+. Very light yellow in colour, the nose is slightly spicy, quite intense and peppery with bright, dried ripe lemon peel notes. That pretty much describes the way it tastes along with its bracingly dry, crisp finish. A bit of an acquired taste, serve chilled by itself or with appetizers and soups. Keep chilled once you open the bottle.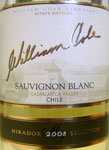 There are a couple of tasty, reasonably priced Sauvignon Blanc. The best value *+ comes from Chile's Casablanca Valley William Cole 2008 Mirador Selection Sauvignon Blanc (93948) at $13.95. It's fairly intense, rather spicy and appealing on the nose with honeyed, ripe apple-melon-peach compote notes with hints of lemon. On the palate it is very dry, medium-light bodied, rather spicy and bright with gently grassy, ripe lemon-melon-rhubarb-peach flavours and a crisp, lingering finish. Ready to drink with fairly wide appeal, it is the type of wine you like to find in restaurants being poured by the glass.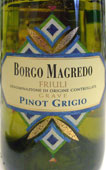 Italian Pinot Grigio is all the rage. I occasionally am hard pressed to comprehend what all the fuss is about. Fortunately, if you taste Borgo Magredo 2007 Pinot Grigio (72389) at $16.95 then you'll understand why people like this grape. This *+/** winner has an attractive, slightly spicy, ripe apple-melon nose. On the palate, it is fairly dry and harmonious with slightly floral, ripe melon flavours and a crisp, lingering finish. Versatile and ready to enjoy, you may want to wait until Monday, February 2 when you will receive 4 bonus AirMiles with the purchase of each bottle.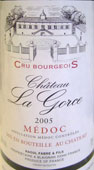 I rarely get excited by Bordeaux, but here is a gem. Château La Gorce 2005 (91397) at $19.95 is a serious, over-achiever scoring a remarkable **+/***. This Médoc has an extremely deep intense purple colour and complex, rather earthy, stewed plum-prune nose. On the palate it is solid, dry and medium-full bodied with baked plum, stewed red and black cherry flavours and a lingering, mocha, licorice-tinged, fairly earthy finish.  The blend of 50% Merlot,  45% Cabernet Sauvignon, 5% Cabernet Franc/Petit Verdot is usually aged 12 months with 50% new oak. I like this style and realize that perhaps it isn't for every palate. So before you buy a case, try it first.

You can get all the ratings TODAY for both the current January 31st and upcoming February 14th Vintages releases by becoming a FBTI Supporter (click here) plus you will save $20.