Sicily:
A new ancient vinous destination
Michael Vaughan
Friday, February 27, 2009
Tomorrow's February 28th Vintages release finally sees a well-deserved focus on Sicily. While I may quibble with some of the selections, especially some of the reds (only six items are on offer), the effort of rediscovering some of Europe's most ancient wines is well worthwhile.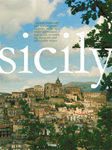 It has taken a long time for the sizable investment in winemaking infrastructure to arrive in Sicily. The transformation wasn't easy - it isn't a wealthy region and it is filled with grapes that are not on wine lover's most wanted list. Nevertheless, the advent of early harvesting, controlled drip irrigation, cold-fermentation in stainless steel, etc. has resulted in a revolution in quality.

Testimonial to Sicilian success is the soaring popularity of Montalto on the LCBO general list. I have chronicled their arrival with the following words in my weekly National Post Christmas 2005 column:

Imagine my surprise when tasting the recently-released Montalto 2003 Nero d'Avola Cabernet Sauvignon (621151) - the definitive turkey wine of the tasting. This IGT blend of 60% traditional Nero d'Avola and 40% Cabernet Sauvignon comes in a modern screwcap bottle. Aged for three months in one-year old French and American oak, the focus is on fruit and freshness. Deep purple colour, the nose is very bright and attractive with ripe, plummy, strawberry fruit. It is dry, crisp and medium-light bodied with tangy, plums, cranberry and cherry flavours with a crisp refreshing finish.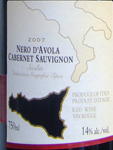 The current, slightly fleshier,  Montalto 2007 Nero d'Avola Cabernet Sauvignon (621151 • GL) is even better, scoring *+/** (out of three stars) with its fresh, juicy flavours. It's a best buy at only $9.95 (5 airmiles from March 1-28).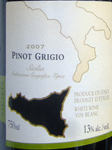 In terms of whites, the current Montalto 2007 Pinot Grigio (73148 • GL) also at $9.95 (4 airmiles from March 1-28) scored an impressive . Here, at last, is a well-priced Italian Pinot Grigio with lots of supple fruit flavours. The ripe lemon-melon-apple-pear nose is perfectly balanced by gently juicy, crisp, melon-pear flavours on the palate. A versatile crowd-pleaser, it too comes with a convenient screwcap.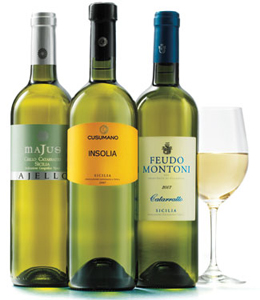 I am happy to report that all three Sicilian whites being released tomorrow are worthy of consideration. They include the crisp melon-pear driven Fuedo Montoni 2007 Catarratto (111252) at $15.95. It rated *+. Bright very light yellow colour. Attractive, slightly honeyed, ripe melon aromas. Dry, harmonious, medium-light bodied, ripe melon-pear flavours with a crisp, unoaked finish.
Next comes Ajello Majus 2007 Grillo/Catarratto (670844) at $16.95. It rated *+. This 50/50 blend of the indigenous Grillo and Catarratto grapes has a light yellow colour. Rather spicy, honeyed, red apple nose. Dry, slightly spicy, medium-light bodied, tangy, pleasant, slightly lemony, ripe red apple flavours with a crisp, unoaked finish.

For my taste, the best buy is Cusumano 2007 Insolia (606350) at $14.95. It rated *+/**. This blend of the aromatic, indigenous grape Insolia (70%) and Chardonnay (30%) has a medium yellow colour. Fine, fairly juicy, ripe Anjou pear nose. Dry, slightly honeyed, gently toasty, medium bodied, dried pear flavours with some nectarine notes on the lingering finish. Versatile and ready-to-drink.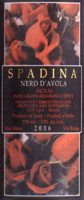 Of the six Sicilian reds presented by Vintages to the wine writers, two items had cork taint. The best of the group was Spadina 2006 Nero d'Avola (92932) at $16.95. It rated *+. Fairly deep purple color. Intense, fairly juicy, plummy, cherry-berry nose with hints of sandalwood. Dry, medium bodied, harmonious, fresh, vibrant, gently juicy, plummy, ripe crancherry flavours with a lingering finish.

Midi & Provence at Vintages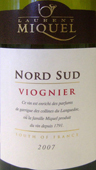 The second part of the release focuses on 19 selections from the sun-drenched regions of Midi and Provence in southern France.  The best buy white is Laurent Miquel 2007 Nord Sud Viognier (673236) at $17.95. It rated **. Light straw colour. Slightly spicy, cedar-tinged, lemony, ripe melon-pear nose. Dry, very lively, rather spicy, medium bodied, honeyed, ripe pear-lemon-melon flavours with a crisp, lingering finish. Ready to enjoy - a real crowd pleaser.

As for the reds, my top buy is Camplazens 2006 Syrah (104752) at $14.95. It rated **/**+. Extremely deep intense purple colour. Very complex, slightly smoky, leathery, plummy, baked red and black cherry nose. Dry, medium-full bodied, fairly extracty, plumy, ripe red and black cherry flavours with a long, lingering, slightly cedary, mocha-chocolate finish.
Portuguese Gems
– The Release Highlight


Portugal has two great buys. The first is Sogevinus 2007 Divinica White (94904) at $15.95. It rated *+/**. This blend of Malvasia Fina, Gouveio and Rabigato has a very pale straw colour. Slightly spicy, ripe apple-pear purée nose. Dry, pleasant, medium-light to light bodied, slightly spicy, fresh Anjou pear flavours with a crisp, unoaked finish.

The best wine of the release is the stunning red Quinta Do Infantado 2006 Red (95158) at $23.95. It rated ***/***+. This blend of Touriga Nacional, Tinta Franca and Tinta Roriz has a extremely deep intense purple colour. Complex, spicy, plummy dried ripe black cherry nose with some vanilla notes. Dry, complex, medium-full bodied, harmonious, still youthful, concentrated, ripe black cherry flavours with a lingering, cassis-driven, cedar-tinged finish. The grapes were actually fermented in the traditional Portuguese concrete lagars and crushed by foot before being put into settling tanks and aged for 16 months in oak.
Tasting Notes for Monday's March 2nd Vintages Sale (43 items)
are now posted in the FBTI Supporter section
click here
If you are not yet an FBTI Supporter click here and save $20
---
Cuvée 2009
Ontario winemakers
whoop it up once again
Michael Vaughan
Friday, February 20, 2009
It's the winemaker's chance to get even. While wine judgings are usually peppered with experts, next Friday's annual Cuvée Gala fundraising event is a celebration of Ontario wines as determined by the winemakers themselves. Eschewing trial by wine critic, some 41 participating winemakers were broken up into a number of panels, which tasted some 190 wines from some 52 participating wineries.
To say that the Cuvée award winners are Ontario's "best" isn't quite right. First, less than half of Ontario wineries participated and almost all were in the Niagara Peninsula. Second, each winery was limited to entering only three VQA non-general list items - all of which will be available for sale at the winery store by Saturday, February 28. Third, wineries could submit a general list red and white, but only the single best general list red and white will be featured at Cuvée.
Next week's Cuvée Gala will be most enjoyable with some 154 wines to taste, along with special treats from some of the top local chefs (to see the list of wines – click here, to see participating chefs – click here). It takes place at the Fallsview Casino Resort.  While one has to shell out $200 to attend, the proceeds go to the Niagara Community Foundation. Attendees will receive a charitable tax receipt for $125 along with a Cuvée en Route Passport (which normally costs $30) for various special weekend tasting events taking place at 43 wineries (Friday through Sunday). To see what wines are being featured at each venue click here. The good news is that FBTI Supporters can save $25 and buy tickets at only $175 by calling 905-684-8688. Make sure that you mention FBTI while placing your order.
The final Cuvée results will be announced at 6:30 pm at next Friday's Cuvée event. I will send you the results as soon as they are released. In the meantime, here are some top picks from a preview tasting. I was, by the way, the only wine columnist prepared to assess all the wines blind.  My two top sparkling wines were Henry of Pelham Cuvée Catherine Brut (released in Vintages in December and still available at $29.95) and Maleta 2006 Estate View Old Vines Brut (winery only at $27.95). Best Riesling (4 presented) Tawse 2007 Sketches of Niagara Riesling (released in Vintages on August 16 and still available at $18.20). Best Gewurztraminer (4 presented) was Calamus 2007 Gewürztraminer (winery only at $15.20). The top Viognier (only one presented) was Creekside 2007 Viognier Reserve (winery only at $24.95). Top Chardonnay (8 presented) Peller Estates Signature Series 2007 Chardonnay Sur Lie (winery only at $30.20) and Cattail Creek Estate 2007 Barrel Fermented Chardonnay (winery only at $19.20).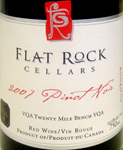 In terms of reds, of six Pinot Noir presented, my favourite and best buy was Flat Rock Cellars 2007 Pinot Noir (a Vintages Essential at $19.95). It rated ** (out of three stars) in my Vintages Essentials Report in the December 20th issue of Vintage Assessments (click here to see). My tasting note reads: Ambering light red colour. Ripe red cherry nose with hints of vanilla. Dry, medium-light bodied, bright, plummy cranberry flavours with a lingering finish. Well-balanced and ready to drink with a subtle hint of cedar. Perfect with salmon and turkey. Screwcap closure.
Of three Cabernet Franc, the best was Thirty Bench Small 2006 Lot Cabernet Franc (winery only at $35.20). I found many of the reds to be acceptable, but not all that exciting. As I have only previewed a third of the wines being poured, I am sure there are some definite undiscovered gems.
I will be presenting some additional recommendations and a list of which Cuvée en Route wineries you should visit in my Wednesday, February 25th Liquid Assets update. In the meantime check out Wine Awards Canada 2008 Ontario Award Winners:
To see the 2008 winning wines sorted by type Click Here
To see the 2008 winning wines sorted by winery Click Here
Our compilation of awards from all four competitions is now complete: 20 from Cuvée (gold awards only), 72 from the Ontario Wine Awards, 73 from the All Canadian Wine Championship and 112 recently announced awards (representing 44% of the total) from the Canadian Wine Awards. The number of awards given was down from the previous year. There were 300 in total, which translates into 272 award-winners with only 27 items or 10% receiving multiple awards. This year only one wine Pelee Island 2005 Cabernet Sauvignon received a medal in three of the four competitions: a gold, a silver and a bronze. Only two wines Niagara College 2006 Barrel Fermented Chardonnay and Jackson-Triggs Proprietor's Grand Reserve 2006 White Meritage received two golds. What is always surprising is the lack of consensus. Of course, many of the better wines were not entered because producers feared receiving low scores - ie. a bronze medal for a highly priced, icon brand. Also, there is no point entering a wine if it will no longer available when the results are published – often months later. In addition, these competitions tend to be expensive and can be tied in with requisite advertising, meaning that some small, but highly respected, producers refuse to participate. Last but not least, keep in mind that most of the top award winners are no longer available.
Coming Up: don't miss the upcoming ViniPortugal Annual Trade Tasting, which will be open to all interested restaurant and wine trade, wine education students, journalists etc. Held at Art Gallery of Ontario, Baillie Court, from 2:30 to 6:00 pm on Thursday, February 26th. Three-dozen producers will be showing some 331 wines. To attend call William Delgado at 416-921-0259 - click here to see the invitation.