Get all the evaluations for the May Release
Subscribe to Vintage Assessments today by Clicking Here
This not-for-profit website is dedicated to the discerning reader!

Why Big Movers Hog LCBO Shelf Space
Or how to make money by reducing choice

© Michael Vaughan 2004
National Post Weekly Wine & Spirits Columnist



Saturday, April 10, 2004

LIVE WINE LINK


www.winefind.ca


(CLICK ON THE NAME - All listings are automatically linked to the LCBO database)
If there is a product that interests you, just click on the name below and you will instantaneously connected with the LCBO database. The product will appear in blue and all you have to do is

click on the name again

and then the next screen will provide details along with the store search.

Just click on store search

. The number of bottles in each store is updated nightly. You should call the store first to see if stock still remains (each store phone number is listed).
They are popping up everywhere, like the every prolific Easter Bunny. No I am not referring to our seasonal furry friends, but rather the dozens of identical wines that hog all the best shelf locations at local LCBO stores. Visiting Yonge Street's prestigious Summerhill store, I am overwhelmed by wave after wave of Australian Wolf Blass. Meanwhile, I scurry around searching the bottom shelves for the facing of the wine I actually want to buy.
It is a sad story. Stores are now forced to carry high selling "core" wines, which are selected by head office on the basis of profitability. Meanwhile, the total number of wines available in any store is capped. As a result, over the past two years the real selection in some stores has dropped by as much as 35%. The LCBO suggests that this is good because consumers can now find popular brands more easily.
But there is more. The LCBO's new door-to-floor inventory means that the big sellers get more floor space than ever before. Add to this the LCBO plan-o-gram, which dictates what goes on the shelve and exactly where. Long gone are the days when LCBO personnel could arbitrarily put a great new wine on the top shelf. Now top shelf space is reserved for those individual brands, which as a group, generate the most income.
The LCBO's justification is to simply give the customer what they want – if it's popular put it out front. I don't have problem with that, but it would seem that this system makes it difficult for small sellers to get ahead. "It actually penalizing wines that are not huge sellers," complains one wine agent. "God knows, it's hard enough to just get a listing – the LCBO wants you to spend a lot of money advertising in Food & Drink and in their store programs. Then to see it go down the tubes, just a short time after, because it didn't make the LCBO's arbitrary quota – well that, really hurts."
Of course, one can always participate in the LCBO's advertising/merchandising programs, assuming that openings are available and/or the LCBO accepts your application. Unfortunately, such promotions are hugely expensive and many small producers can't afford the outlay. Moreover, they don't always work. and even if sales jump, it still doesn't get a product on the top shelf. It's a system that keeps the status quo, by helping the big players who have deep pockets.
Contrast this to the private system, where individual store owners try to get customers to discover their new buys, which often get top shelve exposure. The reason: private stores want to provide something special in order to attract customers. Unfortunately, no such competition exists in Ontario, explaining why the LCBO has been reducing the number of listing skews. Imagine the incredible boost in LCBO profits if everyone could be convinced to buy either Andy Brandt Red or Andy Brandt White. Those wanting a rosé could simply blend the two at home.
On March 29th, the LCBO delisted 40 wines for not making quota. As usual, there was no public announcement. I provided readers with details of delisted sale items on my website. When I tried to track down some of the better wines on the LCBO's website database, I found that they no longer existed. This, despite the fact, that they were still available, albeit in limited quantities, in a many LCBO stores. It was just another inconvenience to its captive customers who had to call the infoline to find remaining stock..
As some very good buys exist on the general list, here are a few for Easter. Given its huge LCBO exposure, it should easy to find Wolf Blass 2003 South Australia Riesling (505370) at $11.95. It is very faintly sweet but refreshing with attractive, slightly spicy, gentle ripe lemon and pear flavours that show nice minerality and a lingering finish. This versatile, crowd-pleaser is best with poultry, ham or seafood.
By contrast, South Africa's Drostdy-Hof 2003 Chardonnay (343202) has loads more character. A steal at $9.00, look for a slightly smoky, ripe pear nose followed up by dry, well balanced, smoke-tinged, baked pear flavours with good length and acidity.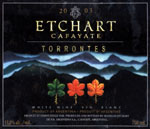 More idiosyncratic, is the seriously spicy Etchart Cafayate 2003 Torrontes (283754) at $9.95. It comes from Argentina and has a lovely, honeyed, ripe tangerine citrus nose. It is surprisingly dry on the palate with very spicy, lychee, rose petal and ripe pear flavours plus a touch of pepper on the finish. If you like Gewurztraminer, you will love this!
Finally, if you are looking for a magnum of crowd pleasing red, check out Lindemans 2002 Bin 50 Shiraz (614776) at $22.95 (1500 ml). This Aussi has a dark ripe plum nose with some spicy cocoa notes and is quite rich on the palate with ripe black cherry, cassis and cedar flavours. Perfect with bbq ribs, I even preferred it to their more expensive 2002 Reserve Shiraz (482299) at $13.95.
2001-2002-2003-2004 Tasting Note Database
Our tasting note database from December 31, 2000 to March 2004, covers every Vintages release product for the past 39 months. There are more than 6,000 notes in the database data. Just enter the name of the product, supplier name or CSPC number. Or you can search by type of wine, country of origin, even wine agent! Nothing could be easier. Also you can get information on the agent by clicking on the agent's name, as well as current LCBO store inventory by clicking on "Check LCBO Availability", which will automatically tell you the number of bottles at LCBO as of last night.
To use our winefind.ca Tasting Notes Database: click here
Subscribe to Vintage Assessments Today • Click Here
** For All Visitors **
Vintages May 2004 Release
To see the complete list of upcoming products click here (sorted by date of release). It includes the number of cases, which wines were presented by the LCBO, our agent ID for every product, as well as, special unannounced "In Store Discoveries" for May.
You can also see it sorted by agent click here
Copyright Food & Beverage Testing Institute of Canada 2004
Prior written permission is required for any form of reproduction
(electronic or other wise) and or quotation.
Contact Michael Vaughan at
mbv@total.net