Recent Articles


Get all the evaluations for the May Release
Subscribe to Vintage Assessments today by Clicking Here
This not-for-profit website is dedicated to the discerning reader!
From Austria's Svelte Velt
To Classics from British Columbia

© Michael Vaughan 2004
National Post Weekly Wine & Spirits Columnist



Saturday, April 24, 2004
LIVE WINE LINK


www.winefind.ca


(CLICK ON THE NAME - All listings are automatically linked to the LCBO database)
If there is a product that interests you, just click on the name below and you will instantaneously connected with the LCBO database. The product will appear in blue and all you have to do is

click on the name again

and then the next screen will provide details along with the store search.

Just click on store search

. The number of bottles in each store is updated nightly. You should call the store first to see if stock still remains (each store phone number is listed).
Grüner Veltliner is Austria's key grape and a key to white wine fame. It isn't easy to pronounce: grew-nurr (nurr as in grrr), which means green, and velt-leaner. Unfortunately, no matter how tasty, this grape's name doesn't hang easily on anyone's lips. Of course, it could be worse, at one time it was referred to as Weisser, Grüner Maukateller and even Weissgipfler.
For over a decade I have argued that Austrians should forget about the Grüner part and simply call it "Velt"! I could see the ads for the Svelte Velt - something everyone could easily remember. But alas, no one has bitten, at least not as of yet. Perhaps that's because there is also a Brauner (brown) Veltliner, a Roter (red) Veltliner and even a Früher Roter Veltliner.
Although rarely seen, three Roter will be appearing the upcoming annual Austrian wine fair on Tuesday, May 4th. You can taste them; along with 180+ other Austrian wines from over 40 producers, for a mere $30. This sell-out, best deal in town takes place at the Arcadian Court (401 Bay Street) from 6:00 pm to 8:30 pm. Advance registration is required - call 416-967-3348 ext 18 or email toronto@austriantrade.org. To see the full list of wines at the show click here.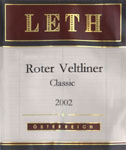 While at the fair, be sure to try the excellent Leth 2002 Roter Veltliner Classic (907113), which makes its debut in the Vintages May 8th release at $16.95 just in time for Mother's Day. The ripe apricot-citrus nose has attractive hints of acacia honey, meanwhile on the palate it is dry and well textured with apricot-tangerine flavours that show excellent length. It's unoaked and perfect with seafood.
Of recent vinous visitations, I was most impressed by one who might be referred to as "the king of B.C. wines." The dictionary defines pinnacle as the highest or topmost point or level of something. With this in mind, I recently broke bread at Toronto's Tundra Restaurant with Sumac Ridge Estate Winery founder Harry McWatters, who pioneered fine wine making in British Columbia. It seems that both McWatters and Tundra have gone where few have dared go before, the latter having an all-Canadian wine list (no imports!) featuring over 240 selections.
McWatters has always been a trendsetter and launched his Summerland winery in 1979. There are some 7 acres under cultivation around the winery, plus his joint venture 115-acre Black Sage vineyard further south on the west-facing bench between Oliver and Osoyoos. Always focusing on VQA wines, McWatters was the first to produce BC's premium sparklers, as well as, Canada's first Meritage. Sumac is also the largest North American producer of Gewürztraminer, something it launched in 1981 with 184 cases. Today, some 13,000 cases are produced!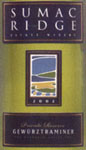 Not to be missed is the delicious, honeyed, spicy Sumac Ridge 2002 Private Reserve Gewürztraminer (142893) at $12.95, which has been made in a special style. In the mid-1990s, McWatters came up with the idea of blending in some spicy Muscat as a sweet reserve, which lifts the fruit and gives the wine a touch of sweetness (residual sugar rating of 1 or 10.8 g/l). The result is an award-winning, versatile, crowd pleaser that goes well with just about anything.
Unfortunately, trying to track it down is a bit of a challenge - only four LCBO stores carry it in the Toronto area. Here is another one of those LCBO best kept secrets. Launched without any fanfare, it is what the LCBO calls a "Destination Store" item meaning that you can only find it in one of 22 LCBO "Destination" stores (to see the store list click here). Better yet, I have been successful in getting the full list of all 51 wines appearing in the Destination Store programme (to see the product list click here).

Moving on to the most dazzling Canadian red of the year: Sumac Ridge 2000 Pinnacle ($49). While the 1998 appeared in the Classics, limited quantities of 2000 can be ordered (cases of six) through Vincor's David Bagozzi (905-564-3003 ext 325). Produced from the best barrels of eight-year-old Black Sage vineyard Merlot (75%), Cabernet Sauvignon (17%) and Cabernet Franc (5%), which were all vinified separately for 15 months in new American oak, and then assembled with – are you waiting? - a single barrel of McWatters' best 2002 Syrah (3%). This inspirational addition of youthful 2002 Syrah has given the 2000 Pinnacle beautifully lifted, juicy, ripe black cherry flavours. I should explain that under VQA rules, you are permitted to add up to 5% of wine from another vintage. With only 6,000 bottles, the final blend spent another 9 months in French oak and was bottled unfiltered. Kudos to McWatters for revealing how this stellar red was made.
Finally, I wish the LCBO could be more revealing. Once again we have the monthly general list delistings – 13 in total and all spirits. They all appear in the just-released, 110-page, spring edition LCBO "The Price Book." Unfortunately all 13 delisted items, which are going on sale next Monday, April 26th, have already been pulled from the LCBO database as if they didn't exist. Considering that the producers are forced to pay the LCBO 25% of the FOB price of all remaining bottles, isn't this exclusion unfair? And why are some products just reduced by 11%? Certainly one might ask why can't the LCBO tell its customers that these things are now on sale – the sooner they are sold, the better it is for all concerned! T

o see the list

click here

.
2001-2002-2003-2004 Tasting Note Database
Our tasting note database from December 31, 2000 to March 2004, covers every Vintages release product for the past 39 months. There are more than 6,000 notes in the database data. Just enter the name of the product, supplier name or CSPC number. Or you can search by type of wine, country of origin, even wine agent! Nothing could be easier. Also you can get information on the agent by clicking on the agent's name, as well as current LCBO store inventory by clicking on "Check LCBO Availability", which will automatically tell you the number of bottles at LCBO as of last night.
To use our winefind.ca Tasting Notes Database: click here
Subscribe to Vintage Assessments Today • Click Here
** For All Visitors **
Vintages May 2004 Release
To see the complete list of upcoming 144 products click here (sorted by date of release). It includes the number of cases, which wines were presented by the LCBO, our agent ID for every product,
as well as, the 31 "In Store Discoveries" for May.
You can also see it sorted by agent click here
Copyright Food & Beverage Testing Institute of Canada 2004
Prior written permission is required for any form of reproduction
(electronic or other wise) and or quotation.
Contact Michael Vaughan at
mbv@total.net