Recent Articles


Get all the evaluations for the May Release
Subscribe to Vintage Assessments today by Clicking Here
This not-for-profit website is dedicated to the discerning reader!

A great Beaune is hard to find

© Michael Vaughan 2004
National Post Weekly Wine & Spirits Columnist



Saturday, April 3, 2004

LIVE WINE LINK


www.winefind.ca


(CLICK ON THE NAME - All listings are automatically linked to the LCBO database)
If there is a product that interests you, just click on the name below and you will instantaneously connected with the LCBO database. The product will appear in blue and all you have to do is

click on the name again

and then the next screen will provide details along with the store search.

Just click on store search

. The number of bottles in each store is updated nightly. You should call the store first to see if stock still remains (each store phone number is listed).
Being a critic isn't always what it is cracked up to be. When it comes to wine, there is no question that producers who put their heart, soul and money into their wares are naturally disheartened upon receiving a bad review. Often things, such as unripe grapes from bad whether, are beyond their control. They do the best they can. And fortunately, unlike a film or book, there is always a sequel – another vintage - meaning that the prospect of a good review keeps the flames of hope burning.
The diversity of tastes guarantees that there is something for everyone. Nevertheless, as a professional, I believe that the reader deserves to know what I consider to be good and what is bad. And despite some tough reviews, I have never been told that my presence at a winery was not welcome.
That's not to say that all producers and/or agents are fans. Some 25 years ago I made some critical comments regarding a few of the wines being produced by a local winery, along with praise of the ones I liked. The owner wasn't impressed and I haven't been invited back. Unfortunately, this only punishes the winery, who looses needed visibility and readers who may be deprived of useful information. To deal with the latter, I make sure to periodically taste and report on these wines. In addition, I attempt to taste blind so as not to be influenced by the label.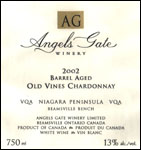 Getting back to what really matters, one of the big surprises in yesterday's Vintages release of 26 InStore Discoveries (ISDs) was the stellar Angels Gate 2002 Old Vines Chardonnay (957399), which goes for $23.95 (just $7 more than their regular 2002 Chardonnay coming out released today). Incorrectly identified as being from the 2000 vintage, it has an alluring nose with toasty, gently honeyed, key lime pie notes. Ditto for the palate, which is dry and well structured with lengthy, intense, buttered toast and key lime pie flavours. Aged in new French oak for 196 days and unfiltered, only four barrels (100 cases) were produced and 28 were snagged by Vintages. Alcohol is a hefty 14% and is balanced by high total acidity (6.3). Perfect with white meats and poultry, only 26 LCBO stores carry ISD items so call first (the list of stores appears at the back of the catalogue).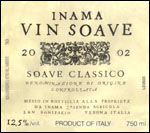 From today's release, a consistently charming white from the Veneto region in northeastern Italy comes Inama 2002 Soave Classico (949768) at $17.95. This 100% Garganega has a very pleasant, gently honeyed, wild flower nose. No oak has been used meaning that it is perfect with delicate fish dishes. On the palate it is rounded and dryish with gently honeyed, Anjou pear, ripe apple and fresh melon flavours that show good length. My only disappointment is the ever-increasing cost, which has been slowly moving up from $14.90 in 2001.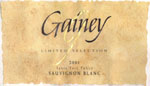 From California's Santa Ynez Valley we have The Gainey Vineyard 2001 'Limited Selection' Sauvignon Blanc (994459) at $22.95. This very tasty blend of 86% Sauvignon Blanc and 14% Semillon has an intense, attractive, lively, rather toasty, grapefruit rind nose with spicy grassy notes. It is fairly rich and gently toasty with vibrant, ripe, fresh pineapple flavours. Some 80% was barrel fermented and aged on the "fine" lees (i.e. the remaining sediment of dead yeast cells), which adds complexity and mouthfeel.
Those who might be tempted into tasting an unusual Georgia white made from Rkatsiteli grapes, which still is the most prolific variety throughout the former Soviet Union, should be advised to resist. I have had tasty renditions of this grape in the past, it is also grown by Konstantin Frank in the Finger Lakes, but Tbilvino 2001 Rkatsiteli even at only $9.95 is a disappointment with thin, turpy, very dry, crisp, dried green apple flavours.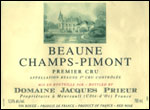 Burgundy fans should make a beeline to the reliable

Domaine Jacques Prieur 2001 Beaune 1er Cru 'Champs Pimont'

(712224) at $59.95 because, as any dog knows, a great Beaune is hard to find! We haven't seen this wine since the delicious 1998 appeared in Vintages on December 7, 2002 at $10 less a bottle. Look for a gently spicy, ripe cherry nose with subtle cedary notes. On the palate it is well structured but still quite elegant with dried ripe cherry flavours followed with some sandalwood notes on the lingering finish. Only 120 cases of six are available. It is head and shoulders above the rather mediocre

Domaine Ramonet 2001 Bourgogne Pinot Noir

(717850 ISD) at $27.95 and the peppery

Colin-Deléger 1999 Santenay

(995969) at $32.95.
2001-2002-2003-2004 Tasting Note Database
Our tasting note database from December 31, 2000 to March 2004, covers every Vintages release product for the past 39 months. There are more than 6,000 notes in the database data. Just enter the name of the product, supplier name or CSPC number. Or you can search by type of wine, country of origin, even wine agent! Nothing could be easier. Also you can get information on the agent by clicking on the agent's name, as well as current LCBO store inventory by clicking on "Check LCBO Availability", which will automatically tell you the number of bottles at LCBO as of last night.
To use our winefind.ca Tasting Notes Database: click here
Subscribe to Vintage Assessments Today • Click Here
** For All Visitors **
Vintages May 2004 Release
To see the complete list of upcoming products click here (sorted by date of release). It includes the number of cases, which wines were presented by the LCBO, our agent ID for every product, as well as, special unannounced "In Store Discoveries" for May.
You can also see it sorted by agent click here
Copyright Food & Beverage Testing Institute of Canada 2004
Prior written permission is required for any form of reproduction
(electronic or other wise) and or quotation.
Contact Michael Vaughan at
mbv@total.net