Get Michael Vaughan's Buying Guide
for February 3rd & 17th Vintages Release today!
Click Here
Burgundy Comes to Town
Despite Limited Vintages Buys
The Good News is Virtual Buying
© Michael Vaughan 2007
National Post Weekly Wine & Spirits Columnist
Saturday, February 10, 2007
To see this article as it appears in the National Post click here
CLICK ON THE NAME
All listings are automatically linked to the LCBO database
If there is a product that interests you, just click on the name below and you will instantaneously connected with the LCBO database. The product will appear in blue and all you have to do is click on the name again and then the next screen will provide details along with the store search. Just click on store search. The number of bottles in each store is updated nightly. Call the store first to see if stock still remains (each store phone number is listed).
Just the mention of next Saturday's Vintages Burgundy release brings fans to their feet with glasses held high. Of all wines, it is perhaps the least understood and most fickle. The great ones are almost impossible to buy and are always on allocation. They are sold to the most discerning retailers. Buyers from around the world are constantly scouring the countryside, visiting cellars and tasting the most recent batches from barrel. The best is always put aside for regular customers. Good Burgundy evaporates, especially once the word gets out. It means that anyone looking for something inexpensive should probably stop reading here.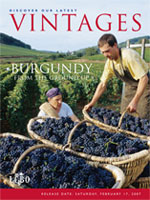 Needless to say, I wasn't overly surprised by the general mediocrity of the Vintages selection (27 items plus 6 hidden in-store discoveries) being released next Saturday. While some importers suggested that today's wines were the result of last Fall's visit by the Vintages Purchasing Director along with the Category Manager, it was in fact the Vintages "team" that was responsible for the selection earlier in the year. It means that we will have to wait and see what the visiting Vintages duo was able to come up with. Meanwhile, we are confronted with today's slim pickings. Most of the vintage-challenged 2004 reds are disappointing at the price, often with some peppery, bitter, greenish, herb-driven notes.
More than one Burgundian producer has wondered why anyone, other than the very largest houses, would be willing to sell their best wines to the LCBO. I am told that the LCBO "buys truckloads of the lower-priced, undistinguished, Burgundy." Such producers will apparently occasionally throw the LCBO a good wine or two good wine to make their everyday listings more credible.
It is challenging being a sporadic supplier because there is rarely any continuity of LCBO orders. Add to this the fact that the LCBO dictates that if their Burgundies do not have a 75% sell-through within 90 days, payment will be discounted by 25% on all remaining inventory. One asks: who the hell wants to sell to that kind of a buyer?
Indeed, it's amazing that the world's largest buyer genuinely believes that it can dictate buying conditions and still get great wines. Under these circumstances, many small, independent-minded Burgundians close their collective doors to LCBO overtures.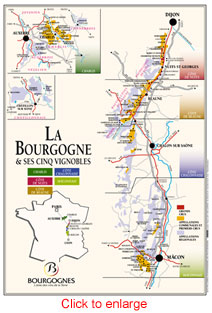 Moving on to the release, to understand and compare, Burgundy has to be appropriately grouped by the different styles reflecting each of the sub-regions. While some lump Beaujolais into the Burgundy equation (it accounts for 47 bottles out of every 100 produced), I do not. This is not to say that Gamay grape Beaujolais is inferior, it is just that it's different. For that reason, it is excluded it from my calculations below.
First, there is the basic Bourgogne designation, which is essentially a generic Burgundy and accounts for 31% of production. These are usually made from Chardonnay if white, or Pinot Noir if red, coming from almost anywhere within a very large area. Note that we have a bit of a problem here because Bourgogne Rouge can also be made from declassified Gamay from one of Beaujolais' ten Cru. For that reason, the words Pinot Noir, which historically could never be used on labeling, now frequently appears. While such everyday wines can be very decent, albeit usually a bit lighter in style, they can also be dreadful. Sadly, neither of the upcoming generics is worthy of a detour.
Moving on to Chablis, which only produces white wine, we find that this small region northwest of the Cote d'Or accounts for almost 17% of Burgundy production. Chablis can vary from straightforward, crisp and unoaked to big, complex and barrel-aged (certain Grand Cru).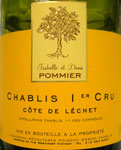 I am happy to report that some of the best wines in release are from Chablis - my pick of the week below and Pommier 2004 Chablis Côte de Lechet (23747) at $32.95, which is also a Chablis 1er Cru. Pommier has a pale straw colour and an elegant, slightly spicy, ripe lemon nose. On the palate it is dry with spicy, ripe lemon flavours and a fine, lime-tinged finish. Capable of aging for up to a decade, it can be enjoyed today while still very fresh.
Moving in an easterly direction, just south of the fabled Cote d'Or (which consists of Côte de Nuits and Côte de Beaune regions where most great Burgundies reside), is the most southerly Mâconnais region (about 23% of production), which is most famous for Pouilly-Fuissé and Saint-Veran. While some do not consider this to be real Burgundy territory, I have had very impressive wines from this region. Unfortunately, they are not in the upcoming release.
Moving north to Côte Chalonnaise, there are five appellations (6%), which sometimes produce terrific whites at remarkable prices, especially Mercurey and Rully. To this day, I am still drinking an incredible Georges Faiveley 1986 Mercurey Blanc, which I purchased in Vintages in 1989 at around $23. It has stood the test of time, aging very slowly in a chilly 4º C cellar. Sadly, the current Vintages cupboard is bare of any comparable beauties.
Venturing a bit farther north to Côte de Beaune (15%), we finally arrive in classic white territory - from Meursault or "mouse-jump" to the venerable Le Montrachet. Next Saturday's best is Chartron et Trébuchet 2002 Puligny-Montrachet (945741) at $ 51.95. The nose is great - complex, hazelnut purée with some leesy, lemon peel notes. Taste-wise, it's bright and well structured with ripe lemon-lime flavours and a lingering toasty finish.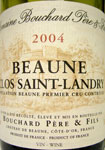 Moving on to this region's reds, many 2004s are on the challenging side of the equation with some definite duds. My favourite is Bouchard Pere & Fils 2004 Beaune Clos de la Mousse (14951) at $45.95. Coming from a 1er Cru vineyard, this Beaune is fruitier than most: a ripe red cherry nose and tangy, plummy, dried red cherry flavours with a very crisp finish.
Unfortunately, the only other red I can recommend comes from what I call la-la land, the Côte de Nuits (8%) just north of the Beaune It is the home of the Confrérie des Chevaliers du Tastevin whose numerous, wine swilling, hand clapping, la-la singing events take place at Chateau de Clos de Vougeot. Home of the red Burgundy giants - Chambertin, Morey-St.-Denis, Richebourg and Romanée-Conti - these are what collectors drool over.
Of the group being released, Robert Arnoux's sturdy 2004 Nuits-Saint-Georges Pascal Lachaux (653022) at $49.95 is arguably the best. It has a deep intense purple colour and faintly cedary, ripe, plummy, cherry nose. On the palate, it is well structured and fairly extracty with slightly peppery, lingering, plum and dried red cherry flavours. A big wine that calls for decanting and some aging, perhaps up to five years.
So that's it in a nutshell. Sadly, next Tuesday's Vintages Pre-Release Tasting of the Wines of Burgundy at the Fairmont Royal York is now sold out. It includes an additional 94 Burgundies that Vintages didn't buy, of which 75 will be available by virtual order. To see the full list of all 118 wines from 55 producers being featured at the Vintages tasting along with retail prices click here (to see the list sorted by region, click here). I also hope to have some virtual recommendations posted early next week from Terroirs et Signatures de Bourgogne, a trade-only pre-tasting event at the Fairmont Royal York Hotel organized by Sopexa Canada (featuring 245 Burgundies). These notes will be posted by 1 pm on Tuesday, February 13 prior to the trade tasting. Note that the Sopexa trade event is restricted to professional buyers only (with business cards) who can register at www.sopexacanadaevents.com
Please note that all of today's recommendations
are in the Vintages February 17th release
Pick of the Week

Domaine Long-Depaquit 2004 Chablis Les Vaillons (19364) at $32.95 comes from vines growing in the 1er Cru Les Vaillons district. This bright light yellow coloured effort has an attractive, honeyed, warm lemon nose. It is shows perfectly - dry and very well balanced with an abundance of ripe lemon-melon flavours followed up by a fine, schisty finish and lingering nutty notes.

2001 - 2007 Tasting Note Database
Our tasting note database from December 31, 2000 to January 2007, covers every Vintages release product for the past 73 months. There are more than 14,000 notes in the database data. Just enter the name of the product, supplier name or CSPC number. Or you can search by type of wine, country of origin, even wine agent! Nothing could be easier. Also you can get information on the agent by clicking on the agent's name, as well as current LCBO store inventory by clicking on "Check LCBO Availability", which will automatically tell you the number of bottles at LCBO as of last night.
To use our Tasting Notes Database: click here

** For All Visitors **
Vintages Releases
To see the complete list of upcoming products from the
February 3 release, including In-Store Discovery items,
click here (sorted by date of release).
You can also see it sorted by agent click here
To see the complete list of upcoming products from the
February 17 release, including In-Store Discovery items,
click here (sorted by date of release).
You can also see it sorted by agent click here
Copyright Food & Beverage Testing Institute of Canada 2007
Prior written permission is required for any form of reproduction
(electronic or other wise) and or quotation.
Contact Michael Vaughan at
mbv@total.net