Get Michael Vaughan's Buying Guide
for February 3rd & 17th Vintages Release today!
Click Here
Pinot Noir Madness III
New Zealand takes another step forward
Michael Carlevale takes a bite out of a famous American chef
© Michael Vaughan 2007
National Post Weekly Wine & Spirits Columnist
Saturday, February 17, 2007
CLICK ON THE NAME
All listings are automatically linked to the LCBO database
If there is a product that interests you, just click on the name below and you will instantaneously connected with the LCBO database. The product will appear in blue and all you have to do is click on the name again and then the next screen will provide details along with the store search. Just click on store search. The number of bottles in each store is updated nightly. Call the store first to see if stock still remains (each store phone number is listed).
Admittedly, New Zealand is a hell of a long way to go for a glass of wine - or even many glasses of wine. But considering that Air New Zealand has reduced its Toronto-Auckland return airfare to $1,652 (prior to taxes by February 28), it's well worth considering (to see details click here). I am still sky-high after last week's Pinot Noir 2007 conference in Wellington, which is held only every three years. When it started in 2001, only180 true believers were in attendance. Today, more than 500 winemakers and professionals hunkered down for four days of seminars and tastings.
And what tastings! In addition to the structured sessions, there were three windows to work your way through 100 booths where producers were showing up to five wines apiece. That's pretty challenging, even for a jet lagged, well seasoned, taster like myself.
It's amazing how far New Zealand has progressed in just six years. First, from out of nowhere, is has become king of Sauvignon Blanc with exports growing at a thunderous pace. Today, Sauvignon represents about 40% of plantings and 53% of total wine production. In 2001 making great Pinot Noir seemed to be a pipe dream today, New Zealand producers have their sights (and sites) set on challenging the classics of Burgundy. It's now New Zealand's second most important grape with 18% of total vineyard area, but only 12% of production due to much lower average yields.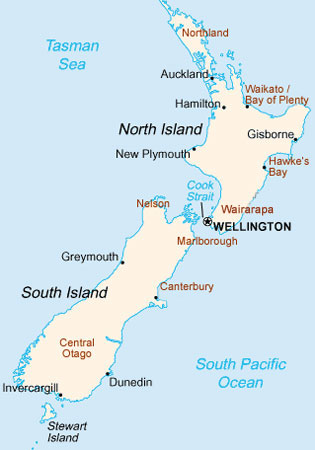 Location of New Zealand' s 358 Pinot Noir Producers
106 in Marlborough (South Island)
82 in Central Otago (South Island)
56 in Wairarapa (North Island)
48 in Canterbury (South Island)
29 in Nelson (South Island)
10 elsewhere
This hasn't been without difficulty. Climatic setbacks, for instance, from poor flowering conditions to frosts, especially in the rapidly growing southerly Central Otago region on the South Island, has limited the volume produced. It has also caused drastic qualitative swings from year to year. It means that, just like Burgundy, Pinot Noir fans have to buy carefully.
Of course, one would think that given this incredible opportunity to experience all these wines, that someone (anyone?) from the LCBO might be in attendance. Well guess again - nary a LCBO taster was in sight. And that's too bad because top UK/US buyers were snapping many of the best wines up. Given the small quantities produced, usually under 1,000 cases, it means that by the time the LCBO-dependent Wine Spectator scores appear, the resulting orders may well be too late.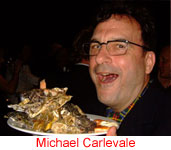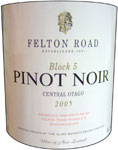 Meanwhile, it was encouraging to see that restaurateurs like Michael Carlevale, owner of Prego, had made the long trek and was in hot pursuit of the best. Ditto for the Lifford agency team who seemed to be the only Ontario importers there. Only six cases (6 bottles each) of winemaker Blair Walter's splendid Felton Road 2005 Pinot Noir Block 5 (an event highlight) are scheduled for Lifford's consignment list next April. For background on Felton Road click here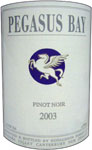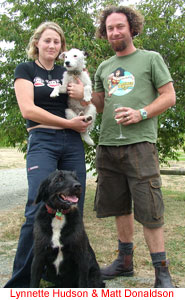 Of course, there were many really fine wines - under the M's alone (plus today's selection below) there are Montana "Terraces", Mount Edward, Mt. Difficulty, Mud House and Muddy Water. After four days of tastings, however, my top Pinot Noir ended up coming from Pegasus Bay winery, which was founded by Christchurch neurologist Dr. Ivan Donaldson in South Island's Waipara region. Son Matt Donaldson and his winemaking wife Lynnette Hudson have done a remarkable job on their gently smoky, juicy, plummy, cherry-driven Pegasus Bay 2003 Pinot Noir masterpiece. For background on Pegasus Bay click here
Proving that you can actually have fun at these events, I must mention the sausage and Pinot Noir tasting that started at 8:30 sharp early one morning. Two fine but vastly different Pinot styles were tasted with sausages made by three renowned chefs. I scored New Zealand's talented Rex Morgan (Citron in Wellington) cervena, lamb, lentil and thyme sausage 96 points. He was pitted against a pair of New York City chefs - Brad Farmerie (The Public) and Josh Emmett ('hell's kitchen' Gordon Ramsay's just opened The London). Initially, I was skeptical, but I really got into it. Call me Robert A. Porker, but I think that I tasted my first 100-point sausage - Emmett's moist, truly divine, pork, sweetbread, apple and tarragon creation. For the recipes click here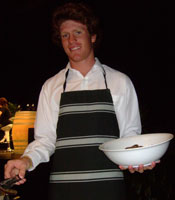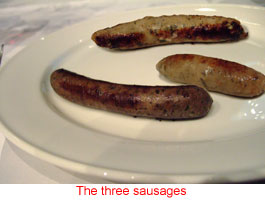 While struggling for the appropriate words for texture, flavour and visual appeal, the moderator asked for comments from the audience. Suddenly, I hear Michael Carlevale at the microphone regaling the first American chef for producing an "uninteresting, overly dry, sausage that is not fat forward". Seeing Mr. ("Late-Night") Carlevale up at a 8:30 am. sausage-Pinot Noir seminar made me think of calling Ripley's. As he hasn't appeared yet in Toronto, however, makes me nervous - I hope that he didn't tell the insulted sausage-making chef where he was staying in Wellington.

Fortunately, today's Vintages release has a fine, well priced, selection - Martinborough Vineyards 2004 Te Tera Pinot Noir (19299) at $25.95 comes from the small, pioneering Martinborough winery located at the southeastern tip of the North Island. Medium deep red in colour, the complex, spicy, herb-tinged, cherry-plum nose is followed by bright, gently juicy, plummy, red cherry flavours with a slightly cedary finish. Winemaker Clair Mulholland has just departed and co-winemaker, Paul Mason, who was in charge of the Burnt Spur label, has been appointed the 4th winemaker in the company's 26-year history.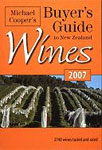 Anyone interested in discovering New Zealand should acquire a copy of the Cuisine Wine Country 2007, as well as, the outstanding 2007 Buyer's Guide to New Zealand Wines by Michael Cooper. Although not available in bookshops, it can be ordered through Robert Ketchin at nzwine@ketchin.com for $18 and $40 respectively (postage included).

Meanwhile, coming up next Wednesday, February 21 is the annual ViniPortugal trade tasting (260 wines) at the Royal York Hotel from 2:30 to 6:30. I have been invited to bring four guests, so if you email me (mbv@total.net) a short note (no more than 25 words) explaining why you want attend; I will invite the top four entries. For more information on this event click here
Pick of the Week

From Marlborough, New Zealand's largest and fastest growing grape growing region, comes Twin Island 2006 Sauvignon Blanc (903625) at $14.95 in today's Vintages release. Like all good kiwis, this second label of Nautilus Estate comes with a convenient screwcap closure. Pale straw colour, look for fairly intense, fresh cut grass aromas. It is dry, bright and medium-light bodied on the palate with tangy, gentle grassy flavours.

2001 - 2007 Tasting Note Database
Our tasting note database from December 31, 2000 to January 2007, covers every Vintages release product for the past 73 months. There are more than 14,000 notes in the database data. Just enter the name of the product, supplier name or CSPC number. Or you can search by type of wine, country of origin, even wine agent! Nothing could be easier. Also you can get information on the agent by clicking on the agentís name, as well as current LCBO store inventory by clicking on "Check LCBO Availability", which will automatically tell you the number of bottles at LCBO as of last night.
To use our Tasting Notes Database: click here

** For All Visitors **
Vintages Releases
To see the complete list of upcoming products from the
February 3 release, including In-Store Discovery items,
click here (sorted by date of release).
You can also see it sorted by agent click here
To see the complete list of upcoming products from the
February 17 release, including In-Store Discovery items,
click here (sorted by date of release).
You can also see it sorted by agent click here
Copyright Food & Beverage Testing Institute of Canada 2007
Prior written permission is required for any form of reproduction
(electronic or other wise) and or quotation.
Contact Michael Vaughan at
mbv@total.net