Get Michael Vaughan's Buying Guide
for March 3rd, 17th & 31st Vintages Release today!
Click Here
Cuvée 2007
Ontario winemakers whoop it up
© Michael Vaughan 2007
National Post Weekly Wine & Spirits Columnist
Saturday, February 24, 2007
CLICK ON THE NAME
All listings are automatically linked to the LCBO database
If there is a product that interests you, just click on the name below and you will instantaneously connected with the LCBO database. The product will appear in blue and all you have to do is click on the name again and then the next screen will provide details along with the store search. Just click on store search. The number of bottles in each store is updated nightly. Call the store first to see if stock still remains (each store phone number is listed).
It's the winemaker's chance to get even. While wine judgings are usually peppered with experts, next Saturday's Cuvée Gala event is a celebration of Ontario wines as determined by the winemakers themselves. Eschewing trial by wine authority, some 41 participating winemakers were broken up into four panels, which tasted approximately 167 wines from some 48 participating wineries.
To suggest that the Cuvée award winners are Ontario's "best" is wrong. First, less than half of Ontario wineries participated (almost all of which are in the Niagara Peninsula). Second, each winery was limited to entering only three non-general list items - all of will be available for sale at the winery store by Sunday, March 4th. Third, wineries could submit a general list red and white, but only the single best red and white will be featured at Cuvée.
Nevertheless, the Cuvée Gala is still most enjoyable, even if one has to shell out $200 to attend. My wish for an additional less expensive tasting venue for the less well heeled has yet to materialize. Keep in mind that many of the best bets are available at the wineries. I suggest that you can take advantage of a Cuvée en Route Passport, which costs $30 and offers special free tastings at various wineries (details are posted on my website).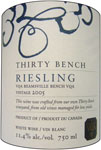 While the final Cuvée results are still hush-hush, I was able to preview the highest-scoring wine from each winery. Keeping the above limitations in mind, I blind tasted 46 wines by varietal. Starting off with Riesling, I was impressed by Thirty Bench 2005 Riesling (24133) at $18.00 (winery prices). Made from vines grown on the Beamsville Bench, this wine seems to be getting better every day. Winemaker Natalie Reynolds has done a fine job and the wine shows much better today than two months ago when tasted for a Vintages release. Pale straw in colour, it has a honeyed, bright ripe lemon nose and is quite lovely on the palate with well structured, ripe lemon-melon-lime flavours with a lingering, lime tinged finish.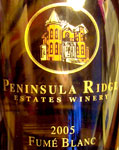 Another classic is the barrel fermented/aged Peninsula Ridge 2005 Fumé Blanc at $26.95. The nose shows alluring fresh ripe peach, pear and French vanilla ice cream. These intensely delicious flavours persist on the palate of this well structured 100% Sauvignon Blanc. If you don't happen to like the grassy flavours characterizing most Sauvignon Blanc, then this is the wine for you!
More typical of this variety is Featherstone 2006 Estate Bottled Sauvignon Blanc at $16.00 (winery only), which shows a very zesty, mineral tinged, ripe lemon-melon nose with a faint hint of smokiness. It is crisp, dry and vibrant with rather tangy, lemony flavours and a lingering, very faintly grassy finish. Another great food wine.

The top Chardonnay is Tawse 2003 Beamsville Bench Reserve Chardonnay at $42.00 (winery only), which has an intense, complex, zesty, lime pie nose. This well-structured beauty has lovely texture and great acidity with penetrating lime purée and vanilla custard flavours plus a lingering finish. Skip the seafood, it would be perfect with a rack of lamb.
Angels Gate 2005 Gewurztraminer Single Vineyard at $18.95 (winery only) has an intense, spicy lychee nose with ripe lemon curd notes. On the palate it is spicy, intense and slightly sweet with ripe melon and lychee flavours followed up by a lingering slightly sweet finish. Perhaps just a bit flat, it needs more acid - nevertheless it's still very flavourful. Try with spicy Thai cuisine.
I am sorry to report that I found most of the top reds were underwhelming or pricey. Many had herbal, dusty, reedy notes that just didn't sing the right song. There are definitely better values out there (they were probably not submitted). It is a shame that the Cuvée organizers refused to provide a list of all the wines being tasted next Saturday.
Of the reds tasted, Calamus 2005 Meritage at $25.00 (winery only) seemed to provide good value. Extremely deep intense purple colour, it comes with a fine, lime tinged nose plus baked plums, leather and earthy notes. Firm, youthful, dry and well structured, it has fairly extracty, ripe, plummy, sandalwood flavours. It would work well with a rare bbq rib steak.

Unfortunately, consumer preoccupation with high scoring wines doesn't always translate into tastiness. A prime example is the classy Henry of Pelham 2005 Reserve Pinot Noir at $24.95, which according to the Cuvée judging is Pelham's highest scoring wine. And yet for drinking today, I would much rather prefer the less expensive, tasty Henry of Pelham 2005 Pinot Noir (13904) featured on the LCBO general list (currently in 228 stores) at only $18.15.
Meanwhile, if one is looking for Ontario's best-ever Pinot Noir at Cuvée, they won't find it there. The world-class Le Clos Jordanne 2004 Pinot Noir Le Grand Clos is being released in Vintages next Saturday at $60 a bottle and is comparable to some the finest of French Burgundies (I am thinking of Chambolle Musigny), which cost more than twice the price. Hopefully, the LCBO will ration sales to each customer so as to enable as many of its shareholders as possible to enjoy tasting this treasure.
About one-third of the top wines were sweeties, which doesn't augur well for the table wine segment of the market. In this division the best value was the Birchwood 2005 Icewine Vidal Icewine at $29.95 for 375 ml. Light gold colour, it has a concentrated, spicy, sweet baked pear and apple sauce nose. On the palate it is sweet and spicy with well structured, lingering, caramel and ripe pear purée flavours.
For more information on the Cuvée Gala click here As for accommodations, the Hilton Niagara Falls Hotel (which is connected by skybridge to the Fallsview Casino Resort) offers special bed & breakfast weekend rates starting at $169 at 1-800-339-5023 ext. 55161 (mention Cuvée).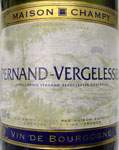 Last but not least is the upcoming LCBO's delist sale on Monday, February 26th. Of some 52 items, no white Burgundy lover would miss snapping up a bottle or two of Maison Champy 2004 Pernand-Vergelesses (8151) reduced from $28.95 to only $23.75. National Post readers can use the npreader password to see the detailed list along with my scores on my website (to see click here).
Pick of the Week

Those cuddling up tomorrow night for tomorrow's Oscars should consider scooping a bottle of my nomination for best Ontario Chardonnay value: Henry of Pelham 2005 Reserve Chardonnay (25833) at $14.15 on the LCBO general list. It is dry and very gently cedary with rounded, ripe lemon and Anjou pear flavours - perfect for seafood, creamy pastas or poultry.

2001 - 2007 Tasting Note Database
Our tasting note database from December 31, 2000 to February 2007, covers every Vintages release product for the past 74 months. There are more than 15,000 notes in the database data. Just enter the name of the product, supplier name or CSPC number. Or you can search by type of wine, country of origin, even wine agent! Nothing could be easier. Also you can get information on the agent by clicking on the agent's name, as well as current LCBO store inventory by clicking on "Check LCBO Availability", which will automatically tell you the number of bottles at LCBO as of last night.
To use our Tasting Notes Database: click here

** For All Visitors **
Vintages Releases
To see the complete list of upcoming products from the
March 3 release, including In-Store Discovery items,
click here (sorted by date of release).
You can also see it sorted by agent click here
To see the complete list of upcoming products from the
March 17 release, including In-Store Discovery items,
click here (sorted by date of release).
You can also see it sorted by agent click here
To see the complete list of upcoming products from the
March 31 release, including In-Store Discovery items,
click here (sorted by date of release).
You can also see it sorted by agent click here
Copyright Food & Beverage Testing Institute of Canada 2007
Prior written permission is required for any form of reproduction
(electronic or other wise) and or quotation.
Contact Michael Vaughan at
mbv@total.net