Get all the evaluations for the March Release
Subscribe to Vintage Assessments today by Clicking Here
This not-for-profit website is dedicated to the discerning reader!
Under-$20 Relief
Upcoming Vintages Highlights

© Michael Vaughan 2004
National Post Weekly Wine & Spirits Columnist



Saturday, February 28, 2004
LIVE WINE LINK
www.winefind.ca
(CLICK ON THE NAME - All listings are automatically linked to the LCBO database)
If there is a product that interests you, just click on the name below and you will instantaneously connected with the LCBO database. The product will appear in blue and all you have to do is click on the name again and then the next screen will provide details along with the store search. Just click on store search. The number of bottles in each store is updated nightly. You should call the store first to see if stock still remains (each store phone number is listed).
From last weekend's February 21st Vintages famine to next week's March feast - that sums up release quality swings. What is especially exciting is the number of best buys all under $20, a definite blessing as tax time looms.
Starting off with sweet wines, of the 38 In-store Discovery (ISD) items coming out this Friday, March 5th, André Petit Pineau des Charentes (709873) is a bargain at $15.95. This uniquely flavored barrel-aged blend of grape juice and Cognac has 17% alcohol and may be used as an aperitif on the rocks with a twist of lemon or as dessert wine.
The nose is spicy and sweet with zesty tangerine peel and smoky Cognac notes. Taste-wise, it is viscous with rich candied orange peel and honeyed herbal notes. Keep it fresh by storing it in the fridge.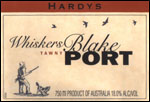 Another dessert wine hitting the spot comes out next Saturday's release (79 items). Remember that if you live out-of-town, you can order it by next Tuesday for delivery to your local LCBO store. I suggest you make a beeline to the first release highlight: Thomas Hardy Whiskers Blake Tawny Port (478537) at $19.95. The nose is intriguing – sweet hazelnuts, caramel, lemon meringue and key lime pie. The palate is even better - very rich, sweet but balanced, crème brûlée and Cointreau flavours that go on and on. My only wish is that this extremely tasty, fortified Australian effort would rid itself of the inappropriate "Port" descriptive.
Moving on the whites, make way for three Austrian Grüner Veltliners. Two ISDs will be released this Friday. My hands down favourite at $13.95 is Winzer Krems 2002 Grüner Veltliner Kabinett Trocken Kremser Goldberg (738617), which comes from a huge 1700-member Kremstal coop located just northwest of Vienna on the Danube . Medium yellow colour, the nutty, dried lemon peel nose has hints of honey. Dry, mineral-directed and medium-light bodied, the fresh melon/ripe lemon flavours are a perfectly refreshing foil to seafood and poultry. Only 25 cases are in the system, so you will have to beat off restaurateurs who will be trying to nail down a few cases for their wine lists.
Also worth exploring at the same price is Schloss Gobelsburg 2002 Grüner Veltliner Gobelsburg (965368), which appears in Vintages next Saturday. The nose shows that slightly turpy, mineral-directed, dusty lemon character. It is quite nice in the mouth with slightly spicy, honeyed, fresh, ripe lemon-apricot flavours. This 30-hectare Cistercian monastery estate was founded in 1740 and is located in the Kamptal region just north of Kremsal. Those wishing to explore the joys of Austrian wines might the attend VieVinum wine fair June 5-7, which is held every second year in Vienna (see details on my website).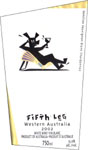 Other Saturday best buys include an attractive Western Australia blend of 54% Semillon, 36% Sauvignon Blanc and 10% Chardonnay. Devil's Lair 2002 'Fifth Leg' White (489062) at $19.95 has a very intense, grassy, Sauvignon Blanc-directed nose. Crisp, dry and well balanced, the tangy, grassy, lemony-Anjou pear flavours show excellent length – great with seafood.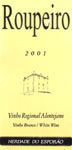 The white release highlight is Herdade do Esporão 2001 Roupeiro Vinho Branco (917898). An outstanding buy at $13.95, it originates in the dynamic Vinho Regional Alentejano southeast of Lisbon and is made exclusively from the indigenous, floral-directed, Roupiero grape. The nose is splendid with complex, gently toasty, ripe lemon-melon fruit. Ditto fro the taste, which is dry but harmonious with gently spicy, ripe melon-lemon flavours. Don't miss picking up a bottle or two of this delicious ready-to-drink charmer - thankfully the LCBO snared 1,200 bottles of the 10,000 produced.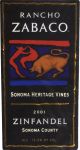 Moving on to reds, we have the ready-to-drink "wine of the month" Rancho Zabaco 2001 Zinfandel Sonoma Heritage Vines (434605) at $19.95. Made by E & J Gallo, this Sonoma County effort constitutes a charming expression of the grape and has fine balance despite its 13.9% alcohol level. The nose is slightly cedary, spicy and bright with ripe red cherry notes. On the palate it is dry and yet juicy with ripe black cherry purée flavours and tangy red currant notes on the finish. This crowd pleaser is infinitely better that the overly sweet, tropical, maraschino cherry driven Rosenblum Cellars 2002 California Zinfandel (284653 - $19.95) that resides on the all-too-often-pathetic LCBO General List.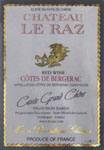 In a completely different vein, the intense, very dry, earthy, chocolaty, ripe plum flavours of Château Le Raz 1999 Cuvée Grand Chêne (718932) at $16.95 should grab the attention of any Bordeaux fan. Originating in the French Côtes de Bergerac, this wonderful barrel aged blend of 90% Merlot and 10% Cabernet Franc is mouthfilling and showing nicely now. It is a robust style that would work perfectly with a rare roast of beef.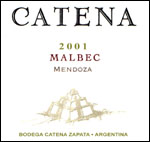 My red release highlight comes from Argentinean Mendoza region. At $19.95, Catena 2001 Malbec (478727) is as good as it gets. Deep intense purple colour, complex and yet classy nose shows ripe plum, cassis and black cherries. Refined, bright and well structured, these ripe plum and black cherry flavours exhibit great length. Contrary to what appears in the Vintages Catalogue, this wine combines the diverging virtues of two vineyards at different altitudes: Angelica (869 m) and Nicasia (914 m). A definite triumph, there are 312 cases available. Do not confuse it with the less expensive, but also well made, Catena 2001 "Alamos" Malbec (467951) at $12.95.
Of course, there are other release highlights, which are known to
FBTI supporters
who have received my monthly March Vintage Assessments newsletter reviewing every Vintages item. Supporters can use their password/username to access the newsletter by
clicking here
.
2001-2002-2003-2004 Tasting Note Database
Our tasting note database from December 31, 2000 to January 2004, covers every Vintages release product for the past 36 months. There are more than 5,000 notes in the database data. Just enter the name of the product, supplier name or CSPC number. Or you can search by type of wine, country of origin, even wine agent! Nothing could be easier. Also you can get information on the agent by clicking on the agent's name, as well as current LCBO store inventory by clicking on "Check LCBO Availability", which will automatically tell you the number of bottles at LCBO as of last night.
To use our winefind.ca Tasting Notes Database: click here
Subscribe to Vintage Assessments Today • Click Here
** For All Visitors **
Vintages March 2004 Release
To see the complete list of upcoming products click here (sorted by date of release). It includes the number of cases, which wines were presented by the LCBO, our agent ID for every product, as well as, special unannounced "In Store Discoveries" for March.
You can also see it sorted by agent click here
Copyright Food & Beverage Testing Institute of Canada 2004
Prior written permission is required for any form of reproduction
(electronic or other wise) and or quotation.
Contact Michael Vaughan at
mbv@total.net