Get Michael Vaughan's Buying Guide
for February 3rd & 17th Vintages Release today!
Click Here
Great Values South of the Equator
Both in Vintages & on the General List
© Michael Vaughan 2007
National Post Weekly Wine & Spirits Columnist
Saturday, February 3, 2007
To see this article as it appears in the National Post click here
CLICK ON THE NAME
All listings are automatically linked to the LCBO database
If there is a product that interests you, just click on the name below and you will instantaneously connected with the LCBO database. The product will appear in blue and all you have to do is click on the name again and then the next screen will provide details along with the store search. Just click on store search. The number of bottles in each store is updated nightly. Call the store first to see if stock still remains (each store phone number is listed).
Progress means having a wider selection, it is an essential part of the equation that supposedly leads to greater contentment. Or does it? Sometimes having more to choose from leads to confusion and dissatisfaction. The frustration of not knowing what to buy, compounded by trying things we don't like, can make us unhappy. With so many products about, each one making claims to be better or improved, expectations often go unrealized.
Of course, that is why newspapers have reviewers who hopefully provide readers with valuable insights enabling them to find things that suit their palate. Just like readers, writers have their own biases. All of this came up when trying to select the best buys in today's Vintages release of 19 Argentine wines (including two hidden in store discoveries), plus another 15 from Chile. This is one of the biggest Vintages focus releases ever and, thankfully, does have a number of tasty, well-priced nuggets, which I am happy to share with you.

Starting with Argentina, my best buy white is the very spicy, honeyed but still totally dry Crios de Susana Balbo 2006 Torrontés (1834) at $10.75. The Torrontés grapes, which stylistically have much in common with Muscat and Gewurztraminer, come from Valle de Cafayate just south of Mendoza. The intense, fresh, lychee-peachy, floral, Muscat flavours simply jump out of the glass. It is a terrific foil to hot, spicy, Thai cuisine. It is so easy to drink that one tends to forget that it has 13.5% alcohol. Congratulations to Vintages for buying 200 cases of this well priced gem.
Crios means "offspring" as in children and expert winemaker Susana Balbo has selected this word to express her notion that these are wines that haven't quite "grown up" at least to the same level as her more expensive "signature" selection. The label features a series of three overlapping hands, an image inspired by a Mayan artifact, which in this instance represents Susana and her two children. The Crios range is for immediate enjoyment, not for laying away. Hopefully we will see more selections from Susana's Dominio del Plata winery.

Moving over to Chile, my recommended white is Arboleda 2006 Sauvignon Blanc (510339) at $16.75, which comes with a screwcap closure. Pale straw in colour, the nose has fairly intense, grassy, ripe lemon aromas. On the palate, it's very dry and flavourful with grassy, ripe lemon flavours and a lively, lingering finish. A perfect Valentines Day choice with oysters on the half shell.
This winery was a joint venture between Chile's Eduardo Chadwick of Viña Errazuriz and Robert Mondavi. It is now owned solely by the Chadwick, who also has the super premium Seña estate. Arboleda is located in the cooler Leyda valley just south of Casablanca and is focused on premium Pinot Noir and Chardonnay. This is just the second vintage of their aromatic Sauvignon Blanc.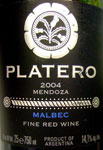 Moving into red wine territory, Argentina has done wonders with Malbec. I was particularly impressed by the well-structured Platero 2004 Malbec (17327) at $14.75. This extremely deep, intense, purple effort has a slightly smoky, meaty, baked plum nose. Robust and extracty on the palate, there are loads of baked plum flavours along with pimento-cherry notes on the lingering finish.
Platero is produced by Cavas Rosell Boher, which focuses on methode champenoise sparkling wines. It comes from 1994-planted vineyards located in Vista Flores, Tunuyán, which is an elevated area of the Uco Valley (1,100 meters). The extracty character is the result of a long maceration and the absence of any clarification and/or filtration.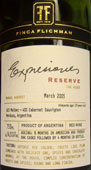 The best buy of the release is Argentina's best buy red is Finca Flichman 2005 Expresiones Reserve (507707) at $15.75. This classy, well-structured, oak-aged blend of 60% Merlot and 40% Cabernet Sauvignon has a very intense deep purple colour and 14.5% alcohol. It has a toasty, spicy, baked black cherry nose and solid, plummy, slightly smoky, ripe black cherry flavours that linger perfectly on the palate. I am happy to report that Vintages got this right as well, ordering 1,600 cases of a great red that will fly off the shelves.
While I am pleased that Vintages has some great selections, I am concerned about some of the general releases, which are all too often go ignored. This is especially true in some restaurants, which are hell bent in putting high-markup, consignment stuff on the wine list. That's fine if these one-of-a-kind wines are tasty. But more often than not, these pricey under-achievers miss the mark. If buyers would stray into the LCBO general list territory and buy some of the better wines available, customers would be happier and so would their pocketbooks.

In this vein, I was amazed to discover that with the influx of 34 South American wines in Vintages, there are simultaneously 41 Chilean and 10 Argentine general list items on promotion, either with a LTO discount or bonus Air Miles. Given the huge expense entailed, which is fully paid for by suppliers, one has to wonder about timing. Since everything seems to be shifting down in price all at the same time, will there much of an incentive to switch brands or stock up?
If one is considering switching, let me suggest that you try Bodega Norton 2004 Chardonnay (589531) at $10.05. While there is no promotion on this product, it deserves to sell on the basis of its price-quality ratio alone. Look for a complex, toasty, ripe lemon nose and surprisingly refined, slightly cedary, ripe lemon meringue flavours with a lingering high acid finish. Hopefully, I will see it soon on a restaurant wine list being poured by the glass at a reasonable price.
Picks of the Week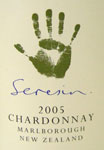 There are lots of great wines in today's release, if push comes to shove, you shouldn't miss this duo coming out of New Zealand's South Island Marlborough region. First, up is Seresin 2005 Chardonnay (19190), which is unbeatable value at $20.75. The rich, toasty, key lime pie flavours are quite sublime. Second, Sherwood Estate 2004 Pinot Noir (9027) at $18.75 is drinking perfectly today. The emphasis is accessibility - lots of refreshing, well-balanced, tangy, ripe red cherry flavours.
2001 - 2007 Tasting Note Database
Our tasting note database from December 31, 2000 to January 2007, covers every Vintages release product for the past 73 months. There are more than 14,000 notes in the database data. Just enter the name of the product, supplier name or CSPC number. Or you can search by type of wine, country of origin, even wine agent! Nothing could be easier. Also you can get information on the agent by clicking on the agent's name, as well as current LCBO store inventory by clicking on "Check LCBO Availability", which will automatically tell you the number of bottles at LCBO as of last night.
To use our Tasting Notes Database: click here

** For All Visitors **
Vintages Releases
To see the complete list of upcoming products from the
February 3 release, including In-Store Discovery items,
click here (sorted by date of release).
You can also see it sorted by agent click here
To see the complete list of upcoming products from the
February 17 release, including In-Store Discovery items,
click here (sorted by date of release).
You can also see it sorted by agent click here
Copyright Food & Beverage Testing Institute of Canada 2007
Prior written permission is required for any form of reproduction
(electronic or other wise) and or quotation.
Contact Michael Vaughan at
mbv@total.net