Get Michael Vaughan's Buying Guide
for January 6th & 20th Vintages Release today!
Click Here
Montreal Passion Vin
Delivering Excellence on Every Level
© Michael Vaughan 2007
National Post Weekly Wine & Spirits Columnist
Saturday, January 13, 2007
To see this article as it appears in the National Post click here
CLICK ON THE NAME
All listings are automatically linked to the LCBO database
If there is a product that interests you, just click on the name below and you will instantaneously connected with the LCBO database. The product will appear in blue and all you have to do is click on the name again and then the next screen will provide details along with the store search. Just click on store search. The number of bottles in each store is updated nightly. Call the store first to see if stock still remains (each store phone number is listed).
I don't know what it is, but I jump every time I get a chance to visit Quebec. Not only is it home to some of Canada's best chefs, but also what's coming out of the farms is simply sublime - from an amazing assortment of terrific cheeses (more than 365 on register) and foie gras to maple syrup and iced cider. Not to give my fellow Torontians an inferiority complex, but Montreal's markets still run circles around the ones here.
I believe part of the reason is the historical roots of the discerning French palate, wherein food and drink take on almost obsessive proportions. Unlike many Canadians, Quebecois actually take time to eat and drink. Diner is an event, not simply something to accompany a film. While some anglais may ridicule Quebec's everyday country classics such as poutine, when it comes to gastronomy and superb wine service, nothing else comes close.
This is not a new notion. Back in 1967 at Montreal World's Fair, while we were wallowing in roast beef, my Quebec friends were out foraging mushrooms for sublime omelettes, cervelle noire and ris de veau. Montreal was awash in great table wines - Bordeaux for the rich, Algerian blends for the budget conscious - while the Toronto favourites were Black Tower, Blue Nun and Mateus rose.
Of course, Quebec's post-separatist recession didn't help. Suddenly one of the greatest cities in the world became threadbare. With the sudden influx of wealth, nouveau riche Torontonians began to smugly think of themselves as the culinary capital of Canada. Thankfully, Quebec's allegiance to fine food and wine didn't perish: money has yet to replace refined taste.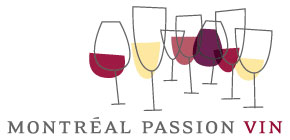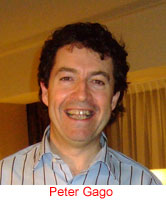 All of this came back to me while attending last November's sold-out two-day extravaganza entitled Montreal Passion Vin, a very special fund raising event in aid of the Fondation de l'Hôpital Maisonneuve-Rosemont. Now in its 5th year having raised over $1.5 million, Passion Vin features some of the world's greatest winemakers. While most are French, invitations are also extended to individuals who have proven themselves internationally. This year it was winemaker Peter Gago who presented a breathtaking vertical of Grange. To see the full 19-page Carnet de Dégustation programme click here.
Before talking about the wines, I have to focus on the wine service, which was the finest ever experienced anywhere. Thirty of Quebec's top sommeliers were led by the Don Jean Leandri, a Canadian pioneer, who organized the complex, detailed, opening, decanting and pouring of the wines all at the perfect temperature. It is amazing to think that all 300 participants had their glasses poured for within minutes.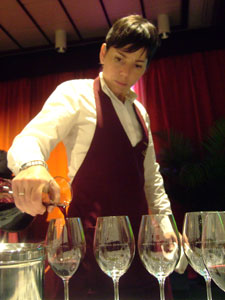 It was a pleasure to have each wine, freshly poured, one-at-a-time (as opposed to being pre-poured), while the wine was actually being discussed. It enabled one to see its evolution from start to finish. In fact, all 1,800 stems were filled and tasted in less than 1.5 hours. Then only 45-minutes later, another 1,800 pristine, odour-free, glasses were ready for the next session. In recognition of their effort, $10,000 in Passion Vin scholarships were awarded to two top Quebec sommeliers: Véronique Rivest, the 2006 winner at the Canadian National competition for best sommelier and Ghislain Caron who placed second.
What also impressed me was the quality of the cuisine and food-wine pairing. Rather that rely on Hotel Bonaventure culinary staff alone, Passion Vin organizers had the sense to enlist some of the city's top chefs who prepared meals for up to 500 attendees. This remarkable effort was shared three local restaurants whose staff worked hand-in-hand with hotel chefs. A big tip of the toque to Chef John Ledwell of 357c, Moreno de Marchi of Le Latini Restaurant and owner/chef Richard Bastien of Le Leméac.
We kicked things off with some classic mini-verticals. Christian Pol-Roger showed six vintages (1996 to 1986) of Cuvée Winston Churchill Champagne, some of which have recently appeared (1996 at $179) in the Vintages Classics program. My favourites were the older vintages, especially the complex, toasty, 1990 and 1993.
Another key French presenter was winemaker/owner Alain Vauthier who presented six vintages (2002 to 1982) of Chateau Ausone, a Premier Grand Cru, Saint-Emilion. It is incredible to think that wine has been made here for over 2000 years and that it takes its name from the Roman poet Ausonius, who reputedly lived here. The best of the group was the lovely refined 2002 followed by a very fruity 2001. These demonstrated an enormous revival of quality at Ausone. I wasn't too happy with the 1982, which seemed ever so slightly bitter and mature (hopefully Vauthier doesn't own a dog that attacks critical wine writers). Not at the top of my list, the 1982 sold in the silent auction in the $2,000 range.
There were other grand presentations. From Bordeaux: Alexandre Thienpont of Vieux Chateau Certain (all very strong) and Georges Pauli of Chateau Gruaud Larose. From Burgundy three distinguished producers: Mme Carloline Lestimé Gagnard showing Domaine Jean-Noël Gagnard Bâtard-Montrachet; Mme Nadine Gublin showing Domaine Jacques Prieur Montrachet Grand Cru; and Mme Juliette Lardière Butterfield showing Jadot.
While Italy's Castello del Terriccio and California's Tom Shelton of Insignia were also being featured, the showstopper for me was the 1980 to 2001 Grange Bin 95 Shiraz vertical tasting. A 17-year veteran winemaker at Penfolds, Peter Gago's attention to detail is astonishing. He instructed the sommeliers pour each wine in alternative seats from different bottles. This enabled participants to smell/taste the neighbour's wine in case their bottle seemed to be off. My highest score went to the stunning 2001 Grange followed by the seductive 1987, which tied with the more powerful 1990.
Passion Vin has become a truly world-class event thanks to the pivotal support provided by the SAQ (especially Alain Brunet and Denis Marsan). Unlike the pricey Vintages' ill-fated, quarterly Classics catalogue (where one waits weeks to pick up purchases at a local LCBO store), the SAQ Signatures program features an extensive library of over 964 genuine "classic" wines and spirits. This incredible list is continually being replenished (to see the most current list click here) with all details on availability appearing on the SAQ website. To ensure that everyone knows exactly what is available, the SAQ also prints an updated inexpensive SAQ master list of all the products available. Sadly here in Ontario, the Price Book is "for internal use only" - the information is no longer shared with customers.

Also, in contrast to the LCBO where you can never see, touch or taste the Classics you want to buy, the SAQ has designated stores where you can pick up Signature bottles today (or even drink them there if you wish in a special tasting room). How civilized! Better yet, the SAQ will deliver whatever you want free of charge anywhere in Quebec within three days. Now that's service, especially if you have friends who live there.
A Passion Vin footnote, Peter Gago organized an intimate tasting for writers featuring one of the best wines ever produced: 1962 Penfolds Bin 60A. Made by Grange pioneer Max Schubert, this sublime, warm ripe plum and creamy mocha-chocolate flavoured seductress was listed by Decanter Magazine as being #7 in the list of "100 wines to try before you die" - now I have only 99 more to go. To see the Decanter article click here.
Pick of the Week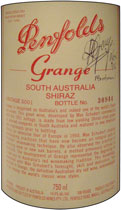 From the top wines tasted at Passion Vin, my number one choice would be 2001 Grange Bin 95 Shiraz (336388). Over 100 bottles are still available at $300 a pop from the Vintages Holiday Classics. The double decanted bottle I tried was outstanding: ripe, juicy, plummy, crancherry fruit on the nose with hints of cedar and spruce. It is dry, solid and extracty on the palate with an abundance of ripe red and black cherry flavours. According to winemaker Peter Gago, it can be laid away until 2040. God knows what it will sell for then. By the way, the SAQ sells this wine for $299.
Passion Vin Chefs
Montreal Culinary Destinations
In order to check out the culinary side of the equation, I visited two restaurants. The first was the domaine of Executive Chef John Ledwell of 357c, which is located in an extremely upscale private club at 357 de la Commune Street West in Old Montreal. The owner of the club-Daniel Langlois has spared no expense in developing this special enclave, which aspires to focus on the best of the best:
The 357C is a private gathering place for business people. A place where art and money meet, the club serves primarily to raise funds for the Daniel Langlois Foundation for Art, Science and Technology). It was the designer in Daniel Langlois that took charge of every aspect of renovating and furnishing this historic house, from the door handles to the ceramic tiles. The result is not some flashy design showcase but an 1874-style interior created with modern techniques… Luxury, in this case, is defined by a generous allocation of open space and a contemporary minimalist décor (click here to see).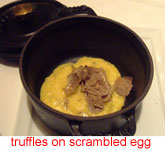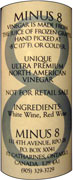 Ledwell's team is always being challenged to come up with something new. He was working on some Japanese dishes when I visited and is totally ingredient focused. He showed me a variety of special items that he uses: everything from tuna belly at $156 a pound, maple syrup infused with vanilla bean to Ontario's own Minus 8 wine vinegar.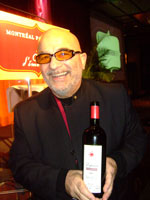 As for Moreno de Marchi, I didn't have an opportunity to visit his popular Montreal restaurant Le Latini, which is consider to be one of the top Italian destinations in Montreal. He opened the restaurant in 1979 (located at 1130 rue Jeanne-Mance) and it has been going strong ever since. He wowed the attendees with his lunch, paired with wines from Carré de veau du Colorado rôti au romarin, poivre de Sarawak, Castello del Terriccio, Lupicaia 2001.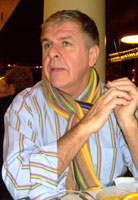 Finally, I was swept away by charming owner/chef Richard Bastien of Le Leméac, which is located 1045 Laurier West Avenue in the fashionable Outremont area (click here to see). The focus is freshness and simplicity with quality ingredients. Bastien presents a fresh taste of great classics, including the must-haves of all great bistros: steak frites (steak & fries), pavé de foie de veau (slab of veal liver), boudin maison (homemade pudding), short rib, cobillaud (cod), etc.
Never satisfied with doing what everyone else does, Bastien launched a special night-owl dining deal: after10 pm, you can select one of 10 appetizers along with one of 10 entrées for only $22, including coffee. It is a terrific deal and includes his delicious truffle oil salmon tartare and the herb crusted calf liver with potato purée and caramelized onion.
Although not in Passion Vin culinary line up, my favourite dining destination in Montreal Le Club de Chasse et Peche, which is located on 423 St-Claude, just below Notre-Dame and a couple of streets east of St-Laurent in Vieux Montreal with virtually no signage (call 514-861-1112). As one of the judges for En Route magazine's annual new dining awards, Chasse et Peche was (by far) my top destination for 2005 (click here to see a restaurant review).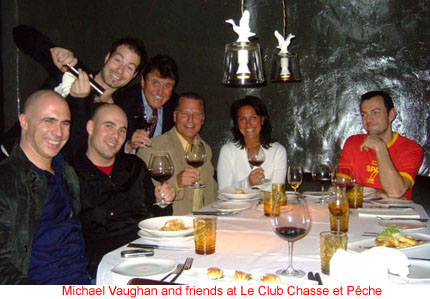 Before leaving Montreal, let me mention the markets. Also, if you are visiting Quebec, don't miss the outstanding iced cider/apple wines, which will make your toes twitch with joy. While the SAQ features 48 cidre de glace selections, make sure that you visit the Jean-Talon market and a store called Le Marché des Saveurs du Québec at 280 Place du Marché-du-Nord (telephone 514-271-3811), which carries a huge selection of artisanal wines, spirits and brews from Quebec (click here for more information- click here for map of the store)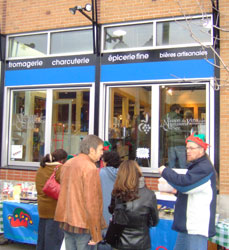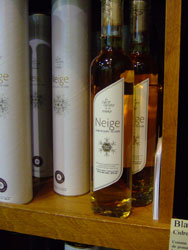 Coming Up
Burgundy fans should not miss attending the upcoming Vintages Pre-Release Tasting of the Wines of Burgundy on Tuesday, February 13 from 6:30-9 pm in the Canadian Ballroom of the Fairmont Royal York. For information
call the Vintages Sales Centre at 416-365-5767.
Sommeliers and professional buyers will be attending Terroirs et Signatures de Bourgogne Tasting, which is a special afternoon trade tasting. Only those actually involved with the serving and/or acquisition of wine (as opposed to freeloaders) are invited to attend. The contact person is Anne Popoff, Sopexa Canada at 416-921-8400 ( anne.popoff@sopexa.com )
2001-2002-2003-2004-2005-2006 Tasting Note Database
Our tasting note database from December 31, 2000 to December 2006, covers every Vintages release product for the past 72 months. There are more than 14,000 notes in the database data. Just enter the name of the product, supplier name or CSPC number. Or you can search by type of wine, country of origin, even wine agent! Nothing could be easier. Also you can get information on the agent by clicking on the agent's name, as well as current LCBO store inventory by clicking on "Check LCBO Availability", which will automatically tell you the number of bottles at LCBO as of last night.
To use our Tasting Notes Database: click here

** For All Visitors **
Vintages Releases
To see the complete list of upcoming products from the
January 6 release, including In-Store Discovery items,
click here (sorted by date of release).
You can also see it sorted by agent click here
To see the complete list of upcoming products from the
January 20 release, including In-Store Discovery items,
click here (sorted by date of release).
You can also see it sorted by agent click here
To see the complete list of upcoming products from the
February 3 release, including In-Store Discovery items,
click here (sorted by date of release).
You can also see it sorted by agent click here
Copyright Food & Beverage Testing Institute of Canada 2007
Prior written permission is required for any form of reproduction
(electronic or other wise) and or quotation.
Contact Michael Vaughan at
mbv@total.net