Get Michael Vaughan's Buying Guide
for January 6th & 20th Vintages Release today!
Click Here
Winemaker Niel Groenewald
Pushing the South African Envelope
© Michael Vaughan 2007
National Post Weekly Wine & Spirits Columnist
Saturday, January 20, 2007
To see this article as it appears in the National Post click here
CLICK ON THE NAME
All listings are automatically linked to the LCBO database
If there is a product that interests you, just click on the name below and you will instantaneously connected with the LCBO database. The product will appear in blue and all you have to do is click on the name again and then the next screen will provide details along with the store search. Just click on store search. The number of bottles in each store is updated nightly. Call the store first to see if stock still remains (each store phone number is listed).
It's always exciting to meet winemakers in the flesh and taste their wares, especially when they're great. Nothing is worse than trying to weasel you way out of commenting on something you don't like using the proverbial "interesting" descriptive. This is even more the case when the winemaker in question is a giant of a man - six-foot-seven and could pulverize you at any moment.
And so it was with some trepidation that I ventured into Amuse-Bouche restaurant to meet Bellingham winemaker Niel Groenewald, who was visiting Canada for the first time. While the food swept him away, he was less than happy about his missing luggage and the brittle cold.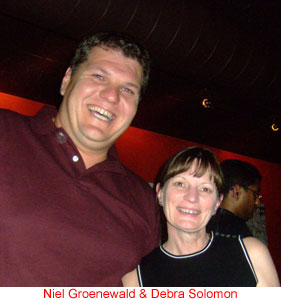 I felt pretty safe having brought my wife Rosie for protection; after all, this was going to be a "social" dinner. Debra Solomon who represents DGB wines had set things up and brought her husband Don, who was a perfect foil (being able to talk about real non-wine things), Meanwhile, my discussion with Niel collapsed into morbid details of acid levels, types of oak, fermentation temperatures, etc. - all subjects that would put insomniacs to sleep.

It turn out that 32-year-old Niel has produced some pretty amazing stuff. Last year his Maverick 2004 Chenin Blanc was judged as "best in the world" by the International Wine & Spirit Competition! I tasted his recent Bellingham Maverick 2005 Chenin Blanc (12724), which will be appearing in the Vintages, March 17th release at an incredible one-time-only price of $19.95.
It is quite remarkable - very rich and loaded with juicy, ripe, Anjou pear flavours along with spicy, toasty notes that go on and on. Unlike any Chenin Blanc I have ever tasted from the Loire Valley, its traditional home, this is the perfect Chenin for Chardonnay lovers. Unfortunately, production is always very small (2002 was the first release) with just over two thousand cases.
Understanding how this blockbuster was made is critical, especially as this 2005 was just voted as the top South African white at the South Africa Airlines blind judging of 1,200 wines. It isn't just luck or terroire. Groenewald sources fruit from two vineyards with extremely low yielding bush vines (under a kilo per plant). This explains the high level of alcohol (about 15%) and the terrific density/intensity of fruit on the palate. The free run juice from each vineyard is fermented separately, 50% in French oak the balance in stainless steel. His final assemblage it does have a whisper of residual sugar (under 1%), it is balanced by excellent total acidity (1.5 grams were added during the fermentation process).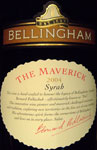 Groenewald also presented two very well-made Syrah (aka Shiraz). The first Bellingham Maverick 2003 SMV is a more vanilla-driven Australia-styled effort with robust, oaky flavours. It will be appearing in Vintages this Fall. The other in the classic Rhone vernacular being a refined blend of 97% Syrah, which completed its fermentation in French oak, and 3% Viognier. Bellingham Maverick 2004 Syrah (14357), which will be appearing February 17th as an in-store discovery (ISD) at $34.95. It has extremely attractive, complex, gently perfumed, ripe plum, violets and cherries on the nose. Dry, medium to medium full bodied, refined plum flavours with ripe cherry nuances and a lingering, harmonious, well structured finish. Don't miss it.

Moving on today's Vintages' "Versatile South Africa" release of 21 wines (plus 4 untasted ISDs), I have three recommended whites. Warwick 2006 Sauvignon Blanc Professor Black (1669) at $19.95 is a Stellenbosch standout. Look for dry, tangy, somewhat grassy, ripe lemon-melon flavours with a crisp finish.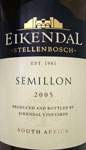 From the Western Cape, Whaleheaven 2006 Viognier/Chardonnay (17095) at $18.95 exudes very pleasant, harmonious, ripe melon-pear flavours with a fine lingering finish. Finally, my release highlight is the sublime Eikendal 2005 Sémillon (17053) at only $17.95 from Stellenbosch. This barrel aged Sémillon has intense, complex, gently toasty, ripe lemon, key lime pie and Anjou pear purée flavours, which are at their peak.

In the rosé department, the blockbuster is the delicious, delicate light pink coloured Delheim 2006 Pinotage Rosé (721670) at $12.95. Dry, tangy and medium-light bodied the juicy, plummy, ripe strawberry flavours will hit the spot with almost anything.

Moving on to the reds, the best buy is the Vintages Essential Fairview 2005 Goats Do Roam Red (718940) at $12.95 from the Western Cape. The juicy, tropical fruit cocktail nose with spicy black cherry notes are replicated perfectly on the palate. It is ready to enjoy and comes with a convenient screwcap closure.

Those looking for a bubbly will not be disappointed by Graham Beck Brut (593483) at $17.95. This Méthode Cap Classique blend of Pinot Noir and Chardonnay is made in the Champagne method. It is dry and well balanced with honeyed, ripe lemon flavours accompanied by fine effervescence.
Pick of the Week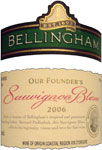 Niel Groenewald's Bellingham 2006 Our Founder's Sauvignon Blanc (665315) is a general list best buy at only $11.95 outperforming several more expensive entries. Pale straw in colour, it has appealing, ripe lemon-melon aromas with gentle grassy notes. On the palate, it is very dry and refreshing with appealing, grassy, ripe lemon-melon flavours and just a hint of yellow grapefruit.

Michael Vaughan's *** Restaurant Destinations
(out of three stars)
Amuse-Bouche
96 Tecumseth Street
(just north of King Street one block west of Bathurst)
416-913-5830
Co-owner/chefs Jason Inniss and Bertrand Alépée have transformed the Susur Lee's intimate ex-Lotus restaurant location into a wonderful destination with truly terrific cusine. It is the level of cooking that makes Amuse-Bouche much more than a "neighbourhood" highlight (as suggested by James Chatto). It deserves to be on Toronto's top ten "must dine" list.
While the ingredients may not be quite as rarified as what you might encounter at say Scaramouche (one of my favourite destinations), the menu prices are considerably lower without any quality compromise. It is ironic that I can't help but think of this as the place where Susur's cooking reached its pinnacle, at least for my taste. I was almost delirious after experiencing a recent Amuse-Bouche meal - one which I would put in the top five enjoyed in Toronto over the past year.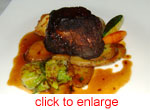 My highlights: Foie Gras Ooele du Quebec, 'Sticky Pudding' au Dulce de Leche, Reduction de Cranneberge a La Fleur d'Oranger ($18), which is tender pan-seared Quebec foie gras, sticky dulce de leche pudding, cranberry and orange blossom reduction.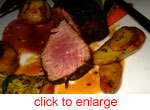 This was followed by a perfectly cooked medium-rare, Pittsburg style, Filet de Boeuf d'Alberta Grille, Confit se Pomme de Terre Rattes aux Echallotes, Timbale d'Automne, Jus au Poivre de Szechwan ($33), which is grilled Alberta beef tenderloin, fingerling potato and shallot confit, autumn purse, Szechwan pepper jus pomme; for dessert Tarte Tatin au 'Crumble' de The Vert, Gateau au Chocolat, Blanca la Pomme, Pomme d'Amour, Glace a la Citrouille ($12),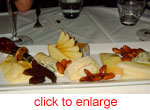 which is apple/green-tea crumble tatin, white chocolate apple softcake, pumpkin ice cream. We also shared Selection des Specialitées de "Cheese Boutique" ($16), a selection of four, delicious, ripe, cheese (perfect temperature) from the Cheese Boutique with house-made crackers.
To see the current menu (as of January 6th) click here, to see their wine list click here.
2001 - 2007 Tasting Note Database
Our tasting note database from December 31, 2000 to January 2007, covers every Vintages release product for the past 73 months. There are more than 14,000 notes in the database data. Just enter the name of the product, supplier name or CSPC number. Or you can search by type of wine, country of origin, even wine agent! Nothing could be easier. Also you can get information on the agent by clicking on the agent's name, as well as current LCBO store inventory by clicking on "Check LCBO Availability", which will automatically tell you the number of bottles at LCBO as of last night.
To use our Tasting Notes Database: click here

** For All Visitors **
Vintages Releases
To see the complete list of upcoming products from the
January 20 release, including In-Store Discovery items,
click here (sorted by date of release).
You can also see it sorted by agent click here
To see the complete list of upcoming products from the
February 3 release, including In-Store Discovery items,
click here (sorted by date of release).
You can also see it sorted by agent click here
To see the complete list of upcoming products from the
February 17 release, including In-Store Discovery items,
click here (sorted by date of release).
You can also see it sorted by agent click here
Copyright Food & Beverage Testing Institute of Canada 2007
Prior written permission is required for any form of reproduction
(electronic or other wise) and or quotation.
Contact Michael Vaughan at
mbv@total.net