Get Michael Vaughan's Buying Guide for today's Vintages Release today!
With a special $20 Discount
Click Here
Vintage Expectations Dashed
When suppliers ship the wrong wine
There was only one bottle in Australia, but our intrepid wine writer tracked down what was supposed to be the world's best buy red!
© Michael Vaughan 2003
National Post Weekly Wine & Spirits Columnist
Saturday, January 25, 2003
Today's release was filled with great expectations. When I first received the Vintages catalogue I saw, that despite its size (only 68 items) there were two serious standouts. Unfortunately this euphoria was short-lived. Imagine my disappointment upon entering the LCBO tasting lab just over a week ago to discover that neither was what it was supposed to be.
The first wine was a spicy white from Austria. Who would have thought that a wine made from grapes few have ever heard of would be hitting Vintages for the third time in just two years? Even if it was only 80 cases, it was almost a miracle. It was as if I could hear the fans yelling "more Moorhof Muskat!"
To be precise, this was supposed to be Moorhof Muskat Ottonel 2001 from the Neusiedlersee-Hugelland region just southeast of Vienna. It may be hard to pronounce but at $11.85, it is a honeyed, spicy, lychee-flavoured charmer.
When I actually tasted it, the zippy freshness seemed lacking. A quick check of the label revealed that it was a repeat of the 2000 edition, not the 2001 as advertised. Unfortunately, it appears that the supplier shipped the wrong vintage. This, of course, is a costly error because freshness is vital to this grape. And so instead of a winner, we have an ok effort that should be consumed in the near future.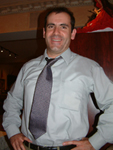 Moving on to what was supposed to be my best buy red of the release, I encountered a much more serious problem. It begins with my dinner last September with Daniel Castaño and a tasting of his winery's delicious 2000 Hecula red, which is in today's release.
Before going into details, some background is in order. This Alicante red comes from the region of Yecla in southwestern Spain. It is here where the Monastrell grape (aka Mourvedre in France and Mataro in California) is king. Like Muscat Ottonel, this isn't a variety that leaps to everyone's lips. And yet after Garnacha (aka Grenache), it is Spain's second most widely planted variety. Best yet; it thrives in this arid hot climate; although heavy end-of-summer rains can prove devastating.
In the old days, the small, thick-skinned, sweet Monastrell produced highly structured wines often with 16% alcohol. Bodegas Castaño not only introduced carbonic maceration resulting in lighter, fruitier, more agreeable reds, but also launched its Hecula brand - a fine, well structured red with great international appeal.
My tasting with Daniel Castaño, one of three brothers who along with their father direct the winery, was insightful. Castaño confessed that Robert Parker's rave review of the 1999, which appeared in Vintages last March, gave them God-sent visibility. Parker stated that Hecula is "spectacularly concentrated, thick, unctuously-textured, and seamless, this amazing effort… possibly the world's greatest single wine bargain. It should drink well for 5-7 years."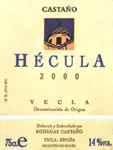 Castaño pointed that the wine Parker tasted was 100% Monastrell from 40-year-old non-irrigated vines and unfiltered. We then proceeded to taste three vintages: 1999 to 2001. Of the three, I was most seduced by the opulent, ripe plum and black cherry purée flavours of the 2001 "tank" sample. The 1999, which spent six months in American oak was the driest and perhaps most austere of the three. The Bodegas Castaño 2000 Hecula with its rich, mouthfilling, seductive ripe black cherry puree flavours and lingering, seamless, gently cedary finish was a best buy triumph at under $13.
I was extremely impressed with Hecula's quality evolution partially due to the introduction of green harvesting, which entailed the removal of "excess" grape clusters thereby greatly concentrating the fruit. Also the use of more new French oak, improved the wine's complexity and style.
Getting back to the 2000 Hecula being released today, I was shocked when I tasted it in lab. It was crisp with bright, dried cherry and sandalwood flavours, but the structure and finish were not there. Yes, the vintage was right. But then I checked the back label. It was definitely not the Hecula that Parker and I had tasted and loved, because this same-name blend now contained 20% Tempranillo and 10% Merlot. The culprit credited for creating this bastardized was the American distributor.
It is a mystery why anyone would give the identical name to two vastly different versions. Ditto for how it this inferior Hecula got here. I was frantic because I was flying to Sydney (Australia) in just a few hours and had to prepare this article. I made a call to importer Pilar Randolph of Celebrated Cellars. She was as stunned as I was. She called the winery in Spain and was told that 2000 Hecula was unblended! So perhaps the label on the back of the bottle was wrong and the wine had collapsed. Unfortunately, nary another bottle was available to double-check my tasting note.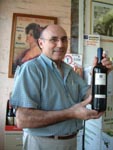 Not to be deterred after my 22-plus hour flight, I started calling around Sydney trying to track down a bottle to taste. On my second call to Broadway Cellars, I asked owner Jose Fernandez if he might have this wine. "How many cases do you want?" he asked. He than added, "I can get it, but we don't have any." My heart sank. I explained that I only needed to taste a single bottle. "Wait" he said. After what seemed to be an interminable length of time, he came back to the phone and said "I have one here for you."
I jumped into a cab and rushed to his unpretentious shop, which was filled to the brim with Spanish wines. He greeted me explaining that in addition to running his store for the past 27 years, he also was a distributor accounting for 70% of Spanish imports to Australia. "This" he proudly proclaimed grasping
the 2000 Hecula, "is the only trade sample bottle in the country and even I haven't tasted it."
His assistant Marcelo Diaz popped the cork and all three of us dug in. It was rich, fruity and wonderfully structured – an incredible wine at under $13. It also was the real thing with 100% Monastrell. "Imagine travelling all the way to Australia to taste what may well be the world's best buy red," said Jose Fernandez with a droll smile. Indeed, it was a miracle.
Here then are the two back labels:
Rather than leave you hanging with nothing to buy, I will give you my best buy red of the release. Don't miss cashing in on the 300 cases of Les Domaine Charles Frederic 1999 Grande Reserve Syrah at $13.30. This lovely, gently smoky, cassis and ripe black cherry flavoured effort from the French Midi will definitely chase all your winter blues away.
2001-2002-2003-2004-2005 Tasting Note Database
Our tasting note database from December 31, 2000 to January 2006, covers every Vintages release product for the past 61 months. There are more than 12,000 notes in the database data. Just enter the name of the product, supplier name or CSPC number. Or you can search by type of wine, country of origin, even wine agent! Nothing could be easier. Also you can get information on the agent by clicking on the agent's name, as well as current LCBO store inventory by clicking on "Check LCBO Availability", which will automatically tell you the number of bottles at LCBO as of last night.
To use our Tasting Notes Database: click here

** For All Visitors **
Vintages Releases
To see the complete list of upcoming products from the
February 4 release, including In-Store Discovery items,
click here (sorted by date of release).
You can also see it sorted by agent click here
To see the complete list of upcoming products from the
February 18 release, including In-Store Discovery items,
click here (sorted by date of release).
You can also see it sorted by agent click here
Copyright Food & Beverage Testing Institute of Canada 2006
Prior written permission is required for any form of reproduction
(electronic or other wise) and or quotation.
Contact Michael Vaughan at
mbv@total.net