Get Michael Vaughan's Buying Guide
for February 3rd & 17th Vintages Release today!
Click Here
Napa a go-go
Wine Parties vs. Tastings
© Michael Vaughan 2007
National Post Weekly Wine & Spirits Columnist
Saturday, January 27, 2007
To see this article as it appears in the National Post click here
CLICK ON THE NAME
All listings are automatically linked to the LCBO database
If there is a product that interests you, just click on the name below and you will instantaneously connected with the LCBO database. The product will appear in blue and all you have to do is click on the name again and then the next screen will provide details along with the store search. Just click on store search. The number of bottles in each store is updated nightly. Call the store first to see if stock still remains (each store phone number is listed).
It was the best of times, it was the worst of times… I am standing in front a wall of people and the noise is deafening. No this isn't the French revolution, but the visiting California winemakers must have surely felt under siege. I am attending the special afternoon Napa Valley Vintners trade tasting. I had planned to assess up to 65 wines from some 23 Napa Valley producers. In fact, today's article was to give National Post readers an update on what's happening.
Little did I know when I informed readers about the consumer event earlier this month, that the Rosewater venue was going to be so crowded. If we were at a casual tasting featuring Central Valley wines, party time antics could have been the order of the day. Bring on the painted ladies, music and smoking dry ice. But some of these Napa rarities fetch prices up to $200 and they deserve decent tasting conditions. This is especially true for some 300 people who shelled out $75 apiece for the evening event, only to discover that some of the wines they were looking forward to had evaporated. It all leaves a bad taste in the mouth.
It's time that organizers took more care about how many people they squeeze into one small space. And while there was a program of wines to be tasted, how were attendees to find them? The absence of any visible signage made it impossible to figure out where they were. Worse yet, when you finally found them, you would have to line up to get a pour and then quickly move out of the way for those behind you. There was zero opportunity to talk to attending winemakers. If there were handouts on pricing/availability, I couldn't find them.
Unfortunately, this isn't the first time that wine lovers have been let down. Last year, for instance, I tried to help by providing National Post readers with a detailed layout to the enormous California Wine Fair. Surely visible elevated signage, proper layout maps and a detailed guide with suggested pricing isn't too much to ask for. Indeed, why not post the latter on a website so people can plan ahead?
Also, one wonders who are all these people? I love a party and the price is right, but isn't this is supposed to be a professional tasting for trade buyers. I have a special word for "cologne boy" who slathers himself with perfume prior to attending. Ditto for the food hog at the appetizer table, which is meant as a palate cleansers, not the main meal of the day. Naturally, as soon as I have a chance to properly assess upcoming Napa Valley wines, National Post readers will be the first to know.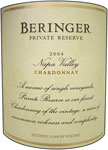 Meanwhile, getting back to best buys that have been properly tasted and are also available, let me share with you my top rated *** (out of three stars) white from last Saturday's Vintages release Beringer 2004 Napa Valley Private Reserve Chardonnay (26682) at $44.95. Bright yellow in colour, this Chard has a lovely, complex, intense, slightly smoky, key lime pie nose. The flavours are intense and yet harmonious with rich, ripe pear and key lime pie fruit accompanied by a refreshing, lingering crème brulee finish. For me, 2004 is considerably better than the 2000, The latter has a different CSPC #393926 and has appeared twice in Vintages, most recently on October 1, 2005 at $39.95. For some reason the Vintages website says that this is a "special price for this release only. Regular retail price $49.95."
Fortunately, I had a chance to meet Beringer's super winemaster Ed Sbragia in Toronto last May at a quiet tasting. A UC Davis grad, Ed's passion with wine was passed down from his Tuscan grandfather, who was standing on a ladder while topping off a tank when the 1906 earthquake hit. "Stop shaking the ladder" he yelled, not knowing that the rural landscape had just undergone a massive change. Ed's dad grew Zinfandel for home winemakers in his Healdsburg vineyard and that's where it all started.
After getting a master degree in enology, Ed started working with Beringer's Myron Nightingale. That was on August 9, 1976 and eight years later became chief winemaker. Ed is particularly proud of this 2004 Private Reserve, which spent 8 months in French oak (75% new) and dispite the high alcohol (14.4%) has lots of finesse and great acidity (.65 g/100 ml).
Of course, most Napa destination wines are not inexpensive. This seems to be particularly true of some Vintages in store discoveries (ISDs). Hagafen Cellars 2005 Chardonnay (11502) is priced at $27.95 and comes from Napa's Oak Knoll District. It is dry and well structured with fairly intense, rather cedary, ripe lemon flavours with a lingering finish. Ok, but not quite a detour.
I had hopes that the matching Hagafen Cellars 2005 Pinot Noir (11460) at $42.95 would be a head turner. After all, the LCBO website describes this certified Kosher wine as "a real blessing". Well not quite at the price. It has a sweetish, cherry-apple nose and creamy, fairly intense, plummy, ripe black cherry flavours. Nice, but no cigar.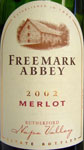 One of the best buy Napa reds in Vintages seems to have gone unnoticed. Released on November 25th and still widely available is the juicy, complex Freemark Abbey 2002 Merlot (1602) at $35.95. It comes from the Rutherford viticultural area and has a deep intense purple colour and engaging, cedar-plum-black cherry nose with dark chocolate notes. It's a biggy - very well structured with fairly juicy, plums, ripe raspberry-cherry flavours and a long, lingering finish. This could be described as a "Meritage" as it has 12% Cabernet Sauvignon, 6% Cabernet Franc and 3% Petit Verdot. Great today, especially with steak, it will be even better in a year or so from now.

Another tasty Merlot from the same area is Rutherford Hill 2002 Merlot (959338) at $28.95. It has a spicy, rather cedary, stewed plum nose with some black cherry notes. Dry and not quite as rich as the Freemark Abbey, this Merlot is smooth and ready to enjoy with well structured, cedary, lingering, warm plum, black cherry and chocolate flavours.
Readers wanting to explore the Napa Vineyard region can click here to download a detailed backgrounder.
Pick of the Week
Simon Barlow's stunning Rustenberg estate was established in 1682 in the gorgeous Stellenbosch region. This classic Chardonnay in the "Regional Range" may well be his best yet. The only bad news about Rustenberg 2004 Chardonnay (598631), which is extremely well priced at $22.95, is that Vintages only bought 20 cases of 6 as an ISD (in store discovery) A measly 120 bottles of a Platter four-star winner! As of earlier this week, there were still 98 bottles at 4 Toronto stores Those lucky enough to track one down will be seduced by its very slightly smoky, hazelnut and lemon meringue nose. Bright and well structured, the elegant, gently toasty, ripe lemon-lime flavours go on and on.

2001 - 2007 Tasting Note Database
Our tasting note database from December 31, 2000 to January 2007, covers every Vintages release product for the past 73 months. There are more than 14,000 notes in the database data. Just enter the name of the product, supplier name or CSPC number. Or you can search by type of wine, country of origin, even wine agent! Nothing could be easier. Also you can get information on the agent by clicking on the agent's name, as well as current LCBO store inventory by clicking on "Check LCBO Availability", which will automatically tell you the number of bottles at LCBO as of last night.
To use our Tasting Notes Database: click here

** For All Visitors **
Vintages Releases
To see the complete list of upcoming products from the
January 20 release, including In-Store Discovery items,
click here (sorted by date of release).
You can also see it sorted by agent click here
To see the complete list of upcoming products from the
February 3 release, including In-Store Discovery items,
click here (sorted by date of release).
You can also see it sorted by agent click here
To see the complete list of upcoming products from the
February 17 release, including In-Store Discovery items,
click here (sorted by date of release).
You can also see it sorted by agent click here
Copyright Food & Beverage Testing Institute of Canada 2007
Prior written permission is required for any form of reproduction
(electronic or other wise) and or quotation.
Contact Michael Vaughan at
mbv@total.net