Get all the evaluations for the January Release
Subscribe to Vintage Assessments today by Clicking Here
This not-for-profit website is dedicated to the discerning reader!
The Lowdown on Lodi
North America's most exciting viticultural area

© Michael Vaughan 2004
National Post Weekly Wine & Spirits Columnist



Saturday, January 3, 2004
LIVE WINE LINK
www.winefind.ca
(CLICK ON THE NAME - All listings are automatically linked to the LCBO database)
If there is a product that interests you, just click on the name below and you will instantaneously connected with the LCBO database. The product will appear in blue and all you have to do is click on the name again and then the next screen will provide details along with the store search. Just click on store search. The number of bottles in each store is updated nightly. You should call the store first to see if stock still remains (each store phone number is listed).

I am sitting beside might be mistakenly identified as a natural marsh and pond in the heart of Lodi, California. I am sipping a cool glass of Talus 2002 Chardonnay, which is currently at the top of the 2004 list of best value whites. Joining me is winemaker Todd Ziemann who oversees production at the enormous Turner Road Vintners operation, which was acquired by Constellation Brands' Canandaigua Wine Company just over two years ago from Sebastiani.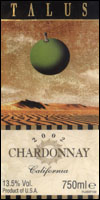 We are tasting his alluring, just-released Talus 2002 Chardonnay (473462), which has complex, toasty, ripe pear purée flavours. It is surprisingly delicious, especially for a mere $11.95 a bottle. "We have greatly increased the proportion of Lodi fruit in our wines," confesses Ziemann. "In fact, our Shiraz and Zinfandel now carry the Lodi appellation."
As for the marsh (or "wetlands'), it was built as an environmentally sensitive alternative helping to reduce winery water pollution. The folks at Talus hired professor Alexander Horne from the University of California at Berkeley Environmental Engineering and Sciences Laboratory to design the natural water treatment facility, which incorporates clean lakes and plant-filled wetlands (referred to as Advanced Integrated Pond Systems or AIPS).
Of some 63 acres, 20 acres are occupied by the winery and the balance of 43 acres set aside for waste disposal. It doesn't sound too romantic but the results are quite wonderful. The first stage is 5 acres of densely planted cattails, hen a meandering stream through extensive bulrushes and finally a 15-acre lake filled with fish. The result is an attractive park setting where one can walk, picnic and enjoy watching the birds. Nobody is saying, but a small boutique Talus winery might well be in works, along with a spiffy visitor center adjoining the wetlands area. After all, Thomas Hardy & Sons has done an amazing job with its Banrock Station wetlands project in Australia (also owned by Constellation).
It has been long in coming, but it seems that Lodi is finally coming out of the closet. It is ironic to discover that many prestigious Sonoma and Napa wineries buy grapes and/or have branch operations in Lodi. Look at the Wine Spectator and you will find hardly anything on California's largest viticultural region.
"It's a conspiracy," says one grower. "They was to keep us anonymous so our grape prices remain low. Once people discover what we can do here, the spotlight is bound to shift. We can do incredible things at a fraction of the price. And it's not just with Zinfandel!"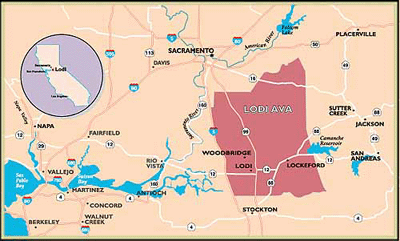 Lodi Wine Region is located about 100 miles east of San Francisco near the San Joaquin River Delta, southwest of Sacramento and west of the Sierra Nevada Mountains. It has been a major wine grape growing region since the 1850's and currently has more than 75,000 acres of wine grapes, farmed by over 750 growers. The region's yield some 600,000 tons of grapes is valued at over $300 million. It accounts for 18% of California's total production, more than Napa and Sonoma Counties combined.
Some mistakenly believe that the region is too hot, but in fact it isn't. The region enjoys a Mediterranean climate with warm, dry summers and cool, moist winters. Gallo was the first to see the great potential in this area and helped improve grape growing techniques way back in the 1960's. Today, five major wineries are located in the area, including Mondavi in Woodbridge
David Lucas is credited with starting the first boutique winery with his 1978 Lucas Zinfandel produced from 70-year-old vines from a 20-acre vineyard planted in the 1930s.. Indeed, he was the first put Lodi on his labels, even though the Lodi appellation wasn't officially created in 1986. His unfiltered, hand punched, open top fermented Zins are as popular as ever.
Today smaller "boutique" wineries are now popping up all over. At last October's Taste of Lodi, I got to see what was happening. I admit of having some prior mixed results when tasting the few Lodi wines that have intermittently drifted through the LCBO (with the exception of Ravenswood, which have been pretty good to date). What impressed me, certainly on the less expensive side of the Lodi spectrum, was that the new 2002 releases were far superior to 2001. I am certain, for instance, that the Delicato 2002 Clay Station varietals will be better than what appeared in Vintages last year.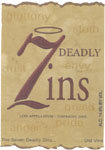 Lodi is loaded with great Zinfandel. One highlight was a very fine, extracty and yet elegant, black raspberry-cherry flavoured Ironstone 2000 Reserve Old Vine Zinfandel, which goes for a modest $20US and comes from 93-year-old vines. At the afternoon tasting, I was smitten by another rich, concentrated effort: Michael David Vineyards 2001 The Seven Deadly Zins - its smoky black cherry flavours seemed to never end.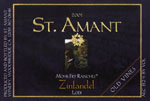 One of my highest scores went to St. Amant 2001 Marian's Vineyard Old Vines Zinfandel. This 15.2% alcohol was so ripe and yet so harmonious and well structured. The smoky nose was dripping with juicy, ripe cassis fruit, which carried over perfectly on the palate. I can only imagine what the 2002 will be like. Not to be ignored was the super fruit driven, albeit slightly lighter, St. Amant 2002 Marian's Vineyard Old Vines Zinfandel.
Moving on varietally, Kreig's Kellar 2001 Phillip Abba Vineyard Syrah with its rich, intense, smoky raspberry tea and sweetish black cherry flavours was another definite winner. In most instances, boutique quantities are small meaning that someone has to be pro-active in getting the best to this market.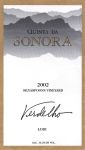 And there is more than just reds. White highlights include a delicious Quinta da Sonora 2002 Silvaspoons Vineyard Verdelho with fragrant, gently honeyed, slightly grassy, lemon-melon-Anjou pear flavours (14.2% alcohol). Terrific value at only $12US a bottle. Ditto for the refreshing Bokisch Vineyards 2002 Albarino (the famous white of Galicia in north-western Spain) where the vineyard focuses is on only three Spanish grape varieties: Albarino, Tempranillo and Graiano.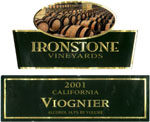 Here at home, Vintages still has some tasty, spicy, ripe pear flavoured Ironstone Vineyards 2001 Viognier (946665) from last year's May 10, 2003 release. This blend of 85% Viognier and 15% Chardonnay is definitely well priced at $17.95.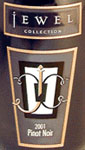 Ironically, the best value red tasted was a non-Lodi Santa Barbara/Mendocino Pinot Noir assemblage from Lodi's newly formed Global Wine Group, who are dedicated to producing wines at under $10 a bottle. When I tasted their Jewel Collection 2001 Pinot Noir I almost fainted - it bristling with juicy ripe red cherry flavours.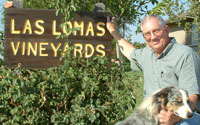 It was the words of vineyard manager

Gary Patterson

, who oversees some 1,400 acres of vineyards for Professor Francisco Ayala, which sealed Lodi's case. Patterson, who had spent 15 years with Gallo Sonoma, assured me that Lodi would soon be challenging the best from Napa/Sonoma. "With the proper clones and avoidance of the over's - over cropping, over fertilization, over watering and appropriate site selection, my Lodi Los Lomas vineyard grapes are challenging the best of what I did at Gallo's famous Barrelli Creek Vineyard in Alexander Valley!" Buyers are now lined up to buy his Lodi grapes. Certainly, we will never have to worry about that

Creedence Clearwater line, "Oh, lord, I'm stuck in Lodi again."
For more winery information contact the Lodi-Woodbridge Winegrape Commission/Lodi Wine & Visitor Center: www.lodiwines.com and for a full list of Lodi's wineries, www.lodiwine.com/lodiwineries1.shtml
Where to stay: The Wine and Roses Country Inn: This hotel and restaurant, built in 1902 as a Victorian home, is set on five acres, and has spacious guest rooms and a spa. For more information visit their site: www.winerose.com.
2001-2002-2003 Tasting Note Database
Our tasting note database from December 3 1, 2000 to December 2003, covers every Vintages release product for the past 35 months. There are more than 5,000 notes in the database data. Just enter the name of the product, supplier name or CSPC number. Or you can search by type of wine, country of origin, even wine agent! Nothing could be easier. Also you can get information on the agent by clicking on the agent's name, as well as current LCBO store inventory by clicking on "Check LCBO Availability", which will automatically tell you the number of bottles at LCBO as of last night.
To use our winefind.ca Tasting Notes Database: click here
Subscribe to Vintage Assessments Today • Click Here
** For All Visitors **
Vintages January 2004 Release
To see the complete list of upcoming products click here (sorted by date of release). It includes the number of cases, which wines were presented by the LCBO, our agent ID for every product, as well as, special unannounced "In Store Discoveries" for January.
You can also see it sorted by agent click here
Copyright Food & Beverage Testing Institute of Canada 2004
Prior written permission is required for any form of reproduction
(electronic or other wise) and or quotation.
Contact Michael Vaughan at
mbv@total.net