Get Michael Vaughan's Buying Guide for today's Vintages Release today!
With a special $20 Discount
Click Here
Discovering Alsace
Challenges in Buying the Best
Part I
© Michael Vaughan 2006
National Post Weekly Wine & Spirits Columnist
Saturday, July 8, 2006
LIVE WINE LINK
www.winefind.ca
(CLICK ON THE NAME - All listings are automatically linked to the LCBO database)
If there is a product that interests you, just click on the name below and you will instantaneously connected with the LCBO database. The product will appear in blue and all you have to do is click on the name again and then the next screen will provide details along with the store search. Just click on store search. The number of bottles in each store is updated nightly. Call the store first to see if stock still remains (each store phone number is listed).
I feel exasperated by today's Vintages release, which only offers a half-nod towards one of France's great wine regions. Although featuring a dozen Alsatian whites, one red and a sparkler, the sad fact is that the Vintages selection is far from being as stellar as it should be. Worse yet, for the everyday buyer, the LCBO has just delisted one-third of its General List offerings from Alsace. The solution is simply getting the LCBO to buy better wines.
Discovering Alsace first-hand is one of life's great moments. To test this theory, I recently spent four exhausting, albeit exhilarating, days tasting hundreds of wines. It's Monday morning 9:30 am (2:30 am Toronto time) at the ultramodern CIVA Maison des Vins d'Alsace in Colmar and I am confronted by 58 glasses of Alsatian Riesling.
They all come from the currently available 2004 vintage and, in my quest for the best, I am tasting them all blind. While not exactly fun, it is an efficient way to get a quick overview of the quality and see what is available. I supplement these tastings with forays into the vineyards and tastings with local winemakers. Had I only relied on winery visits, it would have been impossible to cover so many wines.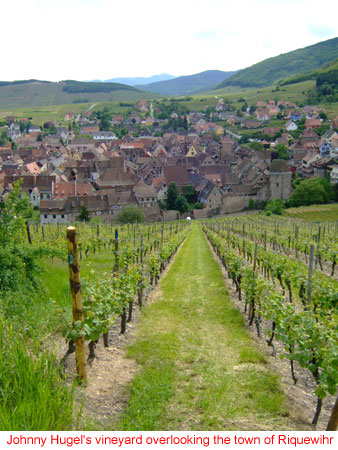 I am smitten by the region's incredible cuisine, remarkable beauty and individuality of each wine villages dotting the rolling Vosges mountains, which makes this regions one of the most visited in the world. While no one ever forgets the 170 km wine route (click here for information), garnering international attention on its wines hasn't been easy. Unlike most regions in France, Alsace is compelled to label its wines after the name of the grape - something, that was prohibited in Burgundy and Bordeaux, where the name of the grape does not appear on the label.
The Bordeaux label screams Bordeaux, you know exactly where it comes from. When buying Riesling, however, it is Alsace vs. Rieslings made everywhere else. Visibility is low because most Alsatian wineries are small and do not have deep pockets to advertise. To make matters worse, history has worked against the development of the wine industry. As this small region borders Germany, numerous wars resulted in damaged vineyards, numerous disruptive changes in nationality and persecution of winery owners. For a great summer read check out Wine and War: The French, the Nazis, and the Battle for France's Greatest Treasure by Donald Kladstrup, which is available in paperback at $17.44 at amazon.ca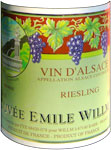 Getting back to today's Vintages release, of the two Rieslings presented, my choice would be Willm 2004 Riesling Réserve Cuvée Emile Willm (686295) at $18.95. It has very pleasant, slightly spicy, bright, ripe lemon, melon and apple on the palate with a refreshingly zesty finish. A great choice with freshly cooked seafood.
That leaves four General List Riesling selections to choose from. This will soon fall to two due to the LCBO's punitive volume quotas, which can purge fine wines from the shelves (a case in point being the Dopff au Moulin below). In most cases, the importing agents are the culprits because they don't bother getting their wines tasted/reviewed by wine writers. One wonders, for instance, whether the loss of two Pierre Sparr listings would have taken place had they received appropriate exposure.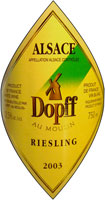 In a comparative blind tasting, I was surprised to discover that the best turned out to be the recently delisted Dopff au Moulin 2003 Riesling (649772), which originally was listed around $14.00 and is now on sale for only $10.65. It is nicely structured with ripe apple-melon purée flavours. A large quantity is still available in LCBO stores. When it sells out, I suggest you switch to the runner-up Pierre Sparr 2004 Riesling (618546) at $13.85.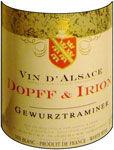 On the other hand, I was unimpressed with the general list Pinot Blanc/Pinot Gris selections, two of which appeared to have cork taint problems. Thankfully, both Gewurztraminer were fine, my choice being Dopff & Irion 2004 Gewurztraminer (81463) at $15.85 with its slightly honeyed, just off-dry, lychee-melon-apple flavours. In a nutshell, if Alsace is to succeed, the LCBO has to start buying/listing better wines.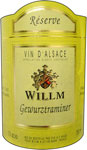 The same goes for Vintages releases. Other wines being released today worth trying include Willm 2004 Gewurztraminer Réserve (686303) at $15.95 with its very slightly sweet, honeyed, spicy, lychee, ripe pear flavours and refreshing, dry, lingering finish.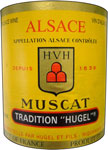 It would be great with Thai and other spicy dishes. Hugel 2004 Muscat Tradition (956771) at $15.95 is very dry with spicy, honeyed, yellow grapefruit flavours with a slightly nutty, tart finish. Sparr 2000 Dynastie Cremant d'Alsace (952796) at $19.95 is made in the classic method and is dry, crisp and quite well structured with gently spicy ripe apple flavours and a earthy, effervescent finish.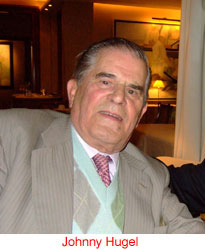 As far as I am concerned, despite all the hype about the great reds produced in the 2003 vintage, Pierre Sparr 2003 Pinot Noir at $28.95 is a bust. The best I have tasted to date is the limited production (4,000 bottles) Hugel 2003 Les Neveux Pinot Noir "Hugel" Jubilee, which would be deserving (were it eligible) of a Grand Cru designation. "This will never happen," says Johnny Hugel, who at 85 has devoted his life to the family-owned firm, which dates back to 1639. Why? "Because the huge recent expansion of Grand Cru vineyard designation has resulted in a proliferation of some less than deserving wines" adding that, "our customers know what to exactly what to expect when they buy our estate wines."
I was totally moved by an extremely flavourful Zind Humbrecht 2004 Pinot Gris Herrenweg de Turckheim at $38.95 (tasted twice as one bottle was corked). Ironically, the half-bottle tasted at the winery was much more attractive with lots of well-balanced, honeyed, exotic, tropical, ripe melon purée flavours.
I wish this release included some of the treasures from Domaine Weinbach, which are stuck into the Classics Catalogue and are never presented for evaluation. My tasting with Madame Faller and her two daughters Catherine, who does the marketing, and Laurence, the winemaker, was the highlight of my trip!
To see the full list of medal winners from the Alsace tasting click here.
Part II, which includes tasting notes from visits to various producers (ie. Louis Sipp, Zind Humbrecht, Domaine Weinbach, etc.), will appear next month.
2001-2002-2003-2004-2005-2006 Tasting Note Database
Our tasting note database from December 31, 2000 to June 2006, covers every Vintages release product for the past 66 months. There are more than 13,000 notes in the database data. Just enter the name of the product, supplier name or CSPC number. Or you can search by type of wine, country of origin, even wine agent! Nothing could be easier. Also you can get information on the agent by clicking on the agent's name, as well as current LCBO store inventory by clicking on "Check LCBO Availability", which will automatically tell you the number of bottles at LCBO as of last night.
To use our Tasting Notes Database: click here

** For All Visitors **
Vintages Releases
To see the complete list of upcoming products from the
July 8 release, including In-Store Discovery items,
click here (sorted by date of release).
You can also see it sorted by agent click here
To see the complete list of upcoming products from the
July 22 release, including In-Store Discovery items,
click here (sorted by date of release).
You can also see it sorted by agent click here
To see the complete list of upcoming products from the
August 5 release, including In-Store Discovery items,
click here (sorted by date of release).
You can also see it sorted by agent click here
Copyright Food & Beverage Testing Institute of Canada 2006
Prior written permission is required for any form of reproduction
(electronic or other wise) and or quotation.
Contact Michael Vaughan at
mbv@total.net