Get all the evaluations for the July Release
Subscribe to Vintage Assessments today by Clicking Here
This not-for-profit website is dedicated to the discerning reader!

A Survivor's Guide to White Port
And other Portuguese Sweeties

© Michael Vaughan 2004


National Post Weekly Wine & Spirits Columnist


Saturday, June 26, 2004

LIVE WINE LINK


www.winefind.ca

(CLICK ON THE NAME - All listings are automatically linked to the LCBO database)
If there is a product that interests you, just click on the name below and you will instantaneously connected with the LCBO database. The product will appear in blue and all you have to do is

click on the name again

and then the next screen will provide details along with the store search.

Just click on store search

. The number of bottles in each store is updated nightly. You should call the store first to see if stock still remains (each store phone number is listed).

Last week I was accused of having a sweet tooth. I guess it's true to a point, because while I am not a huge dessert fan, I relish a fine sweetie after a meal. For the many who share my enthusiasm, and even the few who don't, today's Vintages release has a fine selection and even a few incredible "must buy" sweeties.

Let me start off with a "might try" - a somewhat rarefied white Port. What we have here is the mandatory prepandial for anyone going to, you guessed it, Oporto. While some may ague that "Port's first duty is to be red", it is evident that white Ports are making a splash in some sophisticated destinations, such as top Parisian restaurants.

To begin with, a white Port is made in the same way as red, except that it is produced with Douro white grape varieties - Gouveio (aka Verdelho), Viosinho and Malvasia. At one time the grapes were foot trodden in lagares and the juice was fermented on the skins. Today, new styles are made using temperature-controlled fermentation, which means a brighter, lighter style. Before all the sugar is converted into alcohol, pure grape spirit is added halting the fermentation process thereby leaving some residual sweetness. Final alcohol may vary from a low of 16.5% (referred to as a "Light Dry') to about 20%. The sweetness can vary considerably from very sweet called "Lagrima" all the way down to an extra dry. It is then aged in oak barrels, usually for two years.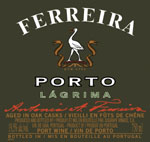 Eleven white Ports having graced the Vintages shelves over the past four years. My favourite of the two appearing this month is Ferreira Lágrima (980136 $14.95) a flavourful effort has a significant amount of residual sugar (14%) and is blended from two to five year old barrels (the average age is three years). Medium-deep gold in colour, it has a very sweet, spicy, caramel nose with some refreshing lemon-quince notes. You will find it somewhat sweet, fairly full bodied and nutty with lingering ripe lemon and caramelised plum flavours. Try it well chilled or on the rocks as an aperitif with a twist of lemon or tangerine. It can also be served after dinner with ripe cheese.
Next on today's hit parade is another Portuguese "dessert" wine, which could also be passed of as an aperitif. From south east of Lisbon comes the fabled Moscatel de Setübal, which made from the Muscat of Alexandria grape. It has been produced in this area since Roman times in a manner similar to Port.

There are several styles, and while they all are sweet, J.P. Vinhos Moscatel de Setubal (996181 $11.95) with 17.3% alcohol, it isn't as sweet or powerful as Ferreira. Nor is it as rich as some of the stunning, pricey, old reserve Setubal from Jose Maria da Fonseca. Nevertheless, this amber orange coloured sipper has a certain charm with its gently sweet, honeyed, quince nose. On the palate, it is honeyed and only gently sweet with very tangy, tangerine marmalade flavours with a surprisingly refreshing finish. A winner as an aperitif on the rocks with a twist of lemon, the release scheduled for earlier this month has been delayed and it should appear any day now.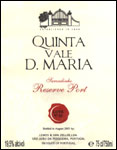 The remaining three wines are all fantastic. The least expensive is the unfined/unfiltered Quinta do Vale Dona Maria Reserve Port Lot No 1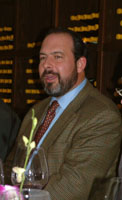 (994657 $23.95). This single vineyard (quinta) Port has a very deep intense purple colour and a spicy, plummy, juicy ripe black cherry nose. On the palate it is medium-full bodied, tangy and yet fairly creamy with spicy, ripe Damson plum and sandalwood flavours. Although the "Reserve" designation has no legal meaning, it is owner Cristiano van Zeller's personal reserve. This extraordinary value was foot trodden in old granite stone lagares and aged in old wooden vats. It leans in the Vintage Port direction and represents an outstanding buy meaning it may be laid away for another decade.
Last but not least is a pair of delicious, ready-to-enjoy, Madeira dessert wines. This first, a bit more expensive at $54.95, is Henriques & Henriques 15-Year-Old Verdelho Madeira (553701 $54.95), which is made from the same Verdelho grape used to make white Port. This extremely tasty Vintages Instore Discovery is amber in colour with sweet, burnt caramel, nuts and honey on the nose along with some citrusy, Cointreau notes. Only modestly sweet, the fine, lingering, tangy, citrus-caramel flavours go on and on. A perfect after-dinner sipper.

If you want something more modest, don't miss today's release best buy
Henriques & Henriques 10-Year-Old Sercial Madeira
(948810

$37.95). The

Sercial

grape is also known as Esgana Cao or "dog strangler" and generally produces less sweet wines with great finesse. This well-aged effort has a golden amber colour and a wonderful, sweet, complex, vanilla-tinged, crème brûlée nose. On the palate it is intense and fairly sweet but balanced with rich, candied tangerine, biscotti and crème brûlée flavours. It is certainly one of the best 10-year-old efforts tasted and a definitive EURO CUP 2004 winner.
2001-2002-2003-2004 Tasting Note Database
Our tasting note database from December 31, 2000 to June 2004, covers every Vintages release product for the past 42 months. There are more than 7,000 notes in the database data. Just enter the name of the product, supplier name or CSPC number. Or you can search by type of wine, country of origin, even wine agent! Nothing could be easier. Also you can get information on the agent by clicking on the agent's name, as well as current LCBO store inventory by clicking on "Check LCBO Availability", which will automatically tell you the number of bottles at LCBO as of last night.
To use our winefind.ca Tasting Notes Database: click here
Subscribe to Vintage Assessments Today • Click Here
To see a sample of our monthly newsletter: click here
** For All Visitors **
Vintages July 2004 Release
To see the complete list of upcoming 200 products click here (sorted by date of release). It includes the number of cases, which wines were presented by the LCBO, our agent ID for every product,
as well as, the 31 "In Store Discoveries" for July.
You can also see it sorted by agent click here
Copyright Food & Beverage Testing Institute of Canada 2004
Prior written permission is required for any form of reproduction
(electronic or other wise) and or quotation.
Contact Michael Vaughan at
mbv@total.net