Get all the evaluations for the June Release
Subscribe to Vintage Assessments today by Clicking Here
This not-for-profit website is dedicated to the discerning reader!
Mice in Gonzalez Byass Sherry Heaven
A dry white standout in a sea of sweeties

© Michael Vaughan 2004
National Post Weekly Wine & Spirits Columnist




Saturday, June 5, 2004
LIVE WINE LINK


www.winefind.ca


(CLICK ON THE NAME - All listings are automatically linked to the LCBO database)
If there is a product that interests you, just click on the name below and you will instantaneously connected with the LCBO database. The product will appear in blue and all you have to do is

click on the name again

and then the next screen will provide details along with the store search.

Just click on store search

. The number of bottles in each store is updated nightly. You should call the store first to see if stock still remains (each store phone number is listed).
Jerez de la Frontera can be hot, and I mean hot. Last week I attended the 4th biennial edition of Vinoble, the world's largest trade exposition of sweet wines. Producers from more than 120 wine regions around the world were strutting their wares. Canada's sole participant, Niagara-on-the-Lake's Pillitteri Estates found their stand under siege, running out of icewine before the exposition came to an end.
Over four days it seems that I tasted hundreds of sweeties, but just a fraction of what was being poured. I also took in more than a dozen tasting seminars. Wanting to survive, I was able to practice the art of expectoration - the polite word for spitting.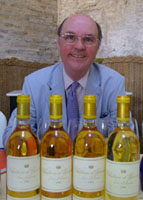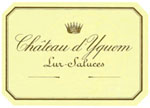 Naturally, there were lapses when things actually got swallowed. For instance, at the tasting of Château d'Yquem led by Count Alexandre de Lur Saluces, who has been the managing director since 1968, we explored the differences between the 1998, 1996, 1988 and 1985 vintages. The former, 1998 Chateau d'Yquem (994277 - $198 half bottle) has just been released in the Classics Catalogue and I was amazed at the wonderful sweet concentration of ripe fruit and how well it is showing - a must buy for anyone pursuing great Sauternes.

The most surprising highlight of Vinoble, however, turned up at the session on Japanese sweet wines, where I discovered Grande Polaire 1994 Hokkaido Yoichi Noble Rot. This wondrously rich, honeyed, butterscotch flavoured deep gold elixir had remarkable length and acidity, especially for the Kerner grape. When I asked for "more please" I was informed that the cupboard was bare and that this one and only effort currently fetches 30,010 Yen (about $400) per 750 ml bottle.
It took some 40 hand-harvested clusters of botrytised Kerner grapes to produce a single bottle. They were grown in the Yoichi region of northern Japan and made by the Katunuma winery, which was a former brewery and is now owned by Sapporo. Unfortunately, local conditions over the past decade have not permitted a repeat, at least in this area.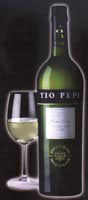 Naturally, the unending seminars combined with the heat started to take its toll. As the palate began to flag and I retreated to the Gonzalez Byass booth for my daily sip or two or three of chilled Gonzalez Byass Tio Pepe (on the LCBO General List at $15.95 - 242669). This king of Fino is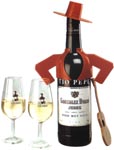 bracingly dry, gently chalky, dusty, dried lemon flavours provided just the right amount of refreshing deep palate cleansing enabling me to continue. With 15.5% alcohol, it goes well with almost anything throughout a meal - a truly wonderful hot day pick-me-up. It is so good that it was one of only three wines to attain a perfect 100-point score in wine expert Andrés Proensa's 360-page just-released 2004 Spanish wine buying guide!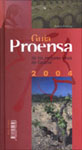 Naturally it was hard hanging around their booth so long without absorbing some of the folklore. I discovered, for instance, Tio Pepe's dark heavy "Fino muy seco" bottle acquired its famous Andalucian costume – red jacket and wide-brimmed sombrero - in the 1920s. In 2001, almost 80 years later, Tio Pepe got a new wardrobe, a lighter bottle and a new label. The new modern look was accompanied by slightly lower alcohol (now 15.5%) and a perhaps a fresher taste.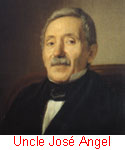 I also found out that Tio Pepe or "uncle Joe" was created in 1844 using the white Palamino grape, which is unique to Jerez. It seems that José Gonzalez Angel would lay away a few special casks of the finest Fino (the palest, lightest, driest and perhaps most elegant of Sherry styles). His uncle Manuel, who founded the Gonzalez Byass firm at the age of 23 just 9 years earlier, decided to name it after José calling it Tio Pepe.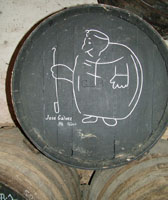 I also discovered that not only is Tio Pepe the world's most sought after Sherry, but also that their enormous splendid bodegas in the heart of Jerez draw more visitors than any other winery in the world. Some 250,000 climb aboard the various coloured trains to tour the bodegas annually, where tours are offered in four languages. Despite the remote location, it gets more than twice as many visitors as Mondavi in the Napa Valley.
Last Sunday I decided to take the 2 pm tour, which charges an extra 4 Euros over the 8 Euro entry fee for an added tasting of some Iberian ham and cheese along with – you guessed it – Tio Pepe. It was while touring the very last bodega, where I discovered what might well be the secret that has made the tour such a success.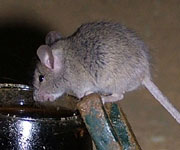 It seems that back in the 1920's the one of the bodega's workers, José Galvés, inadvertently dropped some crumbs of bread on the floor while having lunch in the cool dark cellar. All of a sudden some resident mice appeared to nibble up every morsel. Just as he got into the habit of sharing, he discovered that the mice also had a taste for Sherry when some inadvertently spilled on the floor.
Perhaps it was love at first sight, but it wasn't long before it became a daily ritual. He tried to teach them some tricks and built a small ladder leaning against a glass filled with their favourite elixir - a sweeter, older, amber coloured Oloroso. In no time at all the mice discovered that they could climb the ladder and get a drink whenever they felt the urge.
To this day, the routine continues - providing some three dozen happy cellar rodents the privilege of not only being fed daily in the cool of the bodega, but also getting their ration of one of the world's finest wines. The original tiny ladder still sits there leaning against the glass, while the mice perform for astonished visitors. While the mice don't seem to mind all the tourists, trying to get them to pose for a photo proved to be a bit of a challenge. Thankfully, I found one cooperative mouse, who was obviously enjoying himself and didn't mind my advances. In the end, it's as if they had died and gone to Sherry heaven –

after all, how many mice do you know are able to sip their own new bottle of Spanish Oloroso each and every week?
Text and Photographs © Michael Vaughan 2004
May not be copied and/or reproduced without prior written permission
Images made with the Fuji FinePix S7000 Digital Camera
2001-2002-2003-2004 Tasting Note Database
Our tasting note database from December 31, 2000 to April 2004, covers every Vintages release product for the past 40 months. There are more than 6,000 notes in the database data. Just enter the name of the product, supplier name or CSPC number. Or you can search by type of wine, country of origin, even wine agent! Nothing could be easier. Also you can get information on the agent by clicking on the agent's name, as well as current LCBO store inventory by clicking on "Check LCBO Availability", which will automatically tell you the number of bottles at LCBO as of last night.
To use our winefind.ca Tasting Notes Database: click here
Subscribe to Vintage Assessments Today • Click Here
** For All Visitors **
Vintages June 2004 Release
To see the complete list of upcoming 144 products click here (sorted by date of release). It includes the number of cases, which wines were presented by the LCBO, our agent ID for every product,
as well as, the 25 "In Store Discoveries" for June.
You can also see it sorted by agent click here
Copyright Food & Beverage Testing Institute of Canada 2004
Prior written permission is required for any form of reproduction
(electronic or other wise) and or quotation.
Contact Michael Vaughan at
mbv@total.net