Get all the evaluations for the June Release
Subscribe to Vintage Assessments today by Clicking Here
This not-for-profit website is dedicated to the discerning reader!
Chardonnay is still a Mother's best Friend!
Mum's the word for old & new world Chardonnay

© Michael Vaughan 2004
National Post Weekly Wine & Spirits Columnist



Saturday, May 8, 2004
LIVE WINE LINK


www.winefind.ca


(CLICK ON THE NAME - All listings are automatically linked to the LCBO database)
If there is a product that interests you, just click on the name below and you will instantaneously connected with the LCBO database. The product will appear in blue and all you have to do is

click on the name again

and then the next screen will provide details along with the store search.

Just click on store search

. The number of bottles in each store is updated nightly. You should call the store first to see if stock still remains (each store phone number is listed).
The way some ABC (Anything But Chardonnay) fans talk, one might think that Chardonnay is all washed up. But nothing could be farther from the truth. Chard is still the beverage of choice for tens of millions and the world's number one selling grape variety. In fact, rumour has it that there's a movement afoot – MFC (Mothers For Chardonnay) supporting the contention that Chardonnay is a mother's best friend – perfect for Mother's Day.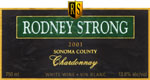 Judging by the great variety of Chards in today's Vintages release, there is something to keep every mum happy! Fans can feast on the wares from six countries all coming in contrasting styles. Readers will recall my recent comments on the improvements being made in California in terms of quality and value. Of today's three California entries, the best is Rodney Strong Vineyards 2001 Sonoma County Chardonnay (226936) at $19.95. Here's a nose that doesn't blow it – toasty, ripe lemon and sweetish Anjou pear fruit. On the palate, the nicely textured, ripe pear flavours are balanced by a touch of ripe lemon and hints of cedar.
Rodney Strong Vineyards is one of Sonoma's most progressive operations and owns 12 major vineyards spanning some 1,000 acres. Visiting veteran winemaker Rick Sayre has made these wines for the past 25 years. He points out that "while a wine is made in the vineyard, technology has seriously improved what's in the glass. Here we selected key Sonoma Chardonnay blocks to bring out the right balance of flavours." I was surprised to find that some 43% is barrel fermented and that everything (both stainless steel and barrel fermented portions) have gone through a secondary acid-softening malolactic fermentation.
Sayre isn't frightened to admit that he occasionally uses spinning cone technology. This isn't something you will find in an ice cream parlour. It is a very complicated process used by some California winemakers to reduce excessive potential alcohol in wine. "In our case, grapes have to be picked on flavour, meaning that the brix (a measure of the level of sugar in the grapes), in some instances, is very high. Left on its own, the wine will have desired flavours, but too much alcohol. The answer is to send a portion of the wine out and have some of the alcohol removed."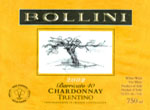 Bargain hunters will be pleased with a surprisingly tasty northern Italian entry from the alpine Trentino region. The light straw coloured Bollini 2002 Barricato 40 Chardonnay (987503 - $12.95) has a spicy, warm apricot and ripe lemon nose. Dry, crisp and light bodied, the slightly toasty, lemony, dried apricot flavours make it a wide-appeal easy quaffer. 'Barricato 40' refers to the fact that 40% was fermented in new French barriques.

Perhaps even better is a ripe, rounded, ready-to-drink Portuguese Chard making its debut in May's InStore Discovery (ISD) programme. J.P. Vinhos 2002 Cova da Ursa Chardonnay (977280 - $12.95) is delicious, smooth and yet still refreshing with ripe pear purée flavours. It hails from their small 23 ha Cova da Ursa vineyard on the Setúbal Peninsula 25 km south of Lisbon. This outstanding value was 100% fermented and aged in small new French oak barrels for 6 months.
Trying to find this wine isn't going to be easy. First, there are only 30 cases available. At one time, ISDs appeared on Vintages ISD designated store shelves on the day prior (i.e. Friday) to the month's first release. That would have been yesterday, but now it seems that there is no designated release date. It means that the can be put out anytime by store wine consultants It could be today, tomorrow or in two weeks! Worse yet, both the LCBO infoline & LCBO website showed zero stock at all Toronto ISD-designated Vintages stores! And yet as of yesterday evening, there were 2+ cases out at store #10 (Yonge & Summerhill) and about four cases at #217 (Queens Quay). To see the list of ISD stores with phone numbers click here Last but not least, according to the agent this wine was incorrectly priced by the LCBO and is actually worth $19 a bottle!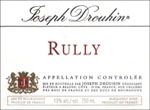 From Burgundy, the birthplace of classic Chardonnay, we have two very fine selections, albeit at vastly different prices. Unfortunately, the first will not be released until May 22nd, but it is worth waiting for. Joseph Drouhin 2001 Rally Blanc (938712) $29.95 comes from the small Rully commune in the Chalonnais region. While frowned on by some label-buying wine snobs, you will get the last laugh because this delicious effort shows lots of bright grapefruit and Anjou pear flavours. Also, it is perfect to drink now, which isn't generally true of some wines from the region's higher-priced, more famous communes.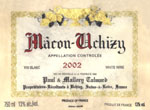 Moving further south to the Macon region, which is best known for Pouilly-Fuissé, one discovers another very fine Chardonnay coming from one Macon's 43 villages - in this case, the charming village of Uchizy. Owners Gerald and Philibert have done a truly great job with their Talmard 2002 Mâcon-Uchizy (733956 - $15.95). It is dry, crisp and harmonious with slightly spicy, dried Anjou pear flavours that go on and on - a perfect match with seafood.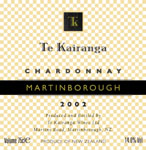 Last but not least is my release highlight, an incredibly delicious entry from the Martinborough region of New Zealand's North Island. I have now tasted Te Kairanga 2002 Chardonnay (727024 -$19.95) four times and am amazed how so much flavour is packed into a single wine. It comes with a screwcap and is light yellow in colour. One sniff and you are hit with lively yellow grapefruit peel nose with hints of honeyed and cedar. It is extremely tasty with very bright, grapefruit, rhubarb and ripe Anjou pear purée flavours that show wonderful persistence.
Finally, if you mum's a real wine fan, you may want to take her to the upcoming

New Zealand Wine Fair

on May 26 and 27 from 7 to 9:30 pm at Alice Fazooli's (294 Adelaide Street West) where some 110 wines from 33 producers will be tasted. Tickets are $55 – to register

click here

or to see the list of wines being presented

click here
2001-2002-2003-2004 Tasting Note Database
Our tasting note database from December 31, 2000 to March 2004, covers every Vintages release product for the past 39 months. There are more than 6,000 notes in the database data. Just enter the name of the product, supplier name or CSPC number. Or you can search by type of wine, country of origin, even wine agent! Nothing could be easier. Also you can get information on the agent by clicking on the agent's name, as well as current LCBO store inventory by clicking on "Check LCBO Availability", which will automatically tell you the number of bottles at LCBO as of last night.
To use our winefind.ca Tasting Notes Database: click here
Subscribe to Vintage Assessments Today • Click Here
** For All Visitors **
Vintages June 2004 Release
To see the complete list of upcoming 144 products click here (sorted by date of release). It includes the number of cases, which wines were presented by the LCBO, our agent ID for every product,
as well as, the 25 "In Store Discoveries" for June.
You can also see it sorted by agent click here
Copyright Food & Beverage Testing Institute of Canada 2004
Prior written permission is required for any form of reproduction
(electronic or other wise) and or quotation.
Contact Michael Vaughan at
mbv@total.net