Get all the evaluations for the November Release
Subscribe to Vintage Assessments today by Clicking Here
This not-for-profit website is dedicated to the discerning reader!

Argentina in the Spotlight
Five Vintages Release best buys

© Michael Vaughan 2004


National Post Weekly Wine & Spirits Columnist
Saturday, November 6, 2004

LIVE WINE LINK
www.winefind.ca
(CLICK ON THE NAME - All listings are automatically linked to the LCBO database)
If there is a product that interests you, just click on the name below and you will instantaneously connected with the LCBO database. The product will appear in blue and all you have to do is click on the name again and then the next screen will provide details along with the store search. Just click on store search. The number of bottles in each store is updated nightly. You should call the store first to see if stock still remains (each store phone number is listed).

Today's Vintages release has a couple of gems (to see the complete list of this month's release click here). The first comes from Argentina and happily doesn't cost a fortune. It was back in 1988 when flying French winemaker oenologist Michel Rolland first hit the vineyards of Argentina. He liked what he saw, especially its fine wine potential at a relatively low price. It wasn't long before he joined forces with two of his compatriots: the recently deceased winegrower Jean-Michel Arcaute (Château Clinet, La Croix du Casse, Beau Soleil, Château Jonqueyres, as well as the Hungarian Tokaji wines of Château Pajzos) and specialist in viticultural economy, lawyer Philippe Schell. Together they assembled a group of seven French investors (industrialists and wine growers) to finance the Clos de los Siete (Vineyard of the Seven) in "Vista Flores" situated in the Tunuyan region just 90 km south of Mendoza.

This major holding of 847 ha, which cost some US$50 million was evenly divided among the seven owners. Initially 120 ha were planted (now at 470 ha). The fledgling vines - 40% Malbec, 20% Cabernet Sauvignon, 20% Merlot and 20% Syrah - hit the earth in the fall of 1999 and the fruit of the first 2002 harvest arrives on LCBO shelves as of today.

No costs were spared in producing this red. Grapes are hand-harvested from low yielding vines (only 20 to 25 hl per ha) and manually sorted twice before being destemmed. There is no crushing, nor any pumping - everything is moved by gravity flow. Maturation is 1/3 in vat and 2/3 in 100% new French oak. To maintain texture and flavour, there is no fining or filtration.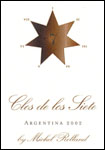 The result speaks for itself: Bodega Monteviejo 2002 Clos De Los Siete (622571) at $19.95 scores a very high **+ out of *** maximum. Very deep intense purple colour, the nose is complex and spicy with slightly sweet, stewed ripe black cherry fruit. On the palate, it is spicy, bright, well structured, medium to medium-full bodied and quite harmonious with lifted, plummy, ripe black cherry flavours and a lingering, sandalwood, herb-tinged, finish.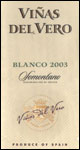 Moving on to other release highlights, today's best buy white comes from Pyrenees foothills region of Somontano just northeast of Barcelona. Despite the summer heat, 2003 Viñas Del Vero Blanco (642082) at $11.95 has a modest 12% alcohol demonstrates fine wine making at its best. It has a light straw colour and fairly intense, lively, buckwheat honey and floral, ripe, lemon-melon fruit on the still youthful nose. Taste-wise, it is lively, dry, bright and medium-light bodied with tangy, ripe lemon-melon flavours and fine length.
In order to maximize fruit and freshness, this unoaked blend of Macabeo (aka Viura) and Chardonnay was made by fermenting each component separately in temperature-controlled stainless steel. It is amazing to think that the harvest commenced on August 18th after a blistering hot July. Tasty and easy-to-drink, this white shows great versatility and is a testimonial to Viñas del Vero, which is one of the most progressive, quality-focused facilities in Spain. Founded in 1986, it oversees some 1,000 ha of vineyards (three-quarters of which they own), which are located in some 14 different microclimates.
The ultra modern winery was inaugurated in 1993 with 250 stainless steel tanks and 6.000 American and French oak barrels. While some 80% is sold in Spain, exports are growing rapidly, especially at the high end of their quality spectrum.
For Sauvignon Blanc fans, November's "In Store Discovery" Seresin Estate Sauvignon Blanc 2003 (735043) at $24.95 hits the mark. From New Zealand's Marlborough region in the South Island, the nose is very bright and attractive with ripe melon-grapefruit aromas and gently grassy notes. On the palate it is very crisp, dry and well structured with ready to enjoy, grassy, zesty, ripe lemon-grapefruit flavours.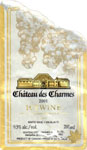 Of the 15 icewines being released (unfortunately not all tasted), my highest score and best buy goes to Château des Charmes 2001 Vidal Icewine (565861), which costs $24.95 for 200 ml (equivalent to $93.56 for 750 ml). Deep yellow gold in colour, the sweet nose shows great complexity with caramelized, baked apples and fruit cocktail notes. Creamy, sweet and honeyed, the spicy, fairly rich, ripe lemon, warm baked apple flavours go on and on. You might want to taste it against their excellent 2000 vintage, which was released on July 10, 2004 at $39.95 for 375 ml (equivalent to $79.70 for 750 ml).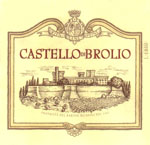 For a change of pace, discerning palates are advised to try the "in store discovery" Castello di Brolio 1999 Vin Santo del Chianti Classico (730945) at $33.95 for 375 ml (equivalent to $67.90 for 750 ml). With 16.5% alcohol, this lovely sweetie has a complex, bright, caramel and candied lemon peel nose. On the palate, it is sweet and succulent with caramelized baked ripe apple flavours and a fine, lifted, lingering finish.
Vin Santo or "Holy Wine" is an Italian specialty was traditionally made by permitting the harvested Malvasia grapes to dry on straw mats thereby concentrating the sugar and flavours. The longer the drying, the higher the sugar level. While a bewildering variety of Vin Santo wines are produced, only the very best are capable of aging and evolving for decades. This 1999 Castello di Brolio is certainly one of the finest I have tasted in Vintages in many years.
Upcoming Trade-Only Tastings
Finally, there is a flurry of trade-only tasting events this week. On Tuesday, November 9, the Wines from South Africa an extensive tasting takes place at Hart House from 1:00 to 4:00 pm. Contact Laurel Keenan at 416-698-8112 or email keenan@propellerpr.com
The following day, Wednesday, November 10, from Bordeaux there is an enormous trade-only tasting of wines from the 12 appellations of the Saint-Emilion-Pomerol-Fronsac regions at the Carlu from 2:30 to 5:30 pm. To see the list of wines being presented click here For information please contact Anne Popoff of Sopexa Canada at 416-921-8400 or email anne.popoff@sopexa.com Unfortunately, the evening dinner is now sold out.
To see other upcoming November events click here
2001-2002-2003-2004 Tasting Note Database
Our tasting note database from December 31, 2000 to October 2004, covers every Vintages release product for the past 45 months. There are more than 8,000 notes in the database data. Just enter the name of the product, supplier name or CSPC number. Or you can search by type of wine, country of origin, even wine agent! Nothing could be easier. Also you can get information on the agent by clicking on the agent's name, as well as current LCBO store inventory by clicking on "Check LCBO Availability", which will automatically tell you the number of bottles at LCBO as of last night.
To use our winefind.ca Tasting Notes Database: click here
Subscribe to Vintage Assessments Today • Click Here
To see a sample of our monthly newsletter: click here
** For All Visitors **
Vintages November 2004 Release
To see the complete list of upcoming 199 products click here (sorted by date of release). It includes the number of cases, which wines were presented by the LCBO, our agent ID for every product,
as well as, the 54 "In Store Discoveries" for November.
You can also see it sorted by agent click here
Copyright Food & Beverage Testing Institute of Canada 2004
Prior written permission is required for any form of reproduction
(electronic or other wise) and or quotation.
Contact Michael Vaughan at
mbv@total.net