Recent Articles


Get Michael Vaughan's Buying Guide for today's Vintages Release today!
With a special $20 Discount
Click Here
An Australian Avalanche
© Michael Vaughan 2006
National Post Weekly Wine & Spirits Columnist
Saturday, September 23, 2006
LIVE WINE LINK
www.winefind.ca
(CLICK ON THE NAME - All listings are automatically linked to the LCBO database)
If there is a product that interests you, just click on the name below and you will instantaneously connected with the LCBO database. The product will appear in blue and all you have to do is click on the name again and then the next screen will provide details along with the store search. Just click on store search. The number of bottles in each store is updated nightly. Call the store first to see if stock still remains (each store phone number is listed).
It's the first weekend of Fall and I am thinking about all those warming, fleshy reds from Australia. We certainly get see a lot of them. Over the past six years I have posted more than 1,300 searchable Australian reviews to help National Post readers find the best. To see the list (complete with evaluations and tasting notes) click here, available for free using the npreader password!
The timing is good because fans will be attending next Wednesday's annual Australian wine fair. Called Uncover Australia, it might have been called "Avalanche Australia" as some 600 wines will be spread out on 67 tables on two floors of the MaRS Centre at 101 College Street from 6:30 to 9:30 pm. The detailed list of wineries, wines and floor plan are all also posted on my website. Tickets are $60 per person plus taxes. For reservations call Wine Australia at 416-323-3016 or visit www.wineaustralia.com/canada
Trying to circumnavigate this event is going to be a challenge. Tables 1-31 are on the upper level (UL) and feature wines from Victoria, New South Wales, Western Australia and other regions. The balance, tables 32 to 67 featuring wines from South and South Eastern Australia, are on the lower level (LL).
To download 37-page catalogue please click here. To make things a bit easier, I have also provided readers with a codified list of wineries from A to Z with table locations click here to see the list. Alas there are no prices, which would have been helpful in trying to determine the wines that are affordable - you have to get that information from the agent. However, the catalogue does tell us if the wines are available and where (Vintages, General List, consignment, etc.) or when they might be coming. Thankfully, the name of the importing agent and location is also provided.
Now all of this is fine if you want to taste wines from a particular region, but if you want to taste by grape variety, you are out of luck. Those wanting to taste a certain variety are stymied by the absence of any summary breakdowns. Fortunately, the downloadable version program is searchable. When I looked up "Shiraz" some 153 wines popped up, many of them blended with other grapes. By the way, only one "Syrah" is present. As for Pinot Noir, a mere 10 are being presented all but one popping up on the upper floor. There is no question that it will be a Herculean task to track down the individual wines you might want to taste on the various tables featuring up to eight different wines.
Trying to determine what to taste is always a dilemma. I suggest that you check out the wines made from the types of grapes, producers and/or regions you like. While it would be fun to explore some of the cheaper best buys, you might as well concentrate on the bigger, pricier wines that are not readily available.
Whites

Kicking off with some whites, I had a chance to preview some 51 wines (only 10 whites) and found a delicious, previously untasted, Central Victoria gem, which is being poured at table #14 UL. Mitchelton 2005 Viognier has a suggested price of $23.95 comes with a screwcap closure. It has a slightly toasty, tropical-tinged, ripe melon nose. Crisp, dry, very well structured, it has great ripe lemon-melon flavours with a lingering finish. This should be appearing in Vintages next May.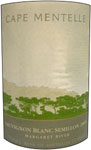 Finally, here is a here great window to preview my October 14th Vintages recommended best buy. At Vintages booth (table #10 UL) you will find Cape Mentelle 2005 Sauvignon Blanc/Semillon (458885) at only $19.95. Look for dry, well-structured, very flavourful, ripe lemon, melon and rhubarb pie flavours with a complex, lingering, high acid finish. Made in the Margaret River region of Western Australia, it comes with a convenient screwcap closure and 422 cases will be available.
Reds

Moving on to the reds, such is not the case for my recommended Penley Estate 2002 Cabernet Sauvignon Reserve (701821) at $52.95, which just was released last Saturday (100 cases of 6). Only a few dozen bottles are left, so this may be your only chance to taste it at the Penley table (#63 LL). It hails from Coonawarra, South Australia and is extremely intense with youthful, slightly sweet, spicy, pepper tinged, plummy, ripe red currant flavours.
While visiting the Penley table, don't miss tasting two delicious, must-buy, 2004 consignment reds, both priced at about $23.95 licensee ($27.95 tax-inclusive non-licensee), all crafted by affable owner/winemaker Kym Tolley. The 2004 Hyland Shiraz is quite delicious with rounded, bright, slightly spicy, plummy sandalwood-tinged, ripe cherry flavours. His Phoenix 2004 Cabernet Sauvignon is very classy with beautifully structured, harmonious, ripe plum purée flavours with nuances of Maraschino cherry. At the moment, the bargain-priced Phoenix is prettier and considerably more accessible than the 2002 Reserve at $52.95. Thankfully, all of Tolley's wines are jam-free.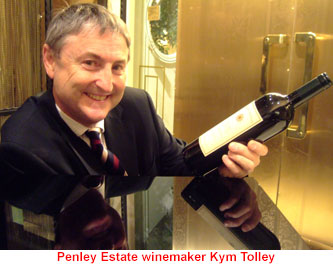 Let me add that I was able to preview these gems at a winemaker's dinner held at Truffles last week, organized by B&W wine importer Howard Wasserman. The Phoenix was paired with a stunning foie gras basted quail accompanied with squash gnocchi and brussel sprout leaves. This amazing, perfectly prepared dish by chef Lora Kirk was one of the tastiest creations on the year!
Meanwhile, back at the Vintages table (#10 UL), Penley Estate Special Select Shiraz 2002 (627943), which is being released in the November Classics at approximately $55, is being tasted along with some other Vintages selections.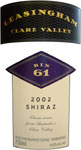 Ironically, one of the most delicious reds previewed was the Leasingham 2002 Bin 61 Shiraz (448241), which was actually released November 6, 2005 at only $24.95. As of last Thursday, there were still 49 bottles at the Ottawa South Bank Street LCBO store. It has a lovely, slightly smoky, expressive, ripe plum and ripe black cherry nose. Very well structured, medium-full bodied, fairly extracty, harmonious, ripe baked plum and smoky flavours. It is at table #38 LL - try it, you'll like it!
There are many, many more destination reds, including a great selection from Penfolds (#24 UL), along with one of my consistent favourites Greg Norman (#32 UL), whose Vintages Essentials Shiraz always impresses.
Pick of the Week

Those who haven't experienced a great Aussi sweetie don't miss this delicious effort from Riverina, New South Wales - De Bortoli 2002 Noble One Botrytis Semillon (917252) at $29.95 per 375ml bottle (#28 UL). Some 59 cases were released as an ISD November 25, 2005. Sadly Vintages excluded the wine writers from tasting it with the LCBO consultants. As a result, it still lingers unsold on LCBO shelves! It has intense, sweet, creamy, honeyed, lingering, caramelized, apricot flavours.
2001-2002-2003-2004-2005-2006 Tasting Note Database
Our tasting note database from December 31, 2000 to September 2006, covers every Vintages release product for the past 69 months. There are more than 13,000 notes in the database data. Just enter the name of the product, supplier name or CSPC number. Or you can search by type of wine, country of origin, even wine agent! Nothing could be easier. Also you can get information on the agent by clicking on the agent's name, as well as current LCBO store inventory by clicking on "Check LCBO Availability", which will automatically tell you the number of bottles at LCBO as of last night.
To use our Tasting Notes Database: click here

** For All Visitors **
Vintages Releases
To see the complete list of upcoming products from the
September 30 release, including In-Store Discovery items,
click here (sorted by date of release).
You can also see it sorted by agent click here
To see the complete list of upcoming products from the
October 14 release, including In-Store Discovery items,
click here (sorted by date of release).
You can also see it sorted by agent click here
To see the complete list of upcoming products from the
October 28 release, including In-Store Discovery items,
click here (sorted by date of release).
You can also see it sorted by agent click here
Copyright Food & Beverage Testing Institute of Canada 2006
Prior written permission is required for any form of reproduction
(electronic or other wise) and or quotation.
Contact Michael Vaughan at
mbv@total.net