It seemed too good to be true, and alas, it was! When I checked with
Gallo's local rep, I was told that the price should be $21.95 (or $19.95 with the LTO). As LCBO prices are subject to change without notice, this typo will be addressed in your local store. Also note that the vintage is actually 2002, not 2001 as appears in the catalogue.

The good news it that there are 500 cases of this tasty effort and anybody who enjoys juicy, ripe, black cherry flavours is going to love this fine Pinot Noir, which is at its peak. While 2002 is reputably a great vintage, this well-priced red leans on the mature side with surprisingly soft tannins and without great depth of colour. In other words, a crowd-pleaser, which will fly off the shelves.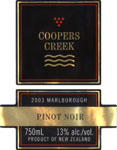 There are a number of other Pinot Noir to look out for. Of the four from New Zealand, the least expensive, Coopers Creek 2003 Pinot Noir (599969) at $22.95 hit the spot. Although the winery is just a grape's throw from Auckland in the North Island, the grapes come from the Marlborough region in the South Island. Deep purple colour, the nose show good intensity with ripe cherry and spicy vanilla notes. Dry, medium bodied and nicely structured, the juicy ripe cherry purée flavours show just the right level of refreshing acidity on the lingering finish. Perfect for drinking now.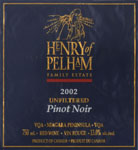 From Ontario, Henry of Pelham 2002 Unfiltered Pinot Noir (268391) does offers decent value at $19.95. It is the most successful since 1998, which fetched $25. Deep purple red in colour, it has a sandalwood, plummy, dried cherry nose with some hints of pepper and earth. It is still fairly firm on the palate with dry, herb-tinged, fresh black pepper and spicy dried red cherry flavours. It can still evolve for another year or so.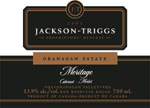 Two other Canadian reds are worth watching. One is going to be hard pressed to find a better Canadian Bordeaux-styled value than Jackson-Triggs Okanagan Estate 2001 Proprietors' Reserve Meritage (643502) at $17.95. This Osoyoos blend of 40% Cabernet Sauvignon, 40% Merlot and 20% Cabernet Franc has an extremely deep dark purple colour. The nose shows lots of sweet American oak and milk chocolate with dried cranberry notes. It is quite full bodied, dry and smooth with chocolate, bourbon, plumy, spicy, cherry flavours with a lingering tangy, cedary finish. Its creator, Bruce Nicholson, was recently named Winemaker of the Year at the 2004 San Francisco International Wine Competition.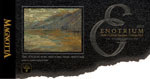 While many Ontario wineries had difficulties in 2001, there is one Ontario red that deserves to be treated with the utmost of respect. Magnotta 2001 Enotrium Gran Reserva VQA Niagara Penisula (589705) is definitely a one of a kind. It is made with grape clusters which were permitted to dry out dry Amarone-style after being harvested. Each bottle required 1.5 kilos of grapes 50% more than the norm.
This Meritage blend of 50% Merlot, 25% Cabernet Sauvignon and 25% Cabernet Franc was aged for 26 months in new oak. It is priced at $39.95 and has a very deep intense dark purple colour. The nose is complex with cedar, cassis and ripe cherry fruit. It is very well structured and intense with slightly spicy, gently smoky, ripe plum and black cherry purée flavours. An outstanding effort that can age for at least another decade.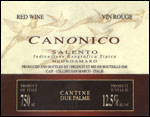 Moving on to my best buy red of the release, Cantine due Palme 2002 'Canonico' (643247) $13.95 is made exclusively from Negroamaro grapes grown in the Salento region of Puglia (Italy's heel). Deep purple colour, the juicy, ripe Damson plum and black cherry fruit flavours are most appealing. A versatile, crowd pleaser, it is perfect for the restaurant by-the-glass list.
2001-2002-2003-2004 Tasting Note Database
Our tasting note database from December 31, 2000 to August 2004, covers every Vintages release product for the past 43 months. There are more than 7,000 notes in the database data. Just enter the name of the product, supplier name or CSPC number. Or you can search by type of wine, country of origin, even wine agent! Nothing could be easier. Also you can get information on the agent by clicking on the agent's name, as well as current LCBO store inventory by clicking on "Check LCBO Availability", which will automatically tell you the number of bottles at LCBO as of last night.
To use our winefind.ca Tasting Notes Database: click here
Subscribe to Vintage Assessments Today • Click Here
To see a sample of our monthly newsletter: click here
** For All Visitors **
Vintages October 2004 Release
To see the complete list of upcoming 268 products click here (sorted by date of release). It includes the number of cases, which wines were presented by the LCBO, our agent ID for every product,
as well as, the 68 "In Store Discoveries" for October.
You can also see it sorted by agent click here
Copyright Food & Beverage Testing Institute of Canada 2004
Prior written permission is required for any form of reproduction
(electronic or other wise) and or quotation.
Contact Michael Vaughan at
mbv@total.net