Terroir:
"Celebrating Gastronomic Diversity"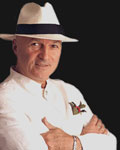 Donald Ziraldo
Chairman, Vineland Research and Innovation Center

Presented at University of Toronto; Terroir II
March 4th, 2008 - Hart House, University of Toronto
'Local Food' is simply a 21st Century term for "terroir":
Both express a sense of place
My premise is that "terroir" and local are one and the same. Local food is to the 21st century what terroir was to European early viticulture. Terroir has always existed in the concept of artisan agriculture because of the nature of community whereas local food is becoming an important concept of the concern of people who have grown up in 'industrial agriculture' facilitated by modern inventions such as refrigeration and air transportation.
Jamie Kennedy in his remarks last year at this conference referred to it as "terroir-based gastronomy"
The Europeans created a system to express "terroir" which came to be known as Appellation d'Origine. Interestingly the origins of AOC, appellation of origin, date back to the 15th century in Roquefort, which was regulated by a parliamentary decree. The first modern law was set on May 6, 1919, when the Law for the Protection of the Place of Origin was passed, specifying the region and commune that a given product must be manufactured in.
The concept of "terroir" has always been the domain of the vintner.
Terroir (

in French) was originally a French term in wine, coffee and tea used to denote the special characteristics that geography bestowed upon them. It can be very loosely translated as "a sense of place" which is embodied in certain qualities, and the sum of the effects that the local environment has had on the manufacture of the product. The concept of terroir is at the base of the French wine Appellation d'origine contrôlée (AOC) system that has been model for appellation and wine laws across the globe. At its core is the assumption that the land from on which the grapes are grown imparts a unique quality that is specific to that region. The amount of influence and the scope that falls under the description of terroir has been a controversial topic in the wine industry. The definition of terroir can be expanded to include elements that are controlled or influenced by human decisions. Many decisions during the growing and winemaking process can either downplay or enhance the expression of terroir in the wine.
It is still practiced today. Interestingly enough there was a time recently in the wine business where it became less popular to utilize the concept of appellations ... we saw in California and Australia, which introduced the varietal concept of labeling with little reference to place of origin. However it is roaring back, just like local food which is simply a 21st Century term for terroir ... it sounds more grassroots ... does it not?
The VQA in Canada, of which I had the honour of being Founding Chairman, was built on the concept of terroir and modeled after the appellation systems of Europe. Appellations of origin was first introduced through legislation by the French in 1935 and Châteauneuf-du-Pape was the first wine appellation.
The Appellation system was in actual fact created as much to stop cheating as it was for any other reasons. In Italy it was the Denominazione di origine controllata DOC, introduced in 1963 and in Germany the "Qualitätsweine mit Prädikat" QMP introduced in 1971. The appellation d"origin of France should not be confused with the 1855 Classification that created First Growths system in Bordeaux. This system which established Marquax, Lafite, Latour , Haut Brion and Chateau d'Yquem was based strictly on market value classification of the wines at that time.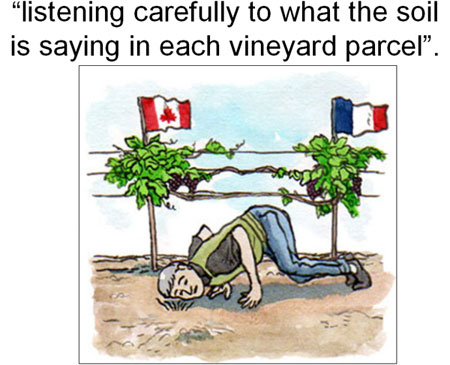 "The three most important factors in choosing a wine are the same as in real estate: location, location, and location." Restaurateurs ... sound familiar?
For this discussion I will focus on the relationship between farmer/grower and the restaurant.
It is interesting that we appear to be coming full circle again in not that many decades...mind you the new awareness has now also become a marketing tool so it is sometimes hard to distinguish between "artisanal" as, Jamie referred to it last year and the "new terroir" or local, which might be a re-invented version of terroir due to marketing.
I recently attended a tasting in Aspen of French wines ... extraordinary when I was asked what was my favorite wine I quickly said the Chateau Lagrazette, Cahor Le Pigeonnier ... it simply stood out as a beautiful, rich exceptional wine in the line-up ... I was quickly questioned on my choice ..." yah but who will buy it when you can get Pauillac or a St. Emilion for half the price" a great debate ensued ... my point was it is great wine and those that taste it will appreciate it for its quality ... however I was outnumbered by those restaurateurs and sommeliers who simply knew it was easier to sell a big name, traditional wine that was more recognized...a brand. So is brand more important than terroir ... or is it the same thing once a terroir becomes a brand like Le Montachet, Margaux, Rougqforte, etc
The other aspect of terroir that is experiencing a renaissance is local produce ... it is just another way of expressing terroir and I think it is one of the ways in which agriculture in Canada, I will use Niagara specifically as an example, will become competitive and profitable. Industrialized agriculture in Canada was at one time our strength ... that is no longer the case, China and others can do it cheaper.
In my opinion the production of 'local food' of both ethnic and cultural diversity will be part of the solution. Let's use Niagara as an example, simply because you can not produce "local Niagara tender fruit" in China.
Niagara has a large population base which it can feed. And if you follow Richard Florida's Tor-Buf-Chester scenario we have a population base of 22 million. There is not enough land in the Niagara Peninsula to supply that market with local food. Which is fine because we can utilize other agricultural areas both in and around the Greenbelt. A current project is to replace tobacco with other crops such as Ginseng, asparagus, and other "ethnic" crops in the Sand Plains area of Simcoe. Some 6000 acres of rich arable land which used to be devoted to tobacco.
Terroir/Local :
Organic/Biodynamic
Slow Food
Culinary tourism/Agri-tourism
Respect for the land
Mimic nature
Sustainability of farmers
Enviro stewardship:(Greenbelt)
Reduce fuel miles
Family farm
Let's review some recent consumer survey results on local food consumption ;
Eight-in-ten (79%) central Ontarians agree that they prefer to buy locally grown fruits, vegetables and meats. Only 1 percent say they prefer to buy imported fare, while 19 percent say it would make no difference.
Three quarters (72%) of central Ontarians strongly agree that they would be willing to pay more for locally grown fruits and vegetables.
The vast majority strongly agree that buying locally grown food:

supports local farmers (82%),
supports the local economy (82%),
is fresher (74%),
preserves farmland (70%).

80% strongly agree, 49% somewhat agree and 31% agree that they would choose locally-grown items if indicated in restaurant menus. (Source: Environics)
Trends in the food industry:
Health concerns driving innovation
Locally grown (big on college campus)
Organics work in niche markets
Flavor and freshness are big drivers
"Green" issues are evolving (Source; fsStrategies)
However local foods even though some consider it a fad or an idea from the urbanites who find it convenient, it will in the future I believe become mainstream for many reasons;
Freshness
pesticide reduction/ pesticide free
fuel miles/ carbon footprint
economic sustainability for farmers
quality of life
farm markets
traceability
safety
as an "economic driver"
But local also has its challenges;
scale
distribution
seasonality
availability of desired products
accessibility
In discussing my presentation today with Arlene Stein she commented: "This year we hope to engage people at the Symposium, on issues around our culinary identity and how we can articulate our identity to the world. I was hoping to have a presence from the Ontario Culinary Tourism Strategy Initiative as a keynote to discuss the strengths of our diversity. I believe that this will be of interest to our delegates since it will help to identify key marketing strategies that are important to consumers thinking about for our city as a culinary destination."
That Strategy document has resulted in a Culinary Tourism Steering Committee, chaired by the DM of Tourism. After two years, it has now become an industry driven group co-chaired by industry and called the Culinary Tourism Alliance. Many of you know of it, Jamie referred to it in his remarks last year, and you will hear more about it ... possibly a topic for next years Symposium.
Vineland Research and Innovation Center
After I left Inniskillin I was asked by the Minister of Agriculture. Leona Dombrowsky if I would Chair the Vineland Renaissance Project. Vineland Research Station, home of Horticultural Research Institute of Ontario (HIRO) was celebrating its 100th anniversary. I knew it well because when I graduated from University of Guelph in the early 70"s I went almost directly to Vineland to obtain "budwood" for the tree fruit and grape vine nursery that I had started. It was also the place where the VQA was created with the assistance of the Horticultural Products Laboratory on site. The facility had suffered from neglect, government cutbacks and retirement of many of its researchers. I accepted. After three months the Vineland Renaissance Panel submitted its Report to the Minster.
The report not only suggested keeping the 230 acre facility, we recommended that we replace the 35 obsolete buildings with a state of the art research campus and turn it into a world class Research and Innovation Centre. www.vinelandontario.ca
As Chairman of the Vineland Research and Innovation Centre ... our first obligation was to the farmer/grower. However the industry has been too complacent and there is a need for change ... change is disruptive and often not welcome. However, we need to be innovative and disruptive. Some will always move forward and eventually the rest will follow, assuming the change is for the better ... only time will tell.
In addition to bolstering the Board of Directors we set up an International Science Advisory Committee and A Stakeholder's Committee. In a very short time we have undertaken numerous projects which you can review on the site however I will focus on one in particular in my remarks to this group today. As a result of establishing a Stakekholder's Committee the concept of a local food initiative was created. I will explain in greater detail later.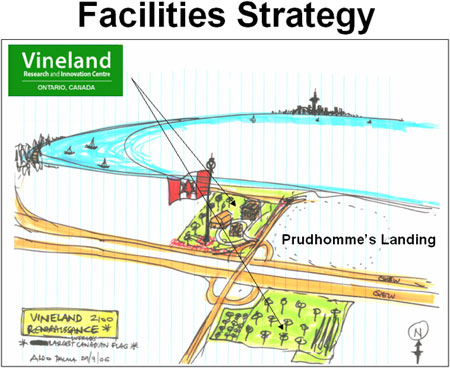 You can go to our web-site to learn more; www.vinelnadontario.ca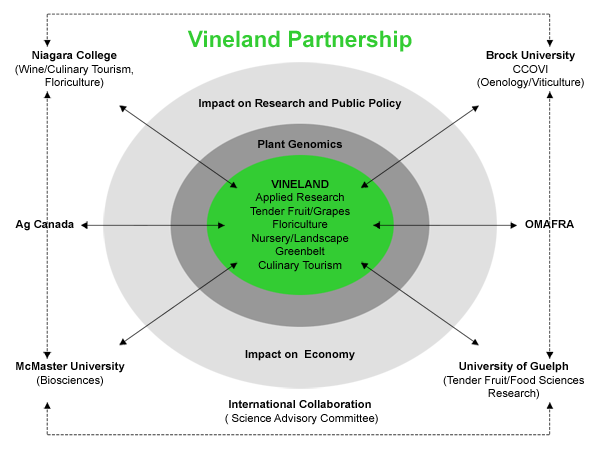 In the interest of supporting the strong "local food" movement, Vineland is coordinating a Pilot Project in Niagara ... which we will call Niagara Local Foods Pilot.
Some facts to support the concept of local food;
What we eat is responsible for 20%-25% of Canada's greenhouse gases?
10% of the fossil fuel used on the farm.
90% goes into packaging, transportation and marketing.
Average meal travels about 2,500 km to our plates.
400 times more energy to ship lamb from NZ than to buy local lamb;
435 cal to move a 7 cal strawberry from California to Ontario.
Consumers are demanding ways to reduce their carbon footprint through growing and purchasing local.
NY Times article ... China is a flash point when it comes to consumer concerns, since deadly chemicals in pet food made with contaminated ingredients from China last year sparked a massive recall. But readers say their concern extends to other countries, too, and beyond their personal safety. They're worried about freshness, flavor, sustainability and also about workers in this country.
"You think it's just the garment workers" whose jobs have left the country, but it's not, says Peter, a San Francisco broker. Shoppers like these are the ones farmers and ranchers, had in mind when they press for laws requiring that more food be required to carry "country of origin" labels.
Proposal for a Frequent Local Buyer Card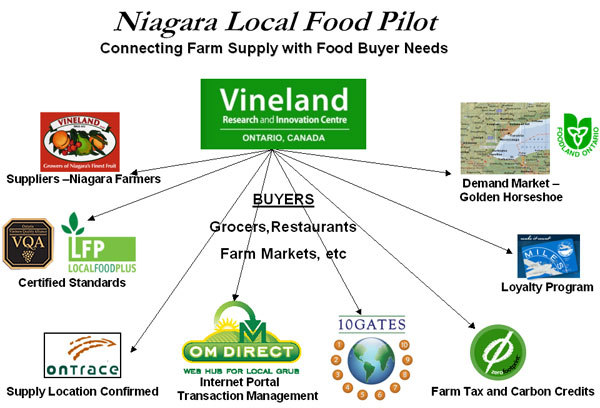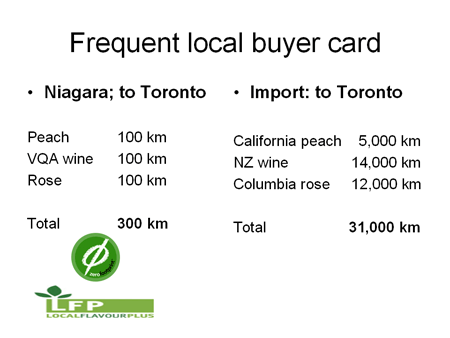 BOX: Farmers could earn more by supplying goods that work optimally with a food processor's needs and meet the demands of the consumer. The government could help make these scenarios a reality by helping to facilitate talks between farmers and food processors, as well as retailers, in support of local foods. The feds could also help finance the technology required for food processors to efficiently track the flow of goods from farmers.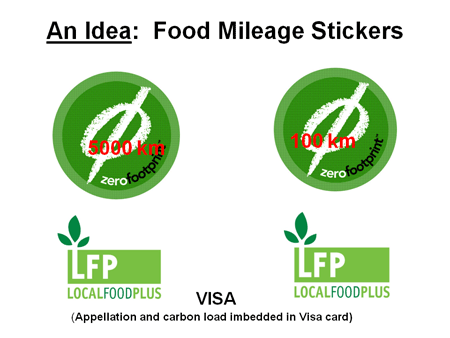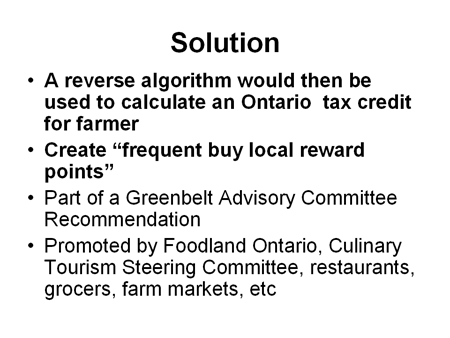 ... the idea is to label or place a logo on all local produce so the consumer can easily identify it ... in the restaurant that is a little easier since you can simply write it on the menu ... I must admit I am surprised at how long it is taking for technology to replace the traditional "menu" in the restaurant ... eg the old blackboard should now be a LED scene ... they are no larger or heavier than most menus and could not only have the items listed but also the calorie information, the provenance of the food, etc ...
So we saw local foods generate organizations like LFP, Savour Ontario (Savour Ottawa, Niagara, PEC, Muskoka and Toronto) which was an initiative of the Culinary Tourism Steering Committee, now the Culinary Tourism Alliance.
With the interest in functional foods, there should be a focus on research and innovation, to spur product innovation. The approval time for products with health claims can be as along as three years in Canada, much slower than the FOSHU regulatory system in Japan or similar setups in Europe. This must change.
Distribution is a difficult aspect of terroir ... however the secret is simplicity - from field to table. However easier said then done. In order to assist that process there is a good reason to utilize the technology that is at our disposal and the technology will assist in keeping costs down.
Current methods of distribution from farm to consumer are no longer adequate. The farmer/grower needs to connect with the consumer, whether it is a restaurateur that wants local fresh high quality produce or a consumer that picks it up at the local farmer's market. The increasing high walls of our current industrialized agriculture does not allow for sufficient transparency between the farmer and the consumer as clearly outlined by Michael Pollan, in Omnivore's Dilemma. Buying local helps remove those walls.
We are seeing a strong renaissance of farmers' markets, like you see in every town in Europe. Paris has many. This idea which has been around a long time has been strongly supported by the Greenbelt Foundation. Other initiatives have been equally supported. However, we the people of Ontario and Canada need to do more to support farm profitability and sustainable agriculture. I mean economic sustainability.
Delivery ... it used to be that the farmer picked the produce and the consumer or chef did not really see it until it was delivered and then it was what it was ... no additional info. Traditional farm markets on the other hand provided and still provide that window from farmer to consumer.
Again with technology not only can the produce be graded at the farm gate but the technology can begin to collect data as well as prepare the delivery system to receive it ... in other words ; the second the computer grades the produce the farmer can notify the buyer what is available ... for that matter the picker/grower could key in the info into his blackberry right in the field and inform the chef what is available ... given a sophisticated delivery system ... such as the software, OM Direct.
Let me give you an extreme example of simplicity : Michael Stadtländer has it all figured out ... he simply grows it in his own field and then delivers it to his own table ... that is one way to do it. Not unlike most Europeans lived and many pioneers to this country provided food for their family. . But things have changed. Stephen Treadwell, Field to Table Restaurant in Port Dalhousie shares a farm with a grower ... he calls David in the morning and whatever is available that day goes on the menu ... Michael and Stephen are our version of Alice Waters who popularized local fresh cuisine at Chez Panisse in California in the mid-70's. However that is not practical in most restaurants in the Golden Horseshoe. So at Vineland we are coordinating a dynamic Niagara Local Food Pilot.
The simple process of the chef sending a driver to pick it up ... the delivery time is reduced ... if the auto industry can have JIT delivery, why not agriculture. It just takes innovation, creativity and acceptance of change.
... the average restaurant is probably within the '100 mile diet' that has now been coined as 'local' ... so let's focus on that as the main. I suspect there is little that is not available within 100 miles of Toronto, with the possible exception of coffee. Sugar for example can be replaced by Stevia (a natural compound developed by Dr Jim Brindle, the current CEO at Vineland) . Again this is where research and innovation can assist. Not only can Vineland create new varieties but it can do research on adapting culturally diverse fruits and vegetables that have changed the consumer preferences. Eg White peaches which are not grown in Niagara are the preferred variety of Asians and Europeans. Bok choy, arugula, lavender (we have a research plot in both Vineland and Simcoe that produces lavender).
And one of the areas of great interest in Vineland is the Greenhouse sector - a thriving industry which is 5 times the size of the wine industry in Niagara. As the industry reinvents itself due to the strong Canadian dollar, rising energy and labour costs; the industry is looking to innovative, to supply local foods year round ... why not?
Next time you are in a flower shop ask where the flowers come from You will be surprised. I know that most if not all roses are imported from Columbia (there is one rose grower in Niagara, with whom we do "Days of Wine and Roses as a agri-tourism event in Niagara in the dead of winter to attract tourist). In addition to local flowers there are other commodities. Pascal Harster has stopped growing commodity plants and now grows Echinacea ... not only is it more profitable but she can guarantee that it is pesticide free and we at Vineland can assist with research to increase the plants potency. In this area a functional foods and nutraceuticals there is a great opportunity for the industry.
Brock University recently announced the building of a new $100M BioSciences building which will.produce for example anti-bodies in greenhouses that are currently harvested from the dwindling forests in the Amazon forest. Methane gas produced from bio-digesters can provide alternate sources of energy, robotics can reduce labour costs and imported flowers, fruits and vegetables can be replaced with fresh, year round produce, which is organic due to the controlled environment within the greenhouse.
As you increase the distance of the table from the field you introduce the technology to compensate for added costs and such things as fuel miles ...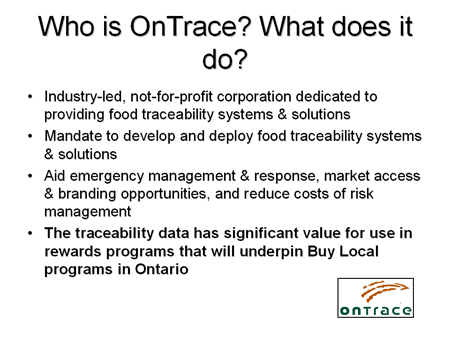 Speaking of traceability. .the initial program for traceability (On Trace) was introduced by the provincial government to ensure safety however it is quickly becoming a useful
tool in providing the database for technology in our Niagara Local Food Pilot to not only locate the farmer but build a solid database. This will provide the consumer with any
information they would like to have about the provenance of the food or as we in the wine business call it, its appellation of origin.
Additionally this will create the data bank through which we can develop a "frequent local buyers" loyalty program for the consumer and a potential farm tax credit for the
farmers. We are working with ZeroFootprint, who you may know from the Air Canada carbon credit program. www.Zerofootprint.com
Opportunities
We recently saw the announcement of the last and only major fruit processing plant in Niagara.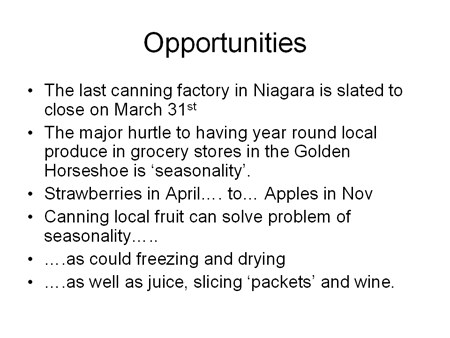 The last canning factory is closing on March 31st unless we find a buyer to purchase it. In addition to putting 147 full time and 400 part time employees in Niagara-on-the Lake out of work it also threatens peach and pear farmers with thousands of acres planted in clingstone peaches, peaches that are only good for canning and cannot be sold on the fresh market. Those clingstone peaches were developed, ironically at the Vineland research Station and introduced in 1950's. The other irony is that you cannot buy a can of 100% local fruit.
So, here is the opportunity: We buy the plant, take the 14,000 tons of local fruit and create a Niagara Brand of fruit. Not only would that save the farmers and the plant ... we then take the canned local fruit and fill the empty shelves in the off season in the grocery store...solving the major shortcoming of doing business with grocery chains who want year round supply.
The other opportunity is to support Premier McGuinty's interest in providing healthy food for our children. We would ask the schools, hospitals, prisons and other institutions (such as LFP had done with U of T) through each government Ministry to purchase, or better have each actually write a three to five year commitment to buy local food.
And let's not be naive. There is a market and there are customers who simply want cheap food yet there are an ever increasing number of people who want alternatives. We can provide that alternative. I personally feel we can also create a better experience at the dining table. As well we can support agriculture and the farmers in our local areas.
For local food systems to succeed, people will have to learn and be willing to relearn what it means to eat according to the seasons and more than likely pay higher prices. I think that in order for that paradigm to become mainstream it may take the next generation to do so.
"People these days want fresh local produce, the provenance of food is becoming an ever more important aspect of the food we eat." - Chef Jamie Kennedy
© Copyright Vintage Assessments 2008
Prior written permission is required for any form of reproduction
(electronic or otherwise) and/or quotation.
Contact Michael Vaughan at mbv@total.net