Now in its 23rd year
Welcome to our educational trade resource database/website created in 1990 by consumer-advocate Michael Vaughan PhD
Dedicated to professional buyers, sommeliers, discerning wine & food lovers and all visitors in search of quality.
Includes Vintage Destinations (Dreamscapes Magazine), TimeOut Toronto, Liquid Assets and Sommelier Selects.
Our fundraising efforts include Covenant House, York University & Moorelands.
Website stats: receives an average of 14,139 daily hits (2013 most recent 3-month average)


Exclusive FBT Supporter area


NOW POSTED

December 9th Vintages Delistings
see all 25 new Vintages delistings
2 Best Buys - 5 Recommended - 4 Try

December 7 Vintages Release
Vintage Assessments is now posted
Summaries & all 173 Reviews


* * * * * * *
click here to enter FBTI Supporter area
access codes required



Brook's Delectable Chocolates
Only at oneofakind - my favourite and not to be missed!
This delicious gourmet chocolate almond brittle is made from imported milk chocolate, generously laced with sweet, roasted whole almonds, surrounding a butter brittle centre which includes maple syrup.


Contining to December 28
This heart-warming holiday hit returns! A tasty uproarious comedy for the whole family,  that forms the basis for both The Shop Around the Corner and You've Got Mail,  two shop clerks kindle a tender love affair through anonymous letters while they unwittingly squabble with one another in person.


Don't miss the special weekend tastings!




new holiday vqa values



www.flyporter.com

Michael Vaughan's travel feature
Discovering Nova Scotia Treasures
click here

* * * *


For the current WestJet deals
click here
previous releases

December 7, 2013 release
To see the list sorted by agent click here
Click here to see the items in the December 7 release
* * * *
November 23, 2013 release
To see the list sorted by agent click here
Click here to see the items in the November 23 release
* * * *
November 9, 2013 release
To see the list sorted by agent click here
Click here to see the items in the November 9 release


Become a FBTI Supporter
Get our

January 5th

reviews today

save $20
click here


558 offers valid to January 4/5
A VINTAGE ASSESSMENTS EXCLUSIVE
uniquely organized by country and type
334 AirMiles & 224 LTOs
click here to see
complete with Agent Id & LCBO links




20 AirMiles
Classic Rose Champagne



Get 5 AirMiles on this Best Buy


Save $5 on Canada's #1 Icewine


A New Cahors Red

Voted Canada's most detailed reliable search engine

Tasting Note Database


trial full data access

* * *
Special Trade Resources
upcoming release trade reports
details of upcoming releases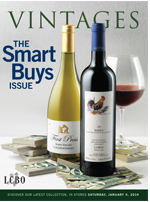 January 4, 2014 release
To see the list sorted by agent click here
Click here to see the items in the January 4 release

* * * *
Bi-weely Vintages Delistings
Our exclusive summary with agents & reviews
AVAILABLE TO FBTI SUPPORTERS ONLY
here is a recent sample
November 11 Vintages Delistings
29 items with 4 BEST BUYS and 4 BUYS


WEBSITE VISITORS
check out a recent sample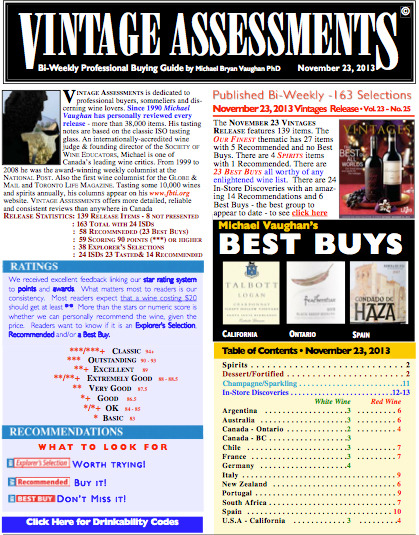 to see November 23 click here
* * * *
Full Summaries & Reviews
More detailed reviews than any other resouce
FIND OUT WHAT WAS NOT PRESENTED
Summary of all November 23 release items
(163 items including 24 ISD)
click here
* * * *
November 23 Recommended & Best Buys
(58 Recommendations with 23 Best Buys)
click here
* * * *
November 23 In-Store Discoveriese
(24 items -14 Recommended / 6 Best Buys)
click here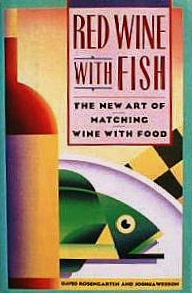 Making the Customer Count
A Sommelier's Survivor Guide
click here

Overview of Vintages Releases
2013 - 2014
click here