2008 Beaujolais Nouveau
Mediocre & Excessively Priced
Michael Vaughan
Saturday, November 21, 2008
Don't get me wrong; I have been a loyal Beaujolais nouveau fan for decades now. So much so that I was inducted into the Ordre des Compagnons du Beaujolais. In good vintages, I have relished its fresh, often tart, light-bodied, post-fermentation zest with its gentle plum flavours and even perhaps floral, raspberry, cherry and/or dried strawberry notes thrown in.
However, based on tasting two bottles of each of the two listings in the LCBO lab earlier this week, this year's selection at the LCBO is one of the more disappointing on record. Of course, if you have never had the stuff before, then perhaps you might be titillated. But for veterans, and at the price, 2008 Beaujolais Nouveau is simply not worthy of a detour.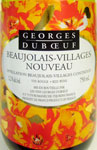 Particularly disappointing were the nouveau from the huge house of Dubouef. The ever-reliable Duboeuf Beaujolais-Villages Nouveau 2008 (Vintages #932780) at $15.95, for instance, has a meager 12.2% alcohol and is the worst in memory. One wonders whether this week's stoke-of-midnight helicopter arrival of the King of Beaujolais himself George Duboeuf at the 50-story Los Vegas Eiffel Tower replica (the extravagant Hotel Paris) will have much of an impact. I ask: is anyone being very excited about the Los Vegas four-day celebration pairing nouveau with expensive luxury cuisine?
For me, the fundamental question is: how many people want to pay $16 for a wine that is hardly worth $10? According to the Toronto Star's Gord Stimmell, who was the first and only columnist to provide Toronto readers with a comprehensive overview, it's "overpriced". Tony Aspler agrees "for the most part they are a sorry lot".  Wine critic John Szabo rated almost all of the wines under 85-points. While at the Globe & Mail and National Post there wasn't a word on nouveau.
Being a traditionalist, I used to love the sound of the clinking of the bottles as they were rushed to the counter and opened in rapid succession for the thirsty throngs. Well, you can now forget that. Thanks to Boisset Family Estates President Jean-Charles Boisset all Beaujolais nouveau from the recently acquired houses of Mommessin and Bouchard Aîné are being shipped to North America exclusively in PET (polyethylene terephthalate) plastic bottles. While I question the use of these containers for vins de gard, it seems to be appropriate for nouveau, which must be drunk quickly. A case of wine in glass bottles weighs 38 pounds, while in plastic; it's just 22 pounds - a savings of about 40%. Plus they are safer and will not shatter perhaps when being dropped by drunken hosts.
Some will be resistant.  For instance, my curmudgeonly old wine friend barks that if he has to drink Beaujolais out of a plastic bottle, then why even bother?  With all the tasty wines out there under $10, who needs it? Which brings me around to my best buy of the release. It's light, its' clean, its fruity and its reasonable. Most important, it's fun to drink and is more akin to Gamay-based Beaujolais of yesteryear, even if it's made from Syrah grown in the south of France.

From the Languedoc, Jeanjean 2008 Syrah Nouveau (General List 899948) at $9.95 should bring a smile to your face. It has a somewhat light purple-violet colour, perhaps more resembling a rosé than red wine.  On the nose this Vin de Pays d'Oc shows spicy, plummy notes. Dry, harmonious and rather light-bodied on the palate with pleasingly tangy, ripe plum flavours and a crisp refreshing finish. For my taste, it is the best balanced and most nouveau-ish of the eight available at the LCBO. Score it *+ out of three stars.
I was surprised that things are not much better in Quebec. In fact, according to yesterday's edition of The Gazette, wine columnist Bill Zacharkiw reports that "the Beaujolais magic is gone":
It's the third Thursday of November, the day that Beaujolais nouveau hits the stores. I can remember a time not so long ago when this was truly an event - people would flock to their SAQ and pick up a couple of bottles from a selection of over a dozen different brands. So successful was the event that other wine-producing countries began producing and exporting their own vins primeurs, or young wines.
But walk into your local SAQ today and things are much different. There are four brands to choose from - three from Beaujolais and one from Italy. To be completely honest, I forgot that this was the week that the 2008 Beaujolais nouveau was to be released.
I am not alone in my apathy. Sales of Beaujolais nouveau have been plummeting not only in Quebec but worldwide. Even in Beaujolais nouveau-crazy Japan, sales fell over 20 per cent between 2006 and 2007. Agence France-Presse reports that early estimates suggest that sales might drop a further 20 per cent this year to 6.48 million bottles, down from a record 12.5 million bottles in 2004.
Here in Quebec, it's a similar story. Since 2000, when the SAQ sold 45,000 cases in a just a couple of days, sales have been in a steady decline. In 2005, 20,600 cases and 11 different brands were available. And in 2008 that number has fallen to 4,100 cases, and a choice of four different bottles. In eight short years, Beaujolais nouveau and other vins nouveaux have seen their exports to Quebec fall over 90 per cent… the reason that sales are in a tailspin is also due to the rather middling quality of the wines. For many wine lovers, Beaujolais nouveau seemed like more marketing ploy than an actual wine event. It was if we were expected to drink the stuff even if it wasn't very good. After all - it's Beaujolais nouveau!
Note that this year Ontario imported 9,780 cases, more than twice the volume imported by Quebec. Here is the complete nouveau selection available in Ontario with individual case allocations:
GENERAL LIST
France


NEW to LCBO - Bichot Beaujolais Nouveau (112409)
$13.45 (600 cases)


Mommessin Beaujolais Nouveau (112458)
$13.45 NEW PET bottle (750 cases)


Duboeuf Gamay Nouveau (891846)
$8.95 (1,480 cases)


Jeanjean Syrah Nouveau VDP d'OC (899948)
$9.95 (1,400 cases)


Italy
Mezzacorona Novio Novello (669275)
$9.95 (1,150 cases)


Novello del Veneto IGT (899955)
$9.95 (2,200 cases)


VINTAGES
NEW to LCBO - Drouhin Beaujolais Villages Nouveau (113266)
$14.95 (200 cases)


Duboeuf Beaujolais-Villages Nouveau (932780)
$15.95 (2,000 cases)
Totally absent this year is any Canadian-made nouveau, at least at the LCBO. The first Ontario nouveau was made by Austrian winemaker and Inniskillin co-founder, Karl Kaiser who launched Canada's first red and white nouveau wines. It's one and only release of Inniskillin Gamay Nouveau happened in 1978. Meanwhile from 1983 to 1986, he released tasty whites called Inniskillin Heuriger Nouveau, a blend that included Gruner Veltliner grapes.
It was Paul Bosc Sr. at Chateau des Charmes who picked up the French challenge in 1982 and actually sent bottles to Paris for a mock tasting. Unfortunately, the economics of having to sell it at the LCBO ceiling price of $9.95 resulted in it disappearing from LCBO shelves in 2004 year – it was only available in his own stores. In 2005 he "temporarily" cancelled production due to the extreme grape shortage. Unfortunately, their nouveau has been permanently discontinued basically because it makes more economic sense to sell it at the regular Gamay Noir $12.45 a bottle vs. the lower $9.95 nouveau price.
This year, the Ancient Coast Gamay Nouveau from Vincor has been terminated. Ditto for the stuff from Pelee Island. As of yet, I have not received any word from Magnotta, who launched an untasted VQA Gamay nouveau last year. If there are other nouveau wines out there, I have not been informed of their existence.

Moving on to tomorrow's Vintages November 22nd release, which is available in most Vintages stores today. It features 160 Items Including 33 In-Store Discoveries.  The ** best buy white is Vina Maipo 2008 Reserva Especial Sauvignon Blanc (81216) at $17.95. It hails from the Casablanca Valley and has a very pale straw colour and attractive, slightly spicy, honeyed, white peach aromas with a hint of grassiness. On the palate it is dry, medium-light bodied and harmonious with slightly honeyed, spice-tinged, melon-peach flavours and a crisp, ripe-lemon-tinged finish. If you need a tasty 2008, go for this!
A word of warning. Despite the fine Sauvignon Blanc produced in South Africa in 2007 - I was the guest international judge on last year's Veritas Wine Competition Sauvignon Blanc panel – the light-bodied Mulderbosch 2007 Western Cape Sauvignon Blanc at $18.95 was just too tart and bitter for my taste. The first bottle scored * - the second */*+.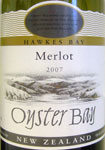 A ** real crowd pleasing red is Oyster Bay 2007 Merlot (692343) at $17.95 that comes from New Zealand's Hawkes Bay region. It has a deep intense bright purple colour and attractive, bright, gently juicy, ripe plum and black cherry nose. On the palate it is dry, bright and medium bodied with dried black cherry and juicy plum flavours. It comes with a screwcap closure and is ready to enjoy. Best of all, the price has dropped from $18.95 (the July 5, 2008 release).

It may well be the best *** Portuguese red you have ever tasted. From the Ribatejo comes Quinta da Alorna 2005 Touriga Nacional Reserva (81513) at $40.95. It may not be cheap but it sure is lovely. Extremely deep violet-purple colour the nose is alluringly spicy with red licorice notes and plumy, juicy, black cherry fruit. It is dry, well structured, medium to medium-full bodied and harmonious on the palate with plummy, ripe black cherry purée flavours with a long, lingering, gently cedary, vanilla custard finish. Only 299 cases of 3 are available.
A big disappointment is Antinori  2003 Chianti Classico Riserva (512384) at $35.95. It rated it a meager */*+ (two bottles tasted). They were rather earthy with mature, cooked plum and prune flavours.  Perhaps it was stuck in a hot container during shipment. Whatever the reason, it is not recommended.
To get all the ratings, have the November 22nd issue of Vintage Assessments along with our Summary Buying Guide sent to you today and save $20 - Click Here

Finally, this weekend November 21-23 is the 14th annual Gourmet Food and Wine Expo - a three-day cocktail party featuring wine, beer and spirits sold at the LCBO, as well as, a collection of specialty wines that are sold independently by agents. Held at Metro Toronto Convention Centre, South Building - 222 Bremner Boulevard, Friday from 2:00 to 10:00 pm, Saturday from 12:00 to 10:00 pm, and Sunday from 12:00 to 6:00 pm. Tickets are $15 per person, sampling tickets are $1 each. Click Here for the special two for one deal (less the Ticketmaster $2.25 service fee per ticket) – in other words $19.50 vs. $30. For more info visit www.foodandwineshow.ca
---
A Top Bordeaux
& Vintages Gifts
The Dynamic Duo
- Miguel & Marimar Torres
Michael Vaughan
Saturday, November 14, 2008
As mentioned last week, today I reveal my top Bordeaux pick of the Vintages, November 11th release. From the northerly St-Estèphe appelation of the Medoc comes the exceedingly well-made *** (out of three stars) Cru Bourgeois Exceptionnel Château de Pez 2005 (717389) at $63.95. Here is my tasting note: Deep intense purple in colour, the nose is intense and complex with sandalwood, mocha, dried ripe cherry and lime notes. On the palate it is well structured, medium-full bodied and harmonious with slightly spicy, ripe plum and key lime pie flavours followed up by a long, lingering, sandalwood, earth-tinged finish. It shows good accessibility now but will age well – perhaps for a decade or more. The 2003 (***) was also a release highlight when released on November 24, 2007 at only $51.95. Chateau de Pez has 26 ha. of vineyards - 45% Cabernet Sauvignon, 44% Merlot and 8% Cabernet Franc and 3% Petit Verdot. It is usually aged 16 to 18 months with 40% new oak.
Looking for gifts? I am sad to report that once again the pickings are pretty slim in this year's 2008 edition of the Vintages Holiday Gifts Catalogue. It features very few (any?) new items. In fact, almost all of the gift packs featured on the last eight pages are just suggestions from recent Vintages releases. Check out my ratings in my Vintages database before taking the plunge because some of these LCBO recommended selections are not worth the detour!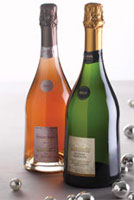 Best buys? Here are two. First, the ever-reliable sparkling duo from Spain – Codorniu Cava Gift Pack of Pinot Noir Brut & Raventos Reserva Brut (6379) at $33.95. My second choice is another nifty pair of top Canadian icewines: Inniskillin Icewine Gift Set - Riesling 2006 & Vidal 2006 (601021) at $64.95 for two 200 mL bottles.
Moving on, it is always a pleasure to see familiar faces. In the case of Miguel Torres, it has been two years since he last visited Toronto. Before commenting on his excellent wines and olive oil, I have to mention that two weeks earlier, it was his California-based sister, Marimar Torres who was visiting. In 1983 Marimar bought a 56-acre property in Green Valley on the western edge of the Sonoma Valley, just 10 miles from the Pacific. Her high-density plantings (2,000 vines per acre) commenced in 1986 and were focused on just two grapes – Chardonnay and Pinot Noir. Always ahead of the time, her Don Miguel and Dona Margarita vineyards are farmed organically. The winery officially opened its door in 1993 and Bill Dyer, formerly of Sterling Vineyards, was hired to shepherd the transition of grapes into wine.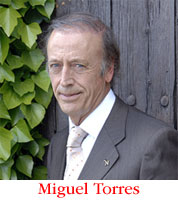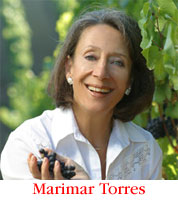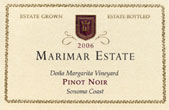 I tasted four Pinot Noirs from different vineyards. Each had its own distinct character relating to specific site conditions and the varying composition of clones being grown. One of my *** favourites was Marimar Estate 2005 Doña Margarita Vineyard Pinot Noir (53017) at $56. There are 20 acres planted, 12 producing located only 6 miles from the Pacific. The vines were in their third leaf and produced a medium bodied red with bright, ripe, raspberry-plum flavours and seductively juicy red cherry notes on the lingering finish. About 10 cases remain at the LCBO. I was informed by the LCBO's Infoline that it just appeared in Vintages last month without an ounce of fanfare – one of those virtually invisible releases. ¡Qué lástima.
Let me comment in passing. Wines made from very youthful vines can be incredibly charming. Beware, however, that such young vine wines made can fade much more quickly than expected. My recommended wines from Long Dog Winery in Prince Edward County, for instance, totally collapsed within two years despite being stored at ideal, constant, low temperatures. I know that it was an oversight but I felt like scolding the undrinkable wine that filled my glass – uttering bad dog, very bad dog!
Of course, Marimar's wines are not susceptible to such calamity because of much reduced yields on her more recently planted vineyards. Nevertheless, I suggest that if the wine is delicious – drink it! This is especially true when you can marry it with the cuisine of chef Jason Bangerter at Auberge du Pommier Restautant. Anyone interested in discovering other wines from Marimar Torres should contact Jason Nykor at Pacific Wines & Spirits at 416-622-8000.
As for the Miguel Torres luncheon tasting at Vertical, I was extremely impressed with Miguel's **+/*** white Torres Fransola 2007 a delectable blend of 95% Sauvignon Blanc with 5% Parellada, which partially barrel fermented in American oak.  Sadly, this destination white was recently rejected by Vintages. I am considering making it a "Signature Selection" and will provide readers with an update as soon as I know the pricing. The last time it appeared in Vintages was on July 24, 2004 at $24.95.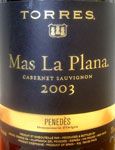 Also impressive was the Chilean Miguel Torres Pinot Noir Brut Reserva De La Familia (57992) a 100% Pinot Noir made in the classic methode Champenoise. Released May 10th in Vintages, only a few bottles remain at $26.95. As for **+/*** Torres Mas La Plana 1994 (315838) at $59 vs. the recently released **+/*** Torres Mas La Plana 2003 (617456) at $44.95, the difference was like day and night. For my palate, I enjoyed the classy, complex, maturing, Bordeaux-inspired, ripe plum flavours. There is no doubt that many will be seduced by the lively, juicy, accessibility of the 2003. It is much more in the new world style and I have to wonder whether this 2003 will be as appealing in 9 years as the 1994 is today? As for perfect drinkability, I was lucky enough to buy a few magnums of 2001, which was a hidden ISD that eventually was discounted and sold off at the astounding price of $60. It is just now showing just beautifully.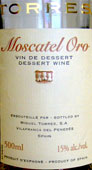 And talking about of showing beautifully, credit chef

Tawfik Shehata

of Vertical on King Street West who has consistently turned out first-rate cuisine. The appetizer of two extra large, perfectly tender, natural flavoured seared ultra fresh sea scallops was a real treat. The Kent farms tenderloin was medium-rare as requested, while the sweet apple tart was in the classic French tradition and a perfect match with the sweet dessert wine - Torres Moscatel Oro (642173) released still available at $16.95. My tasting note: Deep ambering gold colour. Sweet, plum jam nose with spicy Sultana raisin notes. Sweet, balanced, medium bodied, smooth, raisin-caramel flavours with a fairly crisp finish.