Get Michael Vaughan's Buying Guide for today's Vintages Release today!
With a special $20 Discount
Click Here
The World Cup of Sauvignon Blanc
Austria Triumphant
© Michael Vaughan 2006
National Post Weekly Wine & Spirits Columnist
Saturday, June 17, 2006
LIVE WINE LINK
www.winefind.ca
(CLICK ON THE NAME - All listings are automatically linked to the LCBO database)
If there is a product that interests you, just click on the name below and you will instantaneously connected with the LCBO database. The product will appear in blue and all you have to do is click on the name again and then the next screen will provide details along with the store search. Just click on store search. The number of bottles in each store is updated nightly. Call the store first to see if stock still remains (each store phone number is listed).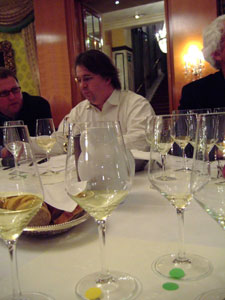 Dubbed the World Cup of Sauvignon Blanc, some 53 wine journalists from 27 countries from around the world assembled in Vienna last Sunday during the biannual VieVinum exposition to decide which of 49 specially chosen wines from seven countries would emerge victorious. Organized by Jan-Erik Paulson, a well-known German rare wine specialist (see www.rare-wine.com) our task was to rate the wines out of 100-points.
They were poured in groups of five and included various icons from around the world. While one might quibble with the selection, what proved so exciting was the inclusion of 19 relatively unknown Austrian Sauvignon Blanc from the tiny region of Styria (or Steiermark) in southeastern Austria. The best come from the southern Styria hills bordering on Slovenia, which is designated as South Styria. Here more than a dozen outstanding producers are now turning out Sauvignon Blanc that are garnering international attention.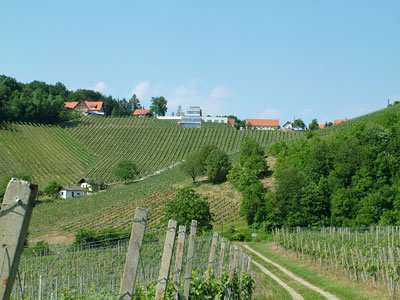 South Styria's steep vineyards are ideal for Sauvignon Blanc
What makes this tasting so important, is that with just over one-third of the entries, Austria racked up a stunning 57% of my gold medal awards against some internationally recognized heavyweights. An incredible accomplishment, which could not have happened a decade ago.
It terms of the tasting, first came 35 wines from the 2005 and 2004 vintages. Five of my 10 gold medal winners (90 points and higher) were from Austria (in red), 3 from New Zealand and 1 from Chile and Australia. They were:
Lackner-Tinnacher 2005 Welles (Austria)
Polz 2004 Hochgrassnitzberg (Austria)
De Bortoli 2005 Yarra Valley (Australia)
Veramonte 2004 Winemakers Selection (Chile)
Erwin Sabathi 2004 Poharnig (Austria)
Sattlerhof 2005 Sernauberg (Austria)
Kollwentz 2004 Steinmühle (Austria)
Saint Clair 2005 Block 3 (New Zealand)
Dog Point 2005 Martinborough (New Zealand)
Palliser Estate 2005 Marlborough (New Zealand)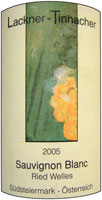 It is worth noting that that certain French entries such as Bourgeois 2004 Pouilly-Fumé "La Demoiselle" and Dagueneau 2004 Pouilly-Fumé Silex along with New Zealand's 2005 Cloudy Bay ended up receiving silver, while Gaja 2004 Alteni di Brassica from Italy was awarded bronze. To see the list of medal winners along with my tasting notes click here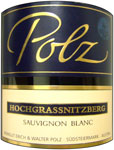 Out of 15 wines from 2000 to 2003, I had four gold medals (3 Austria - 1 France) with 2003 Chateau Smith Haut Lafitte, a Pessac-Leognan from Bordeaux being my top scoring white. Smith Haut Lafitte had an intense, complex, lime purée tonality that stands up and says hello. This is attributable to the unique terroire, impeccable new barriques and the addition of 5% Semillon to the blend. By contrast, the Austrian Sauvignon Blanc is unblended. Fans might note that this 2003 last appeared in Vintages on September 13, 2004 at $80 and is drinking perfectly right now.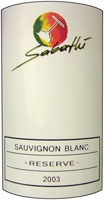 Moving on to the three Austrian gold medal winners, there was the well-known Tement 2004 Zieregg, which tied with Polz 2003 Hochgrassnitzberg Reserve both receiving 90 points. Unfortunately, both are now sold out. And then there was the big surprise. Rating above the two latter wines, just a point below Smith Haut Lafitte, was the stunning Hannes Sabathi 2003 Sauvignon Blanc Reserve.
While totally different from Bordeaux, it is the wine's exuberant purity of fruit that reigns supreme. On the palate, it is gently fleshy and yet refined with very faintly smoky, sublime, ripe white peach flavours. What makes this wine so important is that the winemaker, Hannes Sabathi, who took over the entire winery from his parents just last year, is only 26 years old. Most important for wine lovers is the fact that not only is this wine reasonably priced, but also it is still available!
Hannes is no winemaking neophyte and has been working in his family's operation, as well as other leading wineries in the region, since 1999, while completing his studies. His operation consists of three small specific vineyard sites - only13 hectares of vines in total and just over 5,000 cases in total. It typifies what is happening at Styria's best wineries.
Only a decade ago, almost all the grapes were used in producing young tasty wines to be consumer in their popular wine tavern. Today, they have three qualitative levels. This first is formally designated as "Classic". These are fruity, crisp, dry, ready-to-enjoy whites, fermented in stainless steel with no oak, nor any malolatic fermentation.
The second quality level is the site-specific wine, named after the vineyards, where the terriore is reflected in the flavour. Sabathi's vineyard-labeled wines incorporate only the ripest grapes with the balance that doesn't make the cut going to their Classic. In addition, rather than stainless steel, large wood barrels are used in the maturation process, which typically lasts up to 10 months. This adds greater texture and makes the flavours increasingly complex.
Finally, there is Sabathi's "Reserve", which is only made in the best vintages and comes exclusively from the 8.5 ha Kranachberg vineyard. The Reserve is vinified in small French barrels for 18 months and has the most concentration of flavour. It is the ultimate expression for the winemaker and his grapes and none was produced in 2004 or 2005!
With such small quantities of wine produced, the best are scooped up quickly by discerning international buyers. In the case of Hannes Sabathi 2003 Sauvignon Blanc Reserve, which was only recently released, it is only a matter of weeks before all 2,400 bottles disappear.
While these new Styrian wines have taken the wine world by storm, I am sorely disappointed that the LCBO has never listed any premium Austrian Sauvignon Blanc in Ontario. Contrast this situation with the fact that these deluxe wines can be found in fine wine shops/ restaurants in New York, Paris, London, etc. Hopefully one day we will see them in Toronto. To see my detailed tasting notes from the Great Sauvignon Blanc Taste-Off click here.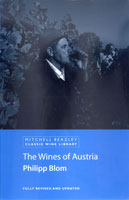 Anyone wishing to receive information on Austrian wines (excellent detailed brochures are available) should contact Brigitta Samavarchian at the Austrian Trade Commission (416-967-3348 ext. 18) or email toronto@austriantrade.org Meanwhile, the best book on the subject is by Philipp Blom The Wines of Austria published by Michell Beazley (revised second edition June 2006 - ISBN 1-84522-132-X), which seems a tad pricey at $38.95. It's on the Chapters/Indigo website $30.78. My only wish is that Blom might have packed more information into this new edition.
Meanwhile, it is disheartening to discover that many Austrian wine reviews that appear in various magazines tend to be a bit stale - quantities produced are small, many of the best items are out of stock. The best overall guide is in German. Falstaff Weinguide 2006/2007 Österreich by Peter Moser (ISBN: 3-9502147-0-4). I don't know where it is available but 809-page soft cover guide retails for 16.9 E (see www.falstaff.at). The much shorter (353-page) English edition will do in a pinch - it is called The Ultimate Austrian Wine Guide (also be Falstaff).

Sauvignon Blanc Picks of the Week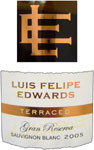 Those searching for great Sauvignon Blanc at reasonable prices will be more than pleased with two terrific best buys from last week's Vintages release. The first is a ready-to-drink, crowd pleaser from Chile's Casablanca Valley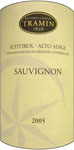 . Luis Felipe Edwards 2004 Sauvignon Blanc Gran Reserva (663062) at $14.95 is extremely tasty with tangy, ripe lemon-melon flavours with just a faint touch of grassiness. Moving back to the old world, this time to Italy's Alto Adige comes Cantina Tramin 2005 Sauvignon (531822) at $16.95. Here is a wonderfully refreshing, rather spicy, floral, Sauvignon Blanc with a twist. It is loaded with unoaked, ripe lemon-melon-grapefruit flavours that go marvelously with seafood.
National Post readers wishing to receive the current June 2006 Vintage Assessments newsletter (covering the Vintages releases for today & for the June 24th release - including exclusive current ISD reviews) as well as the June 10th Vintages Shopping List can have it e-mailed today and receive a $20 discount - click here.
2001-2002-2003-2004-2005-2006 Tasting Note Database
Our tasting note database from December 31, 2000 to June 2006, covers every Vintages release product for the past 66 months. There are more than 13,000 notes in the database data. Just enter the name of the product, supplier name or CSPC number. Or you can search by type of wine, country of origin, even wine agent! Nothing could be easier. Also you can get information on the agent by clicking on the agent's name, as well as current LCBO store inventory by clicking on "Check LCBO Availability", which will automatically tell you the number of bottles at LCBO as of last night.
To use our Tasting Notes Database: click here

** For All Visitors **
Vintages Releases
To see the complete list of upcoming products from the
June 24 release, including In-Store Discovery items,
click here (sorted by date of release).
You can also see it sorted by agent click here
To see the complete list of upcoming products from the
July 8 release, including In-Store Discovery items,
click here (sorted by date of release).
You can also see it sorted by agent click here
To see the complete list of upcoming products from the
July 22 release, including In-Store Discovery items,
click here (sorted by date of release).
You can also see it sorted by agent click here
Copyright Food & Beverage Testing Institute of Canada 2006
Prior written permission is required for any form of reproduction
(electronic or other wise) and or quotation.
Contact Michael Vaughan at
mbv@total.net