Michael Vaughan's
March 2nd Liquid Assets
Truth in labeling
Uncovering the best values available!
Michael Vaughan
Tuesday, March 3, 2009
Welcome to an extremely cold launch of March 2009. While the bright sunshine looks deceptively inviting, Toronto temperatures have been dipping to -17 or even lower. Just a reminder that another Vintages March 2nd sale (43 items) commences today. Our summary sheet provides full scores on every wine and convenient links to my tasting note database (available exclusively to FBTI supporters). Here is my top buy from today's sale. It's a real shame if you haven't tasted this amazing bargain – unless you happen to hate sweet wines. The great news is that it's only $14.10 now.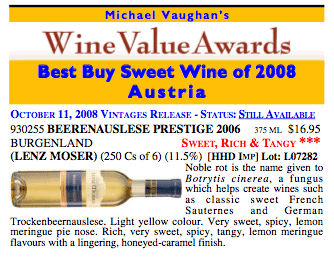 Vintage Assessments Exclusive
Vaughan on Vintages
Monday, March 2, 2009 Sale (42 items)
click here

It seems that many newspapers are abandoning their readership. Newspaper/magazine wine and spirits reviews are diving to new lows. The National Post now features a paltry three reviews weekly, while Now magazine has only two and Eye none. Meanwhile on, Sunday, March 1st, my website received 25,592 hits in a single day (up 20% from 21,274 hits on March 1, 2008).  Yesterday, it was even stronger – a remarkable 40,853 hits (vs. 10,689 for last year). Why? Obviously our website isn't eye candy. It's the comprehensive, reliable, and perhaps most important, consistent content that isn't found anywhere else that drives our readership. Our free, fully-linked 20,000+ Vintages database, our exclusive listings of "hidden" LCBO sales, our free posting of previous issues of Vintage Assessments, bring in discerning buyers.  

It terms of what's happening out there, I have received a number of grumbling emails about the unreliable nature of some recommendations appearing in the National Post, Globe & Mail, etc. Of course, readers should be familiar with the ability and preferences of wine writers they are reading. While there are huge differences in terms of natural ability to taste, let me be the first to defend the right of a wine columnist to recommend whatever wines they like.

My personal mission is to educate and share with others my passion for good wines. It has it's rewards, as one recent email put it: "Thankfully you and I have the same taste. I was amazed to discover that some writers recommend wines that you truly dislike. An example is the seriously disappointing 2007 El Hugo, which you awarded a – (out of three stars) in your January 31st edition of Vintage Assessments. It was recommended in the Post and just to check, I bought a bottle. You're right, it is awful. Obviously, there's no accounting for taste."

For me, the most important thing is producing a consistent review. For this reason, I usually taste twice and only use a professional ISO glass. It is used in the LCBO lab to assess all Vintages wines and is what I try to use for everything I taste. I even take my own boxes of six with me when I travel. Last year, this ISO glass came to my lips more that 40,000 times. Why? Because if you change the glass, you can change the score!

I occasionally taste the same wine out of two sets of different glasses. In most instances, the ISO glass does not come out first! In other words, a more appropriate glass will make the wine taste even better. That's why I am always a bit suspect of numeric scores, especially by some critics who consistently score everything tasted on the high side of the equation.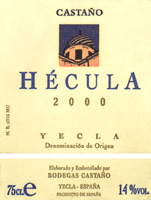 The are many questions. What glass was used? When was it tasted? Was it tasted twice? What is the lot number? The latter has been a problem with some of Robert Parker Jr. Wine Advocate reviews (although he now puts a disclaimer on all ratings resulting from changes in bottling of what should be the same wine). An example of this is Bodegas Castaño 2000 Hecula, which was specially-blended for its American distributor – 70% Monastrell, 20% Tempranillo and 10% Merlot.  In fact, this was a special blend specifically made for the US importer. The regular wine available in Spain and other countries bearing the identical label has always been 100% Monastrell.
In fact, with this exception, Hecula has always been been 100% Monastrell (the Spanish name for Mourvèdre). It was this 100% Monastrell from the 2000 vintage that both Robert Parker (who also happens to be a friend of the US importer) and I previewed with affable owner Daniel Castaño. It was great! Unfortunately, the US importer knowingly used Robert Parker's excessively high scoring, and glowing review to market their altered, inferior 2000 Hecula blend. Click here to see my widely publicized January 25, 2003 National Post feature. For more information on lot numbers see my follow-up piece from the February 11, 2006 edition of the National Post.
I should mention that I recently had an opportunity to assess some upcoming releases with Daniel Castaño at a tasting organized by the new importer John Hanna & Sons at the Fine Wine Reserve, which is owned and operated by Marc Russell (gentlemen to the left in the photo).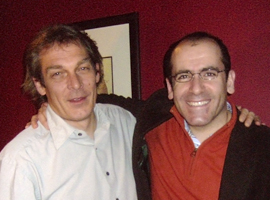 The three top wines presented were ready to enjoy *** (90 points) Bodegas Castaño 2005 Castaño Coleccion ($24.95 and scheduled for August 2009 Vintages release). It's big, rich and mouthfilling with plummy, mocha-chocolate flavours and a long, cedary finish.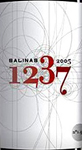 Even better is the tasty ***/***+ Bodegas Sierra Salinas 2005 Mira ($54 Vintages Online Exclusives #105718), which is relatively new Castano in property in DO Alicante.  This blend of 65% Monastrell, 25% Cabernet Sauvignon and 10% Garnacha shows rich, juicy, plummy, ripe cherry flavours with an extracty, intense, long, lingering finish. The top ***+ red, a blend of 50% Garnacha Tintorera and 50% Cabernet Sauvignon was aged in new French oak. Bodegas Sierra Salinas 2005 1237 is available from the agent at $125 - there is only a 60 bottle allocation for Canada. It was initially a bit subdued - the nose showed slightly spicy, dried ripe red and black cherry notes. It was very harmonious on the palate with a long, lingering, elegant finish. It's showing lots of finesse and is starting to open in the glass – I gave it a top ***+ rating.
---
Sicily:
A new ancient vinous destination
Michael Vaughan
Friday, February 27, 2009
Tomorrow's February 28th Vintages release finally sees a well-deserved focus on Sicily. While I may quibble with some of the selections, especially some of the reds (only six items are on offer), the effort of rediscovering some of Europe's most ancient wines is well worthwhile.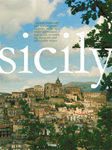 It has taken a long time for the sizable investment in winemaking infrastructure to arrive in Sicily. The transformation wasn't easy - it isn't a wealthy region and it is filled with grapes that are not on wine lover's most wanted list. Nevertheless, the advent of early harvesting, controlled drip irrigation, cold-fermentation in stainless steel, etc. has resulted in a revolution in quality.

Testimonial to Sicilian success is the soaring popularity of Montalto on the LCBO general list. I have chronicled their arrival with the following words in my weekly National Post Christmas 2005 column:

Imagine my surprise when tasting the recently-released Montalto 2003 Nero d'Avola Cabernet Sauvignon (621151) - the definitive turkey wine of the tasting. This IGT blend of 60% traditional Nero d'Avola and 40% Cabernet Sauvignon comes in a modern screwcap bottle. Aged for three months in one-year old French and American oak, the focus is on fruit and freshness. Deep purple colour, the nose is very bright and attractive with ripe, plummy, strawberry fruit. It is dry, crisp and medium-light bodied with tangy, plums, cranberry and cherry flavours with a crisp refreshing finish.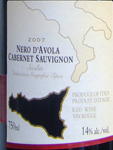 The current, slightly fleshier,  Montalto 2007 Nero d'Avola Cabernet Sauvignon (621151 • GL) is even better, scoring *+/** (out of three stars) with its fresh, juicy flavours. It's a best buy at only $9.95 (5 airmiles from March 1-28).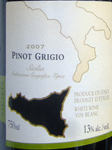 In terms of whites, the current Montalto 2007 Pinot Grigio (73148 • GL) also at $9.95 (4 airmiles from March 1-28) scored an impressive . Here, at last, is a well-priced Italian Pinot Grigio with lots of supple fruit flavours. The ripe lemon-melon-apple-pear nose is perfectly balanced by gently juicy, crisp, melon-pear flavours on the palate. A versatile crowd-pleaser, it too comes with a convenient screwcap.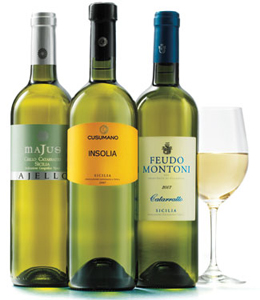 I am happy to report that all three Sicilian whites being released tomorrow are worthy of consideration. They include the crisp melon-pear driven Fuedo Montoni 2007 Catarratto (111252) at $15.95. It rated *+. Bright very light yellow colour. Attractive, slightly honeyed, ripe melon aromas. Dry, harmonious, medium-light bodied, ripe melon-pear flavours with a crisp, unoaked finish.
Next comes Ajello Majus 2007 Grillo/Catarratto (670844) at $16.95. It rated *+. This 50/50 blend of the indigenous Grillo and Catarratto grapes has a light yellow colour. Rather spicy, honeyed, red apple nose. Dry, slightly spicy, medium-light bodied, tangy, pleasant, slightly lemony, ripe red apple flavours with a crisp, unoaked finish.
For my taste, the best buy is Cusumano 2007 Insolia (606350) at $14.95. It rated *+/**. This blend of the aromatic, indigenous grape Insolia (70%) and Chardonnay (30%) has a medium yellow colour. Fine, fairly juicy, ripe Anjou pear nose. Dry, slightly honeyed, gently toasty, medium bodied, dried pear flavours with some nectarine notes on the lingering finish. Versatile and ready-to-drink.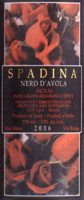 Of the six Sicilian reds presented by Vintages to the wine writers, two items had cork taint. The best of the group was Spadina 2006 Nero d'Avola (92932) at $16.95. It rated *+. Fairly deep purple color. Intense, fairly juicy, plummy, cherry-berry nose with hints of sandalwood. Dry, medium bodied, harmonious, fresh, vibrant, gently juicy, plummy, ripe crancherry flavours with a lingering finish.

Midi & Provence at Vintages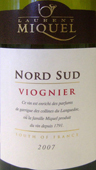 The second part of the release focuses on 19 selections from the sun-drenched regions of Midi and Provence in southern France.  The best buy white is Laurent Miquel 2007 Nord Sud Viognier (673236) at $17.95. It rated **. Light straw colour. Slightly spicy, cedar-tinged, lemony, ripe melon-pear nose. Dry, very lively, rather spicy, medium bodied, honeyed, ripe pear-lemon-melon flavours with a crisp, lingering finish. Ready to enjoy - a real crowd pleaser.

As for the reds, my top buy is Camplazens 2006 Syrah (104752) at $14.95. It rated **/**+. Extremely deep intense purple colour. Very complex, slightly smoky, leathery, plummy, baked red and black cherry nose. Dry, medium-full bodied, fairly extracty, plumy, ripe red and black cherry flavours with a long, lingering, slightly cedary, mocha-chocolate finish.
Portuguese Gems
– The Release Highlight


Portugal has two great buys. The first is Sogevinus 2007 Divinica White (94904) at $15.95. It rated *+/**. This blend of Malvasia Fina, Gouveio and Rabigato has a very pale straw colour. Slightly spicy, ripe apple-pear purée nose. Dry, pleasant, medium-light to light bodied, slightly spicy, fresh Anjou pear flavours with a crisp, unoaked finish.

The best wine of the release is the stunning red Quinta Do Infantado 2006 Red (95158) at $23.95. It rated ***/***+. This blend of Touriga Nacional, Tinta Franca and Tinta Roriz has a extremely deep intense purple colour. Complex, spicy, plummy dried ripe black cherry nose with some vanilla notes. Dry, complex, medium-full bodied, harmonious, still youthful, concentrated, ripe black cherry flavours with a lingering, cassis-driven, cedar-tinged finish. The grapes were actually fermented in the traditional Portuguese concrete lagars and crushed by foot before being put into settling tanks and aged for 16 months in oak.
Tasting Notes for Monday's March 2nd Vintages Sale (43 items)
are now posted in the FBTI Supporter section
click here
If you are not yet an FBTI Supporter click here and save $20