Recent Articles
Jun. 17 - The World Cup of Sauvignon Blanc ~ Austria Triumphant
Jun. 3 - Thinking Pink - A Rosé for Every Taste
May. 27 - Vintage Plays Havoc with Classic Contenders ~ A Delicious Knockout for 2002 Ornellaia
May. 20 - New Zealand's Explosion of Flavours ~ Will give your Victoria Day long weekend a lift
May. 13 - Ra! Ra! Riesling! ~ Good ones, bad ones, fat ones, lean ones ~ Rieslings, as well as, Mothers!
May. 6 - When it comes to wine lists ~ Bigger isn't necessarily better
Apr. 29 - The Top Shelf
The Joyous Harbinger of Spring ~ Austrian Grüner Veltliner
Apr. 29 - A Hole-in-One Twice for Greg Norman ~ Wedding Bell Bubblies
Apr. 22 - Gambling on Wine Dinners ~ Three recent positive outings
Apr. 15 - The Top Shelf
Canada's Ultimate Wine Weekend ~ Upcoming: The Wine Summit Lake Louise
Apr. 15 - Putting a little "hop" into your Easter brunch
Apr. 8 - A Survivor's Guide to the 2006 California Wine Fair
Apr. 1 - The Top Shelf
German Wine and Jazz April 4th
Apr. 1 - Waking Up & Smelling the Flowers ~ A Bouquet of Springtime Whites ~ All Under $20
Mar. 25 - The Top Shelf
Sicily never tasted as good
Apr. 1 - Waking Up & Smelling the Flowers ~ A Bouquet of Springtime Whites ~ All Under $20
Mar. 25 - The Top Shelf
Sicily never tasted as good
Mar. 25 - Tracking Down Vintages Best Buys
Mar. 18 - In Homage to Cabernet Sauvignon ~ Great Cabernet Sauvignon can last for decades ~ 1970 Beaulieu Vineyard Private Reserve still a "King" of a Cab
Mar. 11 - Ireland: The cradle of Whiskey
Mar. 4 - The Best of Today's Vintages Release ~ South Africa's Answer to Tequila
Feb. 25 - Mining for Gold in South Africa ~ Great Pinotage & Shiraz
Feb. 18 - Going for Gold at Vintages
Feb. 11 - Beware of great wine reviews that don't deliver ~ Is it me, the critic or the bottle?
Feb. 4 - Spanish Wines Take Flight
Jan. 28 - D-Day at Vintages 724 ~ Vintages items go on sale today!
Jan. 21 - Today at Vintages ~ A Fine Trio of Accessible French Whites ~ The Many Faces of Syrah/Shiraz
Jan. 14 - Ontario's Icewines Shine ~ The Icewine Oscars for the Best 2004
Jan. 7 - A Quality Vintages Kick-off to the New Year Easy Quaffing Southern Hemisphere Shiraz
Dec. 31 - Cognac Unconquered ~ From $1.30 to $74.88 an ounce ~ Sipping Your Way into the New Year
Dec. 24 - LCBO Gifts ~ Buy Carefully ~ Juicy cherry & tangy cranberry flavours for your Turkey
Dec. 17 - The Best of the Season ~ Seasonal Gifting: From Books to the Best Buy Champagne & '1876' Scotch
Dec. 10 - Great Holiday Wines in Today's Vintages release ~ From the Bargains to the Jewels
Dec. 3 - From the Perfect Pear Martini ~ to a Vintage Port to Remember
Nov. 26 - Wines to Buy & Wines to Avoid
Nov. 19 - Beaujolais Nouveau Celebrates 54 Years
Nov. 12 - Vintages Release Best Buys ~ From California to Bordeaux
Nov. 5 - "Eyes Wide Shut" ~ Taste, texture and scent in motion
Oct. 29 - Tricks & Treats in Today's Vintages Release ~ Some Awesome Aussi Highlights
Oct. 22 - Perfect Fall Libations ~ Obscure varieties from Welschriesling to Semillon
Oct. 15 - Hop Scotch ~ The biggest whisky release on record
Oct. 8 - A Toast to the Turkey ~ Many whites, some reds and even a sparkling rosé
Oct. 1 - Barolo the King of Italian Reds
Sep. 24 - A Flood of Upcoming Tastings ~ but not a Vintages Classics in Sight
Sep. 17 - A Great Ontario Harvest ~ From just-released wines to a terrific new guide
Sep. 10 - Film Fest Fizz ~ Finding that Oscar-Winning Drink
Sep. 3 - Delicious Long Weekend Drinking ~ All but one under $20!


Get Michael Vaughan's Buying Guide for today's Vintages Release today!
With a special $20 Discount
Click Here
Beware of great wine reviews that don't deliver
Is it me, the critic or the bottle?
© Michael Vaughan 2006
National Post Weekly Wine & Spirits Columnist
Saturday, February 11, 2006
LIVE WINE LINK
www.winefind.ca
(CLICK ON THE NAME - All listings are automatically linked to the LCBO database)
If there is a product that interests you, just click on the name below and you will instantaneously connected with the LCBO database. The product will appear in blue and all you have to do is click on the name again and then the next screen will provide details along with the store search. Just click on store search. The number of bottles in each store is updated nightly. Call the store first to see if stock still remains (each store phone number is listed).
It's a bummer. Reading an expert's glowing review and being confronted by a totally different wine on the table. You wonder - is it me, the critic or the bottle?
In fact, in many instances, you are not alone in being disappointed. Moreover, it's often the bottle, which is at fault. Three years ago, I tackled this problem in the Post. At that time, I was blown away by a preview sample of Bodegas Castaño 2000 Hecula. It was rich and seductive with ripe black cherry flavours and lingering, seamless, gently cedary finish - a best buy triumph at under $13. The wine I tasted was made from 100% Monastrell (aka Mourvedre) grapes.
Then a few months later it was released at Vintages. Sadly, it was not the same. What happened was that this edition of Hecula was specially-blended for its American distributor with 20% Tempranillo and 10% Merlot. Good but not great. I tracked down the original 100% Monastrell in a Sydney, Australia wine shop. It had all the depth of flavour and structure of the original that I had previewed with owner Daniel Castaño. To see the original article from January 25, 2003 click here.
Selling a totally different blend under exactly the same label isn't all that unusual, especially with less expensive, high volume wines. My article, however, created a major stir because I disputed Robert Parker's high 90+ point score attributed to this wine, which appeared in the Vintages Catalogue.
The question is, with identical labels, how can consumers tell which wine they are getting - the real McCoy or something specially blended for their market? Part of the answer has to do with "lot" numbers that appear somewhere on the bottle of most wines. These identification numbers were the result of new EEC regulations, which required codification for tracking purposes.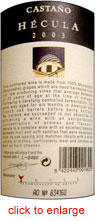 Lot numbers are not all that easy to find. They can appear anywhere - on the capsule, under the capsule, etched in glass, on the back label, etc. Also, there is no guarantee that the lot number will actually indicate a different batch or bottling of the same wine. They may simply tell us the labeling date of the same wine. Fortunately, the majority of better wines will be very consistent from lot to lot.
Nevertheless, I vigilantly track the "lot" number of every bottle tasted, which appear in my Vintage Assessments publication. Unfortunately, most wine writers and even wine competitions, don't bother with these codes. I was amazed to discover that neither does Vintages. The LCBO's key concern is squeezing marketing dollars out of suppliers. For listings, money spent on LCBO promotions gets 40 points, while quality only 20 points (out of 100)! To see the scoring systems for new listings click here.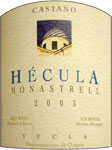 All of the forgoing has to do with a problem with the just-released Bodegas Castaño 2003 Hecula (718999) at $13.95. When I tasted it at last year's Vancouver Playhouse Festival, I found it to be disarmingly delicious - bright, quite well structured, zesty and loaded with ripe black cherries.
It finally hit Vintages on January 7th - but sadly not the same batch - fine but gets no cigar. The Vintages Catalogue spews out Parker's terrific 90-point rating. Upon checking, I discovered that Vintages omitted the first line of his review, which reads "this is a custom cuvee made for American importer Eric Solomon, so the wine sold in other markets will be different blends and/or selections." Given the controversy, I was surprised that Vintages excluded this disclaimer, especially as Vintages doesn't bother tracking the lot numbers on the wines they buy.
To check things out, I invited the Ontario agent to a comparative blind tasting of three Heculas - the one we have here vs. two different lots I recently purchased in Madrid. A certain degree of tension filled the air, as we tasted them. For my palate, there was a definite difference. The news is good is that to my surprise, the best was the one at Vintages (although not as good as the one tasted last year). The two from Spain were decidedly less well structured. As some 400,000 bottles of Hecula are produced, some batch variation is not totally unexpected. And unlike the 2000 vintage, all are apparently 100% Monastrell.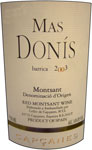 Moving on, last Saturday another Parker high scoring Spanish red was released at Vintages. Again Vintages quotes the Parker 92-point score, which is awesome for something costing only $15.95. Expectations for Capçanes 2003 Mas Donis Barrica Tinto (705863), however, were dashed with the two bottles tasted.
Not that it, nor Hecula above, are in any way disagreeable wines - I have no hesitation in recommending either of them. The problem is that they just that they just didn't live up to expectations. Mas Donis was very pleasant, fairly intense and well structured with slightly spicy, baked plum and bittersweet chocolate flavours. However, it simply is not in the Parker 92-point region.
I discovered that Mas Donis comes from the same American importer as Hecula. Huge quantities have poured into the American market, so much so, that prices at some stores have been cut to $9.99, which is rather amazing for a 92-point Parker rated wine. The key questions are: Is this is the same quality that Parker initially rated? Are all the rumours that producers and/or agents send "special" bottles to wine critics to review possibly true?
To avoid disappointment, let me suggest that you take LCBO quoted reviews with a grain of salt. Critics, in turn, owe it to their readers to detail lot numbers and insure that their reviews are not taken out of context. They should also check follow-up shipments of their highly rated best buys to see if they live up to initial scores. As for Vintages, surely the time has come for LCBO to provide complete reviews and monitor the lot numbers of what is being bought and sold.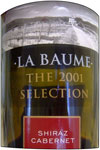 Those searching for a Valentine's Day highlight should consider one of my personal favourites from last Saturday's Vintages release - the wonderfully delicious La Baume 2001 'Selection' Shiraz/Cabernet (730523) at $15.95. It has an extremely deep, intense, purple colour and a complex, smoldering fire nose, which is loaded with ripe plum and dried cherry fruit. Solid, dry and amazingly well-structured for the price, it is very flavourful with gently smoky, faintly herbal, plumy, dried cherry flavours with a lingering finish. There are 497 cases of this in Vintages and the lot number L256/05 appears on the back label. To check availability click here.
National Post readers wishing to receive the current Vintage Assessments newsletter (covering the Vintages releases for next Saturday & from last Saturday - including exclusive current ISD reviews) can have it e-mailed today and receive a $20 discount - click here.
2001-2002-2003-2004-2005 Tasting Note Database
Our tasting note database from December 31, 2000 to January 2006, covers every Vintages release product for the past 61 months. There are more than 12,000 notes in the database data. Just enter the name of the product, supplier name or CSPC number. Or you can search by type of wine, country of origin, even wine agent! Nothing could be easier. Also you can get information on the agent by clicking on the agent's name, as well as current LCBO store inventory by clicking on "Check LCBO Availability", which will automatically tell you the number of bottles at LCBO as of last night.
To use our Tasting Notes Database: click here

** For All Visitors **
Vintages Releases
To see the complete list of upcoming products from the
February 18 release, including In-Store Discovery items,
click here (sorted by date of release).
You can also see it sorted by agent click here
To see the complete list of upcoming products from the
March 4 release, including In-Store Discovery items,
click here (sorted by date of release).
You can also see it sorted by agent click here
To see the complete list of upcoming products from the
March 18 release, including In-Store Discovery items,
click here (sorted by date of release).
You can also see it sorted by agent click here
Copyright Food & Beverage Testing Institute of Canada 2006
Prior written permission is required for any form of reproduction
(electronic or other wise) and or quotation.
Contact Michael Vaughan at
mbv@total.net