Michael Vaughan's May 1st Update
April 27th Vintages Sale
May 2nd Vintages Release
Outstanding PEC Chardonnay
Michael Vaughan
Friday, May 1st, 2009
One Monday, April 27th a total of 34 items were put on sale by Vintages. These is yet another one of those one secret sales. There is no list, nor any indication of a price reduction on the LCBO website. In fact, our website is the only place that you can get the scoop on such sale information.  And it isn't as if these are inferior products that have been kicking around for ages. They were all released in the December 6th Vintages release.
The reason they go on sale is simply that they have not achieved the LCBO's required 75% sell-through within three months. While some consumers may rejoice about such discounts, fact is, the LCBO is the only place in the world where producers are subjected to such draconian monopolistic regulations.

These discounts, which is a condition of sale to the LCBO, have to be paid for by the suppliers (not the LCBO). You may ask why do producers put up with it? This is usually because the producers want to maintain "visibility" in the Ontario market. There are no other shelves in Ontario on which these wines can be displayed. Of course, some better producers have decided to abandon selling wines to Vintages.
To see the full April 27th Vintages Sale list click here
Take one of the better Burgundies on the list - Jean-Claude Boisset 2005 Beaune Les Bressandes (84483)at  $47.90 (reduced by $11.05 from $58.95). Of the 70 cases of 6 (420 bottles), when I checked yesterday, there were still 140 bottles remaining. It's a very good wine (**+/*** out of ***+) and well priced. My note reads:  Fairly deep red purple colour. Slightly spicy, plummy, elegant, ripe red cherry nose with some sandalwood notes. Dry, quite well structured, medium to medium-full bodied, fairly extracty, plummy, ripe red cherry flavours with a lingering finish. The struggling economy and invisibility of the Ontario agent has not helped matters.  Too bad my friend Charles Boisset doesn't visit more often, because if he did his wines would fly. However, now that word is out, I am sure that this tasty Beaune will rapidly disappear.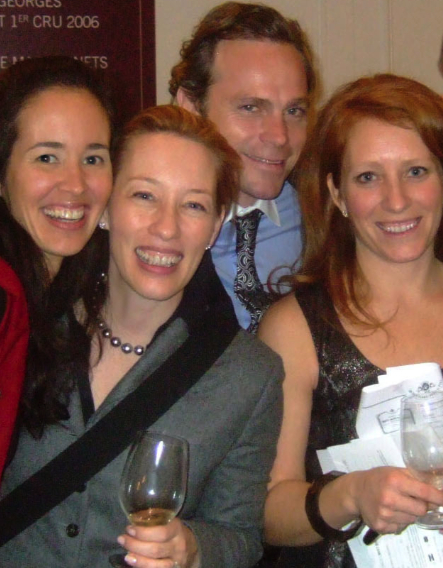 Charles Boisset with a bevy of local fans at the
Vintages-organized Burgundy event March 2009
May 2nd Vintages Release
Moving on to tomorrow's Vintages release, which is actually on the shelves today, there are 108 items on show. This includes a red Tuscany thematic with 18 selections, a Quintessential California thematic with 19 selections and Southbrook's Ontario tour with 3 items. Here is the full release
To be honest, the best thing about this release is the spirits. I can't remember being so excited about a dynamic rum-gin duo.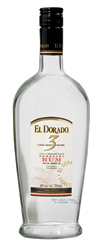 First from Guyana comes one of the best white rums in memory, the silky smooth El Dorado Cask Aged 3-Year-Old Demerara White Rum (112961) at  $29.95.  I gave it my very top rating:  ***+ out of ***+. Clear and colourless, it has a faintly sweet, fresh coconut milk nose. On the palate, just lovely, harmonious and yet mouthfilling with fresh coconut milk flavours and a smooth, yet gently tangy, lingering finish. An exceptional, first-class white rum, which will disappear quickly (only 107 cases have been ordered). Buy a case today and you will thank me all summer.
Also not to be missed is a phenomenal best buy gin. Finsbury Platinum 47% Finest Distilled London Dry Gin (118141) at $27.95 (700 ml) is a ***+ miracle.   It's clear and colourless with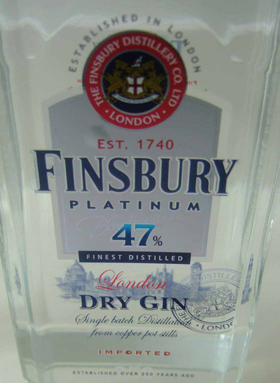 subtle, spicy, tangerine and clementine on the nose along with some floral notes. Dry, harmonious and flavourful with a focus on ripe clementine and hints juniper, cardamom and even perhaps lavender on the lingering citrus finish. This was my first taste of Finsbury; it will not be my last! There's something magical about the balance, texture and flavour of this superb 6-times distilled. The recipe for this "Single Batch Distillation from Copper Pot Stills" dry gin dates back to 1740. Run, rabbit run - there are only 876 bottles for all of Ontario!
The best value red of the release is a spanking new Zenato 2006 Cormi Merlot/Corvina (108282) at $19.95, an Italian IGT from Veneto. With 13,5% alcohol, it shows wonderful, harmonious, ripe fruit. At the lab review I rated it **/**+ and then subsequently  **+ at a tasting at Toronto's Biagio Ristorante. For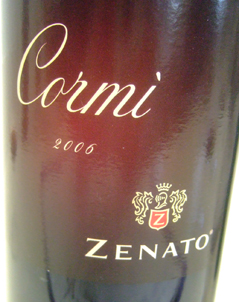 those who don't know, the Corvina grape is the traditional ingredient in classic Valpolicella. It was married with earlier ripening Merlot and the result is splendid. Very deep intense purple colour, the nose is slightly spicy with plummy, ripe cherries. It's dry, well structured and medium-to-medium full bodied with plummy, ripe cherry flavours and a lingering, slightly spicy, licorice-sandalwood finish. This internationally-crafted effort that has wide appeal, fine versatility and great accessibility. No need to run, there are 2,441 cases of 6 at Vintages.
Rosehall Run
Outstanding PEC Chardonnay
Finally, here is an excerpt from my current May 2nd issue of Vintage Assessments. I just discovered Rosehall Run 2006 Chardonnay Estate Rosehall Vineyard a winery only selection at $29.95 made exclusively from grapes on grown on the vineyards owned by Rosehall Run. I gave it my top rating  ***+ (out of ***+) and was almost knocked out after tasting it.
A sparse 185 cases of this wonderful classic Burgundian-inspired Chardonnay were produced from Rosehall Run's own

vineyard. It has a lovely, ripe, Anjou pear purée nose with some lemon meringue and subtle mineral-tinged lime notes. It's solid and very well textured with ripe pear flavours and hints of spice and butterscotch. It grows in the glass and has wonderful, lingering acidity. It may well be the best value Canadian Chardonnay I have tasted under $30! Only two-dozen cases remain, so move quickly.
Congrats to owner/winemaker Dan Sullivan. I also had the pleasure of tasting the riper *** Rosehall Run 2007 Chardonnay Estate Rosehall Vineyard (same price) with its rather toasty, juicy, ripe lemon-melon-pear flavours along with some tropical hints. While some tasters may prefer the 2007 this to the 2006, it is the latter (2006) which will age better and is definitely my favourite. A great ** buy is their just released Rosehall Run 2007 Cuvée Country Chardonnay at only $17.95 with its juicy, ripe, lemon-melon flavours. For information visit www.rosehallrun.com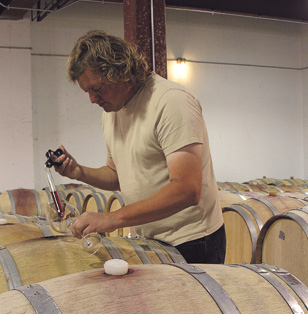 Winemaker Dan Sullivan
Michael Vaughan's April 17th Update
Austrian Trade Wine Fair
Kir-Yianni 2007 Petra White
Michael Vaughan
Friday, April 17, 2009
My apologies for the delay in posting this feature but I have been ill with a nasty head cold that seems to be making rounds. You may not be aware, but I am currently celebrating the 19th anniversary of Vintage Assessments my bi-weekly publication, which has been seen by millions around the world. I have been doing this single-handedly for every Vintages release since 1990. In fact, I still actually print and mail a biweekly edition prior to the Vintages release to hard core FBTI Supporters who lack computer literacy.
I would be hard pressed to abandon individuals like Biagio Vinci, the owner of Biagio Ristorante, who has been receiving my trade-buying-guide for well over a decade. It's nice to discover that Vintages Assessments is still indispensable!  Perhaps even more valuable for serious buyers is my Vaughan on Vintages guide to more than 20,000 Vintages release reviews released since 2000. This user-friendly, currently free service, offers all the details, tasting notes & links one could wish for. Stuff you simply can't find anywhere else. Thank you for your support.
This also would have also been my 10th anniversary at the National Post. I started writing a weekly feature in November 1999. Unfortunately, last year the National Post decided to suspend my critical, award-winning column.  What's left are three very short weekly reviews. In fact, if you add up all the National Post reviews for a year, it's only slightly more than what I provide readers with every two weeks.
For nine years, I tried to make a serious critical contribution to the Canadian wine writing scene. Certainly, my heart goes out to all those National Post supporters who have been disappointed by the ever-shrinking state of the newspaper. As one fan writes: "I wish you were back at the Globe & Mail where they really need a professional taster." Mentioning this isn't meant as a slight against the Globe's current wine writer. For those who don't know, I was the Globe & Mail's first wine and spirits columnist more than 20 years before Beppi Crosariol (who started his weekly columns in 1999). Also, I recently traveled to Sicily with Beppi, where I acted as his official translator (kidding) and even shared a pre-prandial bottle of bubbly in my room on the last night of our trip. We both survived. Happy10th Beppi.
April 22nd Austrian Trade Wine Fair
My very first update relates to the upcoming Austrian trade wine fair, which takes place on Wednesday, April 22nd. The event was initially scheduled for a day earlier, which meant that a major California road show, which was scheduled on the 21st, changed the date to the 22nd. Now we're stuck with two events taking place on the same day. For information contact Birgitta Samavarchian of the Consulate General of Austria, at 416-967-3348, or email birgitta.samavarchian@austriantrade.org
My suggestion for professional wine buyers is to make a beeline to the annual Austrian event. Why?  Because Austria is now producing some of the most interesting, food-friendly wines on the planet. Unfortunately, some LCBO/Vintages offerings are far from stellar. I have said it before and I will say it again: there's nothing worse for neophytes than to invest in a an unknown wine that isn't up to scratch, especially if it is overpriced by Vintages. This is a serious turn-off for any future Austrian acquisitions. At the show, however, you will discover that there are lots of gems for sommeliers and serious wine lovers. As long as the LCBO continues to  release sub-par quality - private order & consignment is the best way to go.
I think that most wine writers agree that Grüner Veltliner is Austria's claim to fame, mostly because there is more grown here than anywhere else in the world. There are a whopping 67 GVs to assess at the fair (see pages 60-63 of the Austria Tasting Catalogue). They vary from cheap and cheerful, to rare and expensive. From the former, I have frequently recommended those from Laurenz V (or L5) in the under-$20 range. This is a new Austrian project from Lenz Moser, whose family has been in the wine business for generations. Sophie, the sixth generation, is Lenz's daughter. While I have recommended previous Vintages releases of their still-available 2007 "Singing" and 2006 "Friendly" I have yet to try their "Charming".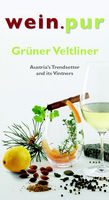 If you are looking for something special, make sure that you try Salomon Undhof 2006 Von Stein Reserve Grüner Veltliner (0115014), which is currently available as a Vintages OnLine Exclusive. There are many fine producers and I am pleased inform trade buyers and professional sommeliers to request a complimentary copy of the 280-page softcover book Grüner Veltliner From an insider's secret to international trendsetter by wein.pur. Published December 2008, sign in with Birgitta Samavarchian, she will provide you with a copy that normally sells for 19 euros.
There are 22 Rieslings, 20 Zweigelt and even 7 Pinot Noir. With so much to taste, I suggest you arrive at noon. Let me refer to my National Post feature entitled Hitting the Vineyard Trail: New Shining Stars in 2003 published January 4, 2003 where I said:
Past trends don't always predict the future. Last year was eye opening because I had the opportunity to tour a number of exciting wine regions. As a result, I have uncovered some things, which don't even qualify as "best kept secrets" because they're still so obscure.
Austria, for instance, will never threaten Australia in terms of visibility. And yet, from this forlorn homeland of the Gruner Veltliner grape comes some of the world's most fabulous Sauvignon Blanc. The best from 2001 are well structured with gorgeous gooseberry, ripe peach and/or tangy Anjou pear fruit flavours (depending on the clone, date of picking and/or yield).
I visited the tiny, gently mountainous region of Syria or Steier (actually called Südsteiermark) last June and was amazed by the number of world-class producers whose wineries dot the southern Slovenian border. Look for Walter Skoff, Alois Gross, Paul Achs, Eduard Tscheppe, Neumeister, Gamlitz and Polz - all outstanding houses. They are not inexpensive, usually $20 to $35, but are usually worth every penny.
The highly sought-after Manfred Tement whites, for instance, are produced in a tiny, exquisite, ultra modern, gravity flow winery that compares to the best anywhere in the world. His single vineyard estate Tement Sauvignon Blanc Zieregg 2001 at 14% alcohol has stunning sweet pear puree fruit overlaid with gooseberry and vanilla notes.
As mentioned, for my palate, Austrian Sauvignon Blanc may well be its most exciting variety. Having visited the southern region of Styria numerous times since 2003, I have been wowed by some Sauvignon Blancs that shatter the richter scale. In fact, at last year's inaugural World Sauvignon Blanc Congress I was able to blind taste some of the best one-on-one. I was not disappointed and can refer you to a number of exclusive articles I wrote for the National Post extolling the virtues of the remarkable  progress made
with this grape. I suggest you take a look at two previous features: The World Cup of Sauvignon Blanc: Austria Triumphant and Austria's Wines on a Roll. There will be nine must taste Sauvignon Blanc at the event: Tement (three at table 23), Sattlerhoff (three at table 17) then one from Aichinger (table 15), Nigle (table 14) and Rabl (table 26).  
Kir-Yianni 2007 Petra White
Why you can't find those recent Vintages "Best Buys"
Once it's off the shelf, it's gone forever!
Wine importers inform me that Vintages is failing, now more than ever, to deliver the goods to Ontario consumers. It happened at this week's LCBO Trade Day. It seems that up until fairly recently, any sizable Vintages release would automatically go to almost all Vintages stores. Now the new releases are only being sent to a small proportion of Vintages stores. Wine importers have now been told to start soliciting these other LCBO store managers/consultants to order to get them to buy their upcoming Vintages releases. All of this, despite an enormous current excess inventory at Vintages rumored to total over $50 million.
Sadly, one of the Vintages January 31st highlights still languishes on the few shelves, at least on those few shelves where it is still available. Like Austria, Greek wines have never been an easy sell, often because too many inferior selections are stocked by the LCBO. And despite being a winner, once Vintages stores sell their stock, they rarely reorder. Why?  Because shelf space is at such a premium and has to be cleared out for the next wave of releases.  This means that even if a wine sells out immediately, it's off to the next release.
This has definitely impacted on the boys over at Kolonaki Group, who are stuggling to raise the bar when it comes to great Greek wines. Unfortunately, lighter bodied, floral, Greek whites aren't the easiest thing to sell when it's minus-20-degrees outside. Of the 200 cases initial order, there's still an additional backlog of 59 cases still sitting in the LCBO warehouse.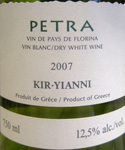 Given the frigid climate, I don't think that anybody wrote about this wine at the time it was released. Now that it's warmer, you should go down to your local store and ask them to order Kir-Yianni 2007 Petra (63552) a real deal at only $14.95. Please let me know if they don't oblige your request. This delicious 100% Roditis is one of the oldest-known, continuously cultivated, indigenous varieties in Greece. It has a light straw colour and very attractive, slightly spicy, honeyed, ripe pear aromas. On the palate, it's fairly dry, harmonious and ready to drink with slightly spicy, pear purée flavours along with a lingering, tangy, Sauvignon Blanc tinged finish. A perfect springtime selection, try it with poultry or seafood.