Recent Articles
Nov. 19 - Beaujolais Nouveau Celebrates 54 Years
Nov. 12 - Vintages Release Best Buys ~ From California to Bordeaux
Nov. 5 - "Eyes Wide Shut" ~ Taste, texture and scent in motion
Oct. 29 - Tricks & Treats in Today's Vintages Release ~ Some Awesome Aussi Highlights
Oct. 22 - Perfect Fall Libations ~ Obscure varieties from Welschriesling to Semillon
Oct. 15 - Hop Scotch ~ The biggest whisky release on record
Oct. 8 - A Toast to the Turkey ~ Many whites, some reds and even a sparkling rosé
Oct. 1 - Barolo the King of Italian Reds
Sep. 24 - A Flood of Upcoming Tastings ~ but not a Vintages Classics in Sight
Sep. 17 - A Great Ontario Harvest ~ From just-released wines to a terrific new guide
Sep. 10 - Film Fest Fizz ~ Finding that Oscar-Winning Drink
Sep. 3 - Delicious Long Weekend Drinking ~ All but one under $20!
Aug. 27 - A new way of coding drinkability ~ And getting the best out of that bottle
Aug. 20 - The "New" Vintages Catalogue
Aug. 13 - Bargains Galore ~ Spirited Summer Matchmakers ~ From Boulard Calvados to Grand Marnier
Aug. 6 - Dealing with Disappointments ~ This Bicyclette has a flat tire!
Jul. 30 - LCBO Alternatives? ~ Regulations handcuff importers to LCBO warehouse
Jul. 23 - A French Sparkler & Greek Whites in Today's Vintages Hit Parade ~ In-Store Discoveries Reviews Disappear
Jul. 16 - French Rosé Rocks ~ Too bad you can't find them at the LCBO
Jul. 9 - Today's Vintages Release ~ Small in size but big in buys!
Jul. 2 - The Wines of Canada by John Schreiner ~ Interesting but a little thin
Jun. 25 - Boning Up for Canada Day! ~ ABC - Anything But Chardonnay A Best Buy ~ Trilogy of Grass-Free Sauvignon Blanc
Jun. 18 - Austria's Wines on a roll
Jun. 11 - Where there's Chardonnay there's Hope ~ 2,879 cases at Vintages! ~ Plus 79 New Items in Today's Vintages Release
Jun. 11 - Bottle of the Week
Kim Crawford 2004 Marlborough Sauvignon Blanc ~ Kick starts the screwcap revolution
Jun. 4 - Bodega Norton 2004 Chardonnay ~ A too-good-to-be-true Argentina gem from the General List ~ LCBO Price Book now a thing of the past!
Jun. 4 - Bottle of the Week
Codorniu Brut Clasico ~ Puts some sparkling Classics to shame
May. 28 - A Trip in a Glass ~ Fine wines to transport you to far-away destinations
May. 28 - Bottle of the Week
Zoom-Zoom-Zoomers! ~ Campari: Seeing Red ~ Setting the World Ablaze
May. 21 - Toasting Queen Victoria ~ With Discounted Reds! ~ Grab these bargains while they last!
May. 21 - Bottle of the Week
Putting a little spice into your Victoria Day Long Weekend
May. 14 - Sprouting Up Like Tulips ~ Excellent 2003 Whites at Vintages
May. 14 - Bottle of the Week
2004 Terra Boa Blanco ~ A Bargain Priced Springtime White from Portugal
May. 7 - Prince Edward County's Field of Dreams ~ Long Dog Winery - No Long Shot!
May. 7 - Bottle of the Week
For Mother's Day! ~ Veuve Clicquot La Grande Dame Champagne ~ A priceless bubbly for that priceless mother!
Apr. 30 - An increasingly confusing Vintages catalogue ~ Hard to find what you are looking for & plan purchases
Apr. 30 - Bottle of the Week
Rosemount Shiraz on a Roll!
Apr. 23 - The Wine Glass ~ The Key to getting the most out of your wines
Apr. 23 - Bottle of the Week
Making the Rum Transition
Apr. 16 - All we are saying is give pink a chance
Apr. 16 - Bottle of the Week
Talus 2002 Zinfandel ~ A Zinfully Good Anti-Luddite!
Apr. 9 - Don't be screwed by a bad cork ~ Screwcaps are the answer
Apr. 9 - Bottle of the Week
2003 Mouton Cadet Blanc ~ Canada's best selling white Bordeaux
Apr. 2 - From Fizz to Pop ~ Putting some zip into Spring
Apr. 2 - Bottle of the Week
Underberg the Ultimate Digestif! ~ Only a full bottle will do!
Mar. 26 - Canada's #1 Wine Festival 27th ~ Vancouver Playhouse International Wine Festival
Mar. 26 - Bottle of the Week
Smooth & Satisfying ~ A Luxury French Brandy at a Great Price!
Mar. 19 - German Classics for Easter
Mar. 19 - Bottle of the Week
A liqueur that Grows on Trees!
Mar. 12 - Ontario's Vinous Peaks ~ Great quality directly from the wineries!
Mar. 12 - Bottle of the Week
A Special Treat for St. Patrick's Day
Mar. 5 - Today at Vintages ~ Chardonnays starting at $8.95!
Mar. 5 - Bottle of the Week
Cynar - A One-of-a-Kind Aperitif


Become A FBTI Supporter Today By Clicking Here
This not-for-profit website is dedicated to the discerning reader!

Austria's Wines on a roll
© Michael Vaughan 2005


National Post Weekly Wine & Spirits Columnist
Saturday, June 18, 2005

LIVE WINE LINK
www.winefind.ca
(CLICK ON THE NAME - All listings are automatically linked to the LCBO database)
If there is a product that interests you, just click on the name below and you will instantaneously connected with the LCBO database. The product will appear in blue and all you have to do is click on the name again and then the next screen will provide details along with the store search. Just click on store search. The number of bottles in each store is updated nightly. Call the store first to see if stock still remains (each store phone number is listed).

Neusiedlersee, Austria – I am sitting on the deck of a boat ploughing through the waters of Neusiedlersee (Lake Neusiedl), which is some 60 km southeast of Vienna. It is one of the world's shallowest inland lakes - 27 km long and 7 km wide - so shallow that it has actually dried out on rare occasions. In fact, the great-great-grandfather of attending winemaker Michael Wenzel wrote in his diary that on this day in 1888 he could walk the lake "without getting his boots muddy." At only1.5 meters deep, there is an annual lake-long race by foot – not boat!

Needless to say, I am not here to race, but to taste. It is day three of the 2005 Austrian Wine Summit. There are 132 wine writers from around the world in attendance, split into two groups – one headed to vineyards north of Vienna, the other south. I traveled south and, after today's early morning boat cruise, some 360+ wines were opened for tasting. With all the spitting going on, this isn't your average vacation.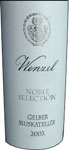 It is 8:30 am local time (2:30 am in Toronto) and I am clutching my delicious, sweet, lychee-flavoured glass of Wenzel 2003 Gelber Muskateller Auslese listening to how this wine was made. While Austria doesn't specialize in icewine, the sweet, rich, botrytis berries (referred to as "noble rot") from this humid lake region in Burgenland, can produce complex, stunning dessert wines at prices that puts some of our expensive Canadian sweeties to shame. The best are Beerenauselese, Trockenbeerenauslese (aka TBA, which is the sweetest), and something called Ausbruch, which is halfway between the two.
Austria's production may be only a drop in the global bucket, but its exports are on a roll having more than doubling in the past four years. While no threat to Australia, sommeliers find Austrian wines to be extremely food friendly and they are rapidly being positioned in the best restaurants around the world. The number one white is Grüner Veltliner, an almost exclusive Austrian specialty that comes in a wide variety of styles, most notably from the northerly Wachau region.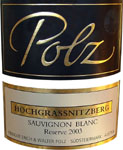 Austria excels at Sauvignon Blanc. Some of the best comes from South Syria's tiny 1,900 hc of vineyards (Südsteiermark). Base wines are called "Steirische Klassic" or Styrian Classic. The best from specific vineyards are always expensive and highly sought after. At Vienna's outstanding deluxe Imperial Restaurant - home of the world's best lobster bisque - I experience a sublime half bottle of Erich & Walter Polz 2002 Sauvignon Blanc Hochgrassnitzberg, a leading Styria producer, at 29 Euros ($44). There is something magical about their lovely, seductive, ripe white peach flavours and total absence of excessive grassiness.
South Styria also produces a dry, crisp Muskateller with spicy, honeyed, vibrant melon flavours. After tasting the fruit-driven Manfred Tement 2004 Muskateller at the ultra modern winery located right on the Slovenia border, I end up buying a bottle at the Vienna airport. Note that the remarkably comprehensive Wine & More wine & spirits store/deli/wine bar at the airport is not-to-be-missed – certainly the best I have ever seen in any airport store! My previous National Post article on Styria Sauvignon Blanc is on my Website.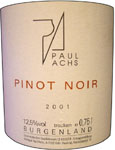 In addition to the numerous regional tastings, Willi Balanjuk of the Austrian Wine Academy organized a comparative tasting of Austria's Burgenland vs. the world's best, where five flights of three wines were served blind. One flight saw the prestigious Meo Camuzet 2001 Grand Cru Clos Vougeot put asunder by Paul Achs 2001 Pinot Noir with its sensuous, elegant, spicy, gently juicy, ripe cherry-driven flavours. Flight #3 saw Prieler 2002 Blaufrankisch Goldberg edge out the venerable Italian 2001 Sassicaia!
The latter with its elegant, still evolving, ripe plum, sandalwood and licorice flavours was no match against the well structured, juicy, zesty, plumy-beetroot-dried cherry flavours of the former. In the next flight, 2000 Chateau Margaux just edged out Gesellmann 2000 "G" (92 points). The latter is a stunning blend of Blaufrankisch and St. Laurent. Although stylistically different, the delicious, viscous, sweet but balanced, raisiny, honeyed, caramel, melon flavoured Hermann Fink 1999 TBA Chardonnay tied with 1999 Chateau Yquem.
Combine this with the dozens of great Austrian wines produced and one starts to comprehend this country's potential. Unfortunately, only a very few and rarely the best are purchased by the LCBO. One has to rely on the efforts of agents who are arbitrarily forced by the LCBO to sell them by the case only.
As for what we have in Ontario, I searched the LCBO database and came up with 5 items on the General List and 59 Vintages items. National Post readers can access my evaluations for the 35 items still remaining by using the npreader access code on my website along with more detailed recommendations. The list, along with my evaluations, are now posted on my Website. You will also find the list of 147 wines presented at the Austrian trade tasting last April, which are sorted by agent and wine type.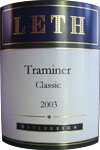 I have to mention a best buy still available in Vintages Leth Vineyards 2003 Traminer Classic 2003 (592675) at $17.95. It came out last December and has fine spicy, honeyed, slightly sweetish, ripe melon fruit aromas. The crisp, just off dry, honeyed, spicy, floral, gentle lychee flavours are versatile and user friendly! There is still considerable stock at the LCBO – go to www.winefind.ca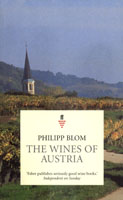 Details on the top wines tasted at the Austrian Wine Summit are currently being compiled and will be available on the website in the near future. Meanwhile, the best book on the subject is Philipp Blom 192-page paperback The Wines of Austria published by Faber (May 2000 – ISBN 0571195334). Availability is spotty with numerous selling prices. No luck at Chapters/Indigo, so try Amazon website where it sells from $16.34 to $20.13 Cnd. Anyone wishing to receive information on Austrian wines - an excellent detailed brochure is available - should contact Brigitta Samavarchian at the Austrian Trade Commission (416-967-3348 ext. 18) or email toronto@austriantrade.org

Today's
Wine of the Week
was tasted with dad in mind. There's nothing like a delicious, quaffable, red loaded with fruit. It is even better when it's homegrown, bargain priced and available on the General List. Make way for the not-to-be-missed
Cave Spring 2003 Gamay
(228569) at $12.65. Made from the Gamay grape that made Beaujolais famous, this is one of the most charming efforts I have tasted in years. Only medium-light bodied, look for juicy, ripe plum fruit flavours with a refreshingly crisp, ruby grapefruit twist on the finish. It's absolutely delicious and should be served just slightly chilled with just about anything!
2001-2002-2003-2004-2005 Tasting Note Database
Our tasting note database from December 31, 2000 to May 2005, covers every Vintages release product for the past 53 months. There are more than 9,000 notes in the database data. Just enter the name of the product, supplier name or CSPC number. Or you can search by type of wine, country of origin, even wine agent! Nothing could be easier. Also you can get information on the agent by clicking on the agent's name, as well as current LCBO store inventory by clicking on "Check LCBO Availability", which will automatically tell you the number of bottles at LCBO as of last night.
To use our winefind.ca Tasting Notes Database: click here

** For All Visitors **
Vintages July 2005 Release
To see the complete list of upcoming 162 products click here (sorted by date of release). It includes the number of cases, which wines were presented by the LCBO, our agent ID for every product,
as well as, the 10 "In Store Discoveries" for July.
You can also see it sorted by agent click here
Copyright Food & Beverage Testing Institute of Canada 2005
Prior written permission is required for any form of reproduction
(electronic or other wise) and or quotation.
Contact Michael Vaughan at
mbv@total.net