Michael Vaughan's
Montreal Insider's Tips
Excerpts of this synopsis have been taken from my articles in the National Post
This revised feature was initially prepared for the 2008 SIAL Montreal event.

Staying in Montreal

First, where to stay? Montreal has a host of fine hotels. There are many special discounted rates currently available (go to http://www.tourisme-montreal.org/). I love staying in Old Montreal and one of the nicest destinations is the Hotel Le Saint Sulpice at 414 rue St Sulpice in Vieux Montreal. In April, I was able to secure a terrific deal through Expedia.ca for only $124.80 per night plus taxes for a room that normally goes for over $200. Terrific deals pop up on www.expedia.ca - I just saw rooms at $150 a night (Superior Loft Suite) for May 28 to 30. For more information, check the hotel website - click here
A brand new property I tried out was Hotel Le Crystal located at 1100 Rue de la Montagne. With its elegant environment and convenient location, Hotel Le Crystal offers a fine array of first-class facilities and services: luxurious suites, tasty prix fixe dining, a conference centre, spacious reception rooms, urban spa, state-of-the-art gym equipment life fitness, sauna, indoor salt water pool and more. This boutique hotel, with its personalized service and intimate spaces, is sure to meet the highest standards of both corporate travellers and sophisticated weekend vacationers. Prices start at about $200 a night. For information click here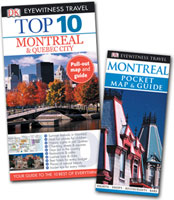 For those who wants to find out more about destinations in Montreal, there are two books worth reading on the subject. The first is the Eyewitness Travel Montreal Pocket Map And Guide (ISBN 978-0-7566-3401-8) available at Chapters-Indigo now for $7.99 ($7.59 for iRewards member). The book include a handy city map attached on its back cover, which also include the map of the Montreal's Metro transit system. The other book to check out is the Eyewitness Travel Guides Top Ten Montreal And Quebec City (ISBN 978-0-7566-3259-5) also available at Chapters-Indigo for $10.64 ($10.11 for iRewards member).
Getting to Montreal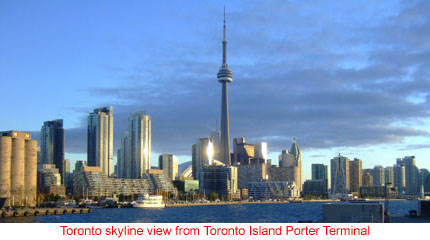 For the first time, getting to Montreal is actually fun. Last Fall I experienced Porter Airlines for the first time. I was sold – it cut my travel time and airfare cost in half. It took less than two hours from my front door in High Park. Better yet, the stress-free business-class-only-service, includes complimentary wines. The best deal is the package of ten fully transferable non-prime time flights at an astonishing $1,113 taxes included (to see the Firm Porter Pass click here).
Where to Eat in Montreal
There are some great restaurants in Vieux Montreal district. For instance, the tiny, ultra-hip bistro Garde Manger opened just over a year ago. It serves stunningly fresh seafood, including delectable oysters from New Brunswick. I had a wonderful rare tuna steak on a perfectly cooked bed of delectable lemon risotto - good to the last grain.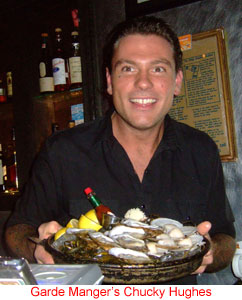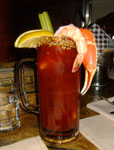 Wine prices tended to be on the high side of the equation, so I opted for an enormous clamato based rendition of the Bloody Caesar that is not to be missed. Created by master shucker, co-owner and chef extraordinaire Chucky Hughes it features 3-ounces of vodka, an explosive hot tangy spice rim with giant shrimp and succulent crab leg perched precariously on the lip. Two of these and you're under the table. As the evening progresses, the place really starts hopping. So if tabletop dancing isn't your cup of tea, you might aim to leave by 11.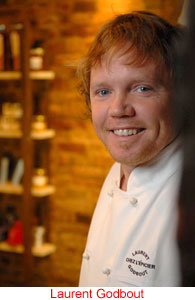 Those searching for what I consider to be the best weekday lunch in Canada are strongly advised to book a seat at classy Chez L'Epicier, a wonderful establishment again in Vieux Montreal - 311 Rue St. Paul East. The food is truly spectacular and reasonably-priced, with a complete lunch running under $20. The chef/owner Laurent Godbout is one of the most talented chefs in the country. Call 514-878-2232 or to visit the their website click here
One of my favourite destinations in Montreal is Le Club de Chasse et Peche, which is located on 423 St-Claude, just below Notre-Dame and a couple of streets east of St-Laurent also in Vieux Montreal. There is virtually no signage (call 514-861-1112). As one of the judges for En Route magazine's annual new dining awards, Chasse et Peche was (by far) my top destination for 2005 (click here to see a restaurant review).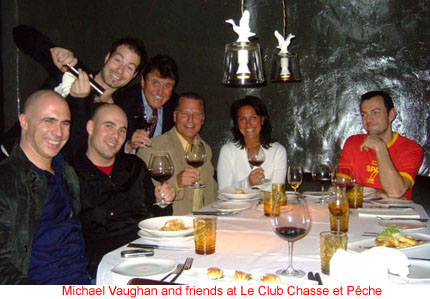 Montreal for Foodies
Another great discovery is Le Marche des Saveurs du Quebec, an outstanding boutique beside the wonderful Jean Talon market. It opened in July 2000 as a showcase for Quebec producers. The concept was simple: allow producers to present their products on a consignment basis. It gave them a window to present their wares, interface with the public and do tastings.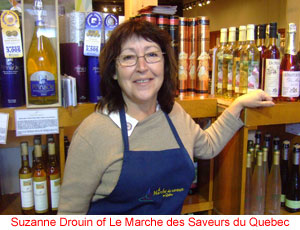 Of course, we all know that Quebec cheese is world class and Marché has over 250 different Quebec artisanal selections. And what better with cheese than wine. Marché has a remarkable wine section featuring 52 producers and 265 products. Store owners Suzanne and Tony Drouin explain that the wine section is now separated from the rest of the store and that the space is leased by the MSQ directly to wine producers.
The results have been staggering. While Quebec wine accounts for less than 1% of annual SAQ sales (approximately 160,000 units) in the entire SAQ chain of 450 retail outlets, Le Marché alone sells 40,000 units in its miniscule 800 sq. ft. outlet. Proof positive that there is nothing like innovative free enterprise to help local producers reach their audience.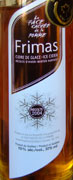 I managed to do a comparative tasting of Quebec's sweet liquid gold - cidre de glace. With more than a dozen producers, this stuff can give Ontario icewine a real run for the money. Of course, it's almost impossible to find the iced cider at the LCBO. My highlight was a stunningly delicious Frimas La Face Cachée de la Pomme 2004 which retails in the $40 range (per 375 ml bottle). It's simply devine. Another very sound, albeit less expensive choice (under $25), is Leduc-Piedimon 2005 Recolte d'Automne Cidre de Glace, which is made from Spartan and Empire apples. To visit the Marché website click here.