Montreal Passion Vin 2007
October 26-27, 2007
Visit: www.montrealpassionvin.ca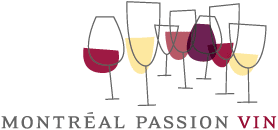 This annual fund raiser for the Rosemont Hospital Foundation has moved to the top rung on international wine calendars. And this year Montreal will for two days again celebrate its position as a capital of wines to welcome 10 personalities from amongst the world's leading wine producers. In partnership with the SAQ, the event will feature wines selected from France, Italy, California, and Australia. It will be staged at the Hotel Bonaventure Hilton Montreal.
To register and see the event programs click here.
To make a reservation at the Bonaventure Hilton Montreal where the event is held click here.
Let me recommend
to get you to Montreal, which has convenient, inexpensive, full service flights from Toronto Island. Weekday departures from Toronto at 6:45 am, 8:55 am, 12:15 pm, 2:25 pm, 5:55 pm and 7:55 pm,
and Sunday return flights from Montreal at 2:15 pm, 4:15 pm 5:55 pm and 7:35 pm. For more information visit www.flyporter.com
To see Michael Vaughan's coverage of last year's event in the National Post click here.
For more in-depth coverage of the 2006 event click here.