Best Vintage Destinations
By Michael Vaughan
Weekly National Post Columnist
It has been an exciting year with plenty of ups and down. Trying to pinpoint "the best" is always an extremely difficult task. It really depends on one's discretionary income and personal likes and dislikes. An abstaining golfer might not have all that much fun on one of my forays.
#1 • New Zealand
Having said that, with over 100,000 air miles under my belt, the most exciting destination would have to be New Zealand. Perhaps it is my fondness for the American Pacific Northwest coast (Washington, Oregon and northern California), but my two-week visit to this stunning land was without parallel.
Let me kick off with Air New Zealand, which partners with Air Canada. I found the service and especially the food on business class to be exceedingly good. Everything from the cutlery, specially designed colourful dishes, indigenous ingredients and creative recipes made the in-flight cuisine special. (Click Here to see an article I wrote on New Zealand cuisine). They don't have full recliners, but then neither does AC. I made the mistake by booking a flight that stopped in Fiji (meaning that we had to get off the plane) as opposed to flying non-stop directly from LA to Auckland. Given the dire straights of the airline, I hope that the level of service we experienced is being continued.

We purchased four NZ guides for the trip - Fodor's, Frommer's, the Rough Guide and Lonely Planet. Perhaps the 10th edition of the latter was the most informative - all 720 pages of it. Unfortunately, none of them mentioned the recently-opened and recommended Mirvac property in Aukland The Sebel Suites, which is comfortable and very quiet. Best yet it has rooms was facing the waterfront where all the America's Cup action takes place. It and the nearby companion property Quay West Suites are Auckland's only all-suite on the waterfront (to see The Sebel Suites Click Here).

The resort highlight of the past year, however, was our two-day stay at the Lodge at Paratiho Farms on the South Island in the Nelson wine region. It would be an understatement to say that the tasteful luxury and comfort offered in the three "cottages" - each with two spacious private suites – could be surpassed (Click Here to see their website). This large pastoral farm with its herds of sheep has extensive on-site recreation facilities and has its own special chef who prepares outstanding meals for guests. The town of Nelson is itself a gem and houses a tremendous arts center and numerous galleries. The surrounding area has excellent wineries, culinary specialties and an unforgettable coastline, including marvelous Abel Tasman National Park. Driving on the "wrong" side of the road might take a little getting used to but it is a very worthwhile investment.
Note that the Lodge at Paratiho Farms is one of 26 luxury lodges and sporting retreats in the New Zealand Lodge Association (Click Here to see their website). While I have not had the window to visit other properties in this group, judging by what I experienced at Paratiho Farms I am sure that numerous other gems exist. The thing about all these properties is their size – they vary from 4 to 20 bedrooms and have a wonderful personal touch that is often missing when traveling abroad.
#2 • South Africa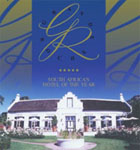 During a one-week visit to South Africa in February 2002 for the biannual wine fair I was headquartered at the luxurious Grande Roche Hotel in Paarl (Click Here to see their website). This Relais & Chateaux member has become a hospitality legend for having won a formidable array of awards and culinary accolades since opening in January 1992. The setting is gorgeous - on a gentle slope overlooking vineyards and rugged mountains. There is the manor house and a sprawl of individually decorated suites in various restored historical buildings. It was declared a national monument in 1993. Located in the hotel is the award-winning Bosman's Restaurant. Executive chef Frank Zlomke signature dishes (i.e. Thai-style ostrich-papaya salad with shrimps and curry dressing; loin of Karoo lamb complemented by buffalo mozzarella, gratinated roquette-pepper ragout and Provencale jus) have won accolades from critics around the globe. Sommelier Theo Kurtz sources Cape wines at release and cellars them until ready to drink. His wine list features some 320 wines (mostly South African), while the cellar holds 6,500 bottles of 850 wines (Click Here to see a magazine article I wrote on South African wines).
Just a note on travel to South Africa. I flew business class via New York City on South African Airways to Cape Town with two changes of planes (the one in NYC actually entailed a change of airports to JFK plus another in Johannesburg). All planes have a stop for refueling in Cape Verde (meaning that you have to get off the plane) on the return flight. Unfortunately, my flight also stopped on the way over, which still happens on the Monday and Wednesday flights out of NYC. In my opinion, this was definitely not the way to go! Worse yet, the business class seats had been erroneously advertised as full recliners and yet some of them could not be fully reclined. Those that could were restricted by the fact that every seat was filled on the return flight.
South African Airways has apparently improved things but I strongly suggest that you call and get all the details on your flight and seat along with the name of the agent you are talking to in case you have been given incorrect information. More and more, it seems that the customer is always wrong when dealing with airlines (call 1-800-722-9675). My solution would be to plan a restful stopover in Germany and then travel direct to Cape Town with Lufthansa German Airlines (1-800- 563-5954), which offers impeccable and reliable business class service.
#3 • Miami Putting on the Ritz
Update: Check out the Air Canada Winter Seat Sale running to January 20th 2003
$321 to Toronto/Miami return
(Click Here to see the fares)

My short two-day stay at the new Key Biscayne Ritz-Carlton was the highlight of a quick trip to Miami where I reviewed the outstanding Roy Lichtenstein: Inside/Outside exhibition at MoCA. (Click Here to see notes on the exhibition). Of six properties visited, this was by far most suited to discerning travelers. It is Miami's newest oceanfront spa resorts, located on the unobstructed east side of beautiful Key Biscayne. Located just five miles from downtown Miami via a scenic causeway, the focus is on a spacious, elegant and thankfully quiet waterfront, complete with scenic, well-maintained, large swimming pools. It centerpieces a 20,000 square-foot ocean view spa, an 11-court tennis garden (10 soft clay courts and one hard court) and an oceanfront Ritz Kids pavilion. The resort is five minutes from Crandon Park Golf Course, a ten-minute drive to the fashionable South Beach area and only 20 minutes from the Miami International Airport. The Sunday brunch was a definite highlight offering an amazing variety of well-prepared dishes and an extensive seafood bar. (Click Here to see Ritz-Carlton Key Biscayne resort details).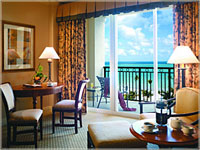 The culinary highlight of the trip was at the stunningly designed Azul Restaurant. It is located in the new super deluxe and extremely expensive Mandarin Oriental Miami, a waterside business hotel located on the downtown Brickell Key "island" hosting lovely southern views. Chef Michelle Bernstein works wonders in the kitchen. Certainly nothing I tasted in the various highly touted South Beach restaurants could even come close to matching her prowess. (Click Here to see details on Azul).
#4 • British Columbia: Okanagan Valley & Vancouver Island
Air Canada's Toronto-direct seat sale to Vancouver Island (as in Victoria) and even occasionally the Okanagan Valley (as in Kelowna) provide excellent short term get-aways. That is, of course, if the AC website is willing to cooperate and take your booking - it refused on a number of occasions when I have clicked on to their website.
Update: Check out the Air Canada Winter Seat Sale running to January 20th 2003
$403 Toronto/Kalona return and $423 Toronto/Victoria return
(Click Here to see the fares)
While my Okanagan Valley visit has been covered in a recent article (Click Here to see my feature), the updated piece on Victoria will be appearing shortly. In addition to the well-known Sooke Harbour House, which is universally recognized as one of Canada's leading resort destinations, I am anxious to add a terrific restaurant Deep Cove Chalet. I first discovered owner/chef Pierre Koffle and his exquisite retreat two decades ago. As the chief judge of the Canadian Travel-Holiday Dining Awards, Deep Cove Chalet was an award winner. What a joy to see that Pierre's food still excels after all these years. A luncheon there last August with winemaker Eric Von Krosigk was one of this year's fine dining moments (Click Here to see the menu). The superb but straightforward classic French cuisine rivals the best in Canada (including Montreal's justly famous Toqué) - whether it is foie gras, an omelet or just a tarte tatin. The Chalet is a forty-minute drive from downtown Victoria and just a few minutes from the B.C. Ferry Terminal. Needless to say, the stunning scenery made our outdoor dining experience simply sublime.
#5 • Mendoza, Argentina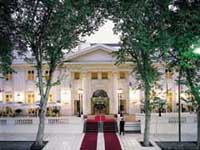 I made my two-week foray to Mendoza just prior to Argentina's economic collapse. In fact, my Buenos Aires-Rio-Toronto Air Canada flight departed just the day before the rioting broke out in early December. I had been warned that there wasn't a decent hotel in Mendoza, which I am happy to report, is far from the truth. In fact, Mendoza has a stunning property the spanking new Park Hyatt Mendoza that will rival the best anywhere in the world. This luxurious five star hotel with its beautifully restored 19th-century Spanish colonial façade is centrally located facing the Plaza Independencia. Park Hyatt Mendoza, The 185 luxuriously appointed rooms come complete with cable television, access to high speed Internet, quiet individual air-conditioning, three telephones and two lines, executive bar and turndown service. There are two bars, a complete spa with massage, sauna, jacuzzi, gym and climate controlled outdoor pool. Better yet the hotel has three restaurants: Bistro "M" featuring Mendocinean food, Las Terrazas de la Plaza cafe and El Patio Cafe Y Patisserie. The main dining room Bistro "M", which is just off to the left of the lobby has arguably the best food in town and extremely reasonable prices. The wine list showcases Argentina's finest wine selection in a full two-storey display. I was particularly excited to discover that the Patisserie by the pool carried a large variety of fine regional food specialties, which made great gifts to take home. (Click Here to visit the hotel).
The hotel can make arrangements for a wide range of outdoor activities such as fishing, biking, trekking and skiing. The Regency Casino Mendoza, which has two floors of gaming tables and slot machines is located right on the property. It is only 15 minutes to the international airport or to the Mendoza vineyards and 90 minutes from major ski resorts. And don't forget that while Mendoza is about 700 miles northwest of Buenos Aires, it is only 235 miles from Santiago.
Toronto & Region

The top Toronto hotel still is the elegant, posh Four Seasons Hotel on Avenue Road conveniently located mid-downtown adjacent to a wide variety of tourist destinations, restaurants and fine shopping. (Click Here to visit the hotel). I have not recently visited the award winning hotel restaurant, which has had its share of ups and downs. Dining destinations are covered on my timeoutoronto.ca website (Click Here to visit the website). The hot newly opened TD Centre Bymark Restaurant still seems a tad uneven, especially given the crowds, noise and prices. Susur still is probably the most interesting place in town with a $90 five-course tasting menu (remember you can ask to have it served backwards). Unfortunately, the wine selection at the latter is not up to snuff as a variety of disappointing Ontario wines are featured on the list.
As for destinations in the nearby Niagara wine country, you might refer to my National Post column (Click Here to visit the feature) covering this region, which is rapidly growing in popularity.
See my next update in mid-February
Feedback is appreciated • please email me at mbv@total.net