Recent Articles
May. 21 - Toasting Queen Victoria ~ With Discounted Reds! ~ Grab these bargains while they last!
May. 21 - Bottle of the Week
Putting a little spice into your Victoria Day Long Weekend
May. 14 - Sprouting Up Like Tulips ~ Excellent 2003 Whites at Vintages
May. 14 - Bottle of the Week
2004 Terra Boa Blanco ~ A Bargain Priced Springtime White from Portugal
May. 7 - Prince Edward County's Field of Dreams ~ Long Dog Winery - No Long Shot!
May. 7 - Bottle of the Week
For Mother's Day! ~ Veuve Clicquot La Grande Dame Champagne ~ A priceless bubbly for that priceless mother!
Apr. 30 - An increasingly confusing Vintages catalogue ~ Hard to find what you are looking for & plan purchases
Apr. 30 - Bottle of the Week
Rosemount Shiraz on a Roll!
Apr. 23 - The Wine Glass ~ The Key to getting the most out of your wines
Apr. 23 - Bottle of the Week
Making the Rum Transition
Apr. 16 - All we are saying is give pink a chance
Apr. 16 - Bottle of the Week
Talus 2002 Zinfandel ~ A Zinfully Good Anti-Luddite!
Apr. 9 - Don't be screwed by a bad cork ~ Screwcaps are the answer
Apr. 9 - Bottle of the Week
2003 Mouton Cadet Blanc ~ Canada's best selling white Bordeaux
Apr. 2 - From Fizz to Pop ~ Putting some zip into Spring
Apr. 2 - Bottle of the Week
Underberg the Ultimate Digestif! ~ Only a full bottle will do!
Mar. 26 - Canada's #1 Wine Festival 27th ~ Vancouver Playhouse International Wine Festival
Mar. 26 - Bottle of the Week
Smooth & Satisfying ~ A Luxury French Brandy at a Great Price!
Mar. 19 - German Classics for Easter
Mar. 19 - Bottle of the Week
A liqueur that Grows on Trees!
Mar. 12 - Ontario's Vinous Peaks ~ Great quality directly from the wineries!
Mar. 12 - Bottle of the Week
A Special Treat for St. Patrick's Day
Mar. 5 - Today at Vintages ~ Chardonnays starting at $8.95!
Mar. 5 - Bottle of the Week
Cynar - A One-of-a-Kind Aperitif
Feb. 26 - Cuvée Throws a Curve Ball at Ontario's Best
Feb. 19 - A Vintages Jackpot for Shiraz Fans ~ But Slim Pinot Noir Pickings
Feb. 19 - Bottle of the Week
It's Canadian fortified and exudes sweet raspberries: Southbrook Framboise - Summer in a Bottle
Feb. 12 - The Apple of my Heart ~ Calvados to the Rescue
Feb. 12 - Bottle of the Week
It's French, it's spirited and a little bit sexy: Mon dieu, it's Green Chartreuse
Feb. 5 - Uncovering the Best Classics Red
Jan. 29 - Ooh la la! ~ Fine French Values that Won't Break the Bank
Jan. 22 - Frisky Whisky for Robbie Burns Revellers
Jan. 15 - Pinotage Perfection ~ Exploring South Africa's Sole Indigenous Grape
Jan. 8 - Gems from Chile ~ Be selective in today's Vintages Release


Get all the evaluations for the February Release
Subscribe to Vintage Assessments today by Clicking Here
This not-for-profit website is dedicated to the discerning reader!

Pinotage Perfection
Exploring South Africa's Sole Indigenous Grape

© Michael Vaughan 2005


National Post Weekly Wine & Spirits Columnist
Saturday, January 15, 2005

LIVE WINE LINK
www.winefind.ca
(CLICK ON THE NAME - All listings are automatically linked to the LCBO database)
If there is a product that interests you, just click on the name below and you will instantaneously connected with the LCBO database. The product will appear in blue and all you have to do is click on the name again and then the next screen will provide details along with the store search. Just click on store search. The number of bottles in each store is updated nightly. You should call the store first to see if stock still remains (each store phone number is listed).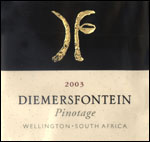 I am opening my last beloved bottle of one of my favourite reds. Miraculously it is being released in Vintages next Saturday. If had only a single wine to drink from the entire January release, this would be it. Of course, there is a bit of deja vu here since Diemersfontein 2003 Pinotage (995241) was originally an unsold leftover from the Young Winemakers event held in Toronto in November 2002. I went nuts when I first tasted it (at a mere $19.95) with its enormous, chocolate-coffee bean nose and rich, smoky, complex flavours dripping with freshly baked ripe black cherries.
Well its back and just as tasty and more accessible than ever with harmonious, creamy, smoky-tinged, lush black cherry flavours. While the price has been bumped up to $21.95, the only thing that bugs me is the small quantity ordered - only 112 cases of six, despite the wave of rave reviews. It is the "must buy" of the month!
Of course, one person's feast is another's fodder. In the past, some have not been overly keen on this varietal. When made from under ripe or over-cropped grapes, Pinotage can be disappointing. Just as there are lots of terrible tasting poorly made Chardonnay and Merlot out there, it is an injustice to tar and feather the grape as the culprit. When it's good, it is very, very good indeed. And when it's great, it is sublime. Just ask any of the tens of thousands of Pinotage fans who have formed the worldwide Pinotage Club (see www.pinotage.org).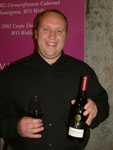 The 183-hc Diemersfontein estate is situated in the picturesque town of Wellington, a 45-minute drive north of Cape Town in the Paarl district of the Coastal wine region. It is owned by David Sonnenberg, whose grandfather purchased it in 1941. Initially a fruit farm and dairy, it was not planted with vines until 1971. The grapes were sold to other producers until just four years ago when a new facility was custom-built and young winemaker, Bertus Fourie was hired, who at 27 year of age handcrafted Diemersfontein's maiden vintage.
The Birth of Pinotage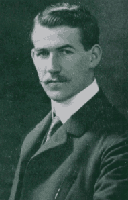 Pinotage is very much a newcomer to the wine scene. It was Professor Abraham Izak Perold (call him Papa Pinotage) who in 1925 brushed a flower of the "Hermitage" vine (aka Cinsaut - an easy-to-grow, prolific, disease-resistant variety from the Rhone) against a Burgundian Pinot Noir pollen donor. We may never know whether such rampant grape sex in the garden of his official U of Stellenbosch residence was condoned, but we do know that four seedlings were produced from these two French thoroughbreds.
Two years later, when Perold moved to KWV, he abandoned his experiment, leaving the seedlings to survive on their own. Eventually the university dispatched a team to tidy up the overgrown garden and empty abode. That might have meant the end to Pinotage, except for being miraculously saved by a young lecturer. It seems that Dr. Charlie Niehaus just happened to be cyclingpast Perold's former residence as the clean-up squad entered the garden. Niehaus ended up saving the four vines. For more history, and there is a lot more, check out the South African Pinotage website (see www.pinotage.co.za).
Growing and Making Pinotage
Pinotage is an early ripener and can be quite prolific. In wetter years, trellised Pinotage vines can easily bear up to 15 tons/ha, even on dry land! For fuller bodied wines, however, yields of 32-52 hl/ha (equivalent to 5-8 tons/ha) would be the order of the day. Also, in South Africa it is the older bushvines that often produce the best flavours. The red soils on the foothills of mountains with a high percentage of clay and good water retention are ideal for unirrigated bushvines.
One of things that makes Pinotage challenging to make is the juxtaposition of oak on an already boldly flavoured wine. It is interesting to discover that Bertus Fourie, whose master's thesis focused on red wine maturation and wood extraction, has used innerstave methodology vs. traditional barrels. Instead of aging in barrels, he fermented the reds in tanks fitted with very fine French innerstave. The wine also goes through its malolactic fermentation on the innerstave after which it was racked and then matured in contact with the oak for another 6 months after which it was bottled.
South Africa's first Pinotage did not hit the shelves until 1961 with the launch of Lanzerac 1959 Pinotage! Early editions were a bit shaky, but in recent years, huge improvements have been made qualitatively. As South Africa's only indigenous grape, it currently represents 6% of the total plantings. It is also grown in a number of other countries, albeit in very small quantities, including New Zealand and even California. Being such a small piece of the world's grape pie means that most have never heard of it. Being so insignificant, the marketing funds required to raise this grape's visibility do not exist.
Pinotage in Ontario

Here in Ontario, we have had 34 releases in Vintages since December 2000, many of which have been very good (the full list and ratings are available on the FBTI website data base). Meanwhile, LCBO general list offerings have struggled with only three brands. At present, three different vintages are available - 2001 to 2003. For beginners I would recommend Two Oceans 2003 Pinotage (592378) at $9.45, which is the youngest and least expensive. It has an intense deep purple colour and youthful, plumy nose with hints of sandalwood, red apple and just a touch of garrigue. It is quite well structured and dry but not austere with plummy, red cherry flavours leaning in an international style. For information click here

.

At a few dollars more, Zonnebloem 2002 Pinotage (345306) at $13.05 would be my first choice. With 14% alcohol, the nose shows some spiciness with plumy, baked cherries and hints of sandalwood. It is solid, dry and quite harmonious with rather tangy, bright dried red cherry flavours. Versatile, showing well and at peak, it finishes with some tangy acidity. For information click here
It is that last thing, acidity that makes Pinotage so ageable. I blind tasted a half bottle last April with South African wine importer/specialist Fred Lamprecht. "How old," he asked. "I don't know, maybe 8 years; it's mature but it still has some plumy, strawberry fruit," I replied. It turned out to be an inexpensive Oude Libertas 1972 Pinotage that was still perfectly alive and kicking after 32 years. My sage advice, however, is that it tastes delicious now - don't wait, drink it!
Upcoming: The annual LCBO Vintages Sale (about 130 items) will be posted on our website Friday, January 21 (the sale starts Saturday, January 29).
Also on

Friday, January 21

, the

UNICEF Tsunami Relief Benefit Dinner

takes place at the Superior Restaurant featuring the wines of Henry of Pelham Winery. It starts at 6:00 pm and costs $75. For information/reservations, call Superior Restaurant (253 Yonge Street) at 416-214-0416. The menu will be posted as soon as it is available.
2001-2002-2003-2004 Tasting Note Database
Our tasting note database from December 31, 2000 to December 2004, covers every Vintages release product for the past 47 months. There are more than 8,000 notes in the database data. Just enter the name of the product, supplier name or CSPC number. Or you can search by type of wine, country of origin, even wine agent! Nothing could be easier. Also you can get information on the agent by clicking on the agent's name, as well as current LCBO store inventory by clicking on "Check LCBO Availability", which will automatically tell you the number of bottles at LCBO as of last night.
To use our winefind.ca Tasting Notes Database: click here

** For All Visitors **
Vintages February 2005 Release
To see the complete list of upcoming 203 products click here (sorted by date of release). It includes the number of cases, which wines were presented by the LCBO, our agent ID for every product,
as well as, the 9 "In Store Discoveries" for February.
You can also see it sorted by agent click here
Copyright Food & Beverage Testing Institute of Canada 2005
Prior written permission is required for any form of reproduction
(electronic or other wise) and or quotation.
Contact Michael Vaughan at
mbv@total.net