Recent Articles
Jun. 4 - Bodega Norton 2004 Chardonnay ~ A too-good-to-be-true Argentina gem from the General List ~ LCBO Price Book now a thing of the past!
Jun. 4 - Bottle of the Week
Codorniu Brut Clasico ~ Puts some sparkling Classics to shame
May. 28 - A Trip in a Glass ~ Fine wines to transport you to far-away destinations
May. 28 - Bottle of the Week
Zoom-Zoom-Zoomers! ~ Campari: Seeing Red ~ Setting the World Ablaze
May. 21 - Toasting Queen Victoria ~ With Discounted Reds! ~ Grab these bargains while they last!
May. 21 - Bottle of the Week
Putting a little spice into your Victoria Day Long Weekend
May. 14 - Sprouting Up Like Tulips ~ Excellent 2003 Whites at Vintages
May. 14 - Bottle of the Week
2004 Terra Boa Blanco ~ A Bargain Priced Springtime White from Portugal
May. 7 - Prince Edward County's Field of Dreams ~ Long Dog Winery - No Long Shot!
May. 7 - Bottle of the Week
For Mother's Day! ~ Veuve Clicquot La Grande Dame Champagne ~ A priceless bubbly for that priceless mother!
Apr. 30 - An increasingly confusing Vintages catalogue ~ Hard to find what you are looking for & plan purchases
Apr. 30 - Bottle of the Week
Rosemount Shiraz on a Roll!
Apr. 23 - The Wine Glass ~ The Key to getting the most out of your wines
Apr. 23 - Bottle of the Week
Making the Rum Transition
Apr. 16 - All we are saying is give pink a chance
Apr. 16 - Bottle of the Week
Talus 2002 Zinfandel ~ A Zinfully Good Anti-Luddite!
Apr. 9 - Don't be screwed by a bad cork ~ Screwcaps are the answer
Apr. 9 - Bottle of the Week
2003 Mouton Cadet Blanc ~ Canada's best selling white Bordeaux
Apr. 2 - From Fizz to Pop ~ Putting some zip into Spring
Apr. 2 - Bottle of the Week
Underberg the Ultimate Digestif! ~ Only a full bottle will do!
Mar. 26 - Canada's #1 Wine Festival 27th ~ Vancouver Playhouse International Wine Festival
Mar. 26 - Bottle of the Week
Smooth & Satisfying ~ A Luxury French Brandy at a Great Price!
Mar. 19 - German Classics for Easter
Mar. 19 - Bottle of the Week
A liqueur that Grows on Trees!
Mar. 12 - Ontario's Vinous Peaks ~ Great quality directly from the wineries!
Mar. 12 - Bottle of the Week
A Special Treat for St. Patrick's Day
Mar. 5 - Today at Vintages ~ Chardonnays starting at $8.95!
Mar. 5 - Bottle of the Week
Cynar - A One-of-a-Kind Aperitif
Feb. 26 - Cuvée Throws a Curve Ball at Ontario's Best
Feb. 19 - A Vintages Jackpot for Shiraz Fans ~ But Slim Pinot Noir Pickings
Feb. 19 - Bottle of the Week
It's Canadian fortified and exudes sweet raspberries: Southbrook Framboise - Summer in a Bottle
Feb. 12 - The Apple of my Heart ~ Calvados to the Rescue
Feb. 12 - Bottle of the Week
It's French, it's spirited and a little bit sexy: Mon dieu, it's Green Chartreuse
Feb. 5 - Uncovering the Best Classics Red
Jan. 29 - Ooh la la! ~ Fine French Values that Won't Break the Bank
Jan. 22 - Frisky Whisky for Robbie Burns Revellers
Jan. 15 - Pinotage Perfection ~ Exploring South Africa's Sole Indigenous Grape
Jan. 8 - Gems from Chile ~ Be selective in today's Vintages Release


Become A FBTI Supporter Today By Clicking Here
This not-for-profit website is dedicated to the discerning reader!

The Apple of my Heart
Calvados to the Rescue

© Michael Vaughan 2005


National Post Weekly Wine & Spirits Columnist
Saturday, February 12, 2005

LIVE WINE LINK
www.winefind.ca
(CLICK ON THE NAME - All listings are automatically linked to the LCBO database)
If there is a product that interests you, just click on the name below and you will instantaneously connected with the LCBO database. The product will appear in blue and all you have to do is click on the name again and then the next screen will provide details along with the store search. Just click on store search. The number of bottles in each store is updated nightly. You should call the store first to see if stock still remains (each store phone number is listed).

I remember when very young, I had a crush on one of my teachers. Unfortunately, giving her an apple just didn't cut it. Were I older and wiser, I would have gifted her one of my favourite elixirs - the very essence of apple itself – Calvados. This unique brandy is made exclusively from apples - a lot of apples - 12 kilos per single bottle. I am sure that this would have captured her heart!
My first Calvados experience happened in Normandy when I was brought a mid-meal glass of Calvados, which was to be shot down as a palate refresher. I was being encouraged by some no so sober fellow diners and thought they were calling out "true Norman". I replied "it's Michael, not Norman." In fact, they were yelling "trou Normand" which translates into Normand hole and describes what happens to your stomach (or perhaps what you might fall into) after sloshing back a glass or two.
That trip kindled my first love affair with the king of apple brandies. While all kinds are produced, only Calvados comes from Normandy. Just like a Grand Cru Bordeaux, the very best is designated as Pays d'Auge. There are strict controls on the specific apples that can be used and on the production process. It can only be double distilled in the traditional Charentais (Cognac) pot stills, which adds substance, complexity and flavour. Just like a great Cognac, Pays d'Auge is aged in oak barrels for many years and only the date of the youngest spirit may be mentioned on the label.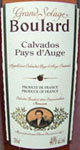 All of this came to mind as Valentine's Day approaches. Candy may be dandy, but for a change of pace, let me suggest a starter of Calvados on crushed ice or on the rocks. It may sound a little strange, but this drink is a perfect palate refresher. It also happens to be surprisingly delicious and works perfectly throughout the meal (although some might prefer it with Ginger Ale or tonic water). Fortunately, an excellent Calvados is widely available on the LCBO general list: Boulard Calvados Pays d'Auge Grand Solage (CSPC 296228) at $44.05. Not only does it have a great nose focused on ripe red apples with hints of pear, but also it seems ever so faintly sweet and well balanced on the palate with lingering, refined, ripe apple flavours. Be forewarned, it is amazingly addictive.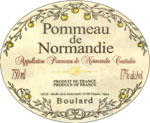 By coincidence, a number of other Boulard treasures are now available - enough to warm the cockles of the chilliest of hearts. First, without any fanfare, Vintages recently released Boulard Pommeau de Normandie (745505) $20.95. This rare starter (it is only 17% alcohol) is made much like a Pineau de Charentes (Cognac and grape juice), but in this case with Calvados and freshly squeezed apples (over 120 varieties are used). Golden amber in colour, it has an intense, sweet, spicy, apple cider nose and slightly sweet, spicy, baked apple flavours. Try it chilled as an aperitif or perhaps mid afternoon with some tangy 2-year-old Balderson Cheddar. Only 192 bottles were purchased and it even comes with a free mini sample of Boulard Calvados Pays d'Auge Grand Solage! It is a shame that the Vintages Catalogue forgot to mention the free mini!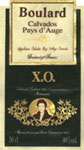 My best buy recommendation for discerning palates is Boulard Calvados Pays d'Auge XO (960773) at $64.95 for 500 ml, which is a perfect after-dinner sipper and/or on the rocks prior or during dinner. Here is a special something that puts many Cognacs to shame. This medium deep golden amber coloured elixir has a lovely, caramel tinged, sweet, essence of ripe baked apple nose. The marvelous, dry, gently viscous, essence of ripe apple flavours lingers perfectly on the palate with just a touch of caramel. A meager 55 cases were released last Saturday in Vintages meaning you will have to move quickly to snag this one.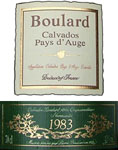 Of course, true greatness doesn't come cheaply. If you want to share the ultimate with your Valentine, unfortunately you will have to wait for your Classics delivery sometime in March. Only 30 bottles of Boulard Calvados Vintage 1983 (987859) at $179 (700 ml) were available for the 2005 Winter Classics. Having recently sampled this item (43% alcohol), it combines elegance with generous, honeyed, autumnal fallen leaf, vanilla tinged, dried apple flavours with hints of white pepper on the finish.
Unfortunately the upcoming LCBO's

Tour de France

tasting event

next Wednesday,

February 16 at Arcadian Court from 6:30 to 9:00 pm is now sold out. Only 300 tickets ($65 per person) were available. It is disappointing that the LCBO couldn't make more tickets available. Considering that many French principals have traveled to Toronto to participate in this event, it is too bad that the LCBO didn't bother trying organizing a second afternoon venue so as to accommodate the hundreds of disappointed French wine fans. Those wishing to see the full list of wines served along with price details - including the 25 "exclusive" event items –

click here

. With respect to the latter, most of these special order wines will being showing up in Vintages at some future date meaning that it isn't critical to place your orders at the event – unless you happen to fall in love with one of the features. It would have been great to actually have the wines on site for take away, say with sales limited to a bottle or two. I am sure there will be many attendees who would be willing to buy a bottle on the spot, but will not be bothered to place an order for a single bottle for future delivery.
2001-2002-2003-2004-2005 Tasting Note Database
Our tasting note database from December 31, 2000 to January 2005, covers every Vintages release product for the past 48 months. There are more than 8,000 notes in the database data. Just enter the name of the product, supplier name or CSPC number. Or you can search by type of wine, country of origin, even wine agent! Nothing could be easier. Also you can get information on the agent by clicking on the agent's name, as well as current LCBO store inventory by clicking on "Check LCBO Availability", which will automatically tell you the number of bottles at LCBO as of last night.
To use our winefind.ca Tasting Notes Database: click here

** For All Visitors **
Vintages March 2005 Release
To see the complete list of upcoming 199 products click here (sorted by date of release). It includes the number of cases, which wines were presented by the LCBO, our agent ID for every product,
as well as, the 30 "In Store Discoveries" for March.
You can also see it sorted by agent click here
Copyright Food & Beverage Testing Institute of Canada 2005
Prior written permission is required for any form of reproduction
(electronic or other wise) and or quotation.
Contact Michael Vaughan at
mbv@total.net