Recent Articles
May. 21 - Toasting Queen Victoria ~ With Discounted Reds! ~ Grab these bargains while they last!
May. 21 - Bottle of the Week
Putting a little spice into your Victoria Day Long Weekend
May. 14 - Sprouting Up Like Tulips ~ Excellent 2003 Whites at Vintages
May. 14 - Bottle of the Week
2004 Terra Boa Blanco ~ A Bargain Priced Springtime White from Portugal
May. 7 - Prince Edward County's Field of Dreams ~ Long Dog Winery - No Long Shot!
May. 7 - Bottle of the Week
For Mother's Day! ~ Veuve Clicquot La Grande Dame Champagne ~ A priceless bubbly for that priceless mother!
Apr. 30 - An increasingly confusing Vintages catalogue ~ Hard to find what you are looking for & plan purchases
Apr. 30 - Bottle of the Week
Rosemount Shiraz on a Roll!
Apr. 23 - The Wine Glass ~ The Key to getting the most out of your wines
Apr. 23 - Bottle of the Week
Making the Rum Transition
Apr. 16 - All we are saying is give pink a chance
Apr. 16 - Bottle of the Week
Talus 2002 Zinfandel ~ A Zinfully Good Anti-Luddite!
Apr. 9 - Don't be screwed by a bad cork ~ Screwcaps are the answer
Apr. 9 - Bottle of the Week
2003 Mouton Cadet Blanc ~ Canada's best selling white Bordeaux
Apr. 2 - From Fizz to Pop ~ Putting some zip into Spring
Apr. 2 - Bottle of the Week
Underberg the Ultimate Digestif! ~ Only a full bottle will do!
Mar. 26 - Canada's #1 Wine Festival 27th ~ Vancouver Playhouse International Wine Festival
Mar. 26 - Bottle of the Week
Smooth & Satisfying ~ A Luxury French Brandy at a Great Price!
Mar. 19 - German Classics for Easter
Mar. 19 - Bottle of the Week
A liqueur that Grows on Trees!
Mar. 12 - Ontario's Vinous Peaks ~ Great quality directly from the wineries!
Mar. 12 - Bottle of the Week
A Special Treat for St. Patrick's Day
Mar. 5 - Today at Vintages ~ Chardonnays starting at $8.95!
Mar. 5 - Bottle of the Week
Cynar - A One-of-a-Kind Aperitif
Feb. 26 - Cuvée Throws a Curve Ball at Ontario's Best
Feb. 19 - A Vintages Jackpot for Shiraz Fans ~ But Slim Pinot Noir Pickings
Feb. 19 - Bottle of the Week
It's Canadian fortified and exudes sweet raspberries: Southbrook Framboise - Summer in a Bottle
Feb. 12 - The Apple of my Heart ~ Calvados to the Rescue
Feb. 12 - Bottle of the Week
It's French, it's spirited and a little bit sexy: Mon dieu, it's Green Chartreuse
Feb. 5 - Uncovering the Best Classics Red
Jan. 29 - Ooh la la! ~ Fine French Values that Won't Break the Bank
Jan. 22 - Frisky Whisky for Robbie Burns Revellers
Jan. 15 - Pinotage Perfection ~ Exploring South Africa's Sole Indigenous Grape
Jan. 8 - Gems from Chile ~ Be selective in today's Vintages Release


Get all the evaluations for the January Release
Subscribe to Vintage Assessments today by Clicking Here
This not-for-profit website is dedicated to the discerning reader!

Gems from Chile
Be selective in today's Vintages Release

© Michael Vaughan 2005


National Post Weekly Wine & Spirits Columnist
Saturday, January 8, 2005

LIVE WINE LINK
www.winefind.ca
(CLICK ON THE NAME - All listings are automatically linked to the LCBO database)
If there is a product that interests you, just click on the name below and you will instantaneously connected with the LCBO database. The product will appear in blue and all you have to do is click on the name again and then the next screen will provide details along with the store search. Just click on store search. The number of bottles in each store is updated nightly. You should call the store first to see if stock still remains (each store phone number is listed).

Vintages launches the year with a January focus on Chile featuring eleven wines (plus two "In Store Discoveries"), which apparently "astounded" LCBO buyers. While I am happy to see greater emphasis on the more reasonably priced wines of Chile, I an compelled to caution the thirsty throngs to be selective.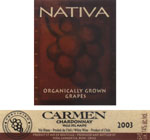 Of the whites, today's best buy comes from the Maipo Valley. Viña Carmen 2003 Nativa Chardonnay (975219) $17.95, which is an organic effort with only 15 ppm of free sulphur. The nose is quite stylish with toasty, warm key lime pie notes. Dry but not austere, rich and harmonious on the palate with toasty, ripe pear and lemon meringue flavours and a lingering, vanilla-lime finish. It is made from vines have been organically grown since 1994. The grapes were harvested by hand and half of the juice was racked to new French barrels and aged for 7 months with the traditional batonage. The balance was fermented in stainless steel tanks. It is then blended, bottled and permitted to age for another 4 months before being shipped.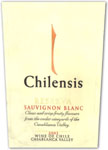 The Vintages Catalogue two-page spread extolling Chile's vinous virtues has two wines, which are not supposed to appear today, but on January 22 as part of the B release. This really doesn't make much sense because they are not mentioned in that section. As there seems to be plenty of the white already in the store system and at only $11.95 is a best buy, I will mention it today. Be on the lookout for Chilensis 2003 Sauvignon Blanc Reserva (590752) from Chile's Casablanca Valley. This is the perfect wine for those who don't like the stark, herbal, green bean character found in most Sauvingon Blanc. What we have here is a very bright, ripe honeydew nose with some Anjou pear notes. It is dry and crisp on the palate but shows lots of attractive, honeydew-melon flavours - delicious and ready to drink today!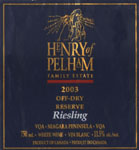 From Ontario, Henry of Pelham 2003 Off-Dry Reserve Riesling (57165) at $14.95 makes its second appearance in five months. This VQA Niagara Peninsula effort is starting to open up and shows nicely with just a hint of sweetness (14 g/L residual sugar or 1.4%) combined with refreshingly high acidity (9.1 on the Richter scale). The honeyed, baked ripe red apple nose is followed up by very tangy, faintly off dry, slightly lemony, warm ripe red apple flavours with a lingering finish. Try with poultry, Thai or just about anything!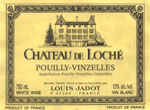 France has some very strong whites in this release. First from Burgundy, we have two strong contenders both Chardonnay-focused, but reflecting the vastly different styles related to terroir and microclimate. Actually they both come from specific, well known, but somewhat distant sub regions and are not part of the northerly Cote d'Or proper. First, from the southern Maconnais region is a fine, ready to drink, estate Pouilly Vinzelles Louis Jadot 2001 Château de Loché (650986) an instore discovery priced at $34.95. It is medium deep yellow in colour and has a lovely, albeit mature, baked ripe grapefruit nose. Rich and expressive, the gently toasty, ripe lemon meringue flavours show good length. Located just southwest of Macon, Vinzelles rarely appears in Vintages and is a neighbour of the better known Pouilly Fuisse.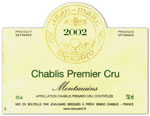 The second white is from Chablis, a satellite of Burgundy, which is like a small island of vineyards dotting the hills and valleys along the Serein River about 100 km northwest of north west of the Cote d'Or. Always tricky to drink at its prime, today's release provides us with exactly that window. Domaine Jean-Marc Brocard Chablis 1er Cru Montmains (983882) at $31.95 has a light straw colour and lovely, key lime pie nose. This well structured beauty shows harmonious, ripe lemon and key lime pie flavours with great length. While it drinks wonderfully at this moment, Chablis is known to suddenly close down, often taking on some nutty notes that are not always very attractive. Then, at some point it will usually blossom again - sometimes after 2 or even up to 6 years of sleep.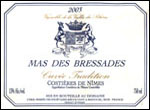 One of the sleepers is from the Costières de Nîmes region. Mas des Bressades 2003 Cuvée Tradition (701094) at $12.95 is apparently classified as a Rhone, although it spills over into the Languedoc region just east of Montpellier. This best buy blend of Grenache Blanc and Roussanne has a honeyed, slightly spicy, floral, ripe apricot nose with hints of beeswax. It is dry, bright and medium bodied with lingering ripe apple, apricot and pear flavours that show versatile. Best yet, it is ready to enjoy today.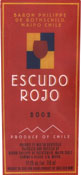 Moving on to reds, I got a chance to retaste the Chilean selection last Tuesday. The winner was Baron Philippe de Rothschild 2002 Escudo Rojo (590331) at $18.95. This Vintages "wine of the month" is a blend of Maipo Valley Cabernet Sauvignon, Rapel Carmenère and Cabernet Franc, all vinified separately, blended and then aged for 12 months in French oak. The price has been cut to the bone – down from $24.95 when it first appeared 19 months ago (2001 vintage).
This is a big red with 14% alcohol and will benefit from another 2 years of aging and certainly a couple of hours of decanting if opened today. It has a very deep intense purple colour and a spicy, herb-tinged, plumy, black cherry nose. On the palate it shows rich, cedar-tinged, plumy, ripe cherry flavours along with a lingering finish.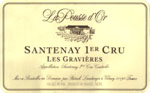 If money is no object, you will not be short changed by this Cote de Beaune Burgundy. Domaine de la Pousse d'Or 2001 Santenay 1er Cru Les Gravières (651117) at $52.95 shows lots of class. It has a complex nose focused on wild strawberries and ripe black cherries with hints of vanilla and garrigue. Complex, medium-full bodied and yet quite rounded with lingering ripe plum and black cherry flavours with fine length. Showing nicely now but should evolve nicely.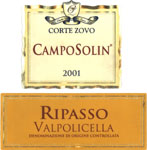 Finally, for those on a budget, my release highlight is a tasty treat from Italy's Veneto region. It is so good (and inexpensive) that Vintage buyers flipped when they tasted it and so will you. Corte Zovo 2001 Valpolicella, Ripasso Campo Solin (650713) is a mere $11.95. Beneath the deep dark purple colour lurks an attractive, very gently earthy, sweet ripe plum nose with juicy cherry notes. While only medium bodied, the harmonious, bright, plumy, ripe cherry flavours show fine accessibility.
How third generation owner, Diego Cottini managed to come up with a Ripasso (meaning that it was fermented on unpressed grape skins used in the production of Amarone) at this price, is a mystery. He owns the vineyards and, up until recently, was selling all the wines in bulk, apparently to various very well-known producers. He personally vinified this DOC Valpolicella in his own new winery. It represents excellent value and thankfully there is a lot of it – 1,800 cases – meaning you don't have to squirrel it away. Better yet, another 1,800 cases will be arriving in a few months down the road.
Finally, the Vintages list of 124 Classic wines going on sale next Monday, January 10, was mailed to Classics customers earlier this week. The only place you can find the list is on my website where every item is linked (just click on the name) to the LCBO website. While customers are told to call their orders in, a sizable quantity of some wines is in the store system meaning you can pick up whatever is available on Monday morning (call first).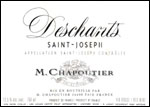 In this extensive list I was surprised to discover a wine I had purchased was now on sale – discounted by $4.05 a bottle from $24.00 to $19.95 – the tasty Chapoutier 2001 Saint Joseph Deschants (972299). On one hand, I was not surprised to discover that this little gem was still kicking around. It was one of those special wines made available only at the Ottawa tasting and didn't appear in the Classics Catalogue – a fact that didn't make anyone – from the supplier and Ontario agent down to possible LCBO customers very happy! Instead of being sold immediately, it is now being dumped along with three other Fall Classics Tasting selections.
You will also find ten items that are "Rapid Store Release" items that magically appeared in December without any fanfare whatsoever. They are now being discounted and cleared out less than a month later, again much to the chagrin of all concerned. I wish that I could have had a chance to assess and recommend some of these items.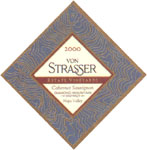 I will repeat my standing suggestion that the LCBO designate a Toronto store where all Classics can be purchased and possibly tasted. This would enable readers to track down my various Classics recommendations immediately without delay. It is disheartening to see my von Strasser recommendations bite the dust, even though they would have sold through had the LCBO placed them in stores after the run on the Classics Spring release! To see the article click here.
The bottom line is that the market cannot absorb the number of wines being released. Indeed, there isn't even enough room on the LCBO shelves to display all the wines coming out. This will be a serious problem in February where a huge number of French wines is being released. I understand that only a fraction of them have been ordered by many stores with a Vintages section! What we need is not simply more wines, but a better selection of wines that are truly worth buying.
On the sale list you will see 14 pricey Barolos bite the dust. This isn't too surprising. After all, who wants to spend that kind of money on unreviewed wines, which are not available for assessment? Sadly, Vintages doesn't appear to be interested in providing a wider tasting platform and keeps them in locked in the warehouse - when they could, for instance, be tasted at the Tasting Tower at the Summerhill store.
To see the list of 124 Classic wines going on sale next Monday, January 10
click here
.
2001-2002-2003-2004 Tasting Note Database
Our tasting note database from December 31, 2000 to November 2004, covers every Vintages release product for the past 46 months. There are more than 8,000 notes in the database data. Just enter the name of the product, supplier name or CSPC number. Or you can search by type of wine, country of origin, even wine agent! Nothing could be easier. Also you can get information on the agent by clicking on the agent's name, as well as current LCBO store inventory by clicking on "Check LCBO Availability", which will automatically tell you the number of bottles at LCBO as of last night.
To use our winefind.ca Tasting Notes Database: click here

** For All Visitors **
Vintages January 2005 Release
To see the complete list of upcoming 162 products click here (sorted by date of release). It includes the number of cases, which wines were presented by the LCBO, our agent ID for every product,
as well as, the 34 "In Store Discoveries" for January.
You can also see it sorted by agent click here
Copyright Food & Beverage Testing Institute of Canada 2005
Prior written permission is required for any form of reproduction
(electronic or other wise) and or quotation.
Contact Michael Vaughan at
mbv@total.net