Recent Articles
Sep. 3 - Delicious Long Weekend Drinking ~ All but one under $20!
Aug. 27 - A new way of coding drinkability ~ And getting the best out of that bottle
Aug. 20 - The "New" Vintages Catalogue
Aug. 13 - Bargains Galore ~ Spirited Summer Matchmakers ~ From Boulard Calvados to Grand Marnier
Aug. 6 - Dealing with Disappointments ~ This Bicyclette has a flat tire!
Jul. 30 - LCBO Alternatives? ~ Regulations handcuff importers to LCBO warehouse
Jul. 23 - A French Sparkler & Greek Whites in Today's Vintages Hit Parade ~ In-Store Discoveries Reviews Disappear
Jul. 16 - French Rosé Rocks ~ Too bad you can't find them at the LCBO
Jul. 9 - Today's Vintages Release ~ Small in size but big in buys!
Jul. 2 - The Wines of Canada by John Schreiner ~ Interesting but a little thin
Jun. 25 - Boning Up for Canada Day! ~ ABC - Anything But Chardonnay A Best Buy ~ Trilogy of Grass-Free Sauvignon Blanc
Jun. 18 - Austria's Wines on a roll
Jun. 11 - Where there's Chardonnay there's Hope ~ 2,879 cases at Vintages! ~ Plus 79 New Items in Today's Vintages Release
Jun. 11 - Bottle of the Week
Kim Crawford 2004 Marlborough Sauvignon Blanc ~ Kick starts the screwcap revolution
Jun. 4 - Bodega Norton 2004 Chardonnay ~ A too-good-to-be-true Argentina gem from the General List ~ LCBO Price Book now a thing of the past!
Jun. 4 - Bottle of the Week
Codorniu Brut Clasico ~ Puts some sparkling Classics to shame
May. 28 - A Trip in a Glass ~ Fine wines to transport you to far-away destinations
May. 28 - Bottle of the Week
Zoom-Zoom-Zoomers! ~ Campari: Seeing Red ~ Setting the World Ablaze
May. 21 - Toasting Queen Victoria ~ With Discounted Reds! ~ Grab these bargains while they last!
May. 21 - Bottle of the Week
Putting a little spice into your Victoria Day Long Weekend
May. 14 - Sprouting Up Like Tulips ~ Excellent 2003 Whites at Vintages
May. 14 - Bottle of the Week
2004 Terra Boa Blanco ~ A Bargain Priced Springtime White from Portugal
May. 7 - Prince Edward County's Field of Dreams ~ Long Dog Winery - No Long Shot!
May. 7 - Bottle of the Week
For Mother's Day! ~ Veuve Clicquot La Grande Dame Champagne ~ A priceless bubbly for that priceless mother!
Apr. 30 - An increasingly confusing Vintages catalogue ~ Hard to find what you are looking for & plan purchases
Apr. 30 - Bottle of the Week
Rosemount Shiraz on a Roll!
Apr. 23 - The Wine Glass ~ The Key to getting the most out of your wines
Apr. 23 - Bottle of the Week
Making the Rum Transition
Apr. 16 - All we are saying is give pink a chance
Apr. 16 - Bottle of the Week
Talus 2002 Zinfandel ~ A Zinfully Good Anti-Luddite!
Apr. 9 - Don't be screwed by a bad cork ~ Screwcaps are the answer
Apr. 9 - Bottle of the Week
2003 Mouton Cadet Blanc ~ Canada's best selling white Bordeaux
Apr. 2 - From Fizz to Pop ~ Putting some zip into Spring
Apr. 2 - Bottle of the Week
Underberg the Ultimate Digestif! ~ Only a full bottle will do!
Mar. 26 - Canada's #1 Wine Festival 27th ~ Vancouver Playhouse International Wine Festival
Mar. 26 - Bottle of the Week
Smooth & Satisfying ~ A Luxury French Brandy at a Great Price!
Mar. 19 - German Classics for Easter
Mar. 19 - Bottle of the Week
A liqueur that Grows on Trees!
Mar. 12 - Ontario's Vinous Peaks ~ Great quality directly from the wineries!
Mar. 12 - Bottle of the Week
A Special Treat for St. Patrick's Day
Mar. 5 - Today at Vintages ~ Chardonnays starting at $8.95!
Mar. 5 - Bottle of the Week
Cynar - A One-of-a-Kind Aperitif
Feb. 26 - Cuvée Throws a Curve Ball at Ontario's Best
Feb. 19 - A Vintages Jackpot for Shiraz Fans ~ But Slim Pinot Noir Pickings
Feb. 19 - Bottle of the Week
It's Canadian fortified and exudes sweet raspberries: Southbrook Framboise - Summer in a Bottle
Feb. 12 - The Apple of my Heart ~ Calvados to the Rescue
Feb. 12 - Bottle of the Week
It's French, it's spirited and a little bit sexy: Mon dieu, it's Green Chartreuse
Feb. 5 - Uncovering the Best Classics Red
Jan. 29 - Ooh la la! ~ Fine French Values that Won't Break the Bank
Jan. 22 - Frisky Whisky for Robbie Burns Revellers
Jan. 15 - Pinotage Perfection ~ Exploring South Africa's Sole Indigenous Grape
Jan. 8 - Gems from Chile ~ Be selective in today's Vintages Release


Become A FBTI Supporter Today By Clicking Here
This not-for-profit website is dedicated to the discerning reader!

Today at Vintages
Chardonnays starting at $8.95!

© Michael Vaughan 2005


National Post Weekly Wine & Spirits Columnist
Saturday, March 5, 2005

LIVE WINE LINK
www.winefind.ca
(CLICK ON THE NAME - All listings are automatically linked to the LCBO database)
If there is a product that interests you, just click on the name below and you will instantaneously connected with the LCBO database. The product will appear in blue and all you have to do is click on the name again and then the next screen will provide details along with the store search. Just click on store search. The number of bottles in each store is updated nightly. Call the store first to see if stock still remains (each store phone number is listed).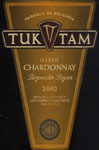 Today's Vintages release sees 96 items hit the shelves, plus another 30 Vintages March In Store Discoveries, which no longer appear in the monthly Vintages Catalogue (to see the list – click here). Beginning with Chardonnay, there are a number to choose from. The cheapest is a surprisingly decent Bulgarian effort at $8.95, which when you see the bottle will never be mistaken for a French Burgundy. Tuk Tam 2002 Oaked Chardonnay (905760) at $8.95 comes from the Targovishte region near the Black Sea. Here is a tasty effort that has a bright, ripe lemon-Anjou pear nose and dry, crisp, fresh melon flavours with a hint of cedar on the finish. This versatile, quaffer is imported by Steven Cohen, who works with an England wine agent targeting low-cost wines for UK chains. "When I got a Vintages call for inexpensive Eastern European wines last year," explains Cohen, "I stuck it in and, voila, here it is."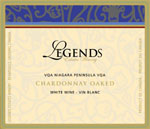 Inching up the ladder, we have two Ontario VQA efforts both from 2002. For my taste, the Willow Heights at $19.95 is just a bit too oaky. My choice is the less-expensive, well-made Legends Estates 2002 Oaked Chardonnay (586008) at only $13.95. Originating in the Niagara Peninsula, this VQA effort shows fine fresh, ripe, melon-lemon flavours with a refreshing, surprisingly well-structured finish. A tasty, crowd-pleaser, it will go well with almost anything.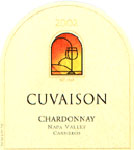 Another reasonably priced contender comes from South Africa. Graham Beck 2003 Chardonnay (593475) at $15.95 comes from the Robertson region and offers lots of bright ripe pear fruit and a lingering, vanilla-tinged finish. If, however, you are looking for the best Chard of the release, you will have to pay more. Cuvaison 2002 Chardonnay (988261) at $29.95 (was incorrectly priced at $32.95 in page 8 of the March Vintages catalogue) hails from the Carneros region of the Napa Valley. The nose exudes hazelnut purée and lemon meringue pie. On the palate, it is creamy but still bright with complex, lingering, ripe pear and lemon-lime puree flavours.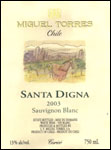 Sauvignon Blanc bargain hunters will like Miguel Torres 2003 Santa Digna Sauvignon Blanc (177444) at $12.95. It comes from the Torres vineyards in Curicó and doesn't have those extremely austere, grassy notes. Crisp, bright and well-balanced, look for ripe melon flavours with a crisp, rhubarb-tangerine finish.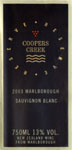 If you are searching for the quintessential Sauvignon, my choice would be the excellent, vibrant Cooper's Creek 2003 Sauvignon Blanc Reserve (989772) at $23.95, which comes from the Marlborough region of New Zealand's South Island. The nose has those gently grassy, slightly spicy, red apple, ripe lemon notes. Solid, dry and well structured, it is awash with ripe melon flavours, which linger beautifully on the palate.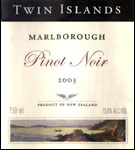 Moving on to reds, bargain priced Pinot Noir is exceptionally hard to find. Fans should love Twin Islands 2003 Pinot Noir (597682 ) at $19.95, which also comes from New Zealand's Marlboroug region. The wonderfully fragrant, ripe cherry nose has just a touch of vanilla stick. It is bright and only medium bodied with fine ripe red cherry flavours that are ready to enjoy. This definite winner comes with a screwcap closure.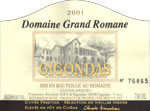 If you are looking for solid value from France, let me recommend the Rhone's 2001 Domaine Grand Romane Gigondas Cuvée Prestige des Domaines Amadieu (968693) at $27.95. Pierre Amadieu has utilized his best, oldest vines for the blockbuster red and it is definitely worthy of a detour. Deep intense purple in colour, the nose shows good complexity with lots of ripe plum fruit. Solid and well structured, there is an element of grace and harmony here with all the rich, slightly spicy, ripe plum flavours.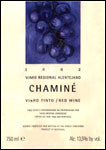 In the cheap and cheerful department, Chamine 2002 Vinho Tinto (650291) at $13.95 from the house of Cortes de Cima is hard to beat. This Vinho Regional Alentejano red is easy to drink with harmonious, juicy, black cherry flavours.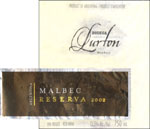 Another release best bet is Bodega J & F Lurton 2002 Malbec Reserva (903153) at $13.95, which comes from the Argentina's Alto Valle de Uco near Mendoza. Deep purple colour, the nose is gently cedary with ripe cranberry-cherry fruit. It is very lively on the palate with gently juicy, ripe red cherry and roasted plum flavours with a lifted finish. Aged six months in French oak and unfiltered, it is a wide appeal style, which is at its peak and shows good versatility.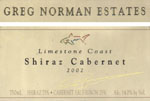 Finally from the extensive list of Australian reds on offer, my choice would be Greg Norman Estates 2002 Limestone Coast Shiraz/Cabernet Sauvignon (586156) at only $19.95. This Vintages "wine of the month" has a lovely, smoky, ripe black cherry purée nose. On the palate look for juicy black cherry flavours with hints of lime, cedar and caramel on the finish. Fortunately, there are 1,500 cases of this very accessible, and yet serious, crowd pleaser.
If you wish to see the comprehensive list of all 199 new items in the current Vintages March 2005 Catalogue (colour coded with the number of cases available & agent identification) click here. Our complete 20-page March Vintage Assessments guide with detailed tasting notes was sent out to supporters last week, who were able to get their orders into the LCBO by the cut-off date of Tuesday, March 1st. Become a not-for-profit FBTI supporter and get all the information you need to tracking down the very best buys today by clicking here.
Continuing today and tomorrow
(March 5-6)

Niagara Cuvée Weekend

with tonight's

Cuvée Gala & Wine Awards

along with

Cuvée en Route Passport

(to see the latter programme
click here
). To check out all the Cuvée wines being served (with prices) at the Gala
click here
. I also have detailed tasting notes on all 49 wines previewed
click here
, along with a National Post article on the Cuvée tasting
click here
. At only $20 this is a great way to discover Ontario's best wines. For tickets and information, contact the Niagara Community Foundation at 905-684-8688 or email
ncf@becon.org
or visit
www.cuvee.ca
.
2001-2002-2003-2004-2005 Tasting Note Database
Our tasting note database from December 31, 2000 to January 2005, covers every Vintages release product for the past 48 months. There are more than 8,000 notes in the database data. Just enter the name of the product, supplier name or CSPC number. Or you can search by type of wine, country of origin, even wine agent! Nothing could be easier. Also you can get information on the agent by clicking on the agent's name, as well as current LCBO store inventory by clicking on "Check LCBO Availability", which will automatically tell you the number of bottles at LCBO as of last night.
To use our winefind.ca Tasting Notes Database: click here

** For All Visitors **
Vintages April 2005 Release
To see the complete list of upcoming 186 products click here (sorted by date of release). It includes the number of cases, which wines were presented by the LCBO, our agent ID for every product,
as well as, the 15 "In Store Discoveries" for April.
You can also see it sorted by agent click here
Copyright Food & Beverage Testing Institute of Canada 2005
Prior written permission is required for any form of reproduction
(electronic or other wise) and or quotation.
Contact Michael Vaughan at
mbv@total.net