Become A FBTI Supporter Today By Clicking Here
This not-for-profit website is dedicated to the discerning reader!

Ontario's Vinous Peaks
Great quality directly from the wineries!
© Michael Vaughan 2005


National Post Weekly Wine & Spirits Columnist
Saturday, March 12, 2005

LIVE WINE LINK
www.winefind.ca
(CLICK ON THE NAME - All listings are automatically linked to the LCBO database)
If there is a product that interests you, just click on the name below and you will instantaneously connected with the LCBO database. The product will appear in blue and all you have to do is click on the name again and then the next screen will provide details along with the store search. Just click on store search. The number of bottles in each store is updated nightly. Call the store first to see if stock still remains (each store phone number is listed).

Last weekend's Ontario Cuvée weekend was a splendid affair filled with many vinous peaks and the occasional valley. Having recently provided readers with the lowdown on the event itself, including detailed notes for 49 finalists on our website, I ventured forth to uncover other unrecognized wines.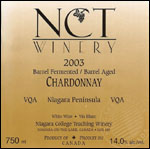 First, I was pleased to see that my highest scoring red and white also were the top Cuvée winners: Jackson-Triggs 2002 Proprietor's Grand Reserve Meritage ($23.95 at Wine Rack stores) and Niagara College Teaching (NTC) Winery 2003 Barrel Fermented/Barrel Aged Chardonnay, which is bargain priced at the winery for only $18.95 (reguarly $21.95).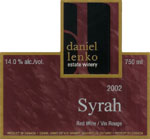 Saturday began with an Experts Tasting presented by CCOVI at Brock University. I was surprised to discover that there are 11 Syrah (Shiraz) now being produced in Ontario. The good news is that of seven blind tasted, I was stunned by Daniel Lenko 2002 Syrah, which turned out to be the best red of the weekend. It is beautifully textured (14% alcohol) with robust, ripe plum and lingering, gently earthy, lush, black cherry flavours.
The bad news is that you can't buy it! Lenko's vines only yielded enough grapes to fill a single new French oak barrel meaning that just under 25 cases were produced. "Unfortunately, our Syrah vines produced no grapes in 2003 and I want to keep our 2002 on hand as a reference wine," explains Lenko. On the positive side it now has a chance of appearing in some special tastings as opposed to simply disappearing to just a handful of lucky buyers.
You can, however, purchase Daniel Lenko 2003 Viognier at the winery at $34.95. This lovely dry white bubbles over with juicy, gently honeyed, winter melon fruit flavours. Keep in mind that Ontario's extreme variations in climate, from one year to another, makes stylistic consistency virtually impossible, at least with dry table wines. In contrast to his stunning 2002, which had over 14% alcohol, Lenko's 2003 has under 12% with more bright fruit and less complexity.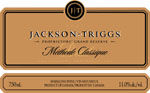 In the sparkling department, my highest score in the blind tasting of six went to Jackson-Triggs 2001 Proprietor's Grand Reserve Méthode Classique (587691) at $24.95 and is currently available at the Wine Rack stores. This Cuvée award winner is elegant, harmonious, dry but not austere with fresh melon-lemon flavours is perfect for any festive occasion. Do not confuse the 2001 with the lesser 2000, which was released in Vintages at $22.95.
Some weekend disappointments, included a fledgling Nebbiolo, which was hard, thin and shrill. I was not overly enthusiastic about wines aged in new Canaiadian oak, which seem to have some resiny notes from inadequately weathered staves. I was surprised that the newly-released Malivoire 2003 Pinot Noir ($26.00) didn't really live up to my expectations. Also disturbing was the presence of some ladybug taint in a just a few of the wines from the 2002-2003 vintages. This problem seems to be concentrated in vineyards adjacent to the Niagara Escarpment, where the ladybugs apparently like to hang out in the nearby woods overnight.

On a more positive note, there were plenty of good wines on show at the gala. Australian winemaker Darryl Brooker has produced some terrific wines at the new Flat Rock Cellars. His Flat Rock 2003 Pinot Noir is based on Dijon clones 777 and 115, has those classic, elegant, ripe plum, juicy, ripe red cherry Burgundian flavours. At $23.95, it a winery-only best buy. Also, don't miss tasting the lively, honeyed, grapefruit-driven Flat Rock 2003 Riesling - a steal at $14.95! Click here for contact information.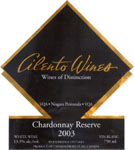 The "Limited Edition White Wine Winner" (meaning under 200 cases were produced) was Cilento 2003 Chardonnay Reserve (593913) at $24.95. Its vibrant, honeyed, ripe lemon zest and Anjou pear flavours stand up and say hello and are tamed by some butterscotch and vanilla notes on the finish. It is available at the winery store in Woodbridge at $24.95.
Remember that Ontario wineries can ship wines directly to your home. For more information, including telephone numbers and email addresses, see the winery/agent ID guide on our website.
Finally, starting Monday, March 14 there will be 110 Vintages items going on sale. To see click here.
2001-2002-2003-2004-2005 Tasting Note Database
Our tasting note database from December 31, 2000 to January 2005, covers every Vintages release product for the past 48 months. There are more than 8,000 notes in the database data. Just enter the name of the product, supplier name or CSPC number. Or you can search by type of wine, country of origin, even wine agent! Nothing could be easier. Also you can get information on the agent by clicking on the agent's name, as well as current LCBO store inventory by clicking on "Check LCBO Availability", which will automatically tell you the number of bottles at LCBO as of last night.
To use our winefind.ca Tasting Notes Database: click here

** For All Visitors **
Vintages April 2005 Release
To see the complete list of upcoming 186 products click here (sorted by date of release). It includes the number of cases, which wines were presented by the LCBO, our agent ID for every product,
as well as, the 15 "In Store Discoveries" for April.
You can also see it sorted by agent click here
Copyright Food & Beverage Testing Institute of Canada 2005
Prior written permission is required for any form of reproduction
(electronic or other wise) and or quotation.
Contact Michael Vaughan at
mbv@total.net