Recent Articles
May. 21 - Toasting Queen Victoria ~ With Discounted Reds! ~ Grab these bargains while they last!
May. 21 - Bottle of the Week
Putting a little spice into your Victoria Day Long Weekend
May. 14 - Sprouting Up Like Tulips ~ Excellent 2003 Whites at Vintages
May. 14 - Bottle of the Week
2004 Terra Boa Blanco ~ A Bargain Priced Springtime White from Portugal
May. 7 - Prince Edward County's Field of Dreams ~ Long Dog Winery - No Long Shot!
May. 7 - Bottle of the Week
For Mother's Day! ~ Veuve Clicquot La Grande Dame Champagne ~ A priceless bubbly for that priceless mother!
Apr. 30 - An increasingly confusing Vintages catalogue ~ Hard to find what you are looking for & plan purchases
Apr. 30 - Bottle of the Week
Rosemount Shiraz on a Roll!
Apr. 23 - The Wine Glass ~ The Key to getting the most out of your wines
Apr. 23 - Bottle of the Week
Making the Rum Transition
Apr. 16 - All we are saying is give pink a chance
Apr. 16 - Bottle of the Week
Talus 2002 Zinfandel ~ A Zinfully Good Anti-Luddite!
Apr. 9 - Don't be screwed by a bad cork ~ Screwcaps are the answer
Apr. 9 - Bottle of the Week
2003 Mouton Cadet Blanc ~ Canada's best selling white Bordeaux
Apr. 2 - From Fizz to Pop ~ Putting some zip into Spring
Apr. 2 - Bottle of the Week
Underberg the Ultimate Digestif! ~ Only a full bottle will do!
Mar. 26 - Canada's #1 Wine Festival 27th ~ Vancouver Playhouse International Wine Festival
Mar. 26 - Bottle of the Week
Smooth & Satisfying ~ A Luxury French Brandy at a Great Price!
Mar. 19 - German Classics for Easter
Mar. 19 - Bottle of the Week
A liqueur that Grows on Trees!
Mar. 12 - Ontario's Vinous Peaks ~ Great quality directly from the wineries!
Mar. 12 - Bottle of the Week
A Special Treat for St. Patrick's Day
Mar. 5 - Today at Vintages ~ Chardonnays starting at $8.95!
Mar. 5 - Bottle of the Week
Cynar - A One-of-a-Kind Aperitif
Feb. 26 - Cuvée Throws a Curve Ball at Ontario's Best
Feb. 19 - A Vintages Jackpot for Shiraz Fans ~ But Slim Pinot Noir Pickings
Feb. 19 - Bottle of the Week
It's Canadian fortified and exudes sweet raspberries: Southbrook Framboise - Summer in a Bottle
Feb. 12 - The Apple of my Heart ~ Calvados to the Rescue
Feb. 12 - Bottle of the Week
It's French, it's spirited and a little bit sexy: Mon dieu, it's Green Chartreuse
Feb. 5 - Uncovering the Best Classics Red
Jan. 29 - Ooh la la! ~ Fine French Values that Won't Break the Bank
Jan. 22 - Frisky Whisky for Robbie Burns Revellers
Jan. 15 - Pinotage Perfection ~ Exploring South Africa's Sole Indigenous Grape
Jan. 8 - Gems from Chile ~ Be selective in today's Vintages Release


Get all the evaluations for the February Release
Subscribe to Vintage Assessments today by Clicking Here
This not-for-profit website is dedicated to the discerning reader!

Frisky Whisky for Robbie Burns Revellers

© Michael Vaughan 2005


National Post Weekly Wine & Spirits Columnist
Saturday, January 22, 2005

LIVE WINE LINK
www.winefind.ca
(CLICK ON THE NAME - All listings are automatically linked to the LCBO database)
If there is a product that interests you, just click on the name below and you will instantaneously connected with the LCBO database. The product will appear in blue and all you have to do is click on the name again and then the next screen will provide details along with the store search. Just click on store search. The number of bottles in each store is updated nightly. You should call the store first to see if stock still remains (each store phone number is listed).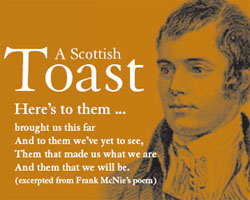 When I was very young, I was taken to a Rabbie Burns supper. It's still all a bit foggy, or perhaps just smoky given the multitude of ardent puffers in attendance. I do remember, however, the blast of the bagpipes, the seemingly endless unintelligible speeches and something scary looking called the Haggis. Watching the steaming bloated object run through with a sword dampened my appetite. It looked awful, had a weird consistency and flavours that my youthful taste buds told me to avoid. At that very moment, I invented a new game and spent the next several minutes trying to "hide the haggis" – anywhere from the vicinity of my mouth.
Fortunately tastes change. So now I am happy to stomach a well-made, hot, steamy one, as long as it is served with a tot or two of fine malt whisky. I am sure the vision of haggis dancing in my head is the result of haggis angst – after all next Tuesday, January 25th is Rabbie Burns's 246th birthday.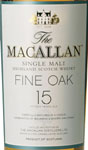 Which brings me to his favourite tipple. Glancing at page 27 of the January Vintages Catalogue, we see of a debonair young man proposing "a Scottish toast" over a revolutionary, newly-launched bottle of The Macallan Fine Oak 15-Year-Old Single Malt (620229) at $109.95 – a price which might well make old Burns turn in his grave.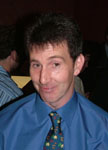 When I met Macallan whiskey maker Bob Dalgarno at a chi-chi NYC launch last year, I peppered him with questions. I basically asked why he bothered making a new lighter style when their existing Macallan portfolio was so good. This seemed to me to be especially true, as they don't have enough regular Macallan to go around. Worse yet, the Fine Oak isn't any cheaper!
The answer was that this new style was designed to appeal to new discerning palates who have not grown accustomed to the traditional, single Highland malt style that has persevered sine 1824. There was, of course, another reason why Macallan decided to launch this dramatic new lighter style, which for the very first time incorporated whisky aged in Bourbon casks.
It seems that various batches of the traditional Sherry-aged lots are sold off each year because they do not conform to Macallan's traditional taste profile. The obvious answer was to create a new Macallan style utilizing these batches, along with some lots aged in Bourbon. Indeed, it was only last Spring that Dalgamo actually assembled the final blend. So instead of less Macallan, we have more (about 6,000 cases) – albeit differently styled.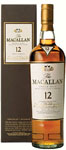 I decided that a taste off was in order, but soon found that I could not compare the same aged whisky: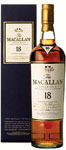 The Fine Oak is aged 10, 15 and 21 years; while the traditional and more flavourful 100% Sherry cask Macallan is aged 12, 18, 25 and 30 years. Sadly, the 15-Year-Old edition of the latter, which used to appear regularly in Vintages, is no more. For me, The Macallan 12-Year-Old (186429 - $78.20) from the general list hits the spot both in terms of price and taste, although The Macallan 18-Year Old (214759 - $189.95) is quite sublime with its nuances of Sherry and caramel. If you prefer something brighter and lighter, then it's the Fine Oak for you.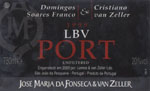 Moving on the today's Vintages release best buy Winter warmers, let me recommend the unfined, unfiltered Jose Maria da Fonseca & Van Zeller 1999 Late Bottled Vintage Port (608430) at $25.95, which will put an extra glow to that warming fire. Very deep dark purple in colour, the nose is sweet and juicy with vanilla-tinged, plumy, ripe black cherry fruit. Its mouth filling, rich, roasted black cherry flavours are extremely satisfying.
I suggest that it be decanted after standing upright, perhaps on a bit of an angle, for a week or so permitting the sediment to firm up in a corner prior to pouring. Also, if you are not going to drink it all, then pour the part not being consumed into a smaller airtight container, filled to the top. If closed tightly and kept in a cool dark place, it is capable of lasting many months. Of course, this LBV can easily age for another 4+ years.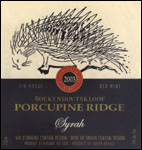 The red bargain of the day is the ready to drink Boekenhoutskloof 2003 Syrah Porcupine Ridge (595280) at $12.95. It hails from South Africa's Coastal region and has a slightly smoky, sweet plum and ripe black cherry nose. Solid, velvety and juicy, its gently cedary, black cherry fruit lingers on the palate. Don't worry, there's lots of it – 1046 cases to be exact.
The annual LCBO Vintages Sale (160 items) is now posted. Click here to see the list of items. (the sale starts Saturday, January 29).
2001-2002-2003-2004 Tasting Note Database
Our tasting note database from December 31, 2000 to December 2004, covers every Vintages release product for the past 47 months. There are more than 8,000 notes in the database data. Just enter the name of the product, supplier name or CSPC number. Or you can search by type of wine, country of origin, even wine agent! Nothing could be easier. Also you can get information on the agent by clicking on the agent's name, as well as current LCBO store inventory by clicking on "Check LCBO Availability", which will automatically tell you the number of bottles at LCBO as of last night.
To use our winefind.ca Tasting Notes Database: click here

** For All Visitors **
Vintages February 2005 Release
To see the complete list of upcoming 203 products click here (sorted by date of release). It includes the number of cases, which wines were presented by the LCBO, our agent ID for every product,
as well as, the 9 "In Store Discoveries" for February.
You can also see it sorted by agent click here
Copyright Food & Beverage Testing Institute of Canada 2005
Prior written permission is required for any form of reproduction
(electronic or other wise) and or quotation.
Contact Michael Vaughan at
mbv@total.net