Recent Articles
Sep. 17 - A Great Ontario Harvest ~ From just-released wines to a terrific new guide
Sep. 10 - Film Fest Fizz ~ Finding that Oscar-Winning Drink
Sep. 3 - Delicious Long Weekend Drinking ~ All but one under $20!
Aug. 27 - A new way of coding drinkability ~ And getting the best out of that bottle
Aug. 20 - The "New" Vintages Catalogue
Aug. 13 - Bargains Galore ~ Spirited Summer Matchmakers ~ From Boulard Calvados to Grand Marnier
Aug. 6 - Dealing with Disappointments ~ This Bicyclette has a flat tire!
Jul. 30 - LCBO Alternatives? ~ Regulations handcuff importers to LCBO warehouse
Jul. 23 - A French Sparkler & Greek Whites in Today's Vintages Hit Parade ~ In-Store Discoveries Reviews Disappear
Jul. 16 - French Rosé Rocks ~ Too bad you can't find them at the LCBO
Jul. 9 - Today's Vintages Release ~ Small in size but big in buys!
Jul. 2 - The Wines of Canada by John Schreiner ~ Interesting but a little thin
Jun. 25 - Boning Up for Canada Day! ~ ABC - Anything But Chardonnay A Best Buy ~ Trilogy of Grass-Free Sauvignon Blanc
Jun. 18 - Austria's Wines on a roll
Jun. 11 - Where there's Chardonnay there's Hope ~ 2,879 cases at Vintages! ~ Plus 79 New Items in Today's Vintages Release
Jun. 11 - Bottle of the Week
Kim Crawford 2004 Marlborough Sauvignon Blanc ~ Kick starts the screwcap revolution
Jun. 4 - Bodega Norton 2004 Chardonnay ~ A too-good-to-be-true Argentina gem from the General List ~ LCBO Price Book now a thing of the past!
Jun. 4 - Bottle of the Week
Codorniu Brut Clasico ~ Puts some sparkling Classics to shame
May. 28 - A Trip in a Glass ~ Fine wines to transport you to far-away destinations
May. 28 - Bottle of the Week
Zoom-Zoom-Zoomers! ~ Campari: Seeing Red ~ Setting the World Ablaze
May. 21 - Toasting Queen Victoria ~ With Discounted Reds! ~ Grab these bargains while they last!
May. 21 - Bottle of the Week
Putting a little spice into your Victoria Day Long Weekend
May. 14 - Sprouting Up Like Tulips ~ Excellent 2003 Whites at Vintages
May. 14 - Bottle of the Week
2004 Terra Boa Blanco ~ A Bargain Priced Springtime White from Portugal
May. 7 - Prince Edward County's Field of Dreams ~ Long Dog Winery - No Long Shot!
May. 7 - Bottle of the Week
For Mother's Day! ~ Veuve Clicquot La Grande Dame Champagne ~ A priceless bubbly for that priceless mother!
Apr. 30 - An increasingly confusing Vintages catalogue ~ Hard to find what you are looking for & plan purchases
Apr. 30 - Bottle of the Week
Rosemount Shiraz on a Roll!
Apr. 23 - The Wine Glass ~ The Key to getting the most out of your wines
Apr. 23 - Bottle of the Week
Making the Rum Transition
Apr. 16 - All we are saying is give pink a chance
Apr. 16 - Bottle of the Week
Talus 2002 Zinfandel ~ A Zinfully Good Anti-Luddite!
Apr. 9 - Don't be screwed by a bad cork ~ Screwcaps are the answer
Apr. 9 - Bottle of the Week
2003 Mouton Cadet Blanc ~ Canada's best selling white Bordeaux
Apr. 2 - From Fizz to Pop ~ Putting some zip into Spring
Apr. 2 - Bottle of the Week
Underberg the Ultimate Digestif! ~ Only a full bottle will do!
Mar. 26 - Canada's #1 Wine Festival 27th ~ Vancouver Playhouse International Wine Festival
Mar. 26 - Bottle of the Week
Smooth & Satisfying ~ A Luxury French Brandy at a Great Price!
Mar. 19 - German Classics for Easter
Mar. 19 - Bottle of the Week
A liqueur that Grows on Trees!
Mar. 12 - Ontario's Vinous Peaks ~ Great quality directly from the wineries!
Mar. 12 - Bottle of the Week
A Special Treat for St. Patrick's Day
Mar. 5 - Today at Vintages ~ Chardonnays starting at $8.95!
Mar. 5 - Bottle of the Week
Cynar - A One-of-a-Kind Aperitif
Feb. 26 - Cuvée Throws a Curve Ball at Ontario's Best
Feb. 19 - A Vintages Jackpot for Shiraz Fans ~ But Slim Pinot Noir Pickings
Feb. 19 - Bottle of the Week
It's Canadian fortified and exudes sweet raspberries: Southbrook Framboise - Summer in a Bottle
Feb. 12 - The Apple of my Heart ~ Calvados to the Rescue
Feb. 12 - Bottle of the Week
It's French, it's spirited and a little bit sexy: Mon dieu, it's Green Chartreuse
Feb. 5 - Uncovering the Best Classics Red
Jan. 29 - Ooh la la! ~ Fine French Values that Won't Break the Bank
Jan. 22 - Frisky Whisky for Robbie Burns Revellers
Jan. 15 - Pinotage Perfection ~ Exploring South Africa's Sole Indigenous Grape
Jan. 8 - Gems from Chile ~ Be selective in today's Vintages Release


Become A FBTI Supporter Today By Clicking Here
This not-for-profit website is dedicated to the discerning reader!

Don't be screwed by a bad cork
Screwcaps are the answer
© Michael Vaughan 2005


National Post Weekly Wine & Spirits Columnist
Saturday, April 9, 2005

LIVE WINE LINK
www.winefind.ca
(CLICK ON THE NAME - All listings are automatically linked to the LCBO database)
If there is a product that interests you, just click on the name below and you will instantaneously connected with the LCBO database. The product will appear in blue and all you have to do is click on the name again and then the next screen will provide details along with the store search. Just click on store search. The number of bottles in each store is updated nightly. Call the store first to see if stock still remains (each store phone number is listed).

Vancouver • We are wrapping up the Vancouver Playhouse seminar entitled "The Taming of the Screw." The final pro-screwcap speaker, a happy Aussi winemaker, pauses looks at the audience and says that he always prefers screwing as opposed to yanking. There's no argument from the enthusiastic fans.

While the romantic pop of the cork still has its aficionados, especially when it comes to champagne and/or expensive first growth Bordeaux, more and more consumers are willing to accept that corkless bottle. And it is about time because the cork related problems, which have been have been documented for decades, afflict at least 6%, although some say up to 10%, of all wines.

The key villain of the piece is something called is called TCA (aka 2, 4, 6 Trichloroanisole) a taint that can occur naturally in the cork, which then contaminates the wine. Trying to remove it by sterilizing, boiling, chemically treating or waxing the cork doesn't seem to get rid of the problem. While the use of premium, expensive corks can reduce incidence, it doesn't necessarily totally eliminate the problem. Speaker Andrew Tierney, for instance, tells the story of a disaster at New Zealand's Villa Maria where their flagship wine became tainted using super quality "Reference #1" corks. "It was the last straw, we now only use screwcaps on everything Villa Maria produces!"

Australia and New Zealand have been the pioneers of the screwcap revolution, which really didn't take hold until the beginning of the decade. Unfortunately, the utilization of plastic or synthetic corks, which began in earnest a decade earlier, didn't provide the answer, certainly not for long-term storage. While newer synthetic corks appear to be free of taint, they still have had serious problems related to air leakage and "scalping" which refers to synthetic cork absorption of some of the wine's fruit thereby dulling the flavours.

An airtight closure is critical to keeping the wine in pristine condition. Some have argued that corks were critical to the aging of fine wines supposedly because the wine "breathes through the cork" which is supposedly essential to its evolution. In fact, every study on this issue has trashed this hypothesis. "It's absolute bullshit," says French oenologist Pascal Apercé who presented us with a Bordeaux first - Andre Lurton's white 2003 Chateau La Louviere, which is the first cru classé to be bottled under screwcap.

It was not because of any cork problems with the wine. Apercé bottled two editions of his 2003, one with cork and the other with screwcap. He presented recently bottled editions of both for tasting and I did not perceive any difference between them. In fact, the effects of more rapid aging and/or taint from the cork closure usually takes at least a year in bottle before becoming noticeable. He points out that another key problem with corks is that wineries often add some sulphur as an anti-oxidant and preservative. This has a negative impact on flavour and is problematic for those who have sulphur sensitivity.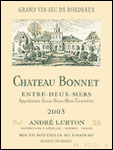 While Chateau La Louviere is still en route to Vintages, why not try André Lurton's other screwcap Bordeaux: the excellent 2003 Chateau Bonnet Entre-Deux-Mers (83709), which is $12.95 on the General List. The dry, unoaked, lively, melon and yellow grapefruit flavours are perfect with seafood. To check availability click here
To summarize my impressions from the Vancouver comparative blind tasting of wines bottled under screwcaps vs. corks, the wines under screwcap were, in many instances, fresher and livelier. Knowing that you will not have a cork taint and/or oxidation problem on your hands is a big bonus.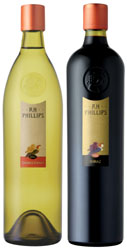 That's not say that screwcaps are absolutely problem free. If, for instance, the closure is hit with force, the seal can be compromised and air leakage can occur. In an attempt to eliminate this type of problem, California's R.H. Phillips became the first North American producer to launch over 300,000 cases of their popular main tier wines under a new screwcap closure called TOPP (meaning torqued on pilfer proof). Steve Crosta explains that this metal clad plastic-on-plastic seal appears to ensure a better closure, which is more resistant to damage. The unique TOPP package is used on both LCBO general listings: R.H. Phillips 2003 Chardonnay (594440 - $12.95) and R.H. Phillips 2002 Shiraz (576272 - $13.95). Check out the latter with its dry, well-balanced, juicy black cherry flavours and vanilla tinged finish. To check availability click here
Ironically, one of the most ardent fans of non-cork closures was the world-famous German viticulturalist-researcher Dr. Helmut Becker who worked at Geisenheim from 1964 to his death in 1989. While attending the German Wine Academy in 1977, Becker took us down into the cellar where we tasted a 20-year-old crown capped Riesling which was in perfect condition. "That is the best closure," he said pounding the table with his fist. Unfortunately, despite all recent advances, German consumers are still very much into corks. Ironically their neighbours in Switzerland have been Stelvin lovers from the 1990s.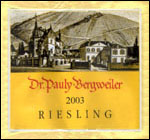 From last Saturday's release, I tasted what may well be the first screwcap German white to appear in Vintages. You can almost hear Dr. Becker's cheering as Pauly-Bergweiler 2003 Riesling (596601) $14.95 makes its debut. This tasty Mosel effort is slightly sweet but balanced with very refreshing, light bodied, honeyed, ripe melon flavours and a lingering finish. To check availability click here
There are a number of new tools to open screwcap bottles, which will is a bit mystifying as the screwcap was designed to eliminate the need for any tool whatsoever. "It's all in the purpose of marketing - trying to legitimize the role of the sommelier in fancy high-end restaurants with astronomical wine prices," comments one wine aficionado. Especially prone to this criticism is the Click-n-Twist Quickdraw (with its retractable chain), which has only one purpose - to twist the cap off the bottle. By contrast, the multipurpose Allvin™ Wine Tool was developed by, Australian winemaker Jude Allen "to provide for an elegant tool for sommeliers and waiters to open screw caps with a flourish at table-side equal to the traditional ceremony of pulling a cork." I guess it's pretty hard to trash ceremony.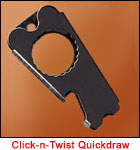 Coming up
Trade buyers will be converging on the biannual 2005 SIAL trade-only food and beverage exposition at Palais des Congrès de Montréal from April 13-15. For info call 1-866-281-7425 and click here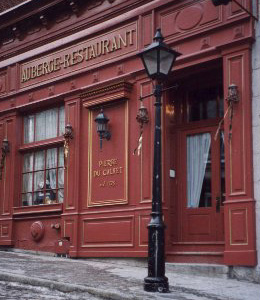 Unfortunately, as we go to press almost all the major hotels are sold out.
Accommodation is still available at the Auberge: Pierre du Calvet - 405 rue Bonsecours,Vieux-Montréal, call 514-282-1725 or www.pierreducalvet.ca
On Monday, April 11th, the Chief Winemaker of Beringer, Ed Sbragia hosts a Beringer Wine Dinner at Truffles in the Four Seasons Hotel starting at 6:30 pm. To see the menu click here Tickets are $120 per person (plus taxes and gratuities). Call 416-928-7331.
On Sunday, April 17th, Alis Arrowood presents her portfolio and answers any wine-related questions at a winemaker's dinner at Hemispheres Restaurant & Bistro (lobby level Metropolitan Hotel at 110 Chestnut Street). Reception kicks off at 6:00 p.m. and tickets are $175 per person (plus taxes and gratuities). To see the menu click here. For reservations, please call 416-599-8000.
On Monday, April 18th, the 2005 California Wine Fair takes place at the Fairmont Royal York. The trade-only tasting will be held from 2:30 pm to 5:00 pm, and is strictly for invited trade persons only. The invitational consumer tasting takes place from 7:00 pm until 9:30 pm. There are no ticket sales at the door ($55 for wine club members or $60 for guests). Contact the California Wine Institute at 1-800-558-2675. To see the wine list click here.
On Wednesday, April 20th, is the Annual Austrian Wine Event. This trade-only event will be held from 1:00 to 5:00 pm. Contact the Birgitta
Samavarchian at the Austrian Consulate General at 416-967-3348.
To see the wine list click here.
Screwcap Backgrounder
There is huge amount of screwcap information on the internet.
I would like to refer you to the work of New Zealand author Sue Courtney on her excellent Wine of the Week website. I have included a small excerpt from her website on the history of the Stelvin screwcap along with the link – click here
Late 60's
- Laboratory trials.
- Microbiology, oxidation-reduction potentials, permeability of liners.
- Product validation in laboratory, with the assistance of French oenological institutes.

1970 / 71
- First trials in Switzerland with Chasselas wine, which had preservation and taint problems with cork due to the lightness of wine.
1971 / 72

- Sealing trials with prestige wines (e.g. Haut-Brion).
- Wine stored long term in upright position.

1972 / 76
- Trials with wines from all areas of France, with the assistance of local professional organisations.

1972
- First commercial bottling in Switzerland at HAMMEL winery.

1976
- Australia adopts Stelvin
1977

- Australian wineries release commercial bottlings closed with Stelvin
- Some New Zealand producers, including Montana, follow suit.

1978

- Tasting of the trial bottling of prestige wines at top restaurants (Haut-Brion at Oliver's). Judged as tasting no different.
- At this point, most bottling for airlines turns to Stelvin

During 80's

- Swiss winemakers en mass turn to Stelvin with Saran-film-tin liner for Chasselas. They use Stelvin by the millions.


- During this period, France remains cautious.
- In 1984, the Australasian producers revert to cork, due to consumer resistance to screwcaps.
1990

- Swiss market now over 10 million per year.


- Sutter Home in California shows interest in the product.


- Polexan Saranex liner for wines to be consumed within 2 / 3 years is launched.
- Bottle finish BVS appears with lowered thread start (2.8mm) to enable top-shaping and a better seal.

1995

- Swiss market passes 60 million per year.


- Sutter Home uses over 10 million.
- A promotion campaign in France provides little development due to conservatism.

2000
- Australian winemakers of Clare Valley choose Stelvinñ for closing premium rieslings. They communicate on the quality of the seal: very positive welcome by the media and a high level of acceptance by the consumers.

2001
- New Zealand re-introduces Stelvin, along with Auscap, as part of the Screwcap Wine Seal Initiative.
2002
- Due to heightened awareness of Stelvin screwcaps in many wine consuming markets, Pechiney have had an overwhelming number of inquiries from all corners of the wine world.

2003

-

Demand outstrips supply. A worldwide shortage of long skirt screwcaps for wine leads to a 5 month production lead time. Wine with screwcap closures out sell cork in New Zealand. Australia becomes the largest consumer of screwcaps for premium wine. In the UK a supermarket group stipulates screwcaps as a requirement to their new world wine suppliers and to some European suppliers.
2001-2002-2003-2004-2005 Tasting Note Database
Our tasting note database from December 31, 2000 to February 2005, covers every Vintages release product for the past 50 months. There are more than 9,000 notes in the database data. Just enter the name of the product, supplier name or CSPC number. Or you can search by type of wine, country of origin, even wine agent! Nothing could be easier. Also you can get information on the agent by clicking on the agent's name, as well as current LCBO store inventory by clicking on "Check LCBO Availability", which will automatically tell you the number of bottles at LCBO as of last night.
To use our winefind.ca Tasting Notes Database: click here

** For All Visitors **
Vintages May 2005 Release
To see the complete list of upcoming 199 products click here (sorted by date of release). It includes the number of cases, which wines were presented by the LCBO, our agent ID for every product,
as well as, the 29 "In Store Discoveries" for May.
You can also see it sorted by agent click here
Copyright Food & Beverage Testing Institute of Canada 2005
Prior written permission is required for any form of reproduction
(electronic or other wise) and or quotation.
Contact Michael Vaughan at
mbv@total.net