Recent Articles
Jun. 4 - Bodega Norton 2004 Chardonnay ~ A too-good-to-be-true Argentina gem from the General List ~ LCBO Price Book now a thing of the past!
Jun. 4 - Bottle of the Week
Codorniu Brut Clasico ~ Puts some sparkling Classics to shame
May. 28 - A Trip in a Glass ~ Fine wines to transport you to far-away destinations
May. 28 - Bottle of the Week
Zoom-Zoom-Zoomers! ~ Campari: Seeing Red ~ Setting the World Ablaze
May. 21 - Toasting Queen Victoria ~ With Discounted Reds! ~ Grab these bargains while they last!
May. 21 - Bottle of the Week
Putting a little spice into your Victoria Day Long Weekend
May. 14 - Sprouting Up Like Tulips ~ Excellent 2003 Whites at Vintages
May. 14 - Bottle of the Week
2004 Terra Boa Blanco ~ A Bargain Priced Springtime White from Portugal
May. 7 - Prince Edward County's Field of Dreams ~ Long Dog Winery - No Long Shot!
May. 7 - Bottle of the Week
For Mother's Day! ~ Veuve Clicquot La Grande Dame Champagne ~ A priceless bubbly for that priceless mother!
Apr. 30 - An increasingly confusing Vintages catalogue ~ Hard to find what you are looking for & plan purchases
Apr. 30 - Bottle of the Week
Rosemount Shiraz on a Roll!
Apr. 23 - The Wine Glass ~ The Key to getting the most out of your wines
Apr. 23 - Bottle of the Week
Making the Rum Transition
Apr. 16 - All we are saying is give pink a chance
Apr. 16 - Bottle of the Week
Talus 2002 Zinfandel ~ A Zinfully Good Anti-Luddite!
Apr. 9 - Don't be screwed by a bad cork ~ Screwcaps are the answer
Apr. 9 - Bottle of the Week
2003 Mouton Cadet Blanc ~ Canada's best selling white Bordeaux
Apr. 2 - From Fizz to Pop ~ Putting some zip into Spring
Apr. 2 - Bottle of the Week
Underberg the Ultimate Digestif! ~ Only a full bottle will do!
Mar. 26 - Canada's #1 Wine Festival 27th ~ Vancouver Playhouse International Wine Festival
Mar. 26 - Bottle of the Week
Smooth & Satisfying ~ A Luxury French Brandy at a Great Price!
Mar. 19 - German Classics for Easter
Mar. 19 - Bottle of the Week
A liqueur that Grows on Trees!
Mar. 12 - Ontario's Vinous Peaks ~ Great quality directly from the wineries!
Mar. 12 - Bottle of the Week
A Special Treat for St. Patrick's Day
Mar. 5 - Today at Vintages ~ Chardonnays starting at $8.95!
Mar. 5 - Bottle of the Week
Cynar - A One-of-a-Kind Aperitif
Feb. 26 - Cuvée Throws a Curve Ball at Ontario's Best
Feb. 19 - A Vintages Jackpot for Shiraz Fans ~ But Slim Pinot Noir Pickings
Feb. 19 - Bottle of the Week
It's Canadian fortified and exudes sweet raspberries: Southbrook Framboise - Summer in a Bottle
Feb. 12 - The Apple of my Heart ~ Calvados to the Rescue
Feb. 12 - Bottle of the Week
It's French, it's spirited and a little bit sexy: Mon dieu, it's Green Chartreuse
Feb. 5 - Uncovering the Best Classics Red
Jan. 29 - Ooh la la! ~ Fine French Values that Won't Break the Bank
Jan. 22 - Frisky Whisky for Robbie Burns Revellers
Jan. 15 - Pinotage Perfection ~ Exploring South Africa's Sole Indigenous Grape
Jan. 8 - Gems from Chile ~ Be selective in today's Vintages Release


Become A FBTI Supporter Today By Clicking Here
This not-for-profit website is dedicated to the discerning reader!
It's French, it's spirited and a little bit sexy:
Mon dieu, it's Green Chartreuse
Michael Vaughan's Bottle of the Week
National Post • Saturday Weekend Section • February 12, 2005
LIVE WINE LINK
www.winefind.ca
(Ontario Readers: CLICK ON THE NAME - All listings are linked to the LCBO database)
If there is a product that interests you, just click on the name below and you will instantaneously connected with the LCBO database. The product will appear in blue and all you have to do is click on the name again and then the next screen will provide details along with the store search. Just click on store search. The number of bottles in each store is updated nightly. You should call the store first to see if stock still remains (each store phone number is listed).

It's one of those imponderables, whether the inspiration for the creation of Chartreuse lies with the Maker above or Devil below. For my taste, of all French spirits, it is the day-glo light greenish coloured elixir called Green Chartreuse that gets my heart pounding - the perfect after-dinner sipper for Valentine's Day that will leave your breath kissing sweet.
In 1084, high in a remote section of French Alps, the Carthusian Monk Saint Bruno created La Grande Chartreuse monastery just 20 km northwest of Grenoble in Fourvoirie. We may never know who or even when the "elixir of long life" was actually created, but in 1605 a manuscript detailing its formulation using seeds, leaves, flowers and roots from some 130 plants was given to the Carthusian Fathers. Production didn't begin in earnest until 1737 and was halted during the French revolution. Despite ups and downs, including a period when the monks expelled from France, the essence of Chartreuse still remains unchanged with slow aging in large oak casks. Only three Brothers know the exact formulation, which is now over 400 years old!
Green Chartreuse (CSPC 37333) with its enthusiastic 55% alcohol has wonderful pungency on the nose and a vibrant, gently viscous, sweet but refreshing, very spicy, clove-anise tinged taste that goes on and on. It is perfect on the rocks as an after dinner palate cleanser. Tax-inclusive prices of the 375 ml bottle vary from a high of $33.99 in BC; $22.08 Alberta (Willow Park); $28.50 Manitoba; $29.40 Ontario; $26.30 Quebec; $22.49 Nova Scotia; $24.91 Newfoundland.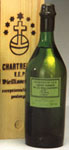 The more recently created (1840)
Yellow Chartreuse
(CSPC 69252) with only 40% alcohol is soft, smooth and seems a bit sweeter with a licorice tonality. It is slightly lower priced - $24.95 in Ontario. The very best is the hard to find, extremely pungent,
Green Chartreuse VEP
(Vieillissement Exceptionellement Prolongée) $69.95 for 500 ml (Ontario), which must be aged in oak for a minimum of 8 years. It comes in a small wooden box marked with a branding iron. The wax sealed dark green bottle is identical to the original of 1840. One sniff and you will be magically transported to the French Alps.
2001-2002-2003-2004-2005 Tasting Note Database
Our tasting note database from December 31, 2000 to January 2005, covers every Vintages release product for the past 48 months. There are more than 8,000 notes in the database data. Just enter the name of the product, supplier name or CSPC number. Or you can search by type of wine, country of origin, even wine agent! Nothing could be easier. Also you can get information on the agent by clicking on the agent's name, as well as current LCBO store inventory by clicking on "Check LCBO Availability", which will automatically tell you the number of bottles at LCBO as of last night.
To use our winefind.ca Tasting Notes Database: click here

** For All Visitors **
Vintages March 2005 Release
To see the complete list of upcoming 199 products click here (sorted by date of release). It includes the number of cases, which wines were presented by the LCBO, our agent ID for every product,
as well as, the 30 "In Store Discoveries" for March.
You can also see it sorted by agent click here
Copyright Food & Beverage Testing Institute of Canada 2005
Prior written permission is required for any form of reproduction
(electronic or other wise) and or quotation.
Contact Michael Vaughan at
mbv@total.net