Recent Articles
Sep. 17 - A Great Ontario Harvest ~ From just-released wines to a terrific new guide
Sep. 10 - Film Fest Fizz ~ Finding that Oscar-Winning Drink
Sep. 3 - Delicious Long Weekend Drinking ~ All but one under $20!
Aug. 27 - A new way of coding drinkability ~ And getting the best out of that bottle
Aug. 20 - The "New" Vintages Catalogue
Aug. 13 - Bargains Galore ~ Spirited Summer Matchmakers ~ From Boulard Calvados to Grand Marnier
Aug. 6 - Dealing with Disappointments ~ This Bicyclette has a flat tire!
Jul. 30 - LCBO Alternatives? ~ Regulations handcuff importers to LCBO warehouse
Jul. 23 - A French Sparkler & Greek Whites in Today's Vintages Hit Parade ~ In-Store Discoveries Reviews Disappear
Jul. 16 - French Rosé Rocks ~ Too bad you can't find them at the LCBO
Jul. 9 - Today's Vintages Release ~ Small in size but big in buys!
Jul. 2 - The Wines of Canada by John Schreiner ~ Interesting but a little thin
Jun. 25 - Boning Up for Canada Day! ~ ABC - Anything But Chardonnay A Best Buy ~ Trilogy of Grass-Free Sauvignon Blanc
Jun. 18 - Austria's Wines on a roll
Jun. 11 - Where there's Chardonnay there's Hope ~ 2,879 cases at Vintages! ~ Plus 79 New Items in Today's Vintages Release
Jun. 11 - Bottle of the Week
Kim Crawford 2004 Marlborough Sauvignon Blanc ~ Kick starts the screwcap revolution
Jun. 4 - Bodega Norton 2004 Chardonnay ~ A too-good-to-be-true Argentina gem from the General List ~ LCBO Price Book now a thing of the past!
Jun. 4 - Bottle of the Week
Codorniu Brut Clasico ~ Puts some sparkling Classics to shame
May. 28 - A Trip in a Glass ~ Fine wines to transport you to far-away destinations
May. 28 - Bottle of the Week
Zoom-Zoom-Zoomers! ~ Campari: Seeing Red ~ Setting the World Ablaze
May. 21 - Toasting Queen Victoria ~ With Discounted Reds! ~ Grab these bargains while they last!
May. 21 - Bottle of the Week
Putting a little spice into your Victoria Day Long Weekend
May. 14 - Sprouting Up Like Tulips ~ Excellent 2003 Whites at Vintages
May. 14 - Bottle of the Week
2004 Terra Boa Blanco ~ A Bargain Priced Springtime White from Portugal
May. 7 - Prince Edward County's Field of Dreams ~ Long Dog Winery - No Long Shot!
May. 7 - Bottle of the Week
For Mother's Day! ~ Veuve Clicquot La Grande Dame Champagne ~ A priceless bubbly for that priceless mother!
Apr. 30 - An increasingly confusing Vintages catalogue ~ Hard to find what you are looking for & plan purchases
Apr. 30 - Bottle of the Week
Rosemount Shiraz on a Roll!
Apr. 23 - The Wine Glass ~ The Key to getting the most out of your wines
Apr. 23 - Bottle of the Week
Making the Rum Transition
Apr. 16 - All we are saying is give pink a chance
Apr. 16 - Bottle of the Week
Talus 2002 Zinfandel ~ A Zinfully Good Anti-Luddite!
Apr. 9 - Don't be screwed by a bad cork ~ Screwcaps are the answer
Apr. 9 - Bottle of the Week
2003 Mouton Cadet Blanc ~ Canada's best selling white Bordeaux
Apr. 2 - From Fizz to Pop ~ Putting some zip into Spring
Apr. 2 - Bottle of the Week
Underberg the Ultimate Digestif! ~ Only a full bottle will do!
Mar. 26 - Canada's #1 Wine Festival 27th ~ Vancouver Playhouse International Wine Festival
Mar. 26 - Bottle of the Week
Smooth & Satisfying ~ A Luxury French Brandy at a Great Price!
Mar. 19 - German Classics for Easter
Mar. 19 - Bottle of the Week
A liqueur that Grows on Trees!
Mar. 12 - Ontario's Vinous Peaks ~ Great quality directly from the wineries!
Mar. 12 - Bottle of the Week
A Special Treat for St. Patrick's Day
Mar. 5 - Today at Vintages ~ Chardonnays starting at $8.95!
Mar. 5 - Bottle of the Week
Cynar - A One-of-a-Kind Aperitif
Feb. 26 - Cuvée Throws a Curve Ball at Ontario's Best
Feb. 19 - A Vintages Jackpot for Shiraz Fans ~ But Slim Pinot Noir Pickings
Feb. 19 - Bottle of the Week
It's Canadian fortified and exudes sweet raspberries: Southbrook Framboise - Summer in a Bottle
Feb. 12 - The Apple of my Heart ~ Calvados to the Rescue
Feb. 12 - Bottle of the Week
It's French, it's spirited and a little bit sexy: Mon dieu, it's Green Chartreuse
Feb. 5 - Uncovering the Best Classics Red
Jan. 29 - Ooh la la! ~ Fine French Values that Won't Break the Bank
Jan. 22 - Frisky Whisky for Robbie Burns Revellers
Jan. 15 - Pinotage Perfection ~ Exploring South Africa's Sole Indigenous Grape
Jan. 8 - Gems from Chile ~ Be selective in today's Vintages Release


Become A FBTI Supporter Today By Clicking Here
This not-for-profit website is dedicated to the discerning reader!

The Wine Glass
The Key to getting the most out of your wines
© Michael Vaughan 2005


National Post Weekly Wine & Spirits Columnist
Saturday, April 23, 2005

LIVE WINE LINK
www.winefind.ca
(CLICK ON THE NAME - All listings are automatically linked to the LCBO database)
If there is a product that interests you, just click on the name below and you will instantaneously connected with the LCBO database. The product will appear in blue and all you have to do is click on the name again and then the next screen will provide details along with the store search. Just click on store search. The number of bottles in each store is updated nightly. Call the store first to see if stock still remains (each store phone number is listed).

I recently delivered two seminars at the Edward Johnson Music Foundation fundraising in Guelph. Before beginning I asked, "What is the most important thing about enjoying wine?" Everyone appeared to know that it's important to buy something good – obviously, one they will like. Some suggest that decanting is critical to wine enjoyment, at least for reds.

At last someone suggests the glass is important. Eureka – that's it - the glass! To make the point, I walk the group through a tasting analysis of one of the wines, using the large, cup shaped glass that could double for water. We collectively evaluate the fruit, the crispness, the aftertaste, etc. of the first wine in this glass.
Once everybody has scored it, they are instructed to pour their wine into the small tulip-shaped ISO glass. This glass was specially designed for professional tasters and competitions. The audience swirls, smells and tastes. There are a few gasps. "Where has the fruit gone?" asks one attendee who simply can't believe how much the wine changed from simply putting it into a different shaped glass. The scores are tallied up and everybody liked the bigger glass, some by a substantial margin.
The smaller glass compressed the fruit and made the wine taste more acidic. It was as if the wine had magically changed all by itself. In fact, the first glass with its larger bowl and opening allowed the wine to gently coat the tongue reducing the impression of acidity and heightening fruit. The smaller glass funneled it down the center of the tongue increasing the impression of acidity and diminishing fruit.
The size, shape and thinness of the glass along with the size opening all profoundly change one's perception of the wine's characteristics. This point was made by Georg Riedel, a 10th generation Austrian glassmaker, in 1958 when his family's firm created Burgundy Grand Cru glass for connoisseurs wanting to extract the last ounce of flavour from their prized Pinot Noirs.
While Riedel's attempts to create the perfect wine glass for each specific wine has been a blessing, there will never be "the perfect glass" for everyone. Riedel's glasses are designed to make a specific wine taste best for most wine lovers. The same glass, however, will not work for everyone because based on their own personal preferences, each individual responds differently to what a specific glass does to a wine.
The #1 lesson is to find the glass that makes the wine taste best for your palate. It means that the glass recommended by a sommelier, or even wine expert, may not necessarily be best for you. As your enjoyment is at stake, the wine glass you use - be it an expensive or cheap – must be best for your palate.
Changing the glass can transform that ugly duckling wine scoring a mere 84 points, into a beautiful swan-like 89 points. Stubbornly clinging to a favourite glass can rob you of a wine's potential pleasure. For comparative purposes, I force myself to use the identical ISO glass for every wine. This ensures consistency meaning that every wine gets exactly the same chance to strut its stuff - even when I know that a more suitable glass would make a wine taste so much better! For more on the role of the wine glass click here.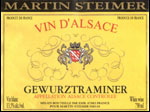 As for today's recommendations here are two, well priced, fine, floral-styled Springtime whites from Vintages. From Alsace, you won't be disappointed by Martin Steimer 2002 Gewurztraminer (709790) at only $16.95. This fruity charmer has lingering, ripe melon and spicy lychee flavours, which are absolutely ready to drink.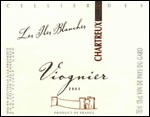 Next we have the tasty, sippable 2003 Les Îles Blanches Viognier (594804) at $13.95 a Rhone Vin de Pays du Gard. Produced by Cellier des Chartreux, it has a gently honeyed, ripe melon nose and crisp, dry, medium-light bodied, pretty melon and ripe apple flavours.
Coming up: A total 378 wines from Alsace and Rhone will be flowing abundantly at next Monday afternoon's Sopexa trade-only tasting at the Carlu. For information use the npreader password and click here.
2001-2002-2003-2004-2005 Tasting Note Database
Our tasting note database from December 31, 2000 to February 2005, covers every Vintages release product for the past 50 months. There are more than 9,000 notes in the database data. Just enter the name of the product, supplier name or CSPC number. Or you can search by type of wine, country of origin, even wine agent! Nothing could be easier. Also you can get information on the agent by clicking on the agent's name, as well as current LCBO store inventory by clicking on "Check LCBO Availability", which will automatically tell you the number of bottles at LCBO as of last night.
To use our winefind.ca Tasting Notes Database: click here

** For All Visitors **
Vintages May 2005 Release
To see the complete list of upcoming 199 products click here (sorted by date of release). It includes the number of cases, which wines were presented by the LCBO, our agent ID for every product,
as well as, the 29 "In Store Discoveries" for May.
You can also see it sorted by agent click here
Copyright Food & Beverage Testing Institute of Canada 2005
Prior written permission is required for any form of reproduction
(electronic or other wise) and or quotation.
Contact Michael Vaughan at
mbv@total.net