Recent Articles
Nov. 19 - Beaujolais Nouveau Celebrates 54 Years
Nov. 12 - Vintages Release Best Buys ~ From California to Bordeaux
Nov. 5 - "Eyes Wide Shut" ~ Taste, texture and scent in motion
Oct. 29 - Tricks & Treats in Today's Vintages Release ~ Some Awesome Aussi Highlights
Oct. 22 - Perfect Fall Libations ~ Obscure varieties from Welschriesling to Semillon
Oct. 15 - Hop Scotch ~ The biggest whisky release on record
Oct. 8 - A Toast to the Turkey ~ Many whites, some reds and even a sparkling rosé
Oct. 1 - Barolo the King of Italian Reds
Sep. 24 - A Flood of Upcoming Tastings ~ but not a Vintages Classics in Sight
Sep. 17 - A Great Ontario Harvest ~ From just-released wines to a terrific new guide
Sep. 10 - Film Fest Fizz ~ Finding that Oscar-Winning Drink
Sep. 3 - Delicious Long Weekend Drinking ~ All but one under $20!
Aug. 27 - A new way of coding drinkability ~ And getting the best out of that bottle
Aug. 20 - The "New" Vintages Catalogue
Aug. 13 - Bargains Galore ~ Spirited Summer Matchmakers ~ From Boulard Calvados to Grand Marnier
Aug. 6 - Dealing with Disappointments ~ This Bicyclette has a flat tire!
Jul. 30 - LCBO Alternatives? ~ Regulations handcuff importers to LCBO warehouse
Jul. 23 - A French Sparkler & Greek Whites in Today's Vintages Hit Parade ~ In-Store Discoveries Reviews Disappear
Jul. 16 - French Rosé Rocks ~ Too bad you can't find them at the LCBO
Jul. 9 - Today's Vintages Release ~ Small in size but big in buys!
Jul. 2 - The Wines of Canada by John Schreiner ~ Interesting but a little thin
Jun. 25 - Boning Up for Canada Day! ~ ABC - Anything But Chardonnay A Best Buy ~ Trilogy of Grass-Free Sauvignon Blanc
Jun. 18 - Austria's Wines on a roll
Jun. 11 - Where there's Chardonnay there's Hope ~ 2,879 cases at Vintages! ~ Plus 79 New Items in Today's Vintages Release
Jun. 11 - Bottle of the Week
Kim Crawford 2004 Marlborough Sauvignon Blanc ~ Kick starts the screwcap revolution
Jun. 4 - Bodega Norton 2004 Chardonnay ~ A too-good-to-be-true Argentina gem from the General List ~ LCBO Price Book now a thing of the past!
Jun. 4 - Bottle of the Week
Codorniu Brut Clasico ~ Puts some sparkling Classics to shame
May. 28 - A Trip in a Glass ~ Fine wines to transport you to far-away destinations
May. 28 - Bottle of the Week
Zoom-Zoom-Zoomers! ~ Campari: Seeing Red ~ Setting the World Ablaze
May. 21 - Toasting Queen Victoria ~ With Discounted Reds! ~ Grab these bargains while they last!
May. 21 - Bottle of the Week
Putting a little spice into your Victoria Day Long Weekend
May. 14 - Sprouting Up Like Tulips ~ Excellent 2003 Whites at Vintages
May. 14 - Bottle of the Week
2004 Terra Boa Blanco ~ A Bargain Priced Springtime White from Portugal
May. 7 - Prince Edward County's Field of Dreams ~ Long Dog Winery - No Long Shot!
May. 7 - Bottle of the Week
For Mother's Day! ~ Veuve Clicquot La Grande Dame Champagne ~ A priceless bubbly for that priceless mother!
Apr. 30 - An increasingly confusing Vintages catalogue ~ Hard to find what you are looking for & plan purchases
Apr. 30 - Bottle of the Week
Rosemount Shiraz on a Roll!
Apr. 23 - The Wine Glass ~ The Key to getting the most out of your wines
Apr. 23 - Bottle of the Week
Making the Rum Transition
Apr. 16 - All we are saying is give pink a chance
Apr. 16 - Bottle of the Week
Talus 2002 Zinfandel ~ A Zinfully Good Anti-Luddite!
Apr. 9 - Don't be screwed by a bad cork ~ Screwcaps are the answer
Apr. 9 - Bottle of the Week
2003 Mouton Cadet Blanc ~ Canada's best selling white Bordeaux
Apr. 2 - From Fizz to Pop ~ Putting some zip into Spring
Apr. 2 - Bottle of the Week
Underberg the Ultimate Digestif! ~ Only a full bottle will do!
Mar. 26 - Canada's #1 Wine Festival 27th ~ Vancouver Playhouse International Wine Festival
Mar. 26 - Bottle of the Week
Smooth & Satisfying ~ A Luxury French Brandy at a Great Price!
Mar. 19 - German Classics for Easter
Mar. 19 - Bottle of the Week
A liqueur that Grows on Trees!
Mar. 12 - Ontario's Vinous Peaks ~ Great quality directly from the wineries!
Mar. 12 - Bottle of the Week
A Special Treat for St. Patrick's Day
Mar. 5 - Today at Vintages ~ Chardonnays starting at $8.95!
Mar. 5 - Bottle of the Week
Cynar - A One-of-a-Kind Aperitif
Feb. 26 - Cuvée Throws a Curve Ball at Ontario's Best
Feb. 19 - A Vintages Jackpot for Shiraz Fans ~ But Slim Pinot Noir Pickings
Feb. 19 - Bottle of the Week
It's Canadian fortified and exudes sweet raspberries: Southbrook Framboise - Summer in a Bottle
Feb. 12 - The Apple of my Heart ~ Calvados to the Rescue
Feb. 12 - Bottle of the Week
It's French, it's spirited and a little bit sexy: Mon dieu, it's Green Chartreuse
Feb. 5 - Uncovering the Best Classics Red


Become A FBTI Supporter Today By Clicking Here
This not-for-profit website is dedicated to the discerning reader!

Bodega Norton 2004 Chardonnay
A too-good-to-be-true gem from the General List
LCBO Price Book now a thing of the past
Except for National Post readers!
© Michael Vaughan 2005


National Post Weekly Wine & Spirits Columnist
Saturday, June 4, 2005

LIVE WINE LINK
www.winefind.ca
(CLICK ON THE NAME - All listings are automatically linked to the LCBO database)
If there is a product that interests you, just click on the name below and you will instantaneously connected with the LCBO database. The product will appear in blue and all you have to do is click on the name again and then the next screen will provide details along with the store search. Just click on store search. The number of bottles in each store is updated nightly. Call the store first to see if stock still remains (each store phone number is listed).

Every week I taste some 30+ items from the LCBO General List. Unfortunately, many are not worth writing about. Recently, a discerning wine lover obviously inspired by the movie "Sideways" complained about a general list Pinot Noir, which didn't have a hint of the grape's natural flavour. He asked me why I don't rate these wines. While many low-cost, varietally-labelled wines have this problem, I simply don't have space to report on all of them.

It is interesting that many producers defend the absence of varietal character by explaining that most folks buying these wines aren't wine connoisseurs. This "what-did-you-expect-for-the-price" attitude is like admitting that you can sell almost anything to an inexperienced consumer. Slap a snappy kangaroo on the label, add some soda pop flavours, throw in lots of advertising and you have an instant winner. Indeed, with some wines it would seem that Dr. Pepper's flavour wagon camped out in the vineyards.

As a result, many professional buyers steer clear of the General List. Restaurants, for instance, often only include some of the most popular items to pacify their less discerning clientele. Pundits claim that the real motive is greed: being able to sell their lower cost private order wines at a higher mark up.

So how do people decide which wine to buy? Word of mouth (i.e. a friend's recommendation), reading a wine column, advertising and/or the multitude of LCBO promotions. Regarding the latter, it is ironic that some of the most highly advertised wines are far from being the best. How many Ontario consumers realize that when it comes to deciding which wines are eligible for the LCBO General List, quality doesn't come first! Out of the 100 possible LCBO listing points, only 20 go to quality and 40 to how much money is spent on LCBO promotions! To see the LCBO documents click here

This means that prospective suppliers will improve chances of getting LCBO listings if they are prepared to pay big bucks for advertising in Food & Drink magazine and other LCBO promotions. Just a few years ago the LCBO purged the General List of 1,000+ wines - some of the very best - dramatically reducing customer choice. This explains why you now see dozens of facings of the identical plonk hogging top LCBO shelves!

As a wine critic, my role is to help the reader find better, more enjoyable, wines. While anyone can taste/recommend something, to be meaningful, readers must be familiar with the writer's ability and likes/dislikes. So here is the scoop: I recently discovered an incredible under-$20 Chardonnay. How good is it? I put it in a blind tasting of 9 California Chards averaging over $20. It came in second at 90 points – just one point shy of the top-rated entry costing $49.50!

This General List phenomenon comes from the Argentina and costs a mere $10.05! As there isn't a penny to advertise Bodega Norton 2004 Chardonnay (589531), I have decided to trumpet its cause. This is especially the case as the LCBO is threatening to delist this gem because of lousy sales. To check availability click here
As a fan of full, rich Burgundies, for my palate I can't remember having a better value Chard. Keep in mind, however, that stylistically, this is the antithesis of the very popular Yellow Tail Chard. Norton is a dry, fairly well-structured effort with very tangy, harmonious, ripe melon-lemon fruit flavours followed up by toasty, faintly smoky, lingering, key lime pie notes. I preferred lot number L-120804 over L12704 (see the back label). I bought two cases, which might last me over the summer, although it will still drink nicely over the next 16 months.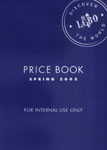 There are, of course, other gems on the General List. Unfortunately, the LCBO is now making it harder than ever to find out what they are. The LCBO has just decreed that their Spring 2005 Price Book can no longer be given to customers. It means that we have no list whatsoever as the Price Book has never appeared on the LCBO website. Also gone are the names of product consultants by store.
Given the demise of the Price Book, I was surprised to discover that starting in August, Vintages will now publish two, fancy buying guides monthly - 24 annually! Considering that the LCBO has a captive market and everything is eventually sold - sometimes at the supplier's expense - one wonders why this huge added expenditure is required. Properly laying out and indexing the existing single monthly catalogue would rectify any problems.

By contrast, the British Columbia liquor commission publishes an inexpensive, no-frills, up-to-date, 100-page Product Guide every month featuring over 5,500 items! It makes sure that all its customers know every single item available - Vintages, Classics, you name it! Weighing less than half of the LCBO monthly Vintages Catalogue (and even less than the LCBO Price Book), it is conveniently pocket sized and everything is listed in an easy to find manner. Those wishing to see the centerfold of a recent March 2005 BC Product Guide, which is dripping with a wide array of red Burgundy click here.
As a LCBO shareholder and customer, I believe that we have the right to see what is being sold. And so National Post readers can now see the 84-page, Spring 2005 Price Book by clicking here, use the "npreader" password to gain access.
Coming Up
TORONTO TASTE 15th ANNIVERSARY
Sunday, June 12, 2005

This popular fundraising event brings together 70 of Toronto chefs who will create an array of delectable delights. It will be enjoyed with a wide array of wines, spirits and brews from some 30 importers and domestic producers (to see the list click here). Culinary offerings include barbequed veal with maple-chipotle glaze, raspberry lobster gazpacho and campofrio jamón serrano.
It takes place at York Quay at Harbourfront Centre. There will also be a wine auction, which includes Chateau Beaucastel (1990, 1995 and 1989), 1988 Cote Rotie La Turque, Hermitage Chave (1995, 1997 and 1998), Hermitage La Chappelle (1989, 1990, 1996, 1997 and 1998), etc. Tickets for Toronto Taste are $225 (tax receipt for $125). They can be ordered from Second Harvest at 416-408-2594. For more information visit
www.secondharvest.ca
2001-2002-2003-2004-2005 Tasting Note Database
Our tasting note database from December 31, 2000 to May 2005, covers every Vintages release product for the past 53 months. There are more than 9,000 notes in the database data. Just enter the name of the product, supplier name or CSPC number. Or you can search by type of wine, country of origin, even wine agent! Nothing could be easier. Also you can get information on the agent by clicking on the agent's name, as well as current LCBO store inventory by clicking on "Check LCBO Availability", which will automatically tell you the number of bottles at LCBO as of last night.
To use our winefind.ca Tasting Notes Database: click here

** For All Visitors **
Vintages July 2005 Release
To see the complete list of upcoming 162 products click here (sorted by date of release). It includes the number of cases, which wines were presented by the LCBO, our agent ID for every product,
as well as, the 10 "In Store Discoveries" for July.
You can also see it sorted by agent click here
Copyright Food & Beverage Testing Institute of Canada 2005
Prior written permission is required for any form of reproduction
(electronic or other wise) and or quotation.
Contact Michael Vaughan at
mbv@total.net