Recent Articles
Jan. 26 - 2005 A Miracle Vintage ~ Tumultuous Week of Highs and Lows
Jan. 19 - Looking for Value? ~ Wines from Argentina to the Rescue
Jan. 12 - Looking Back - Looking Ahead ~ Spanish Wines Looking Up
Jan. 5 - New Year Bargains at Vintages
Dec. 29 - Having a Sparkling New Year's Eve
Dec. 22 - Sumptuous Sippers ~ For days with Slippers
Dec. 15 - Wine Awards Canada - Charting 339 of Ontario's Best ~ Toasting Ontario's Best Sparklers from Brut to Gently Sweet
Dec. 8 - A Sparkling Vintages Release ~ But buy carefully
Dec. 1 - Holiday Gifting ~ The twin pack is the way to go
Nov. 24 - Eight Buys from Today's Vintages Release
Nov. 17 - Introducing the Signature Selection
Nov. 10 - 2005 Burgundy ~ The wine gurus like it!
Nov. 3 - Magic in Montreal ~ Le Marché an Inspiration for Local Wineries
Oct. 27 - Scary Times at Vintages ~ From Tricks to Treats
Oct. 13 -Today at Vintages ~ Bordeaux and Much More
Oct. 6 - Wine Auction Fever ~ Confessions of a Wine Auction Junkie ~ Forget Screaming Eagle and pass the Rum
Sep. 29 - Southern French Accents
Sep. 22 - Perfect for an Autumn day ~ Is that a bottle of spicy wine under your kilt?
Sep. 15 - A Celebration of the Ontario's harvest ~ Faces behind great wines
Sep. 8 - Reel Wines for Real Film Lovers ~ Can't snuggle? Here's what to smuggle! ~ Plus Ontario Recommendations
Sep. 1 - Dust off your Lederhosen ~ Austrian Wines Finally Unleashed in Vintages
Aug. 25 - Summer Twilight Selections ~ Spanish Synergy
Aug. 18 - The Wines of Chile ~ Soaring to the peaks of the Andes
Aug. 11 - Discovering Greece - a wine odyssey ~ Splendid Assyrtiko from Santorini
Aug. 4 - Spain - From the Classics to the Cutting Edge ~ Revving up for Rioja
Jul. 28 - Days of Wine & Roses no more! ~ Under $10 wines a rare breed
Jul. 21 - Que Sera, Syrah ~ Big, Smoky and Beautiful
Jul. 14 - Finding the best wine matches ~ Sizzling Seafood at Scaramouche
Jul. 7 - Sizzling Sauvignon Blanc ~ Vintages Best Buy Whites


Become an FBTI Supporter today
Get Michael Vaughan's Buying Guide
for January 5th & 19th Vintages Release
Click Here
Looking Back - Looking Ahead
Spanish Wines Looking Up
© Michael Vaughan 2008
National Post Weekly Columnist
Saturday, January 12, 2008
CLICK ON THE NAME
All listings are automatically linked to the LCBO database
If there is a product that interests you, just click on the name below and you will instantaneously connected with the LCBO database. The product will appear in blue and all you have to do is click on the name again and then the next screen will provide details along with the store search. Just click on store search. The number of bottles in each store is updated nightly. Call the store first to see if stock still remains (each store phone number is listed).
It has been a tumultuous year in the wine world. Trying to gage what's hot, what's not is tricky. Early in the decade, consumers jumped on the Yellow Tail bandwagon making Australia the world's hottest wine destination. Soft, sweetish and juicy, these wines were blessed with easy drinkability - perfect for neophytes.
The recent Aussi drought put an end to the surplus causing prices to rise thereby slowing growth. For the adventurous, well-priced Argentine Malbec has become the new hot spot. Despite some shortages and rising prices, quality-value ratios are still terrific. While Chile's bargain basement prices are gone, sales are growing again and challenging some the traditional Australian-California icons. As for the latter, despite our rising loonie, the LCBO has assiduously kept prices inflated thereby reducing potential growth. The new Barefoot Cellars range from Gallo at $9.90 is very hot.
In the old world, France, the traditional king, is making tastier, less complicated, well-priced wines, especially in the huge southern Midi region, which produces 10 bottles for every one from Australia. Huge investments in user-friendly quaffers like Yellow Jersey and French Rabbit have saved French face. Regions like Beaujolais and Bordeaux, however, continue to struggle, especially in the lower "nonentity" price range. Meanwhile, expensive Burgundy and Bordeaux classics continue their upward spiral as new affluent buyers, especially in the orient, insist on the100-point icons.
Closer to home, Canadian wines are better, albeit, more expensive than ever. This especially true in the Okanagan Valley, where the impact of climate warming has resulted in vast improvements. There is an extremely enthusiastic demand for boutique at-the-winery only selections, which has caused prices to rise. As wineries make more money selling directly to visiting customers, there has been a reduction in availability of such VQA wine sin other markets.
In Ontario, it has been a decade was filled with challenges - only the gorgeous 2007 vintage seems blemish free. The ever-rising tide of Canadian made offshore blends has been aided and abetted by the dramatic reduction of cheap imports on LCBO shelves. The latter, along with liquor board minimum floor pricing, enables Canadian producers to set higher-than-ever prices.
Of all old world countries, improvements in Spain have been most dramatic. Surprisingly, many consumers are still not aware of the full diversity of Spain's new cutting edge styles. That's going to change as higher scores start rolling in. The fact that Spain produces something for everyone is another asset.
Some of the Spain's largest, most successful producers specialize in sparkling wine. Clay Daum, export manager of Cordorniu, told me, "Customers take our inexpensive cavas for granted; it's not that we can't produce great bubblies to challenge the French classics, it's just that many are not willing to pay the price. Making matters worse, we are in short supply and sell everything we have."

Of course, Spain's standard-bearer is Torres, whose estate wines have achieved new levels of greatness. Three recent Vintages highlights include the thrifty Miguel Torres 2006 Santa Digna Sauvignon Blanc (177444) at $12.85; the phenomenal Mas Borras 2004 Pinot Noir at only $ 25.95 (gone); and the sublime Mas La Plana 2001 Cabernet Sauvignon (formerly discounted at $59.95/magnum and now gone).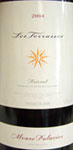 One of Spain's most dynamic red producers is Alvaro Palacios and the recommended Alvaro Palacios Les Terrasses 2004 (977843) was at Vintages last month at $38.95 (a few bottles remain at $38.65). Organic fans will be able to taste his exceptional 2005 Finca Dofi Priorat, along with two never-seen-in-Ontario-before reds: Descendientes 2005 Palacios Corullon and Descendientes 2005 Las Lamas 2005 from Bierzo, at the upcoming Return To Terroir International Tour (featuring 50 biodynamic/organic wineries) on Saturday, February 9th at the Fermenting Cellar in the Distillery District from 4:00 to 8:00 pm. For event details click here Tickets are priced at $59.95 per person, but FBTI Supporters can register today at $39.95 click here

A tasting highlight last year was the stunning 1987 Vega-Sicilia "Unico" Reserva from Spain's famous Ribera del Duero region. It was purchased in 2003 at the SAQ for $319, and while it isn't available here, you will not go wrong investing in the same winery's Alion Cosecha 2003 (707166) at $69.40, which has wonderful, rich, plums and ripe cherry-cassis fruit.

Of course, the fortified wines of Jerez may well be Spain's greatest bargain - from aperitif to lush dessert wines. The just-released Osborne Pedro Ximinez 1827 Sweet Sherry (47944) at $17.80 is a steal - seductively sweet and fleshy with raisin pie and lingering, caramel flavours.
With over 4,000 exhibitors, Alimentaria 2008 (March 14-18) is the world's largest Spanish food & wine expo. Taking place every second year in Barcelona, it draws 150,000+ visitors. For information click here

2001 - 2007 Tasting Note Database
Our tasting note database from December 31, 2000 to December 2007, covers every Vintages release product for the past 84 months. There are more than 16,000 notes in the database data. Just enter the name of the product, supplier name or CSPC number. Or you can search by type of wine, country of origin, even wine agent! Nothing could be easier. Also you can get information on the agent by clicking on the agent's name, as well as current LCBO store inventory by clicking on "Check LCBO Availability", which will automatically tell you the number of bottles at LCBO as of last night.
To use our Tasting Notes Database: click here

** For All Visitors **
Vintages Releases
To see the complete list of upcoming products from the
January 19 release, including In-Store Discovery items,
click here (sorted by date of release).
You can also see it sorted by agent click here
To see the complete list of upcoming products from the
February 2 release, including In-Store Discovery items,
click here (sorted by date of release).
You can also see it sorted by agent click here
To see the complete list of upcoming products from the
February 16 release, including In-Store Discovery items,
click here (sorted by date of release).
You can also see it sorted by agent click here
Copyright Food & Beverage Testing Institute of Canada 2008
Prior written permission is required for any form of reproduction
(electronic or other wise) and or quotation.
Contact Michael Vaughan at
mbv@total.net