Recent Articles
Jan. 26 - 2005 A Miracle Vintage ~ Tumultuous Week of Highs and Lows
Jan. 19 - Looking for Value? ~ Wines from Argentina to the Rescue
Jan. 12 - Looking Back - Looking Ahead ~ Spanish Wines Looking Up
Dec. 29 - Having a Sparkling New Year's Eve
Dec. 22 - Sumptuous Sippers ~ For days with Slippers
Dec. 15 - Wine Awards Canada - Charting 339 of Ontario's Best ~ Toasting Ontario's Best Sparklers from Brut to Gently Sweet
Dec. 8 - A Sparkling Vintages Release ~ But buy carefully
Dec. 1 - Holiday Gifting ~ The twin pack is the way to go
Nov. 24 - Eight Buys from Today's Vintages Release
Nov. 17 - Introducing the Signature Selection
Nov. 10 - 2005 Burgundy ~ The wine gurus like it!
Nov. 3 - Magic in Montreal ~ Le Marché an Inspiration for Local Wineries
Oct. 27 - Scary Times at Vintages ~ From Tricks to Treats
Oct. 13 -Today at Vintages ~ Bordeaux and Much More
Oct. 6 - Wine Auction Fever ~ Confessions of a Wine Auction Junkie ~ Forget Screaming Eagle and pass the Rum
Sep. 29 - Southern French Accents
Sep. 22 - Perfect for an Autumn day ~ Is that a bottle of spicy wine under your kilt?
Sep. 15 - A Celebration of the Ontario's harvest ~ Faces behind great wines
Sep. 8 - Reel Wines for Real Film Lovers ~ Can't snuggle? Here's what to smuggle! ~ Plus Ontario Recommendations
Sep. 1 - Dust off your Lederhosen ~ Austrian Wines Finally Unleashed in Vintages
Aug. 25 - Summer Twilight Selections ~ Spanish Synergy
Aug. 18 - The Wines of Chile ~ Soaring to the peaks of the Andes
Aug. 11 - Discovering Greece - a wine odyssey ~ Splendid Assyrtiko from Santorini
Aug. 4 - Spain - From the Classics to the Cutting Edge ~ Revving up for Rioja
Jul. 28 - Days of Wine & Roses no more! ~ Under $10 wines a rare breed
Jul. 21 - Que Sera, Syrah ~ Big, Smoky and Beautiful
Jul. 14 - Finding the best wine matches ~ Sizzling Seafood at Scaramouche
Jul. 7 - Sizzling Sauvignon Blanc ~ Vintages Best Buy Whites
Jun. 30 - In search of the Ontario Idol ~ Tracking down the best for Canada Day
Jun. 23 - Vintages Price Hikes ~ Hitting the customer where it hurts
Jun. 16 - Life After Yellow Tail
Jun. 9 - Rosé Rules ~ From serious to casual, unearthing that ambidextrous rosé
Jun. 2 - The ones that didn't get away! ~ Unearthing recent best buys - all under $20


Become an FBTI Supporter today
Get Michael Vaughan's Buying Guide
for October 27th & November 10th Vintages Release
Click Here
Magic in Montreal
Le Marché an Inspiration for Local Wineries
© Michael Vaughan 2007
National Post Weekly Columnist
Saturday, November 3, 2007
CLICK ON THE NAME
All listings are automatically linked to the LCBO database
If there is a product that interests you, just click on the name below and you will instantaneously connected with the LCBO database. The product will appear in blue and all you have to do is click on the name again and then the next screen will provide details along with the store search. Just click on store search. The number of bottles in each store is updated nightly. Call the store first to see if stock still remains (each store phone number is listed).
When it comes to Montreal, I feel like a moth hypnotized by bright lights. . I attended last weekend's annual Passion Vin fundraising, which has now raised more than $2 million for the Maisonneuve-Rosemont Hospital Foundation. It featured eight major wine icons from around the world: Pommery Champagne, Joseph Drouhin, Château Gazin, Château Pontet-Canet, Château Margaux, Mas de Daumas Gassac, as well as Tenuta San Guido, producer of Sassicaia, and Torres from Spain. Meals were designed by the chefs from Leméac, Latini and Club Chasse & Pêche. Tickets went for $1,750 and all 400 disappeared instantaneously after being released.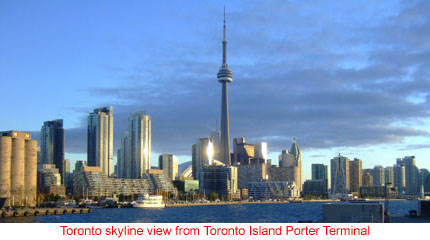 For the first time, getting to Montreal was actually fun. Porter Airlines cut my travel time and airfare cost in half. It took less than two hours from my front door in High Park. Better yet, the stress-free business-class only-service, includes complimentary wines. The very tasty VQA Ontario white Jackson-Triggs 2005 Proprietor's Edition Chardonnay hit the spot with its lively, ripe, lemon-melon-pear flavours. Apparently the "Proprietor's Edition" is a licensee-only product. I have been told that it is identical to the untasted JT 2005 "Proprietor's Reserve" (526251) on the LCBO general list. The best deal is ten fully transferable non-prime time flights at an astonishing $1,113 taxes included (to see the Firm Porter Pass click here).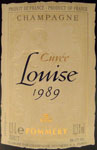 Kicking off the two-day Passion Vin fundraiser was an outstanding vertical of the Pommery's deluxe Cuvée Louise Brut Champagne led by Thierry Gasco, a leading oenologist and chef de cave since 1992. Of the 6 vintages tasted ('98, '96, '95, '90, '89 and '81), the 1989 was absolutely sublime. While there is nary a bottle of Pommery in Ontario, the SAQ offers a choice of five different editions of bubblies.

It was standing room only at the presentation by Margaux's managing director/oenologist Paul Pontallier. The exceptionally attractive Chateaux Margaux 1999 soared over the other vintages presented (2002, 2001, 1995, 1989). Only two bottles of 2003 are available at the LCBO (595850) for $945 - to see click here. This is surprising since the price in the upcoming November Classics Collection is $1,099.
From Italy, of six vintages of Sassicaia were tasted with both the 2002 and 2003 showing nicely. Alas, there's no stock at Vintages. Best old wine was the 1982 Mas de Dumas presented by the inimitable, animated, 83-year-old owner Aimé Guibert.

From Spain, Miguel Torres Jr. enticed attendees with his delicious 1999 Grans Muralles, which showed wonderful complexity with ripe plums, violets and hazelnuts.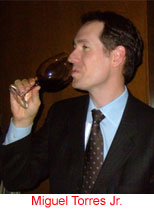 As always, service by the team of Quebec sommeliers was extremely good. My only reservation was that there seemed to be more corked wines surfacing than ever before.
Skipping the informal impromptu winemaker's dinner at Latini, I was able indulge in a great wine-free feast at a tiny, hip bistro in Vieux Montreal which opened just over a year ago. Garde Manger serves stunningly fresh seafood, including delectable oysters from New Brunswick. I had a wonderful rare tuna steak on a perfectly cooked bed of delectable lemon risotto - good to the last grain.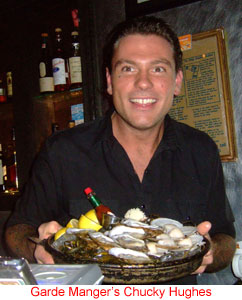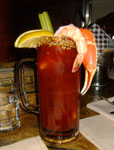 Forget the wine, master shucker, co-owner and chef extraordinaire Chucky Hughes has a clamato based rendition of the Bloody Caesar that is not to be missed. It features 3-ounces of vodka, an explosive hot tangy spice rim with giant shrimp and succulent crab leg perched precariously on the lip. Two of these and you're under the table. As the evening progresses, the place really starts hopping. So if tabletop dancing isn't your cup of tea, you might aim to leave by 11.
The great discovery of the trip was Le Marche des Saveurs du Quebec, an outstanding boutique beside the Jean Talon market. It opened in July 2000 as a showcase for Quebec producers. The concept was simple: allow producers to present their products on a consignement basis. It gave them a window to present their wares, interface with the public and do tastings.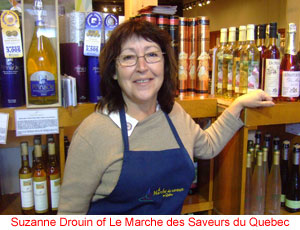 Of course, we all know that Quebec cheese is world class and Marché has over 250 different Quebec artisanal selections. And what better with cheese than wine. Marché has a remarkable wine section featuring 52 producers and 265 products. Store owners Suzanne and Tony Drouin explain that the wine section is now separated from the rest of the store and that the space is leased by the MSQ directly to wine producers.
The results have been staggering. While Quebec wine accounts for less than 1% of annual SAQ sales (approximately 160,000 units) in the entire SAQ chain of 450 retail outlets, Le Marché alone sells 40,000 units in its miniscule 800 sq. ft. outlet. Proof positive that there is nothing like innovative free enterprise to help local producers reach their audience.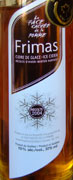 I managed to do a comparative tasting of Quebec's sweet liquid gold - cidre de glace. With more than a dozen producers, this stuff can give Ontario icewine a real run for the money. Of course, it's almost impossible to find the iced cider at the LCBO. My highlight was a stunningly delicious Frimas La Face Cachée de la Pomme 2004 which retails in the $40 range (per 375 ml bottle). It's simply devine. Another very sound, albeit less expensive choice (under $25), is Leduc-Piedimon 2005 Recolte d'Automne Cidre de Glace, which is made from Spartan and Empire apples. To visit the Marché website click here.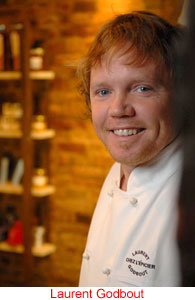 Finally, those searching for what I consider to be the best weekday lunch in Canada are strongly advised to book a seat at classy Chez L'Epicier, a wonderful establishment in Vieux Montreal - 311 Rue St. Paul East. The food is truly spectacular and reasonably priced, with a complete lunch running under $20. The chef/owner Laurent Godbout is one of the most talented chefs in the country. Call 514-878-2232.

2001 - 2007 Tasting Note Database
Our tasting note database from December 31, 2000 to September 2007, covers every Vintages release product for the past 82 months. There are more than 15,000 notes in the database data. Just enter the name of the product, supplier name or CSPC number. Or you can search by type of wine, country of origin, even wine agent! Nothing could be easier. Also you can get information on the agent by clicking on the agent's name, as well as current LCBO store inventory by clicking on "Check LCBO Availability", which will automatically tell you the number of bottles at LCBO as of last night.
To use our Tasting Notes Database: click here

** For All Visitors **
Vintages Releases
To see the complete list of upcoming products from the
October 27 release, including In-Store Discovery items,
click here (sorted by date of release).
You can also see it sorted by agent click here
To see the complete list of upcoming products from the
November 10 release, including In-Store Discovery items,
click here (sorted by date of release).
You can also see it sorted by agent click here
To see the complete list of upcoming products from the
November 24 release, including In-Store Discovery items,
click here (sorted by date of release).
You can also see it sorted by agent click here
To see the complete list of upcoming products from the
December 8 release, including In-Store Discovery items,
click here (sorted by date of release).
You can also see it sorted by agent click here
Copyright Food & Beverage Testing Institute of Canada 2007
Prior written permission is required for any form of reproduction
(electronic or other wise) and or quotation.
Contact Michael Vaughan at
mbv@total.net