Recent Articles
Jan. 26 - 2005 A Miracle Vintage ~ Tumultuous Week of Highs and Lows
Jan. 19 - Looking for Value? ~ Wines from Argentina to the Rescue
Jan. 12 - Looking Back - Looking Ahead ~ Spanish Wines Looking Up
Dec. 29 - Having a Sparkling New Year's Eve
Dec. 22 - Sumptuous Sippers ~ For days with Slippers
Dec. 15 - Wine Awards Canada - Charting 339 of Ontario's Best ~ Toasting Ontario's Best Sparklers from Brut to Gently Sweet
Dec. 8 - A Sparkling Vintages Release ~ But buy carefully
Dec. 1 - Holiday Gifting ~ The twin pack is the way to go
Nov. 24 - Eight Buys from Today's Vintages Release
Nov. 17 - Introducing the Signature Selection
Nov. 10 - 2005 Burgundy ~ The wine gurus like it!
Nov. 3 - Magic in Montreal ~ Le Marché an Inspiration for Local Wineries
Oct. 27 - Scary Times at Vintages ~ From Tricks to Treats
Oct. 13 -Today at Vintages ~ Bordeaux and Much More
Oct. 6 - Wine Auction Fever ~ Confessions of a Wine Auction Junkie ~ Forget Screaming Eagle and pass the Rum
Sep. 29 - Southern French Accents
Sep. 22 - Perfect for an Autumn day ~ Is that a bottle of spicy wine under your kilt?
Sep. 15 - A Celebration of the Ontario's harvest ~ Faces behind great wines
Sep. 8 - Reel Wines for Real Film Lovers ~ Can't snuggle? Here's what to smuggle! ~ Plus Ontario Recommendations
Sep. 1 - Dust off your Lederhosen ~ Austrian Wines Finally Unleashed in Vintages
Aug. 25 - Summer Twilight Selections ~ Spanish Synergy
Aug. 18 - The Wines of Chile ~ Soaring to the peaks of the Andes
Aug. 11 - Discovering Greece - a wine odyssey ~ Splendid Assyrtiko from Santorini
Aug. 4 - Spain - From the Classics to the Cutting Edge ~ Revving up for Rioja
Jul. 28 - Days of Wine & Roses no more! ~ Under $10 wines a rare breed
Jul. 21 - Que Sera, Syrah ~ Big, Smoky and Beautiful
Jul. 14 - Finding the best wine matches ~ Sizzling Seafood at Scaramouche
Jul. 7 - Sizzling Sauvignon Blanc ~ Vintages Best Buy Whites
Jun. 30 - In search of the Ontario Idol ~ Tracking down the best for Canada Day
Jun. 23 - Vintages Price Hikes ~ Hitting the customer where it hurts
Jun. 16 - Life After Yellow Tail
Jun. 9 - Rosé Rules ~ From serious to casual, unearthing that ambidextrous rosé
Jun. 2 - The ones that didn't get away! ~ Unearthing recent best buys - all under $20


Become an FBTI Supporter today
Get Michael Vaughan's Buying Guide
for December 8th Vintages Release
Click Here
A Sparkling Vintages Release
But buy carefully
© Michael Vaughan 2007
National Post Weekly Columnist
Saturday, December 8, 2007
CLICK ON THE NAME
All listings are automatically linked to the LCBO database
If there is a product that interests you, just click on the name below and you will instantaneously connected with the LCBO database. The product will appear in blue and all you have to do is click on the name again and then the next screen will provide details along with the store search. Just click on store search. The number of bottles in each store is updated nightly. Call the store first to see if stock still remains (each store phone number is listed).
It's the biggest and last Vintages release of the year with 137 items plus another 30 in-store discoveries. Vintages says that the highlighted 55 selections are "Our Finest" because "we've saved the best for last." It seems to include all the higher priced items, which are given major exposure in the front of the catalogue. Included are high scores along with succulent tasting notes designed to elicit sales. Like fish in the pond, one wonders whether consumers will go for the bait. My advice: let the buyer beware.
The catalogue kicks off with Cristal Brut Champagne at $264.95, a perfect bubbly for those who are in search of an image. While the latter underwhelms, I had great hopes for Bollinger Brut 1999 ($148.95). I am sad to report that after two tastings, its flavours do not live up to the excellent previously released 1997. To make matters worse, this is the first Christmas ever that the LCBO is bereft of my perennial favourite Charles Heidsieck, which receives accolades wherever it is served.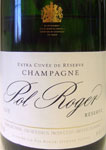 Of 18 bubblies of parade, the best is Pol Roger 1998 Extra Cuvée de Réserve Brut (989137) at $79.95. It's a real classic - dry, well structured and harmonious with ripe lemon-melon flavours and a lingering, very toasty finish. This ready-to-drink, wide-appeal, Vintages repeat seems even better than when originally released/tasted a year ago.

As for the number one Champagne value, don't miss Lanson Black Label Brut Champagne (41889) at $39.95, which includes a limited-time $5 discount until January 5, 2008. It is consistent best buy with crisp, effervescent, ripe, apple-lemon-citrus flavours along with a lingering, gently toasty finish.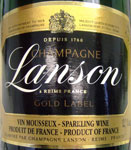 Michael Vaughan's Insider's Tip: The best buy Champagne at the LCBO was released in Vintages on April 14, 2007 and is now on sale.

Lanson 1997 Gold Label Vintage Brut Champagne

(722520) at $65.15 was a top

***

(out of three stars) best buy. Medium straw in colour, it has a honeyed, spicy, toasty, ripe lemon nose with some hazelnut notes. Dry, very effervescent and bright with fine gently toasty, ripe lemon-lime flavours with a long finish. For reasons unknown, it has not totally sold out. As of Thursday, December 6th, 40 stores has 3 or more bottles. If you track down a bottle now, it will now only cost $52.85. To see current availability click here. I hope you remember me when you taste this beauty.

As for the non-Champagnes, California's Sonoma County has a terrific buy - Gloria Ferrer Sonoma Brut (192898) at $23.95. This blend of Pinot Noir and Chardonnay has a light yellow colour with just a faint hint of pink. It has a honeyed, ripe, apple-melon nose. These balanced flavours carry over on the palate, which is harmonious and shows fine effervescence. Don't wait until 2010-2015, it's ready to enjoy today - time and time again.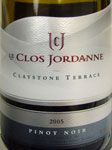 I would pass on all four Burgundies on offer. There's nothing wrong with 2005 Clos Vougeot at $171.95 or 2004 Corton Charlemagne fetching $134.95, except the price. Save your pennies for considerably tastier, better buys. For Pinot Noir fans, the best buy is Ontario's own Le Clos Jordanne 2005 Claystone Terrace Pinot Noir (33951) at $34.95. It is fairly extracty with plummy, roasted cherry flavours and a lingering, slightly cedary finish. Still young and rather closed, this 2005 doesn't seem up to the outstanding 2004 vintage. I have tasted all five Clos Jordanne Pinot Noir bottlings (from $25 to $60) and Claystone is showing the best.

As for Chardonnay, the release best is the intense, complex, toasty Landmark 2005 Overlook Chardonnay (356501) at $38.95. The intense, ripe, lemon meringue flavours and long, lime-tinged finish is more delicious (and a third of the price) than the Corton Charlemagne mentioned above. Best value would be the toasty, ripe lemon, caramel flavoured Rodney Strong 2005 Chalk Hill Chardonnay (275552) - a turkey-friendly white - that will set you back a mere $24.95.

Best value Bordeaux? Try André Lurton 2004 Château Coucheroy (944983) at only $19.95 from Pessac-Léognan (aka Graves). This 50-50 blend of Cabernet Sauvignon and Merlot is well structured and harmonious with slightly spicy, plummy, dried cherry flavours. It represents good value and is ready to drink, perhaps with steak or roast beef.

Finally, for the first time ever, the release best buy red comes from Ontario - Thirty Bench 2005 Red (53389) at $19.95. This artful blend of 65% Cabernet Sauvignon, 25% Cabernet Franc and 10% Merlot comes from the winery's own Niagara's Beamsville Bench vineyards. Mouthfilling and bright, the ripe plum and mocha-cherry-chocolate flavours show wonderful harmony. Move quickly because this special holiday-priced bargain will not last long.
If you didn't catch it last week, here is my updated INSIDER'S BEST BUY GUIDE detailing the top 42 Vintages best buys from the past four releases. It is laid out by wine type and country. You will also find my detailed tasting notes and store availability. Use the npreader password to access this guide - to see click here.
Looking for a Christmas gift for a fellow wine lover? My Vintage Assessments newsletter provides detailed tasting notes and ratings to each of the 23 Vintages releases appearing annually. There is a limited time offer for National Post readers with a $30 discount ($55 vs the regular $85). This is the first & only sale of the year! To take advantage of the offer click here. To download a free copy of out print-friendly October 27/November 10 issue click here.

Martell XO Cognac Tasting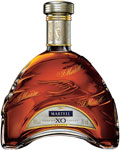 Corby Distillers will present tasting of Martell XO Cognac paired with Maiko Fine Chocolate from La Maison Du Chocolat. The tasting will be held at 3 LCBO Store locations.
store #149 Kingsway (2946 Bloor St. W) from 1:00 to 5:00 pm
click here for store information
store #536 Maple (2943 Major Mackenzie Dr) from 1:00 to 5:00 pm
click here for store information
store #10 Summerhill (10 Scrivener Square) from 4:00 to 7:00 pm
click here for store information
For information on the Martell XO please click here.
2001 - 2007 Tasting Note Database
Our tasting note database from December 31, 2000 to November 2007, covers every Vintages release product for the past 83 months. There are more than 15,000 notes in the database data. Just enter the name of the product, supplier name or CSPC number. Or you can search by type of wine, country of origin, even wine agent! Nothing could be easier. Also you can get information on the agent by clicking on the agent's name, as well as current LCBO store inventory by clicking on "Check LCBO Availability", which will automatically tell you the number of bottles at LCBO as of last night.
To use our Tasting Notes Database: click here

** For All Visitors **
Vintages Releases
To see the complete list of upcoming products from the
December 8 release, including In-Store Discovery items,
click here (sorted by date of release).
You can also see it sorted by agent click here
To see the complete list of upcoming products from the
January 5 release, including In-Store Discovery items,
click here (sorted by date of release).
You can also see it sorted by agent click here
To see the complete list of upcoming products from the
January 19 release, including In-Store Discovery items,
click here (sorted by date of release).
You can also see it sorted by agent click here
Copyright Food & Beverage Testing Institute of Canada 2007
Prior written permission is required for any form of reproduction
(electronic or other wise) and or quotation.
Contact Michael Vaughan at
mbv@total.net