Become an FBTI Supporter today
Get Michael Vaughan's Buying Guide
for January 5th & 19th Vintages Release
Click Here
2005 A Miracle Vintage
Tumultuous Week of Highs and Lows
© Michael Vaughan 2008
National Post Weekly Columnist
Saturday, January 26, 2008
CLICK ON THE NAME
All listings are automatically linked to the LCBO database
If there is a product that interests you, just click on the name below and you will instantaneously connected with the LCBO database. The product will appear in blue and all you have to do is click on the name again and then the next screen will provide details along with the store search. Just click on store search. The number of bottles in each store is updated nightly. Call the store first to see if stock still remains (each store phone number is listed).

It has been an incredibly tumultuous week filled with highs and lows. On Monday, with markets crashing everywhere, I wondered whether I would ever be able to afford another bottle of great wine. Tuesday saw the markets come back. It also marked the Toronto arrival of the prestigious Union des Grands Crus de Bordeaux delegation for a comprehensive tasting of the 2005 vintage.
Entitled the "tasting event of the year", actually "event of the decade" would have been more appropriate. Vintages gave he trade a scant two hours to dash through one hundred plus wines spread over 46 tables. The verdict? The finest, most enjoyable tasting of newly-released Bordeaux I have ever experienced. The wines had ripe delicious fruit and, in most instances, were surprisingly accessible - truly a stylistic revolution.
Unable to taste them all, I focus solely on the wines of the Pessac-Léognan/Grave region, which produces great whites and reds. Of the former, the best was 2005 Chateau Smith-Haut-Lafite (#581116 - $108.10) a complex, seductive, extracty, Sauvignon Blanc which, like a great Burgundy, is capable of evolving for many years. Owner Florence Cathiard, who is justly proud of the truly great wine, confided that low yields and 5% Sauvignon Gris made the difference.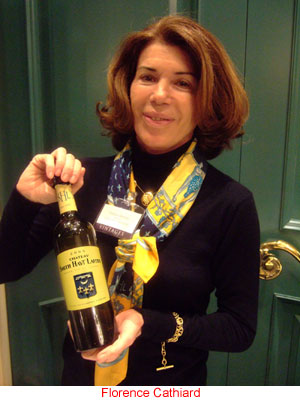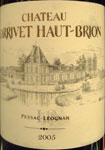 In terms of price, I was smitten by the ready-to-drink, vanilla-scented 2005 Chateau Larrivet-Haut-Brion (#567438 - $48.60). This barrel fermented (100% new), 50-50 blend of Semillon and Sauvignon Blanc had loads of spicy, ripe Anjou pear.
Of the reds, 2005 Chateau Pape Clement (#567461) is showing beautifully now, but I will have to pass at $319 a bottle. There are, however, magnums available at $474.95 (#510479), which is the original futures price. Still a bit shy, the harmonious but very well structured 2005 Chateau Smith-Haut-Lafite (#580241 - $125) is one worthy of laying down. The best buy red was the rich mocha tinged 2005 Chateau Larrivet-Haut-Brion (#567429) at $45.65. To see the entire list of Bordeaux wines presented and on-site pricing details click here.
Wednesday • January 23
On Wednesday, I played catch up compiling 2005/2006 tasting notes from Burgundy. Again, I was most impressed with 2005 and 2006 whites and reds. At a preview tasting with Luc Bouchard at Patrick McMurray's Starfish Oyster Bar & Grill, the best buy red was Bouchard Pere & Fils 2005 Beaune du Château (#901199) at $41.60, which will benefit from another 6-12 months of aging. Much less expensive is their 2005 Bourgogne Pinot Noir La Vignée (#605667) at $17.60 with ripe plums, dried red cherries and tangy finish.
Less expensive considerations include, the crisp, gently juicy, plummy-strawberry 2006 Beaujolais Villages (#665448), a steal at $13.10. This and the softer 2006 Macon Superieur (#41350) at $12.85 are both Gamay-based would be great with a casual steak and frites dinner.
Patrick serves up some of the best oysters in the city. For my taste, William Fevre Champs Royaux 2006 Chablis (276436) at $21.80 is a perfect match. To see the Starfish Oyster Bar & Grill luncheon menu click here. Also, some readers sent emails regarding Gina Mallet's Starfish review in the Toronto section of the National Post - to see it click here.
Thursday & Friday • January 24-25

Thursday was a birthday preview Scotch tasting honouring Robbie Burns. Not having room for the tasting notes, here is the best buy winner by far was the super smooth, gently honeyed, caramel tinged, triple distilled Auchentoshan 10 Year Old Lowland Single Malt (#341750) at 40.65, which currently has a $6 discount. It is the ultimate crowd pleaser.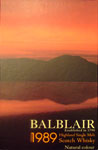 At midnight, we broke into two in-store discoveries released just last Saturday. The highlight was Balblair 1989 Highland Single Malt (#61945) at $141.75. With 43% alcohol, it was amazingly refined with intense but elegant, spicy, honeyed, dried ripe Anjou pear flavours with a lingering, floral finish. What a way to toast the man himself. It was the best, even preferred to the more intense 46% alcohol Balblair 1979 Highland Single Malt (#61952) at $323.20.

The Islay fans moved in on a couple of bottles of Bowmore. The Bowmore 12 Years Old (#330803) at $48.30 with its slightly smoky, plummy, peat tinged nose and dry, very gently peaty, harmonious, ripe plum and slightly smoky, caramel-tinged flavours showed well. My favourite was the more flavourful, fuller bodied Bowmore Mariner 15 Years Old (#514125) at $60.80. I had to throw in the towel early as I had a Friday morning LCBO lab tasting of the 99 wines being released in Vintages on March 1st.

Saturday • January 26
Which brings me Saturday - today. For nine years, I have had shared my passion weekly with National Post readers. Given a new National Post editorial mandate, the time has come for change and this is my last column. Let me say how much I have appreciated your support.
My reviews will keep on coming. Next month I launch Liquid Assets, a Canada-wide syndicated feature with cutting edge reviews for seasoned wine lovers, sommeliers, collectors, even investors.
Readers have one more chance to get my current Vintages reviews along with details on Monday's LCBO Sale - to see the Vintages sale click here to see the General List clearance click here. There will also be a Super Sale of 13 items which will take place on January 31 to February 3, to see the list click here.
There's a special twist - I will select one reader to join me and Spanish wine icon Ricardo Palacios for dinner on Thursday, February 7th.
Ricardo will be representing Alvaro Palacios and Desciente de Palacios at the upcoming Return To Terroir International Tour (featuring 50 biodynamic/organic wineries) on Saturday, February 9th at the Fermenting Cellar in the Distillery District from 4:00 to 8:00 pm. For event details click here Tickets are priced at $59.95 per person, but FBTI Supporters can register today at $39.95 click here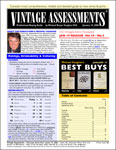 To help you cope with the extensive Vintages release, I am providing National Post readers with the abbreviated January 19th edition of Vintage Assessments - to download click here.

2001 - 2008 Tasting Note Database
Our tasting note database from December 31, 2000 to January 2008, covers every Vintages release product for the past 85 months. There are more than 17,000 notes in the database data. Just enter the name of the product, supplier name or CSPC number. Or you can search by type of wine, country of origin, even wine agent! Nothing could be easier. Also you can get information on the agent by clicking on the agent's name, as well as current LCBO store inventory by clicking on "Check LCBO Availability", which will automatically tell you the number of bottles at LCBO as of last night.
To use our Tasting Notes Database: click here

** For All Visitors **
Vintages Releases
To see the complete list of upcoming products from the
January 19 release, including In-Store Discovery items,
click here (sorted by date of release).
You can also see it sorted by agent click here
To see the complete list of upcoming products from the
February 2 release, including In-Store Discovery items,
click here (sorted by date of release).
You can also see it sorted by agent click here
To see the complete list of upcoming products from the
February 16 release, including In-Store Discovery items,
click here (sorted by date of release).
You can also see it sorted by agent click here
Copyright Food & Beverage Testing Institute of Canada 2008
Prior written permission is required for any form of reproduction
(electronic or other wise) and or quotation.
Contact Michael Vaughan at
mbv@total.net