Recent Articles
Jan. 26 - 2005 A Miracle Vintage ~ Tumultuous Week of Highs and Lows
Jan. 19 - Looking for Value? ~ Wines from Argentina to the Rescue
Jan. 12 - Looking Back - Looking Ahead ~ Spanish Wines Looking Up
Dec. 29 - Having a Sparkling New Year's Eve
Dec. 22 - Sumptuous Sippers ~ For days with Slippers
Dec. 15 - Wine Awards Canada - Charting 339 of Ontario's Best ~ Toasting Ontario's Best Sparklers from Brut to Gently Sweet
Dec. 8 - A Sparkling Vintages Release ~ But buy carefully
Dec. 1 - Holiday Gifting ~ The twin pack is the way to go
Nov. 24 - Eight Buys from Today's Vintages Release
Nov. 17 - Introducing the Signature Selection
Nov. 10 - 2005 Burgundy ~ The wine gurus like it!
Nov. 3 - Magic in Montreal ~ Le Marché an Inspiration for Local Wineries
Oct. 27 - Scary Times at Vintages ~ From Tricks to Treats
Oct. 13 -Today at Vintages ~ Bordeaux and Much More
Oct. 6 - Wine Auction Fever ~ Confessions of a Wine Auction Junkie ~ Forget Screaming Eagle and pass the Rum
Sep. 29 - Southern French Accents
Sep. 22 - Perfect for an Autumn day ~ Is that a bottle of spicy wine under your kilt?
Sep. 15 - A Celebration of the Ontario's harvest ~ Faces behind great wines
Sep. 8 - Reel Wines for Real Film Lovers ~ Can't snuggle? Here's what to smuggle! ~ Plus Ontario Recommendations
Sep. 1 - Dust off your Lederhosen ~ Austrian Wines Finally Unleashed in Vintages
Aug. 25 - Summer Twilight Selections ~ Spanish Synergy
Aug. 18 - The Wines of Chile ~ Soaring to the peaks of the Andes
Aug. 11 - Discovering Greece - a wine odyssey ~ Splendid Assyrtiko from Santorini
Aug. 4 - Spain - From the Classics to the Cutting Edge ~ Revving up for Rioja
Jul. 28 - Days of Wine & Roses no more! ~ Under $10 wines a rare breed
Jul. 21 - Que Sera, Syrah ~ Big, Smoky and Beautiful
Jul. 14 - Finding the best wine matches ~ Sizzling Seafood at Scaramouche
Jul. 7 - Sizzling Sauvignon Blanc ~ Vintages Best Buy Whites
Jun. 30 - In search of the Ontario Idol ~ Tracking down the best for Canada Day
Jun. 23 - Vintages Price Hikes ~ Hitting the customer where it hurts
Jun. 16 - Life After Yellow Tail
Jun. 9 - Rosé Rules ~ From serious to casual, unearthing that ambidextrous rosé
Jun. 2 - The ones that didn't get away! ~ Unearthing recent best buys - all under $20
May. 26 - New Zealand's Natural Gems ~ The best of whites
May. 19 - Alsatian with that Crustacean?
May. 12 - Paradoxical Portugal ~ Old World Grapes with New World Appeal
May. 5 - Toronto's First Private Import Wine Fair ~ Private Imports Picking up Steam Despite LCBO Bullying
Apr. 28 - Toasting Mom with France's Finest
Apr. 21 - Prime Time for California
Apr. 7 - Delicious Ciders that won't break the Easter bank
Mar. 31 - Racy Rieslings ~ Perfect Springtime Sippers
Mar. 24 - Quest for the Best of Portable Potables ~ The Battle of the Boxes
Mar. 17 - For the love of the Irish ~ A Greek wine for St. Patrick's Day
Mar. 10 - VDN to the rescue ~ Sublime sweet bargains from southwestern France
Mar. 3 - Canada's greatest pinot noir? ~ If you can't find the best, try LCJ's less expensive bargains
Feb. 24 - Cuvée 2007 ~ Ontario winemakers whoop it up
Feb. 17 - Pinot Noir Madness III ~ New Zealand takes another step forward
Feb. 10 - Burgundy Comes to Town ~ Despite Limited Vintages Buys ~ The Good News is Virtual Buying
Feb. 3 - Great Values South of the Equator ~ Both in Vintages & on the General List
Jan. 27 - Napa a go-go ~ Wine Parties vs. Tastings
Jan. 20 - Winemaker Niel Groenewald ~ Pushing the South African Envelope
Jan. 13 - Montreal Passion Vin ~ Delivering Excellence on Every Level
Jan. 6 - Off-the Beaten-Path Wines ~ Hard to Find in Today's Vintages Release


Become an FBTI Supporter today
Get Michael Vaughan's Buying Guide
for July 7th & 21st Vintages Release
Click Here
Finding the best wine matches
Sizzling Seafood at Scaramouche
© Michael Vaughan 2007
National Post Weekly Wine & Spirits Columnist
Saturday, July 14, 2007
To see this article as it appears in the National Post click here
CLICK ON THE NAME
All listings are automatically linked to the LCBO database
If there is a product that interests you, just click on the name below and you will instantaneously connected with the LCBO database. The product will appear in blue and all you have to do is click on the name again and then the next screen will provide details along with the store search. Just click on store search. The number of bottles in each store is updated nightly. Call the store first to see if stock still remains (each store phone number is listed).
It's a sommelier's worse nightmare, trying to come up with exactly the right wine to match each dish. Wide variations in personal preferences can make this task almost impossible. "It isn't something you learn overnight," say's Peter Boyd one of Canada's leading sommeliers and long time professional who oversees the wine list at Scaramouche, one of Toronto's top three restaurants.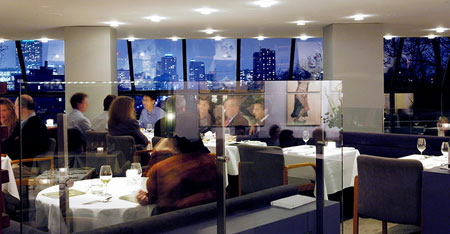 Boyd has spent decades learning the ins and outs of customer preferences. He knows that some people prefer wines to complement the dish, while others prefer a contrasting style. "It's amazing how different a wine will taste with food and my challenge is come up with just the right combination," say Boyd.
In a city where seafood all too often disappoints, Boyd was excited with the just launched prix fixe summer seafood tasting menu. Knowing partner/executive chef Keith Froggett's ability in the kitchen and his dedication to sourcing only the highest quality ingredients, I visited Scaramouche last week to investigate the ever-changing weekly menu and matching wines.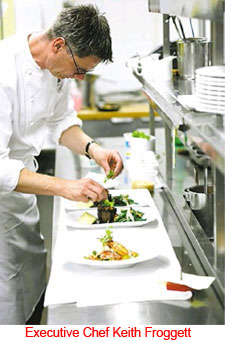 For a hot summer night, the place was hopping and the seafood - truly fantastic - the best in Toronto. I was also impressed with the accompanying wine pairing menu available at a reasonable $39. Each of the five courses had a wine designed to match the dish - about 16 oz in total. They were selected by Peter Boyd, along with dining room manager/sommelier Ian Clark.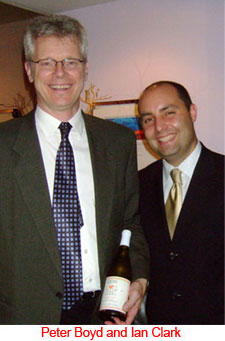 Boyd explains, "the secret is not to overwhelm and that's particularly true when it comes to seafood where you want the subtle fresh flavours of the fish to predominate." The rich, creamy, chilled lobster veloute with a sweet pea coulis and crunchy, favourful, hot, red salsa fresca needed something that was refreshing, fairly light and bright. Boyd chose the Italian Wilhelm Walch 2005 Pinot Grigio from Alto Adige, which is very dry and crisp with light, lemony flavours. It gets the palate going and provides a refreshing frame for the flavourful soup.

"We stayed away from oaky wines which can interfere with delicate flavours," say Boyd. While most of the Scaramouche selections are private order and/or consignment wines, a great choice on the LCBO general list would be the versatile Bouchard Pere & Fils 2005 Petit Chablis (51466) at $19.25. This unoaked Chard from the much improved 2005 vintage has crisp, light, ripe melon flavours with hints of Anjou pear.
With a spectacular marinated wild sockeye salmon tartare topped by sour cream and matchstick cut Kestral Farm radish, Boyd chose a somewhat spicier David Traeger 2006 Verdelho from Victoria, Australia. By itself the wine seemed a bit underwhelming, but with the freshly diced salmon, the spice suddenly jumped out of the glass. Two for two.
Next, and for me a highlight, was an exquisite roasted Pacific halibut floating on a sensuous shellfish reduction risotto with organic white Ecuador shrimp and fresh Dungeness crab. It was served with an excellent Qupé 2005 Marsanne/Roussanne from Santa Ynez Valley, California - an elegant, ripe lime-melon-lemon flavoured Rhone inspired blend, which finished with a flourish of yellow grapefruit. I could have easily consumed an entire bottle, which is a reasonable $68 on the extensive wine list.
The big departure was with the giant, tender, sublimely fresh, pan-seared sea scallop served with wilted greens and marinated cherry tomatoes sitting on a citrus chickpea purée with a beet beurre rouge. For this Boyd chose a fresh, dry, albeit fragrant, French rosé from Corbières 2006 Domaine de Fontsainte, which was pure plum perfection.
As all serious food and wine fans know, red and rose wines are perfect with certain types of fish. It's a topic I will explore in an upcoming feature. Also kudos to Froggett, who last May in Monterey became the official Chef Ambassador for the Seafood Watch program, an organization providing correct seafood choices that assure a future with abundant ocean wildlife. To download a printable, pocket-sized regional seafood guide, visit www.mbayaq.org
The only seafood-free dish on the tasting menu was dessert - a lime tart with Ontario raspberries and blackberry sorbet was gussied up with a sweet 2005 Muscat de Beaumes de Venise (227124), which is still available in Vintages at $19.95 per half bottle.
To see this week's Scaramouche seafood tasting menu and wine selection click here.
Finally, I am sad to report that last week's recommended 2005 Trius Red (a Vintages Essential appearing on page 20 of the Release Catalogue) is not available at the LCBO, only the less satisfactory 2004. At present, it is only available winery.
Coming Up

Continuing to July 29 - Spiegeltent'ntavern
Burlesque at its best or wurst? The Spiegel Show brings you a cornucopia of tricks and turns representing the distilled essence of Toronto's cultural underbelly. Held daily at the Harbourfront Centre, on Thursday to Saturday at 8:00 pm and on Sundays at 7:00 pm, seating is on a first come, first served basis, and admission is restricted to those aged 19 and older. For more information click here. For tickets call 416-973-4000 or email websales@harbourfrontcentre.com

Continuing to Aug. 4 - Evil Dead: The Musical
Based on the classic horror B-movies by Sam Raimi, this musical traces the adventures of five college kids who visit an abandoned cabin and engage in gory afterlife shenanigans. Held at Diesel Playhouse - 56 Blue Jays Way, Monday to Thursday starting at 8:00 pm, Fridays at 7:30 pm and 11:00 pm, Saturday at 7:00 and 11:00 pm. Tickets range between $19.50 to $59.50. For tickets call 416-971-5656.

Continuing to Sept. 2 - CanStage Dream in High Park
The 25th Anniversary of the Dream in High Park event will feature William Shakespeare's - A Midsummer Night's Dream, directed by Ahdri Zhina Mandiela. Held daily from Tuesday to Sunday at Canadian Stage Amphitheatre in High Park, starting at 8:00 pm. Suggested minimum donation of $20, please contact Canstage at 416-367-1652 or visit www.canstage.com for more information.
Thursday, July 12-14 - Shakespeare in the Vineyard
[St. Catharines, Ontario] For this year's Shakespeare in the Vineyard event, the Niagara Falls Theatre Society presents The Winters Tale directed by Michael Madden. Held at Henry of Pelham Winery - 1469 Pelham Rd., R.R.#1. Tickets are $25. For reservations please call the Brock University Centre for the Arts at 905-688-5550 ext. 3257. Also repeated on July 19-21.
Saturday, July 21 - Fiesta Buckhorn 2007
[Buckhorn, Ontario] Fiesta Buckhorn is an event that features Canadian wine, beer and local cuisine, held annually in Buckhorn, Ontario, Canada. This sampling event features more than 75 exhibitors and live jazz music in the park. Held from 12:00 to 7:30 pm. Admission is $12 per person. For more information www.fiestabuckhorn.com
Sunday, July 22 - Canadian Smooth Jazz and Wine
[Niagara-on-the-Lake] The Bosc family invites you to the Canadian smooth jazz and wine with Amy Sky and Marc Jordan. All net proceeds go to the St. Catharines General Hospital Foundation. Held at Chateau des Charmes, 1025 York Road, Niagara-on-the-Lake, concert door opens at 1:30 pm (lunch starts at 12:00 pm). Tickets $40.00 per person or $75 with lunch (prepared by Stephen Treadwell). For tickets call 905-323-3863 or visit www.scghfoundation.com or click here for more information.
2001 - 2007 Tasting Note Database
Our tasting note database from December 31, 2000 to July 2007, covers every Vintages release product for the past 80 months. There are more than 15,000 notes in the database data. Just enter the name of the product, supplier name or CSPC number. Or you can search by type of wine, country of origin, even wine agent! Nothing could be easier. Also you can get information on the agent by clicking on the agent's name, as well as current LCBO store inventory by clicking on "Check LCBO Availability", which will automatically tell you the number of bottles at LCBO as of last night.
To use our Tasting Notes Database: click here

** For All Visitors **
Vintages Releases
To see the complete list of upcoming products from the
July 21 release, including In-Store Discovery items,
click here (sorted by date of release).
You can also see it sorted by agent click here
To see the complete list of upcoming products from the
August 4 release, including In-Store Discovery items,
click here (sorted by date of release).
You can also see it sorted by agent click here
To see the complete list of upcoming products from the
August 18 release, including In-Store Discovery items,
click here (sorted by date of release).
You can also see it sorted by agent click here
Copyright Food & Beverage Testing Institute of Canada 2007
Prior written permission is required for any form of reproduction
(electronic or other wise) and or quotation.
Contact Michael Vaughan at
mbv@total.net