Recent Articles
Jan. 26 - 2005 A Miracle Vintage ~ Tumultuous Week of Highs and Lows
Jan. 19 - Looking for Value? ~ Wines from Argentina to the Rescue
Jan. 12 - Looking Back - Looking Ahead ~ Spanish Wines Looking Up
Dec. 29 - Having a Sparkling New Year's Eve
Dec. 22 - Sumptuous Sippers ~ For days with Slippers
Dec. 15 - Wine Awards Canada - Charting 339 of Ontario's Best ~ Toasting Ontario's Best Sparklers from Brut to Gently Sweet
Dec. 8 - A Sparkling Vintages Release ~ But buy carefully
Dec. 1 - Holiday Gifting ~ The twin pack is the way to go
Nov. 24 - Eight Buys from Today's Vintages Release
Nov. 17 - Introducing the Signature Selection
Nov. 10 - 2005 Burgundy ~ The wine gurus like it!
Nov. 3 - Magic in Montreal ~ Le Marché an Inspiration for Local Wineries
Oct. 27 - Scary Times at Vintages ~ From Tricks to Treats
Oct. 13 -Today at Vintages ~ Bordeaux and Much More
Oct. 6 - Wine Auction Fever ~ Confessions of a Wine Auction Junkie ~ Forget Screaming Eagle and pass the Rum
Sep. 29 - Southern French Accents
Sep. 22 - Perfect for an Autumn day ~ Is that a bottle of spicy wine under your kilt?
Sep. 15 - A Celebration of the Ontario's harvest ~ Faces behind great wines
Sep. 8 - Reel Wines for Real Film Lovers ~ Can't snuggle? Here's what to smuggle! ~ Plus Ontario Recommendations
Sep. 1 - Dust off your Lederhosen ~ Austrian Wines Finally Unleashed in Vintages
Aug. 25 - Summer Twilight Selections ~ Spanish Synergy
Aug. 18 - The Wines of Chile ~ Soaring to the peaks of the Andes
Aug. 11 - Discovering Greece - a wine odyssey ~ Splendid Assyrtiko from Santorini
Aug. 4 - Spain - From the Classics to the Cutting Edge ~ Revving up for Rioja
Jul. 28 - Days of Wine & Roses no more! ~ Under $10 wines a rare breed
Jul. 21 - Que Sera, Syrah ~ Big, Smoky and Beautiful
Jul. 14 - Finding the best wine matches ~ Sizzling Seafood at Scaramouche
Jul. 7 - Sizzling Sauvignon Blanc ~ Vintages Best Buy Whites
Jun. 30 - In search of the Ontario Idol ~ Tracking down the best for Canada Day
Jun. 23 - Vintages Price Hikes ~ Hitting the customer where it hurts
Jun. 16 - Life After Yellow Tail
Jun. 9 - Rosé Rules ~ From serious to casual, unearthing that ambidextrous rosé
Jun. 2 - The ones that didn't get away! ~ Unearthing recent best buys - all under $20
May. 26 - New Zealand's Natural Gems ~ The best of whites
May. 19 - Alsatian with that Crustacean?
May. 12 - Paradoxical Portugal ~ Old World Grapes with New World Appeal
May. 5 - Toronto's First Private Import Wine Fair ~ Private Imports Picking up Steam Despite LCBO Bullying
Apr. 28 - Toasting Mom with France's Finest
Apr. 21 - Prime Time for California
Apr. 7 - Delicious Ciders that won't break the Easter bank
Mar. 31 - Racy Rieslings ~ Perfect Springtime Sippers
Mar. 24 - Quest for the Best of Portable Potables ~ The Battle of the Boxes
Mar. 17 - For the love of the Irish ~ A Greek wine for St. Patrick's Day
Mar. 10 - VDN to the rescue ~ Sublime sweet bargains from southwestern France
Mar. 3 - Canada's greatest pinot noir? ~ If you can't find the best, try LCJ's less expensive bargains


Become an FBTI Supporter today
Get Michael Vaughan's Buying Guide
for September 1st & 15th Vintages Release
Click Here
Reel Wines for Real Film Lovers
Can't snuggle? Here's what to smuggle!
Plus Ontario Recommendations
© Michael Vaughan 2007
National Post Weekly Wine & Spirits Columnist
Saturday, September 8, 2007
CLICK ON THE NAME
All listings are automatically linked to the LCBO database
If there is a product that interests you, just click on the name below and you will instantaneously connected with the LCBO database. The product will appear in blue and all you have to do is click on the name again and then the next screen will provide details along with the store search. Just click on store search. The number of bottles in each store is updated nightly. Call the store first to see if stock still remains (each store phone number is listed).
It's film madness time and I'm trying to figure out the best wines for fans. I had hoped that Ontario's Liberals might do the right thing to help wine loving filmgoers, but no such luck. We still can't snuggle into our seats with a frosty glass of Chard. Of course, you can always try to smuggle that wine into the theatre. This is something I featured in my TIFF Tetra Pak survival guide column a year ago.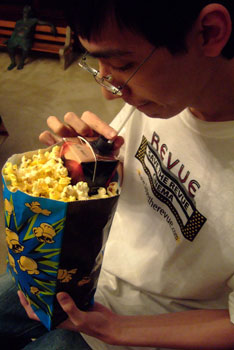 Today, I wanted to update my reviews for the current crop of 80+ alternative packages. Why? Because with each new shipment, what was in the box yesterday can suddenly be totally different today. Unfortunately, I ran out of time, money and patience. Also, with so much mediocrity about, it isn't easy tasting one's way through the stuff on the market. To see my March 24, 2007 "Battle of the Boxes" National Post column click here.
I also hoped that my friend Georg Riedel might have made some progress on the wine straw project. Years ago I helped Riedel develop his icewine glass. He still hasn't called about my specialty glass wine straw project - for sparkling, another for whites and finally one for reds.

Whatever the case, most boxed wines aren't for ultra-sophisticated palates. Thankfully, my loyal assistant Mr. T, volunteered to evaluate some tetra pak reds on the market. He tasted Soluna 2004 Merlot delle Venezio (614420) $13.15 per litre. It is medium-light bodied with plummy flavours and an initial touch of bitterness on the finish. It's more of a wine for hot dogs - as opposed to hot buttered popcorn. It was when we buried the box in the popcorn bag when we made a big discovery. The wine tasted a lot better using a straw, which highlighted the fruit - giving it more of a strawberry tone - while reducing the perception of bitterness. Wine straws here we come!
With so many out-of-country TIFF visitors, I wanted to recommend a couple of key wines from Ontario. It's a shame that Vintages didn't make its Ontario wine focus "faces behind the wine" part of the September 1st release prior to the Toronto International Film Festival. I am sure that many visitors would have appreciated the info along with the window to buy some of the selections.
Making do with what's currently available, here are five (two whites, two reds and a rose) Ontario recommendations, all from the Niagara Peninsula:
1. Chateau des Charmes 2005 Gewürztraminer (453472) at $19.95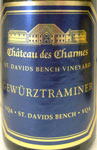 This VQA St. David's Bench white shows lots of lychee-rosehip spiciness that's associated with this varietal. It is surprisingly dry with a long, lingering finish. It would be perfect with hot Thai dishes and is one of Canada's top examples of this grape. It has 14.5% alcohol and only 4,560 bottles were produced.

2. Hillebrand 2006 Trius White (54957) at $18.95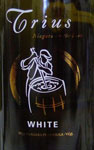 Another VQA St. David's Bench white that hits the spot. This debut release of Trius white by winemaker Darryl Brooker is a blend of 33% Gewurztraminer, 30% Riesling, 28% Pinot Gris and 9% unoaked Chardonnay and has a bright light straw colour. It has a slightly honeyed, beeswax nose with honeyed, ripe melon-apricot notes. On the palate it is very spicy, bright and fairly dry with honeyed, ripe melon-lemon-apricot flavours followed up by a very slightly toasty lingering finish. A versatile, crowd-pleasing blend.

3. Flat Rock 2005 Pinot Noir (1545) at $19.95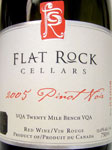 This VQA from the Twenty Mile Creek region in the Niagara Peninsula has a medium deep red colour without much intensity. Very spicy, slightly cedary, ripe plums and black cherries on the nose. Very typical cool climate Pinot Noir with bright, tangy, plummy, ripe cherry flavours and a lingering, fairly high acid finish. It comes with a screwcap closurure and should be drunk while it is fresh and appealing - meaning now.

4. Henry of Pelham 2005 Reserve Baco Noir (461699) at $24.95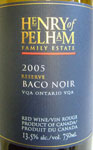 This VQA French hybrid grape is loved by some and despised by others. I am in the first camp. When it's good, it is very, very good. It is characterized by an extremely intense deep dark purple colour - watch out for stains. This 2005 has a spicy, slightly cedary, plummy, red pepper nose with vanilla stick notes. On the palate it is very dry and tangy with concentrated, ripe, plummy, gently juicy, black cherry flavours with a lingering, cedary finish. Best with robust stews, braised ribs or a rack of lamb, it is capable of aging for up to a decade.

5. Hillebrand 2006 Gamay Noir Rosé Artist Series (49742)at $12.15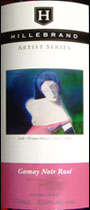 Rose wines have their own charm and this seasonal item on the LCBO general list is surprisingly delicious. It has a fragrant nose focused on delicate plums and wild strawberries, which carry over perfectly on the palate. It goes with almost everything and is refreshing without being austere or too sweet. Indeed, it's just right.

National Post readers wanting to see our exclusive listing of the September 10th Vintages Sale of 27 wines should click here.
2001 - 2007 Tasting Note Database
Our tasting note database from December 31, 2000 to August 2007, covers every Vintages release product for the past 81 months. There are more than 15,000 notes in the database data. Just enter the name of the product, supplier name or CSPC number. Or you can search by type of wine, country of origin, even wine agent! Nothing could be easier. Also you can get information on the agent by clicking on the agent's name, as well as current LCBO store inventory by clicking on "Check LCBO Availability", which will automatically tell you the number of bottles at LCBO as of last night.
To use our Tasting Notes Database: click here

** For All Visitors **
Vintages Releases
To see the complete list of upcoming products from the
September 1 release, including In-Store Discovery items,
click here (sorted by date of release).
You can also see it sorted by agent click here
To see the complete list of upcoming products from the
September 15 release, including In-Store Discovery items,
click here (sorted by date of release).
You can also see it sorted by agent click here
To see the complete list of upcoming products from the
September 29 release, including In-Store Discovery items,
click here (sorted by date of release).
You can also see it sorted by agent click here
Copyright Food & Beverage Testing Institute of Canada 2007
Prior written permission is required for any form of reproduction
(electronic or other wise) and or quotation.
Contact Michael Vaughan at
mbv@total.net